It's official. NFTs have taken over mainstream pop culture, and there's no stopping them. If that fact wasn't abundantly clear before, it certainly is now. An array of NFT projects cropped up around what is arguably the most significant cultural event in the United States — the Super Bowl.
If you don't think that matters, it does.
Some have described NFTs as a passing cultural phenomenon that will slowly fade and be forgotten, kind of like pet rocks. Others argue that NFTs are a paradigm-shifting technology that has brought forth a new (and lasting) creative economy. But regardless of which side of the aisle you're on, one thing is clear: the world of NFTs is growing exponentially, and they're going to have a major impact on society for at least the next few years.
Need proof? In 2020, the total sales volume of NFTs was just $94.9 million. In 2021, it reached over $23 billion.
To understand the ways that art and art markets are evolving, it's necessary to have at least a passing understanding of where NFTs currently are and how they're being used. With this in mind, we've rounded up some of the very best NFT moments surrounding 2022's Super Bowl LVI, which saw the Los Angeles Rams go up against the Cincinnati Bengals at SoFi Stadium in California.
NFT advertisements
To begin with, NFT creators landed key ad slots related to the Super Bowl. American brewing company Anheuser-Busch, one of the world's largest and most profitable beverage companies, featured Noun glasses NFTs in their Bud Light Next ad.
You may have heard some commentators say that the ad was historic. And it was, but not because it featured NFTs. Instead, the most important thing about this ad was how it was voted into being.
Companies don't typically let people who purchase their goods determine their marketing strategies or vote on their future. But Nouns did.
Ultimately, the ad came about thanks to a proposal that members of the Nouns DAO voted on back in January 2022.
And who are "members" of the Nouns DAO? People who own a Noun NFT. Individuals get one vote for every Noun they own, meaning that the people who buy from Nouns get to determine the course and future of Nouns as a whole. It is actual community ownership.
The proposal stated, in part, "In exchange for one Noun from Nouns DAO, a prominent beverage company will include Noun glasses in a 2022 Super Bowl commercial. Once the Noun is received, this brand will also change their Twitter avatar to feature Noun glasses." Sure enough, after the members unanimously voted in favor of the proposal, Bud Light changed its Twitter profile picture to a Nouns NFT. It featured a pixel art character with a beer mug for a head and Noun eyeglasses.
While the long-rumored Bored Ape Yacht Club appearance during the Super Bowl halftime show did not materialize, much to the dismay of NFT Twitter observers, the popular project did make brief cameo in eToro's Super Bowl commercial. Other crypto companies to make Super Bowl commercial moves included Coinbase, whose viral QR code commercial crashed the platform's site, FTX (complete with a Larry David guest spot), and Crypto.com.
Additionally, Kia's turning the face of its Super Bowl ad, Robo Dog, into an NFT to raise money for The Petfinder Foundation, a nonprofit organization that gives grants to animal shelters and rescues. 10,000 NFTs of Robo Dog will be available, and 90 percent of all primary sales proceeds will go directly to the Foundation. The other 10 percent of profit is tied into secondary sales via the smart contract, so whenever a Robo Dog NFT is resold on a participating secondary market, The Petfinder Foundation will receive further proceeds.
Attendees get NFT tickets
To commemorate the game, the NFL gave every fan who attended a customized NFT Super Bowl ticket that listed their section, row, and seat. Robert Gallo, senior vice president at the NFL's club business development, noted that the NFL decided to offer patrons NFT versions of their ticket because of the success the organization had with their NFT offering throughout the rest of the season. "We witnessed great success with this one-of-a-kind fan experience, which provided the momentum to continue this program throughout the postseason and ultimately at Super Bowl LVI in Los Angeles," Gallo said.
Gallo continued by noting that ticket collection is a long and honored tradition at the NFL, and he indicated that NFTs are the next stage of evolution in this tradition. "Collecting ticket stubs has always been something our fans love to do, especially for the season's biggest game, and offering customized Super Bowl NFTs allows us to enhance the gameday experience, while also enabling us to further evaluate the NFT space for future ticketing and event engagement opportunities," he added.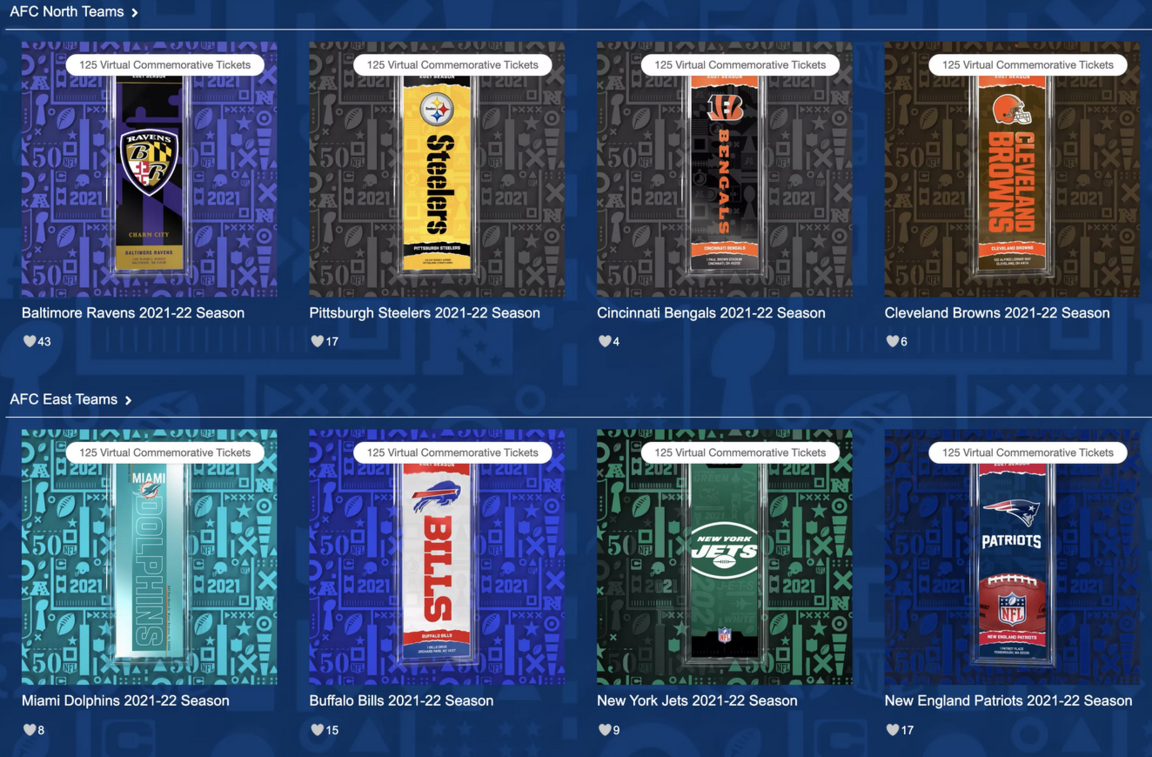 Over the course of the season, the NFL delivered more than 250,000 complimentary NFTs to fans, and a limited number of NFTs were also made available for purchase. The NFT Super Bowl tickets were minted on the Polygon blockchain, which is a layer 2 blockchain that sits on top of the Ethereum network and uses a fraction of the energy per NFT that Ethereum itself uses.
Want to claim your NFT ticket? We've got you covered. Tickets can be claimed on the NFL's NFT marketplace, which is powered by Ticketmaster.
The Super Bowl halftime show
Dr. Dre and Snoop Dogg led the Pepsi Halftime Show. As a result, millions of attendees and home viewers will likely encounter various kinds of NFTs over the coming days. Why? Because Snoop Dogg is going full throttle when it comes to NFTs. You can't read anything about Snoop Dogg without encountering a long list of his latest forays into the NFT space.
To begin with, he made his new album, B.O.D.R. (Bacc on Death Row), available via the blockchain earlier in the week. Additionally, his NFT LP version offered three exclusive bonus tracks. The Stash Box of NFTs became available via Gala Music on Wednesday (Feb. 9.).
Ahead of the launch, Snoop Dogg released a statement outlining his thoughts on the value of blockchain and NFTs, and he noted that they are reshaping the music industry and the role of artists within it. "Blockchain tech has the power to change everything again and tip the table in favor of the artists and the fans, and we're going to be right at the front of the pack with this Gala Music deal," he said.
And we're probably going to be hearing a lot more about Snoop and his NFTs in the coming years. Earlier this week, he announced that he decided to buy the rights to Death Row Records, a label that helped launch numerous careers — including his own.