The National Hockey League, alongside its associations of active and retired players, has joined forces with Web3 studio Sweet to launch NHL Breakaway, their new official digital collectibles marketplace and community.
The new platform, launched today, will enable fans to collect highlights—a format made famous by NBA Top Shot. Highlights are collectible moments of play from some of the most exciting games in NHL history, and fans can buy them in packs and then trade them with others in the in-house lounge, building a collection of their favorites.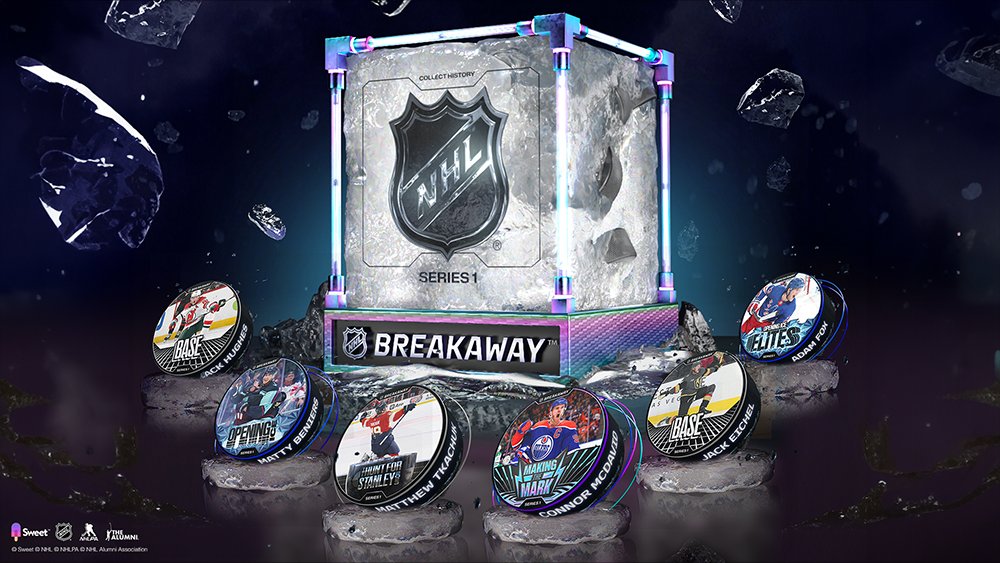 Social and gamification features are also available—fans can earn rewards like rare packs or NHL experiences by fulfilling challenges, like completing a set of great plays or players from their favorite team. With customizable profiles, each user can celebrate their own fandom by showcasing their most prized collectible highlights.
While the financial terms of the deal are undisclosed, we know the highlights are on Polygon, and participants in the project's beta program, open since April, are already collecting and swapping highlights in the project's discord and in the new on-site Trading Lounge.
The site's onboarding process doesn't require buying any crypto up-front; once you register, Sweet manages the sign-up flow, and users can quickly buy their first pack (costing a little under twenty dollars) with a credit card through Moonpay.
The highlights themselves are crafted to delight hockey fans: here's Vegas Golden Knights' Jack Eichel's goal against the Edmonton Oilers. Loads of angles, replays, the cheering crowd, and the victory lap combine to transform archival footage into a highlight.
Two years after the advent of Top Shot, how will NHL Breakaway be received? One doesn't necessarily predict the other, according to Michael Frisch, a computer science Ph.D. and a senior partner at consulting firm GM3. "Sports are very segmented," he told nft now.
Appealing to crypto-native audiences and fan subcultures together can pose a challenge—and not one that will necessarily translate between different sports. With its discord already full of diehard hockey fans deep in discussion of their beloved sport, NHL Breakaway is another opportunity to onboard the masses through sports. "Activations that enhance experiences in areas where people hold such deep, lifelong passions, including sports, are critical for the proliferation of non-fungible technology," said Frisch.
Tom Mizzone, CEO of Sweet, is banking on fans finding appeal in a customer experience that foregrounds and celebrates hockey. "In this groundbreaking partnership, we're not just launching a platform; we're forging a new era where gamified and social digital collectibles become a bridge to unforgettable experiences in the sport you love," he said in a statement.