VeeCon 2022 just wrapped. The three-day conference was held from May 19 – 22 at the US Bank Stadium in Minneapolis, Minnesota. Ultimately, it brought together some of the most notable innovators and artists in the NFT space to discuss where we've been and where we're going.
Straight from the main stage
During the event, Pharrell Williams took to the main stage to discuss the ways in which technological advancements have caused the world to shift in recent years. During his speech, he noted that the world is buzzing. "The potential of the Blockchain and Web3 is unlocking something that is scaring the system," he said. From regulating taxes to President Biden issuing a mandate to look into the crypto space, it seems like Pharrell is correct in his assessment.
Meanwhile, Seth Green revealed in his segment that he had plans to release a show called White Horse Tavern. The star? His Bored Ape #8398. Unfortunately, Green says this piece, along with three other highly valued NFTs — two Mutant Apes and a Doodle — were stolen in a recent phishing attack.
Sadly, with the Bored Ape gone, his planned show can't push through. This is due to one of the main perks of owning a Bored Ape: owners also gain full commercial rights to pieces they purchase. With the Ape stolen, now somebody else is free to do whatever they want with it, as Green no longer holds its commercial rights. This highlights the importance of knowing how to protect yourself from scams and having a secure wallet for your crypto and NFTs.
Debriefing with GaryVee
During the event, nft now also caught up with the man behind it all: social media and NFT entrepreneur Gary Vaynerchuk. He shared some insights into where both he and the NFT ecosystem are heading next.
To begin, Vaynerchuk wasn't shy about how plans for his NFT empire. "I'm going to build one of the most important intellectual properties in the history of mankind," he said, alluding to the numerous industries — ranging from cereal to video games — he's planning to enter with the VeeFriends IP.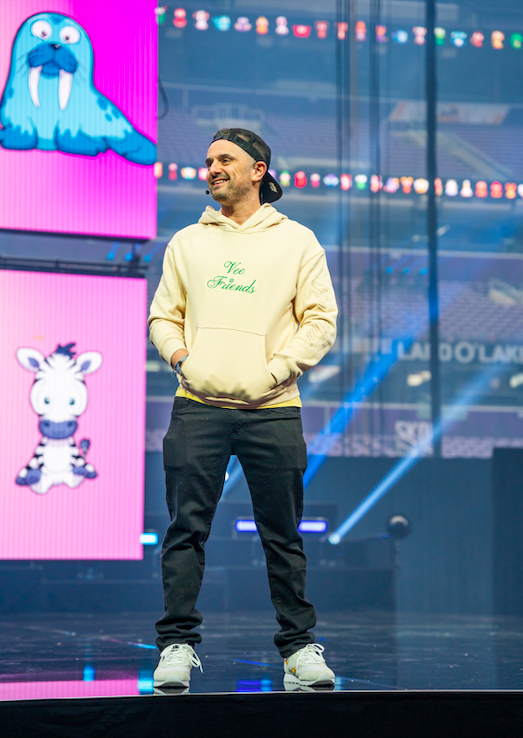 As he mentioned in a tweet from August of last year, Vaynerchuk really does think that over 98 percent of NFT projects are going to go to zero in the coming years. Although some people took these claims as Vaynerchuk sowing fear, uncertainty, and distrust in the market, he continues to cling to this belief.
Instead, with projects like VeeCon, Vaynerchuk hopes to encourage the NFT community to enter its next — and much needed — stage after last year's bull market. As he put it in an interview with nft now, "the next big thing is boring." Vaynerchuk believes that the next crucial step will simply involve "24, 36 solid months of technology building to eliminate [the] friction that [makes engaging in web3] impossibly challenging for the masses."
With VeeCon's massive turnout, there's a good chance that more than a few of its attendees share Vaynerchuk's vision for the NFT space moving forward. As Vaynerchuk put it, there's lots of work to be done, and a lot of it won't be so glamorous. "I think there's a lot of coolness in boring operations," he said, stressing the importance of continuing to keep the space moving forward, even if it might not seem exciting at the moment.