The Alpha:
Uniswap Labs has released the draft code for Uniswap v4, introducing unique plugins and custom liquidity pools.

V4 marks the first time Uniswap Labs has opened up for community feedback before a version's public launch, illustrating a commitment to a decentralized development model.

While no official launch date for v4 has been announced, the team plans to engage in extensive community interaction and revision of the base code.
---
Dive deeper
Uniswap Labs, the pioneering team behind the world's leading decentralized exchange (DEX), has disclosed plans for its next significant upgrade: Uniswap v4. The June 13 announcement came with the release of the upgrade's draft code and marks a novel approach toward creating a more inclusive and decentralized development model.
Considering the Uniswap protocol hasn't received a significant update since v3 was deployed to the Ethereum mainnet in May 2021, this latest news feels to be a signal of immense growth from Uniswap Labs — which has evolved steadily despite the ever-changing crypto and NFT market.
Renowned for popularizing automated market makers (AMMs), Uniswap has been a major player in the crypto trading landscape, amassing over $1 trillion in cumulative transaction volume with its current version, according to DefiLlama. Its forthcoming iteration, however, aims to outshine this impressive legacy by enhancing coin-swapping functionalities and introducing custom liquidity pools.
Most notably, Uniswap v4 introduces a unique feature dubbed "hooks," an innovative new concept that encompasses smart contracts that can be plugged into different pools. The feature paves the way for a suite of customizable options, such as on-chain limit orders and dynamic fees — which have anecdotally been difficult to incorporate in a blockchain environment devoid of centralized order books or intermediaries — to be introduced to the platform.
"Hooks are contracts that run at various points of a pool action's lifecycle. Pools can make the same tradeoffs as v3, or they can add totally new functionality," Uniswap CEO and Founder Hayden Adams said in a blog post. "For example, v4 will allow pools that natively support dynamic fees, add on-chain limit orders, or act as a time-weighted average market maker (TWAMM) to spread out large orders over time."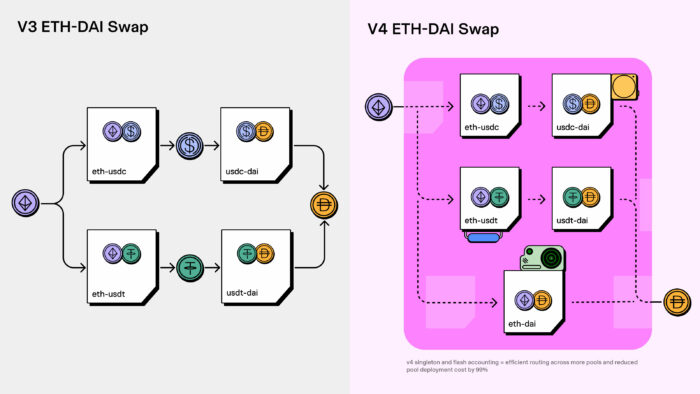 The ability of hooks to facilitate the creation of TWAMMs could be of great significance with this latest update, as it potentially mitigates risks associated with adverse price movements. Essentially TWAMMs mean that v4 users will be able to execute long-term swaps, where, instead of immediately transitioning a token based on current price metrics, currencies can be converted over a long period of time.
Moreover, Adams' blog post states that Uniswap v4 offers an "improved architecture and gas savings," potentially presenting a solution to a longstanding challenge for traders — high gas costs. With the advent of a "singleton contract," the new architecture ensures that all pools reside within a single smart contract, thus significantly reducing pool creation gas fees, anticipated to be slashed by up to 99 percent. This method of "flash accounting" means that only net balances are transferred in and out of pools, further minimizing costs.
A commitment to collaboration
Reflecting its commitment to driving community-oriented development, Uniswap Labs is breaking new ground by releasing the draft code for v4 to encourage public feedback. Adams noted that the open-source nature of the code would allow for meaningful community contribution in refining the final product.
The move towards a more participative model arrives at a time of uncertainty in crypto regulation as Binance and Coinbase navigate legal disputes with the U.S. Securities and Exchange Commission (SEC). Yet perhaps the ongoing SEC situation only further accentuates Web3's need for the decentralization ethos that Uniswap seeks to embody.
Uniswap v4 is currently in its formative stage, with the final launch date still undetermined. The platform's progressive approach, however, points towards a promising future with the potential to redefine the standards for decentralized exchanges.
In case you missed it:
Editor's note: This article was written by an nft now staff member in collaboration with OpenAI's GPT-4.