Venture capital (VC) investment in the cryptocurrency and blockchain sector is on a downward trajectory, according to a recent report by Galaxy Research. The second quarter of 2023 saw crypto and blockchain firms receiving $2.3 billion from VC firms, a significant drop from the same period last year when more than $8 billion was invested. Looking back further to the COVID-19 pandemic, the crypto industry experienced a monumental surge in venture capital, with a record $13 billion invested in Q1 2022. The current challenging business environment coupled with rising interest rates has led to a reduction in deal flow, according to the report. 
"Capital invested has not yet found a clear bottom. Rising rates continue to reduce allocator appetites to bet on long-tail risk assets like venture funds," the report stated. This decline marks the fifth consecutive quarter where VC investment in crypto firms has decreased. With the digital asset space in its infancy, venture capital has continued to play a crucial role in providing funding to startups in exchange for equity or tokens.
Not all bad news 
Interestingly, while the total investment amount has decreased, the number of deals has slightly increased, rising to 456 from 439 in the previous quarter. The report also noted a significant 275% growth in deals involving companies focused on privacy and security products, while infrastructure-based solutions came in at 114 percent.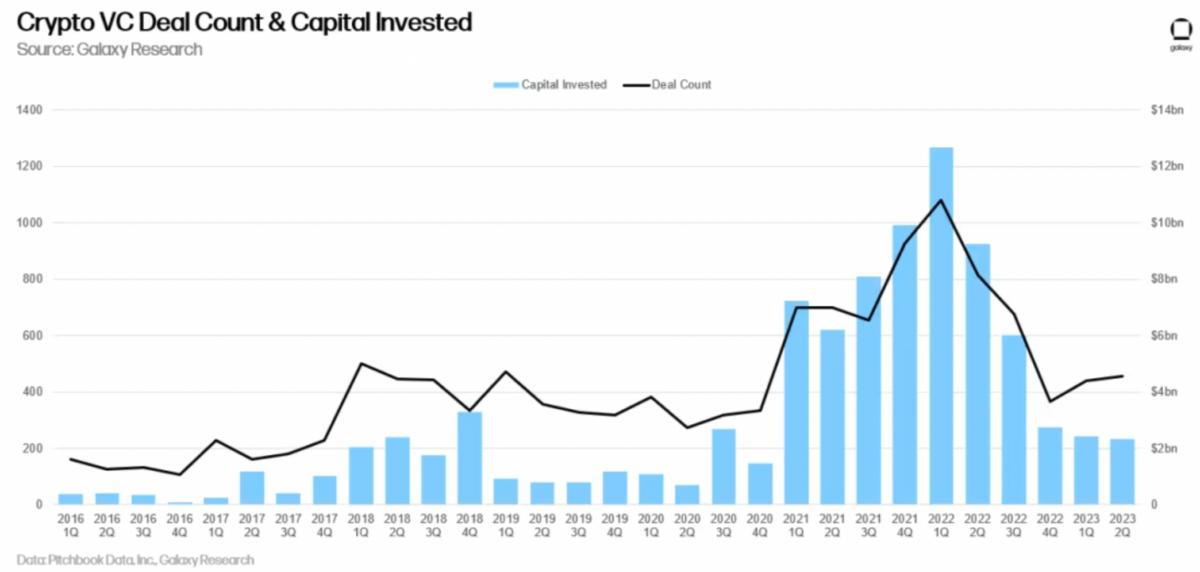 In terms of sectors within the crypto space, startups centered on trading, exchanges, investing, and lending attracted the most capital, with $473 million invested.
---
Here are the largest deals of the quarter, ranked by sector and industry:

Layer 2/Interop sector experienced the largest deal of the quarter, with LayerZero raising $120 million Series B round;

Firms focused on Web3, NFTs, Gaming, DAOs, and the metaverse, collectively received $442 million;

The largest deal in the Web3 and NFT space for the quarter was cross-chain NFT marketplace Magic Eden, and its recent $52 million deal. 

Blockchain solutions provider Auradine had the largest infrastructure deal at $81 million; and

River Financial had the largest Trading/Exchange deal at $35 million.
---
A light at the end of the crypto tunnel?
Despite regulatory challenges, the report suggests that crypto startups in the U.S. continue to attract significant attention from venture capitalists. This indicates that the recent regulatory actions by the U.S. Securities and Exchange Commission (SEC) have not completely deterred investors. 
With Ripple Labs' small legal victory against the SEC in which a judge ruled that sales of XRP on exchanges do not constitute a "security," and a high level of legal scrutiny being paid to the SEC's prior approval of Coinbase's 2021 S-1 filing, some in the Web3 space are wondering if the aggressive approach of U.S-based regulators could be in for a sea change.
The Galaxy report revealed that 45 percent of capital invested in crypto companies was directed at U.S.-based firms, followed by the United Kingdom at 7.5 percent,  Singapore at 5.7 percent, and South Korea at 3.1 percent.
However, the decrease in VC funding, according to the report, is not exclusive to the crypto sector. Tighter monetary conditions have impacted VC firms' ability to continue raising funds in 2023 for investments across various sectors, including the ongoing bear market coupled with "the spectacular blowups of several venture-backed companies in 2022" that have left many allocators feeling "burned."
Editor's note: This article was written by an nft now staff member in collaboration with OpenAI's GPT-4.