We are in the midst of a significant moment in history, one where the world of tech is no longer dominated by the privileged and social elite. Hxouse is an incubator and accelerator program working to define this moment by providing opportunities to young creatives who might otherwise not have access to the tools and guidance necessary to achieve success and make their voices heard.
Dedicated to leveling the playing field for those from underserved communities, it provides individuals with access to education, mentorship, and a network of world-renowned experts in technology and the arts.
Now, the team is focusing its resources on Web3.
Hxouse recently came together with other industry leaders to launch the Hxouse Labs Global Tour. It unites artists with technologists and provides them with an opportunity to collaborate on an NFT challenge. In partnership with The Weeknd and Binance, Hxouse Labs will be visiting cities across the globe to gather top thinkers, creatives, and artists, with the goal of re-imagining the future of NFTs.
Specifically, through the program, individuals will have a chance to challenge the established narratives regarding Web3 and reconsider what's possible by creating a new concept for an NFT – one which may actually be brought to market.
Imagining our non-fungible future
The brainchild of La Mar Taylor, Abel Tesfaye, and Ahmed Ismail, Hxouse is designed to foster innovation and create meaningful opportunities for entrepreneurs.
Over the coming months, Hxouse Labs will be touring cities, seeking out the next wave of rising thinkers to participate in a series of 13 one-day challenges held in four different continents. Individuals who are selected for the program will have an opportunity to develop an NFT project in a sprint facilitated by industry experts.
And the benefits for participants are many and various.
The Hxouse Labs Tour is a rare opportunity for young tech creatives to make waves in their city through building lasting connections, collaborations, and community. Additionally, participants that create the most compelling concepts will receive a host of career-making opportunities by having the chance to see their work brought to life. Through these efforts, the Hxouse Labs Tour seeks to challenge existing narratives by universalizing access to technology and creative collaboration, effectively breaking down the social and economic barriers that have held so many communities back from breaking into the Web3 space.
How It Works
To begin with, individuals who are interested in participating in the program must apply through the official website by July 1st, 2022.
From there, the team will review applicants and select a total of 30-35 participants per city. On the day of the event, selected participants will work in groups on a day-long design sprint and deliver a presentation based on a specific challenge statement, which each group will receive at the start of the day.
The high-level goal? To re-imagine the NFT experience by designing an NFT concept for The Weeknd's "'After Hours Til Dawn Tour." Groups will be given a number of tools to help them get started with the process and also provided with inspirational materials.
To successfully meet the challenge, each group will ultimately need to create an immersive, experience showcasing their final concept to a panel of experts.
After presentations, the panel will deliberate and select winners for each challenge. The winners will be invited to see The Weeknd's show the following night and have the chance to win an opportunity to collaborate with XO and Hxouse on their final product.
Operating in parallel with The Weeknd's "After Hours Til Dawn Tour," the first phase of the program will begin in North America. Specifically, it will kick off on July 7, 2022. The first program will take place in The Weeknd's hometown of Toronto, Canada. From there, the tour will hit New York, Chicago, Detroit, Miami, San Francisco, and Los Angeles over the following two months. Phase two of the four continent tour will begin later in 2022.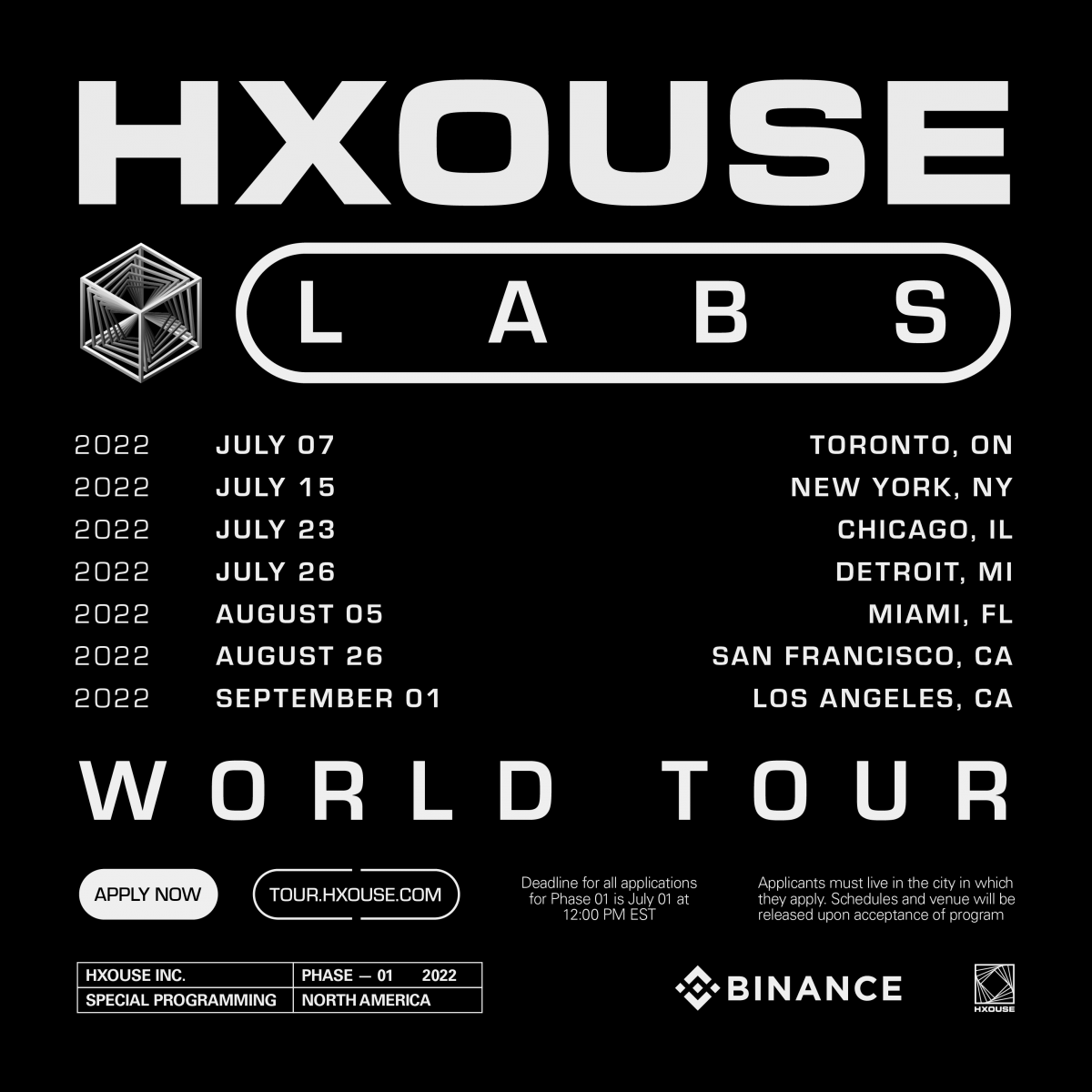 Why it matters
Driven by his own lack of opportunity in the early days, Taylor credits his current success to the various friends and mentors who gave him access to the software and resources he needed to make his dreams a reality. Now, Taylor says that he wants to give back in similar ways. Specifically, he notes that the Hxouse program is about providing creative entrepreneurs who may be lacking in resources or opportunities with "more eyeballs, access, and notoriety" regarding their work.
"Oftentimes, a lot of people go on unnoticed based on circumstances like upbringing, geographical location, financial background, or race. I believe everyone deserves to get to the door….the Mission of Hxouse is to help people get an opportunity to get their shot off," he said in an interview with nft now.
Chris Pandolfi, who oversees Programs and Development at Hxouse, reiterated these sentiments. Specifically, he notes that the Hxouse Labs Tour seeks to "champion diverse education" by creating innovative opportunities and creative challenges to encourage creative collaboration in the NFT space. "The Hxouse Labs Tour calls on the next generation of creative thinkers to tell the world what comes next for the NFT. It is important for us to look to the future because, as an institution that champions diverse education, we need to create innovative opportunities and creative challenges," he said.
And it's no coincidence that the team chose NFTs as their focal area, either. Taylor notes that the democratization of opportunity is what ultimately excites him the most about Web3, as we finally have a new model that is capable of upending the broken, traditional power dynamics and incentive structures of most creative industries.
"The power of Web3 itself is that creatives hold the power now. Before, agencies and gatekeepers blocked people from entering the space, and in turn, sterilized their growth," Taylor said. "Now, Web3 is letting creators push forward, call the shots, and hold the power of the direction they want to go in. It finally eradicates all the bureaucracy and hierarchy of the models that were previously in place."
Now, with the groundwork and foundation set, all that's left to be seen is how much of an impact this technology can truly have. To be part of the inaugural tour and help push the boundaries of what's possible, ensure you apply through the Hxouse Labs website before July 1st, 2022.