Traversing the world of non-fungibles is a daunting task. With so many new NFT projects, artists, and large-scale collections cropping up weekly, it has become nearly impossible to keep up with all the new and exciting happenings.
Previously, all that was needed to find the latest NFT craze was a simple browse through OpenSea. But things have changed drastically since the 2021 NFT boom. Now, NFT enthusiasts have to be really mindful of what and where they collect.
To aid in the unearthing of awe-inspiring NFT endeavors, both new and old, nft now presents Undervalued: a weekly column highlighting innovative projects, collections, and artists pushing the NFT space forward.

Primera, launched in November 2021, is the genesis project from the joint studio of prominent crypto-artists Andrew Mitchell and Grant Yun. Created completely in p5.js (a JavaScript library used for creative coding), Primera is said to have been years in the making. It now exists as a testament to collaborative, unorthodox, generative art.
Centered around the study and interpretation of early 20th-century art fundamentals, Primera aims to blur the lines between traditional art and 21st-century blockchain technology. Capped at 400 individual pieces each generated at the time of mint, the collection features fully interactive NFTs that are licensed under creative commons.
The Pinco Village, launched in December 2021, is a collection of NFT characters and scenes created by a 16-year-old crypto artist that goes by the name Snowy. Originating from a sketch drawn by Snowy at age 10, the Pinco project is set up as an independent and continuously growing ecosystem.
Rich lore surrounds each Pinco character, as well as the Village's other inhabitants. They are said by Snowy to be made out of "stuff they ate off the ground like metal" while living in an old village abandoned by humans. Currently, the Pinco Village collection consists of 55 NFTs, which the young artist hopes to grow to over 100 by the end of 2022. The project is an interesting showcase of talent from yet another teen who has become a prominent part of the NFT space.

Treeverse Plots, launched in August 2021, are swatches of virtual land that exist in a pixel-themed metaverse gaming project called Treeverse. Created by NFT collector/influencer Loopify, this collection's high secondary sales volume is indicative of the growing market for virtual real estate.
Set to be an open-world, fantasy MMORPG where users can slay beasts, forge weapons, defeat dungeons, and more, Treeverse is a mix of traditional RPG gaming and blockchain play-to-earn technology. Although the metaverse project is split up into multiple NFT collections, purchasing a Founders Plot allows users additional in-game utility including the ability to create public homes, rent out land, and more.
Stickmen Toys, launched in July 2022, is a large-supply PFP NFT collection created as a collaboration between Warner Records UK and legacy audio brand Bose. Featuring 5,000 NFTs, the Stickmen collection is a new stab at utility-enabled NFTs, but with an audio-visual twist.
Although this innovative project dropped as a free-to-mint collection, potential owners were incentivized to join the Stickment community to gain full creative and commercial rights to their NFTs. Accompanying the project's launch, Bose aimed to give away a set of limited edition Stickmen Toys-themed headphones and Bluetooth speakers for holders, further exemplifying how physical and digital goods can enhance Web3 projects.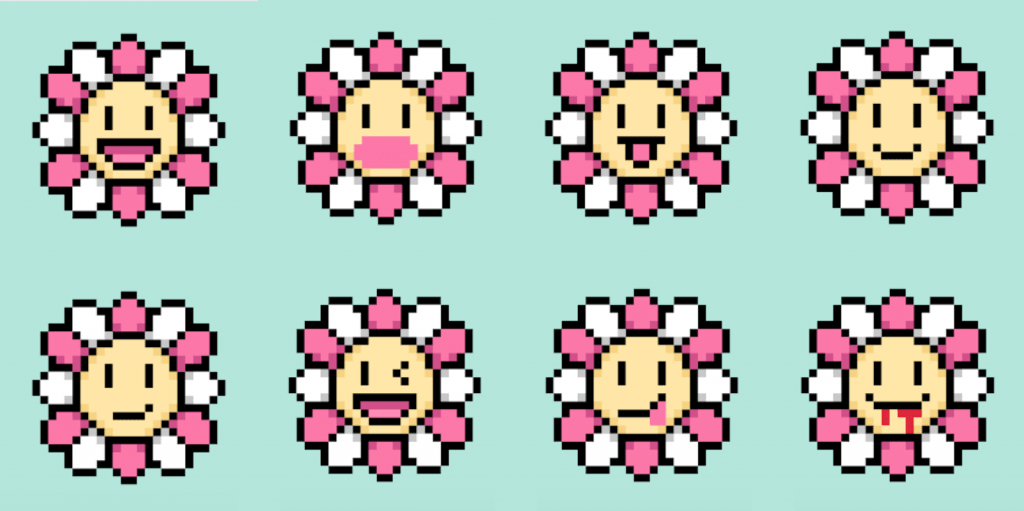 Murakami Flowers, launched in May 2022, is the first large-scale NFT project to come from critically acclaimed Japanese contemporary artist Takashi Murakami. Although originally slated for release in March 2021, Murakami postponed the drop in order to further expand his blockchain and NFT literacy.
While Murakami's entrance into the NFT space via CLONE X in 2021 was a major success, the creator had to find ways to balance his traditional art career with new Web3 endeavors and keep the momentum going. With the announcement and subsequent launch of his long-awaited Flowers project, the celebrated artist was able to viably circumvent the NFT hype cycle, leaving a lasting example for other traditional artists to enter the space.