Traversing the world of non-fungibles is a daunting task. With so many new NFT projects, artists, and large-scale collections cropping up weekly, it has become nearly impossible to keep up with every successive development.
Previously, a simple browse through OpenSea was enough to find the latest NFT craze. But things have changed drastically since the 2021 NFT boom. Now, NFT enthusiasts have to be really mindful of what and where they collect.
To aid in the unearthing of awe-inspiring NFT endeavors, both new and old, nft now presents Undervalued: a weekly column highlighting innovative projects, collections, and artists pushing the NFT space forward.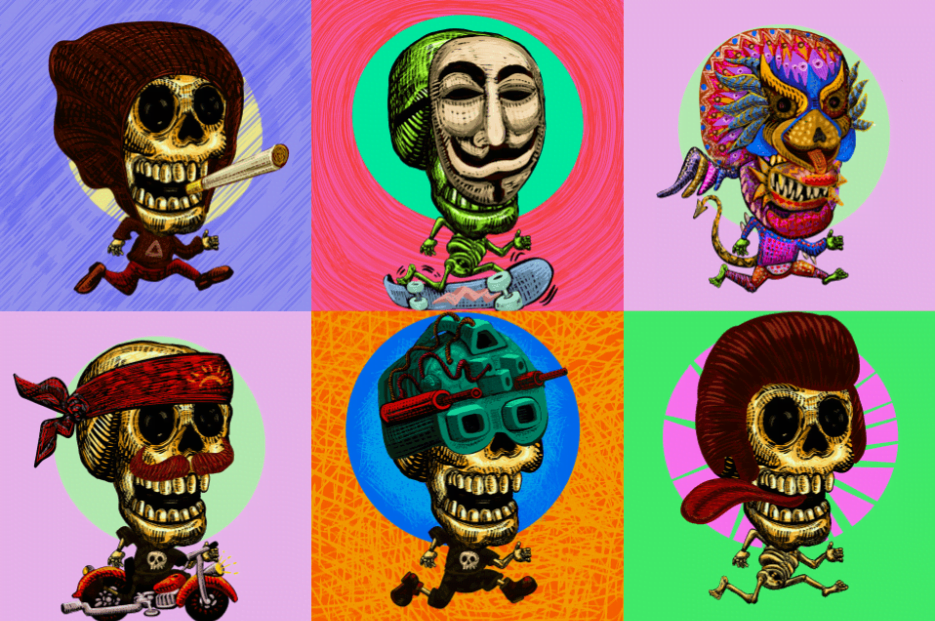 Streetlab Genesis (originally called the Free Muertos Tribute) is a Day of the Dead-inspired 4,444-piece PFP NFT collection. Launched in June 2022, the collection was created by decentralized street art NFT platform Streetlab and is the largest collection ever released on the platform. The Genesis collection was designed and hand-drawn by Mexican street artist Yescka who has been painting graffiti since he was just 15.
The Free Muertos are said to be freedom fighters who have come back from the dead to guide street artists toward the NFT scene and fight censorship. Each of the NFTs within the Genesis collection grants unique utility to its owner, allowing them to vote for initiatives on the Streetlab platform.
Keepers of the Inn, launched in December 2021, is a large-scale collection created by pioneering photographer and filmmaker Julie Pacino. Featuring 3,356 photographs, the collection is a sort of time capsule, with each image captured during the rehearsal process of Pacino's upcoming feature film I Live Here Now.
Pacino's Keepers of the Inn is a unique endeavor, even by NFT standards, and provides possibly the best use case for funding a movie via NFTs. The collection also likely led to prominent independent film distribution company Utopia joining Pacino in producing the feature film.


CyberBrokers, launched in March 2022, is a large-scale PFP project created by crypto-art OG Josie Bellini. A unique entrant into the PFP market, each piece within the collection lives fully on-chain.
Akin to other blue-chip collections, every NFT within the CyberBrokers collection acts as a membership and access pass to an exclusive collector community as well as different kinds of metaverse experiences. Considering only a select few crypto-art OGs have launched their own PFP collections (or iterations thereof), Bellini's project is revered for being linked to her artistic legacy.
Bored & Dangerous, launched in July 2022, is a literature-based NFT project created by a fictitious Bored Ape character named Jenkins The Valet. A prominent collector and writer in the NFT space, Jenkins banded together with his 3,000-member community to create the NFT experience.
Almost a year in the making, the project was helmed by Jenkins, but features a novel written by 10x New York Times bestseller Neil Strauss. The novel prominently features characters, illustrations, and more created and/or owned either by Jenkins or members of his community.


Pudgy Penguins, launched in July 2021, is a collection of 8,888 penguin-themed NFTs that is said to be a beacon of positivity in the NFT Space. At just over one-year-old, the collection has seen its fair share of ups and downs but has remained an integral part of the NFT ecosystem — complete with its own line of toys.

On the project's controversy: in December 2021, a Pudgy Penguins community moderator exited the team, accusing the leaders of the project of being shady and ineffective. He even revealed that one of the project's leaders had attempted to buy his silence with a bribe. In the aftermath, the project was handed over to new management and has been slowly reorganizing, even flipping fellow prominent PFP collection Cool Cats in value.