For years, independent filmmakers have turned to Kickstarter, Indiegogo, GoFundMe, and the like to secure funds for their passion projects. From critically acclaimed action comedies like King Fury to award-winning horror flicks like The Babadook, crowdfunding has helped many cult classics come to fruition.
Yet, times are changing in the entertainment industry. The COVID-19 pandemic transformed the in-person reliant sectors of television, music, and film into a semblance of what they once were, forcing creators to think outside the box when launching new endeavors.
Enter NFTs — a new, robust, growing ecosystem that lives at the intersection of art, tech, and finance. Now musicians, actors, designers, and more are finding it possible to fund various projects utilizing blockchain tech. And as the weird wide world of nonfungibles continues to grow, filmmakers have begun to wonder how they too might be able to circumvent traditional funding avenues to reach a new, digitally-native demographic of backers.
Who is funding movies through NFTs?
NFT movies have been all the rage as of late. From award-winning actresses like Jennifer Esposito, Reese Witherspoon, and even the larger-than-life Anthony Hopkins becoming active at the intersection of film and NFTs, interest in the burgeoning new NFT market sector is steadily rising.
Yet, beyond the household names, possibly the best use case for funding a movie via NFTs comes from pioneering photographer and filmmaker Julie Pacino. A director that had already firmly planted herself in the Web3 ecosystem, she decided to fund her upcoming feature film "I Live Here Now" not through traditional channels, but by melding her passions into an NFT project.
With her project Keepers of the Inn, Pacino launched a collection of 3,356 photographs captured during the rehearsal process of I Live Here Now. And, as if only to add more substance to her endeavors, shortly after the NFT drop, prominent independent film distribution company Utopia joined Pacino to help producer her feature film.
Of course, Pacino isn't the only one aiming to fund a movie with NFTs. As only a few months after Keepers of the Inn started making the rounds, Yes Theory announced plans to launch a 10,226-piece NFT collection that would allow fans to partner with them on a budding film venture.
Centered on an impossible journey to complete the first-ever long-distance triathlon in Antarctica, The Iceman film easily grabbed the attention of the NFT community. Yes Theory had solidified its reputation for unique and unorthodox endeavors, and this enabled the American digital media brand to consider NFTs in lieu of accepting a $1.25 million production to complete The Iceman. Notably, this only came as a slight surprise to their community.
Even beyond indie films and documentaries, production studios of varying sizes have also begun to stake their claim in the power of NFTs. Perhaps having seen the growing market for NFT-fueled content from the likes of Yuga Labs and Doodles, Rooftop Production, and Karlab Studio (the masterminds behind Dance and Despicable Me 2 and 3) have set out to change the way that movies are made.
With PLUSH, a French movie set to release sometime in 2023, the two aforementioned production companies will be leveraging not only the power of NFTs, but of community as well to fund and create an animated feature film. With the intention of creating a 50,000-piece collection, PLUSH's creators aim to make whoever collects their tokens a co-producer that will, in turn, receive a share of the film's profits, access to special screenings, and more.
PLUSH's collector incentives are undoubtedly unique, but they exist as part of a common thread in NFT film-funding endeavors. In other words, NFTs are not simply one-time transactions. In contrast to other traditional methods of funding, NFTs challenge the status quo of the vendor/consumer relationship.
Most intriguingly, NFT-fueled movies can interact with their audiences in ways never thought possible, often rewarding viewers, opening communication directly to target audiences, and more.
Why leave traditional funding methods like Kickstarter?
Fundraising runs deep in the crypto industry. Traceable back to the ICO craze of 2017, crowdfunding has long been a primary use of blockchain technology. Nowadays, instead of coin offerings, Web3 companies endeavoring to launch a funding round regularly turn to NFTs.
Traditional crypto funding is still definitely a thing, but as the NFT ecosystem continues to grow, a wider variety of creative studios and entertainment companies are sustaining themselves by launching NFT collections. And why shouldn't they? If endeavoring to ship products in a Web3 market, why not use Web3 tools?
Beyond Web3 or digitally native ventures, creatives of all types are designing business plans in favor of NFTs as a primary source of revenue. But what incentives do independent film projects have to leave Kickstarter for NFTs?
First of all, NFT projects have the potential to bring in a lot of money, in a short amount of time. Success stories of "such and such selling out in mere minutes" or "this and that made $1 million via secondary sales in one day" have continued to motivate creators to fast-track their NFT collections.
NFTs also empower creators to maintain authority over their projects. As with The Iceman, Yes Theory expressly dictated that NFT endeavors would help ensure that the crew behind the death-defying project would retain creative control of the film.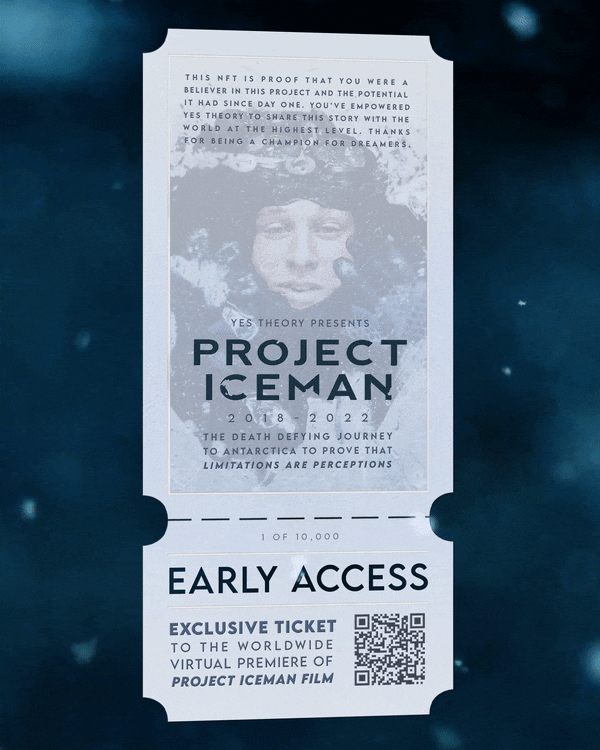 Since project teams can consolidate control and retain rights, they can also pass this power over to their fanbase. Adding a participatory element to creative direction, in addition to receiving commercial licensing and profit kickbacks, collectors can become an actual functioning part of film projects.
But if the more financial-leaning prospects aren't enough to entice filmmakers to reconsider NFTs, the community aspect demands attention. Let's face it, NFTs are great for bootstrapping a community. We've seen it time and time again with generative avatar (PFP) projects. While some opt for free and open communities, NFTs can so easily act as membership passes into an exclusive community, further driving demand.
But better yet, a project's community and fanbase are one and the same. While often it's PFPs or play-to-earn gaming collections that these communities center around, artists, photographers, and filmmakers have also found continual success by corralling their own communities into one central place, usually Discord.
One such creator finding success in the community-building aspect of NFTs is Miguel Faus. Having entered into the NFT space with the intention of becoming an active part of the NFT community, accruing a fanbase seems to have come easy for Faus.
Yet, Faus is more than an NFT collector and blockchain tech proponent: He's also a prominent director and filmmaker. Faus is viewed as a member of the NFT community in Web3, which helps explain why his film project Calladita has already gained significant organic traction. On this development, he said he'd raised more than $650,000 of his $950,000 budget for Calladita via NFT sales, in an interview with Cointelegraph.
Of course, Faus' successful experience with NFTs is not universal. Sure, as a filmmaker he has had years perfecting his craft, which is undoubtedly a large part of why he has gained notoriety as a trusted creator in the NFT space. But the fact that he could circumvent the many pitfalls of NFT crowdfunding may be his biggest Web3 claim to fame.
The pitfalls of NFT crowdfunding
For better or for worse, NFTs tend to present creatives with a sort of shiny object syndrome. Seen as the "hot new thing," organizations can and do get lost in hype cycles, not truly grasping the implications of their entrance into the NFT ecosystem when launching a Web3 crowdfund.
Some find resounding success, while others fall short of even their most reserved goals. Perhaps this is due in part to the lack of precursors. There's no robust blueprint for building a lasting NFT. This means that aspirational NFT moguls should take cautionary tales seriously, so they can avoid the errors of those who came before them.
It's of the utmost importance for creators and companies to do their due diligence when launching an NFT project. Faus spent months researching NFTs and insinuating himself into the community before dropping an NFT project in its virtual lap.
Many celebrities have tried entering the NFT space without testing the waters. And, more often than not, it comes back to bite them, and they're seen as nothing more than money-hungry marketers out for cash. Consequently, aligning with your prospective collectors is key, especially in Web3, where trust is at times scarce. Always remember, launching an NFT project is as much about money as it is about telling the story of relationships, so it won't hurt to prepare for the adventure.