Slowly but surely, the Bored Ape Yacht Club (BAYC) is getting bigger. Massively so. New and exciting happenings are being announced on a near-monthly basis. And now Yuga Labs — the company behind BAYC — has started down the path to create their massive metaverse endeavor. It's a new project called Otherside.
The Otherside project was initially announced in March 2022. Subsequent speculation and a deluge of unconfirmed information in circulation made the actual details of the project fuzzy at best. This isn't too surprising, given the scale of the project. While some may have thought Otherside was just another expansion to the existing BAYC NFTs, it isn't at all comparable to secondary collections like the Bored Ape Kennel Club.
This new endeavor is a whole new ballgame.
And even though its launch was riddled with hiccups and rather poorly received throughout the greater NFT community, it looks like Otherside is here to stay. With this in mind, here's everything you need to know.
What is the Otherside project from Yuga Labs?
Otherside is the largest expansion of the Bored Ape NFT universe we've ever seen. The NFT space first got a first glimpse into what Yuga Labs was trying to build with Otherside from their leaked 2022 pitch deck. In the deck, the company expressed a desire to "build something that expands the universe of the BAYC, but also invites the larger NFT community (and those priced out of BAYC membership) to join."
Some of Yuga Labs' founders originally rejected the contents of the deck. They posted in Discord, claiming that the deck was, "an old, outdated pitch deck and hilariously a version that neither Gordon nor I ever saw." However, it seems this is actually exactly what the company is hoping to do with this project. After a tweak to their messaging, the Otherside website stated that the project is literally aimed at building a new universe. Specifically, in the metaverse.
The Otherside project is ultimately an MMORPG (Massively Multiplayer Online Role-Playing Game) connected to the BAYC ecosystem. Wondering how the Otherside world and BAYC NFTs fit together? You're not alone.
The team notes that the game will blend mechanics from MMORPGs and Web3-enabled virtual worlds. Specifically, players own the land in the world, NFTs can be transformed into playable characters, and more than 10,000 people will be able to play together simultaneously.

Otherside will be its own metaverse that will offer an interoperable experience, meaning users will be able to move between metaverses. The project also includes prominent NFT collections like Cool Cats, World of Women, CrypToadz, and more. In this respect, this metaverse will be a sort of open-world game, one where collectors can own land and interact with different ecosystems and the unique beings that inhabit them.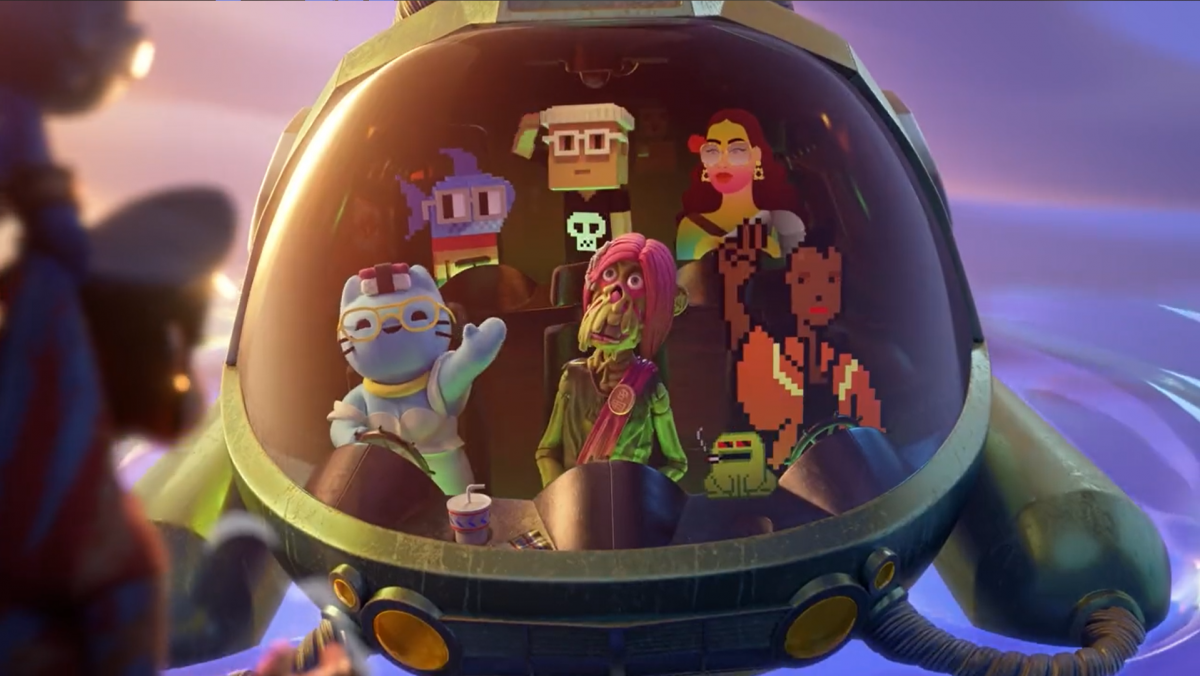 Yuga Labs hasn't announced everything about how the game will work. But here's what the team has said so far:
Multiplayer features will be made possible via Improbable's M2 technology
Otherside will include natural voice chat
They hope to solve problems in bandwidth and rendering "using machine learning"
Otherside will be able to handle more than half a billion operations per second
Immersive gameplay will be "supported by AI and physics"
If that sounds really general and non-specific, it's because it is. There isn't any specific information related to the infrastructure or technology. What we do know so far is that the key to the game will be embedded within the unique ecosystem and the enigmatic Kodas that live within it.
Furthermore, the project will tie directly into the ApeCoin ecosystem. The only way to participate in the Otherside drop is to purchase an NFT using $APE tokens.
Who created and owns Otherside?
It's important to note that, at this point in the Bored Ape journey, Yuga Labs isn't the only entity piloting the ship. Although the four founders of Yuga Labs first came up with the idea for BAYC and were an integral part of bringing the Otherside project to life, there are a good number of additional companies and individuals now helping run the show.
Apart from Yuga Labs, the most prominent force behind Bored Apes is now venture-capital firm Andreessen Horowitz (known as "a16z"), who led Yuga Labs' seed round through their crypto fund. With the funding, Chris Lyons, general partner at a16z crypto, joined Yuga Labs' board. Other prominent players include Animoca Brands, Improbable, and the ApeCoin DAO.

Animoca Brands is a game software and venture capital company helping build Otherside. Considering Animoca is also the driving force behind the widely popular metaverse game The Sandbox, the Hong Kong-based company has continued to solidify itself as a major player in metaverse endeavors.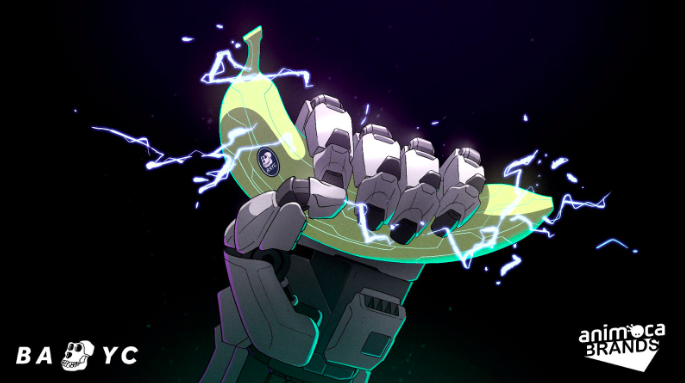 Similarly, Improbable, a British metaverse technology company pioneering new ways to build value across interconnected virtual worlds, has become synonymous with the Otherside project. Meaning that Animoca and Improbable are both joint creators and owners of Yuga Labs' Bored Ape-centric Otherside.
On the path to Otherside though, there have been many investors and contributors backing Yuga Labs from the newly launched ApeCoin ecosystem. As the new MMORPG will tie directly into the ApeCoin — which recently expanded as we saw OpenSea and other NFT marketplaces start to accept $APE as a form of payment — it's clear to see that the ApeCoin DAO, which is the true creator behind the ApeCoin, will largely influence Otherside.

Among other things (which you can read about here), the ApeCoin DAO aims to administer DAO proposals and serve the vision of the wider ApeCoin community, which surely now encompasses Otherside. And this DAO is consists of a good few high-profile individuals including Alexis Ohanian (co-founder of Reddit), Amy Wu (head of ventures & gaming at FTX), Maaria Bajwa (principal at Sound Ventures), Yat Siu (co-founder and executive chairman of Animoca Brands), and Dean Steinbeck (president and general counsel at Horizen Labs).
What are Otherdeeds and Kodas?
When it comes to deciphering how Otherside might actually work, one of the best things to turn to is Otherdeeds. Otherdeeds are dynamic NFTs that were built as a collection, and they contain all of the game elements. Each Otherdeed comes with a set of resources and some (very few) include a Koda (more on that in a moment).
Specifically, each piece of land in Otherside has up to four replenishing resources. Users will be able to harvest these resources and use them in the game. Some are rarer than others. They include anima (for research), ore (metal), shard (stone), and root (wood). There are also five sediment types that each land is built upon. Each is assigned a tier. They are: Biogenic Swamp (tier 5), Chemical Goo (tier 4), Rainbow Atmos (tier 3), Cosmic Dream (tier 2), and Infinite Expanse (tier 1).

Otherdeeds were launched via public sale on April 30, 2022 as a collection of 55,000 parcels of land. It should be noted, though, that the entire supply of Otherdeeds totals 100,000, with the other 45,000 parcels reserved for Bored Ape NFT holders and Yuga Labs employees and partners.
Rather than presenting a static representation of a piece of land, Yuga Labs designed Otherdeeds to evolve along with what users choose to do in the game. Yet, it's said that their true potential can only be revealed with time, further adding to the mystery surrounding these digital plots.
Within the ecosystems made up by Otherdeeds, live Kodas.

What are Kodas? They are the beings that Yuga says "have ushered us into the Otherside." The lore surrounding Kodas is intentionally fuzzy, as users aren't supposed to know exactly what they are or why they exist — other than that they have an important connection to the Otherside land. The company stated that anyone who encounters a Koda should take care. "We don't know why they've brought us here, or what their affinity to this land is. If you are lucky enough to meet a Koda, tread cautiously," they said.
To see a full breakdown of how items are listed in the Otherdeed NFTs, see the image below.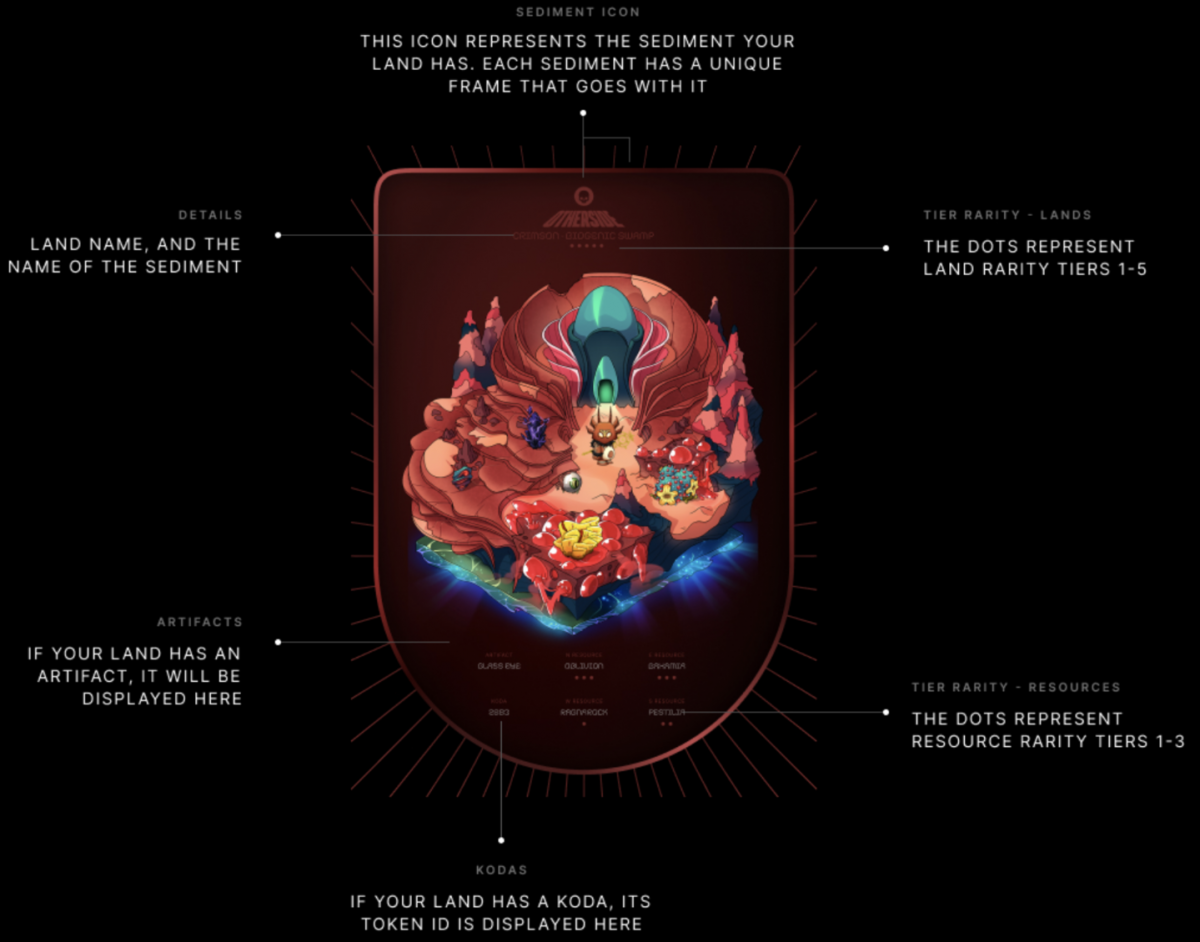 Alongside the initial Otherside land sale that revealed the existence of Kodas, Yuga Labs introduced a visual representation of what the forthcoming MMORPG might look like in the form of an interactive map. With this map, users can explore the open world that the game will likely take place in.
The Otherside NFT land sale
The Otherdeeds drop mechanics
Now that Otherside NFTs have been (and still are being) released and traded throughout the NFT ecosystem, everything seems to be more or less well within the BAYC kingdom. Yet, as previously mentioned, the Otherdeeds drop did not go off without a hitch. Quite the contrary.
To begin with, a number of Otherdeeds were reserved for current members of the BAYC community. You can see a breakdown of who received what in the image below.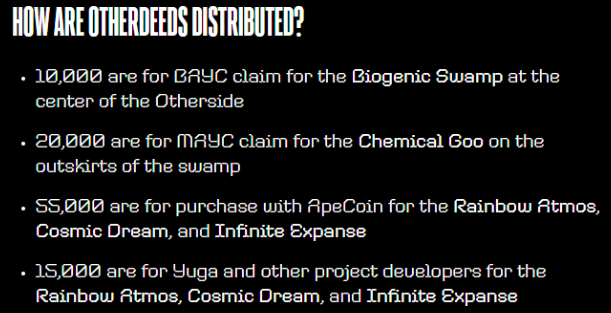 Launched on April 30, the Otherdeeds release was originally slated to be released via Dutch Auction. In the past, Dutch Auctions have been widely used to avoid astronomical gas fees created by a large number of NFT collectors attempting to mint their new NFTs all at once. In a Dutch Auction, NFTs collectors are given the opportunity to bid on items ahead of the sale, placing a bid that corresponds to the amount they are willing to spend on the NFT. On the day of the sale, the project creators analyze all the bids to come up with a ceiling price for the NFT (the highest point at which the NFTs will be sold). Then the sale begins, and collectors can start to purchase NFTs at the designated price. There is a gradual decline in price every few minutes once the Dutch auction starts. This continues ​​until the whole collection is sold or the auction time ends.
However, Dutch Auctions have traditionally made a bad impression on the NFT community. While projects will usually set their initial price relatively high — in hopes that there will be a fair distribution of NFTs throughout the sale i.e., create a sort of "buy what you can afford" mentality — fear of missing out (FOMO) almost always leads to the majority of collectors buying at the high price, ensuring that gas wars happen regardless.
Early on, Yuga Labs received backlash from the NFT community over plans to use a Dutch Auction. As a result, they decided to switch things up at the last minute. Instead of a Dutch Auction, they opted to release Otherdeeds in waves, hoping that limiting the number of NFTs each user could collect would mitigate high gas prices.
The team outlined the mechanics as follows: "At the start of the sale (wave 1), there will be a limit of 2 Otherdeeds minted per wallet. As soon as gas returns to reasonable levels and the amount of wallets minting decelerates, wave 2 will begin, during which KYCed wallets can mint up to an additional 4 Otherdeeds. Each increase in the per-wallet limit will be announced on the Otherside official channels."
This structure didn't work. And it didn't prevent excessive gas fees. In fact, the sale never even reached the second of a proposed five+ waves.
The Otherside mint
With the cost of each Otherdeed set at 305 $APE (and $APE valued at around $20 during the mint), each Otherdeed will cost somewhere around $6,100 at launch. This excessively high price point didn't stop anyone from buying. Gas prices failed to dip anywhere below 1 ETH ($2,750 at the time), and FOMO yet again led to a free-for-all.
Only NFT investors with tens of thousands of dollars in liquid crypto were able to participate, and countless individuals lost upwards of 1-2 ETH due to failed transactions.
What happened next? A lot.
In the days that followed the sale, a single Otherside NFT cost about $11,000 on the secondary market. The team raked in more than $300 million in revenue.
Although Yuga promised to work out a solution to refund the ETH that many lost to gas fees, it's been a small consolation to the greater NFT ecosystem. NFT drops largely seem broken because project creators don't properly analyze options, and the Otherdeeds sale just reinforced this. Yuga Labs responded to the fiasco by saying that the only solution is to create their own chain.
"We're sorry for turning off the lights on Ethereum for a while. It seems abundantly clear that ApeCoin will need to migrate to its own chain in order to properly scale. We'd like to encourage the DAO to start thinking in this direction," they said on Twitter. Some NFT investors suggested Yuga Labs might have intentionally structured things this way in order to force people to push for creating a new network.
Otherdeeds licensing
What does "owning" an Otherdeed actually entail? Of course, you can trade it, and the Otherdeed marketplace has been booming since launch, achieving upwards of 200,000 ETH (over $568 million) in secondary sales only a few days after launch. But collectors who choose to hold onto their Otherdeeds for the long run need to be aware of the licensing behind the new Yuga Labs NFTs.
As outlined in the Otherside NFT Purchase Agreement, when a collector purchases an Otherdeed NFT, that collector owns all personal property rights to that Otherdeed. They have the right to freely sell, transfer, or otherwise dispose of that NFT. What collectors do not receive, though, are the rights of any kind to any image or other intellectual property (IP) associated with, related to, or linked to an Otherdeed.
Of course, the debate around whether or not NFT collectors should be granted the rights to the IP of any tokens they collect is nothing new. As we've seen numerous prominent Web3 figures fighting for the proliferation of creative commons licenses for NFTs.
Looking further into the Otherside Licensing Agreement, it's clear Yuga has taken measures to prevent the NFT owners from profiting off of their NFTs. To this effect, the company has stated that Otherdeeds can only be used by collectors in a personal, non-commercial way i.e. "home display, display in a virtual gallery or creating a reasonable number of back-up copies and physical printouts."
Although it is understandable that the team wants to be the ones to profit off of their IP, these clauses feel contrary to the values of some in the wider Bored Ape community. Especially considering that one of the biggest selling points of BAYC has been the ability of Ape owners to profit off of – and, in some cases, create entire brands surrounding – the IP of the BAYC they own.

Where things get interesting, though, is within the Koda License Agreement. First, in this agreement, "Koda" refers to a non-fungible, unique token on the Ethereum blockchain aka an NFT. Second, the Koda license is revocable. This means the aforementioned personal, non-commercial license granted to NFT owners can be revoked by Yuga at any time. Although it's unlikely this will happen, the fact that it is included incensed some collectors.

Next, a separate clause prohibits the transfer of Kodas to any individual "located in a country that is subject to a U.S. Government embargo, or that has been designated by the U.S. Government as a terrorist-supporting country, or listed on any U.S. Government list of prohibited or restricted party."
Only recently the NFT community was up in arms about both Metamask and OpenSea banning Iranian users, and it looks as though Otherside could easily be the next to do so. This clause in and of itself brings forth an array of concerns related to centralization and gatekeeping, which run contrary to the ethos of Web3. It is doubly alarming considering the magnitude of the Otherside project, which seems to still be in its infancy.
Yet, as more U.S.-based NFT brands become popular, we're sure to see this happen time and time again. The underlying fact is that, although projects may grow and thrive off the concept of decentralization, when they become full-fledged U.S.-based companies, they must then follow U.S.-based laws.
The future of the Otherside metaverse
Considering Yuga Lab's extreme levels of success, possibly the most interesting aspect of the Otherside project will be what is to come. As Yuga and its partners have continued to be intentionally cryptic when it comes to all things Otherdeeds and Kodas, the possibilities of what Animoca and Improbable can bring to the table seem unlimited – especially when coupled with the money of Andreessen Horowitz.
One thing is clear through all of this, though: Yuga still very much values the Bored Ape and wider NFT communities. Yuga seems to be trying to exude the values associated with BAYC, as they have stated that Otherdeeds holders will be the major builders of Otherside.
Those who own a plot of land will be able to participate in demos, prototype builds, in-person events, and contests. While Otherdeed collectors need not have any special or technical knowledge, individuals and companies can apply for a Software Development Kit (SDK) to be involved in building characters, character skins, structures, in-game items, minigames, and more for Otherside.
If nothing else, the future of Otherside will be collaborative…or so Yuga Labs says.
Learn
Guides & Explainers