Cool Cats NFT project is one of the most exciting (and popular) brands in the NFT space. After it launched in July of 2021, the collection quickly reached the #3 spot in relation to both popularity and sales volume, according to OpenSea's ranking charts. The NFT collection ultimately came in just behind the Bored Ape Yacht Club (BAYC) and CryptoPunks. Although the Cool Cats NFTs have since slipped a little lower in the charts, the collection tends to reliable hover in the top 20 rankings when it comes to generative avatar projects.
In fact, the total trade volume of Cool Cats is now approaching $300 million.
Today, the lovable blue cats also have a vibrant and active community. What's more, the team behind the NFT collection has made it clear that they are on a mission to innovate and push the NFT space forward. How? Through games, live events, a unique voting system, and one ultra-secret project.
The details of that secret project are, unfortunately, very sparse. But we've collected all the information that's available. Here's everything we know about the project and where it's heading.

Before we begin, what are Cool Cat NFTs?
Cool Cats is a collection of 9,999 programmatically, randomly generated NFTs. Similar to predecessors like CryptoPunks, each Cool Cat NFT is made up of a variety of unique traits. Ultimately, there are over 300,000 possible combinations that consist of things like unique bodies, faces, facial hair, hats, glasses, clothing items, and so on.
Of course, not all Cool Cats are created equal. In truth, some are much cooler (i.e., rarer) than others.
About half of the Cool Cat NFTs have a basic degree of "cool," meaning that they are worth three or four points. As exhibited in the chart below, some Cats are "wild," "classy," and even "exotic." Cool Cat NFTs with this label are worth a lot more points. While this ranking system is a callback to CryptoPunks and even CryptoSkulls, any Cool Cats community member will gladly tell you that each and every cat is a Cool Cat.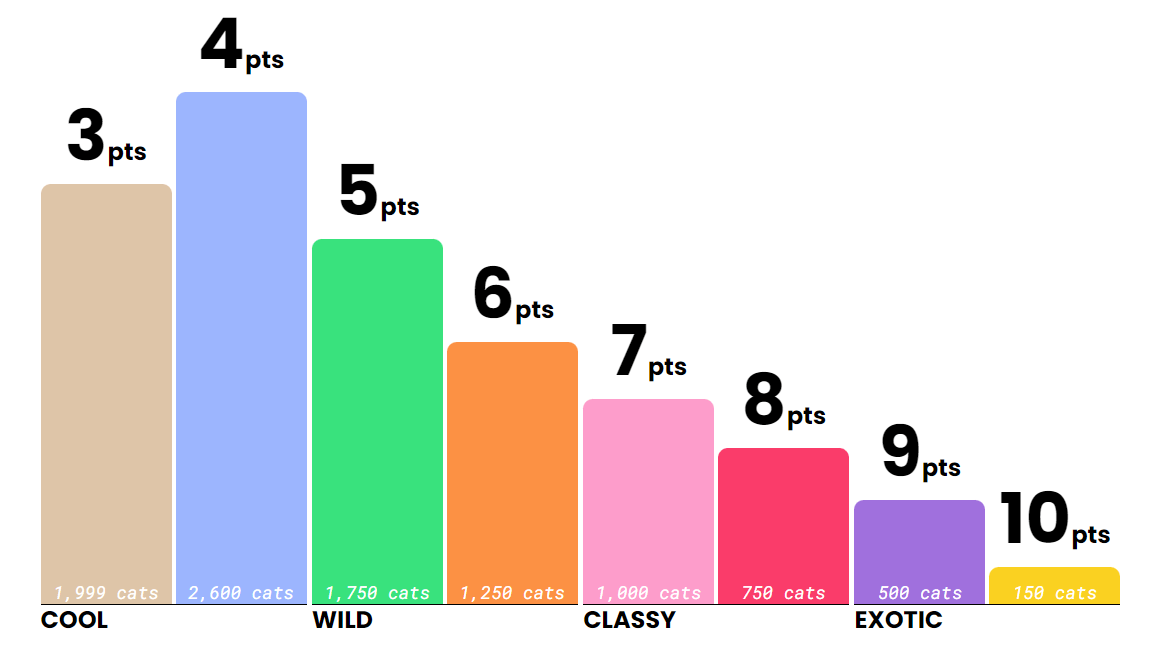 And who created Cool Cats?
The Cool Cats team consists of four people. There is Tom Williamson (xtremetom), who is the blockchain and smart contract expert. Rob Mehew (Lynqoid) is the web developer and manager. Evan Luza (ELU) is the creative director. Finally, the illustrator is Colin Egan (clon) also known as The Catoonist.
In an interview with catster, Egan explained how the idea for the project came about. "My whole life I've drawn cartoon characters, but the cats didn't start until high school. […] Eventually, I was known as the guy who drew cats — and that was when I started translating that into my cartoon drawings, which until then were only doodles for me," he said.
All Cool Cats are derived from "Blue Cat," the character Egan would draw in high school. According to the Cool Cats page on Medium, Colin "spent years perfecting the line weight, ear height, and whisker length of Blue Cat to finally get him to its undeniably cool and cute final form."
The team, who are self-proclaimed "nerds who are passionate about crypto, art, and makin' cool stuff," launched Cool Cats PFPs on July 1, 2021.
Why are Cool Cat NFTs so expensive and popular?
Cool Cats followed in close proximity to the Bored Ape Yacht Club. While BAYC undoubtedly served as the catalyst for the profile-picture (PFP) NFT boom that happened in the summer of 2021, Cool Cats in no little part helped lead the all-out avatar bullrun.
Priced at 0.06 ETH each, which was about $150 at the time, Cool Cats PFPs first sold 300 NFTs. Then the team lowered the price to just 0.02 ETH per mint (about $50). It took about eight hours to sell out. In the days following, the project would begin to explode across the NFT ecosystem. The price of the NFTs quickly rose to 0.66 ETH (about $1,000).
Why did it take off to such a degree? Celebrities, mostly.
Only eight days after launch, Cool Cats received a huge endorsement by way of Mike Tyson. By changing his Twitter PFP to a Cool Cat, the boxing legend helped further solidify both himself and Cool Cats as prominent parts of the NFT community. Today, notable Cool Cats owners include actress Reese Witherspoon, Reddit co-founder Alexis Ohanian, and DJ Steve Aoki.
Cool Cats Utility: What does Cool Cats offer its community?
Early on, "we like the Cats" became the official slogan of Cool Cats. As trading began to pick up and NFT enthusiasts started to become bullish (confident due to factors like rising prices and increasing support from celebrities) on the project, the collective Cool Cats ethos of positivity and enthusiasm was quickly established. A community that's centered on positivity is ultimately one of the project's core offerings.
And with most other PFP NFT projects, Cool Cats became all about community.
To extend a warm welcome to any individual who joins the Cool Cats universe, the Cooltopia was opened. Cooltopia is, in short, the entire Cool Cats ecosystem — the official Twitter, the Discord server, the Cool Shop and marketplace, and so on. The creators basically took their entire ecosystem and have attempted to transform it into a kind of gamified NFT experience that connects all Cool Cat NFT owners. The founders explained their thinking in a blog post, saying they wanted to make "a place where having a Cool Cats NFT grants you evolving access to games, tokens, community events, collaborations, and more."
In those respect, owning one of the thousands of Cool Cats PFPs does come with an array of incentives. Holders not only receive an exclusive role in the Discord, but also access to airdrops, priority minting for all subsequent Cool Cats endeavors, access to online and live Cool Cats events, and a non-exclusive license to the NFT they own.
The Cool Cats site also explains that they return 20 percent of all ETH raised to their community through raffles, contests, and more. Essentially, Cool Cats wants to give buyers a voice and a real place in their community.
As licensing has been a continuous topic of debate within the NFT space, Cool Cats' non-exclusive license helped circumvent the usual problems by granting its holders the power to do anything with their personal Cool Cat NFTs that they please. At the same time, the Cool Cats creators also reserve the same right and are able to use any Cool Cat in their 10,000 NFT collection for merch, marketing, etc.
And in August of 2021, Cool Cats launched its first major partnership, flexing the freedom given to the project developers and NFT holders by way of the non-exclusive license. A limited-edition drop featuring 100 TIME-branded editions of Xtremetom, Lynoid, ELU, and clon's signature cats, the collaboration came alongside a meme competition and started an upward trend in Cool Cats secondary sales.
What are Cool Pets?
In September 2021, the Cool Cats ecosystem (AKA Cooltopia) absolutely exploded with the announcement of two things: Cool Pets and the $MILK token. These two announcements bolstered secondary sales even further, sending the Cool Cats floor into the double digits for the first time.
Cool Pets is a companion NFT series to coincide with Cool Cats PFPs. As companion collections like the Bored Ape Kennel Club, KingFrogs, Thingies, and more have helped popular projects capitalize on demand and further expand their collector base, Cool Cats seems to be going in a similar direction with their Pets.
Cool Pets features 19,999 NFTs with half of the supply reserved for Cool Cats holders and the other half reserved for public sale. All Pets start as an Egg and evolve into their final form, which represents one of four elements: Grass, Fire, Water, or Air. The food and items given to an Egg determine the creature's look and element.
Items come from loot crates that can be purchased using $MILK from the Cool Cats Marketplace. You can earn $MILK by doing daily quests with your Cool Pet. There are more than 100 possible quests, including favorites such as Save the Forest, Go Greet the Frogs, Sniff for Danger and Get to Know the Townsfolk, with additional quests to come. If you're a Cool Cat holder, you can also earn $MILK each day just by claiming it.
What is the $MILK token?
$MILK is the social token within the Cool Cats ecosystem. $MILK is needed for all sorts of things including buying Pet chests, Battle chests, Housing chests, going on Quests, and future gamification.
The announcement of $MILK also led to a new trend within the Cool Cats community: the milk chug. In celebration of the rising floor and the token news, community members and Cool Cats' developers alike began to post videos of themselves downing anything from a small glass to a full gallon of milk.
Cool Cats statistics
As of March 2022, Cool Cats is the 11th largest NFT project in terms of sales. They have recorded $290.44 million in all-time sales among 11,353 traders and 35,939 sales. Presently, the Cool Cats floor price is 8.5 ether or $25,900 for the cheapest NFT. Metrics further show that Cool Cats has an overall market capitalization of around $261 million.
We will update this section from time to time, so interested individuals can see a record of the price changes.
How to buy Cool Cats NFTs
Cool Cats can currently only be purchased on secondary markets such as OpenSea. As of March 2022, the floor price for a Cool Cat is 7.88 ETH (approximately $27,000 USD).
The future of Cool Cats
In March 2021, the creators of Cool Cats signed with CAA, a leading talent agency in Los Angeles, California. According to a press release, "the agency will identify and create opportunities for Cool Cats characters across an array of areas, including licensing and merchandising, animated content, brand partnerships, live events, publishing, and more."
Cool Cats and Cool Pets are just the first pieces of the massive Cooltopia ecosystem the founders have planned. Signing on with CAA will only expand the opportunities for growth.
"People's perception of Cool Cats solely exists in the NFT capacity right now, but that's really just our launching platform for the brand as a whole, so we intend to take it in just about every avenue that we possibly can," co-founder Luza told The Hollywood Reporter.
And what about that super-secret project? Other than a note on the official roadmap, no details have been made available.
Editor's Note: At time of publication, members of the nft now staff are holders of Cool Cats NFTs.