Generative avatar projects have been all the rage in 2021. As a simple plug-and-play method allows anyone to load traits (body, head, background, etc.) into an application for quick mix-and-match NFT creation, it's become easier than ever to churn out a 10K project.
And considering the Bored Ape Yacht Club — the catalyst to the year's PFP craze — has reached nearly $1 billion in sales volume in about six months, it's no surprise that developers everywhere have been attempting to follow in BAYC's footsteps with a successful PFP project of their own. Yet, while most CryptoPunk derivative collections have come and gone, it seems many of the Bored Ape-inspired projects have bolstered vibrant communities, just as was the case with BAYC.
With so many PFP collections in the NFT market, we've compiled a list of the most prominent and notable avatar projects out there that continue to stand the test of time.
Whether you're a total NFT noob or a veteran collector, you're sure to have (possibly even inadvertently) learned a good deal about CryptoPunks by now. A collection of 10,000 unique NFTs, CryptoPunks is arguably the most influential avatar collection ever made.
Launched in June of 2017 by product studio Larva Labs, these Punks were some of the first NFTs ever minted on the Ethereum blockchain. Featuring humans, apes, zombies and aliens, CryptoPunks pioneered the idea of generative trait combinations that most other PFP projects still draw inspiration from today.
Second only to CryptoPunks in importance is the Bored Ape Yacht Club. Also a collection of 10,000 NFTs, with collectors all over the world, BAYC has become arguably the most beloved and embraced project in all of NFTs.
BAYC launched in April 2021, and although it experienced a slow start, the project exploded in value over the following months. Although early supporters who have diamond handed even one Ape currently have the opportunity to cash out at well over $200,000, the general consensus throughout the NFT space seems to be that the most exciting aspect of the Bored Ape Yacht Club is its community.
When it comes to community-driven projects, Cool Cats is a tough one to beat. A collection of 9,999 generated and, as the developers say, "stylistically curated" NFTs, the collection launched in June 2021, going toe to toe with Gutter Cat Gang for the title of hottest new PFP project.
Since its launch, Cool Cats has continued to earn accolades in the NFT space as a fun and inclusive project. With the collection floor achieving 10 ETH at one point — propelled by collaborations with Ghxsts and TIME magazine, plus a near viral milk chug challenge — the Cats are a definite fan favorite of PFP projects.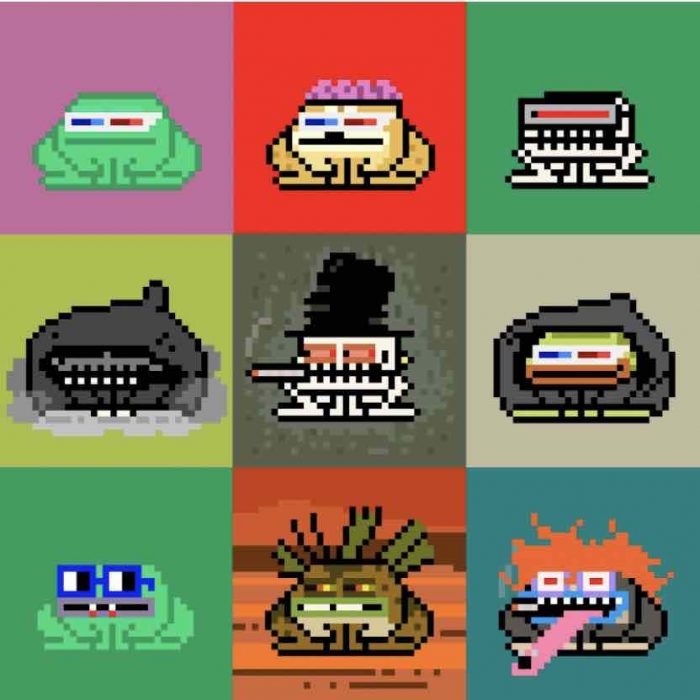 Inspired by Larva Labs' iconic CryptoPunks, CryptToadz — a collection of 6,969 NFTs — was conceived by now prominent anonymous artist Gremplin during a time when PFP and Punk-derivative projects saturated the market.
Gremplin's amphibious collection has continued to rack up impressive sales volume since its launch in September 2021. And beyond becoming one of the most influential PFP projects of the year, Toadz has received praise from some of the most prominent NFT collectors and investors around. Read our CrypToadz Guide for an in-depth look at the project and the artist behind it.
0N1 Force was one of the most notable drops of the summer PFP craze. Totaling 7,777 generative NFTs, the collection of colorful side-profile characters sold out in five minutes during its August 2021 launch, with secondary sales skyrocketing in the following days.
The 0N1 Force team has continued to grow and develop its "Enclave" community since its drop. The project's presence has continued to be felt, with appearances at numerous NFT events throughout the year.
CyberKongz combines two of the NFT community's favorite things: pixel-art PFPs and primates. With a current collection supply of 4,439 Kongz (not including incubator NFTs), the project is spread out over two types of avatars: Baby and Genesis.
Launched in March 2021, the CyberKongz craze didn't truly begin until the end of the summer, around when CyberKongz VX was announced. As secondaries started to really pick up in the fall, there have been a few influential sales to date, with seemingly still a lot in store for Kongz collectors.
Creature World is a project based on the Creature character created by multidisciplinary NYC-based artist Danny Cole. At 10,000 strong, the Creature collection is one of the most visually unique PFPs out there.
From a one-of-a-kind minting game to a full playground installation at NFT.NYC, Creature World has captured the imagination of the NFT community. The project, which launched in August 2021, offers an inclusive, friendly community that even impressed basketball legend Shaquille O'Neal enough to want to join the crew.
World of Women was a refreshing entry on the list of 2021 PFP projects. Totaling 10,000 NFTs, while this collection may be generative, it's one of the only projects to give a human spin to the avatar craze.
Launched in July, each WoW NFT was created out of an array of treats crafted in the unique, colorful style of Yam Karkai. With a portion of proceeds from the primary sale donated to charity and another reinvested back in crypto art, WoW easily became an NFT community favorite. Even Reese Witherspoon has become a fan, showing off #8072 on Twitter in October.
Doodles is a project created by a team with a proven track record as builders within the NFT space. Consisting of 10,000 playful line-drawn avatars, the collection has been gaining popularity.
Only a few months after its October 2021 launch, Doodles quickly became an influential project within and outside of the NFT community. Although it received a bit of backlash due to the Doodle devs privatizing the Discord prior to launch, as prominent collectors such as Dillon Francis, Prince Royce and Future have aped in, the community sentiment has continued to improve.
When Sup Ducks dropped in July 2021, it was as if the entire NFT community took notice. A collection maxed at the standard 10,000 NFT mark, the developers of these Ducks went above and beyond in both art and community building.
Sup Ducks burst onto the scene with interesting, textured art, and a simple "sup" when it arrived. With a robust Discord and numerous events past and future, it seems many collected a Duck for the art and stayed for the community.
Gutter Cat Gang is another notable project that piggybacked off the massive success of Bored Apes. Yet, capped at 3,000 NFTs, the collection is one of the lowest supply PFP projects available.
The project launched in June 2021 and immediately jumped into (friendly) competition with Cool Cats. Taking a page from BAYC, the Gang presented a similar approach to its lore, telling the tale of a future society of Cats with some sci-fi twists and turns thrown in. Gutter Cat Gang differentiated themselves from other projects with low NFT supply with the creation of multiple official offshoots such as Gutter Rats and Gutter Pigeons.
Following the success of his D'EVOL project, KidEight hopped on the PFP bandwagon with an incredibly high-quality offering. Featuring 8,888 generative EVOL characters, G'EVOLs is a mashup of 3D art, pop culture, and comprehensive delinquency.
Although the September 2021 launch had a few hiccups, the G'EVOLs community rallied around KidEight, helping bolster the reputation of the project. While there are a few announced incentives to come for G'EVOLs holders, KidEight promised to deliver only what any collector should expect from an artist: high-quality art.
Although Deadfellaz is one of many undead-themed projects, it's one of the most robust and beloved within the NFT community. With a supply of 10,000, this collection of cartoon zombies has continued to give back to its collectors in interesting ways.
Launched in August 2021, Deadfellaz has stood the test of time, losing no steam as Halloween came and went. With collaborations with Steve Aoki, Cool Cats and more, these Fellaz continue to prosper. This project also completely changed its creators' lives, making it a win-win for the devs and community.
Forgotten Runes Wizards Cult is regarded by many as one of the well-crafted and run PFP endeavors out there. The lore behind this project — a collection of 10,000 pixel-art Wizard NFTs — is expansive.
Launched in June 2021, Forgotten Runes quickly gained notoriety via its unique, animated minting process. And as the collection has evolved, the team behind these Wizards has revealed a conceptual realm, a book of lore, burn mechanism and more.
Woodies is a PFP project that fully embodies the spirit of collaboration. At 10,000 NFTs strong, this collection seems to have started as a community endeavor and labor of love.
Launched in October 2021, Woodies was created by prominent builders Chris Wallace, Grelysian, J-838, Lucréce and more. From unique mint passports to solidifying ad space in Times Square, Woodies may not be the biggest PFP project, but it definitely seems to be one of the influential.
Related Content:
Photos from the collections of NFT DAO, Matt Medved and Langston Thomas.