When it comes to memes, the NFT space doesn't disappoint. As a community based on blockchain art and internet culture, things can and often do change on a dime. From 48-hour-long crypto crashes to celebrities jumping into NFT projects at random, there's always something to talk about.
But when simply talking about cultural happenings doesn't suffice, you can always count on the NFT community to whip up a meme or two to enhance social media discourse. So to shine a light on the unsung heroes of the weird wide world of non-fungibles, we're bringing you the best NFT memes of all time — from crypto taxes memes to the famous Gary Vee smirk.
And if you want to see meme NFTs – i.e. famous memes that have been sold as NFTs –— we have you covered there as well.
The Wolf Of Wall Street on NFTs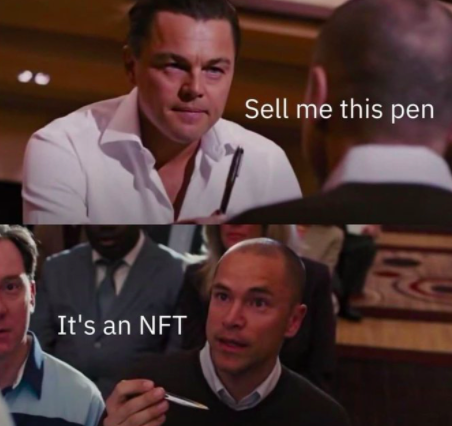 Over the last year, NFTs grew from a niche internet fad into one of the hottest pop culture phenomena of the 2020s. Not everyone likes NFTs, and not everyone understands exactly what they are, but that hasn't stopped countless artists and collectors from selling them.
With all the hype, some people are willing to buy just about anything as an NFT hoping the asset will be worth something. This drives price speculation and can eventually lead to a crash. For example, remember Tulip Mania? The NFTs based on the actual 16th-century Dutch tulip craze resulted in their own obsession — with one of the 50 pixelated tulip NFTs selling for more than $55,000. Today, you can own one for as little as 0.05 ETH — about $160 USD.
Crypto taxes meme
Ah, tax season. The time of the year when we all scramble to make sense of our gains and losses from the previous year. As this taxes meme points out, many of us are often left with nothing but bare bones after all of our state and federal payments have been made. Fortunately, there's a lot of available information on how to report NFT assets, gains, and losses on your taxes.

Twitter suspends @NFT
Did Twitter cancel NFTs? Not necessarily. But @NFT, the joint venture of Jason Falovitch and Mark Cuban was locked up in Twitter jail in February 2022. "This account was disabled following repeated violations of our policies, and it won't be reinstated," a spokesperson for Meta, Instagram's parent company, told Rolling Stone.
Twitter user "Space Cowboy," who goes by the handle @topshotfund, publically accused the verified page of "promoting a shadowy cabal of scammy copy pasta NFT projects without proper disclosures," which led to the account being banned.
McDonalds tweets about crypto
It's a long-running joke within the crypto and NFT communities that when the charts go down, blockchain millionaires will have to return to their IRL jobs, such as a shift at the local McDonald's. Well, the charts really dipped in January 2022, so McDonald's social media team took the opportunity to check in on the community with this snarky tweet. The creators and collectors took it in stride, and hit back with some jabs of their own.
Larva Labs Pokémon meme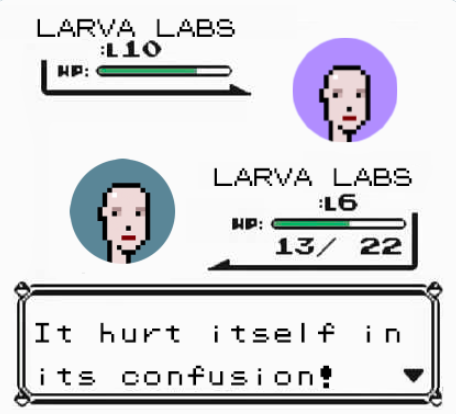 LarvaLabs, the team behind CryptoPunks, found itself facing quite a bit of backlash in February 2022, promoting this Pokémon-inspired meme. One of the company's co-founders, John Watkinson, sold off his stock of V1 CryptoPunks NFTs. Days after selling them, Larva Labs attempted to blacklist the budding project and get it kicked off NFT marketplaces. This denouncement had the potential to cause the price of V1 Punks to plummet, creating a financial loss for everyone who bought the NFTs from Watkinson.
Watkinson, meanwhile, kept all the money from his sales and would incur no losses from the drop in price — which was a drop that was caused by a company he and one other person controlled.
Tom Brady retires for NFTs meme
We've seen a lot of celebrities ape into NFT projects, but never to the extent that Tom Brady has. In February 2022, he announced he'd be retiring from the NFL to focus on his NFT startup, Autograph (and his family, of course). Brady's retirement ended up lasting just 40 days. This doesn't mean that Brady's NFT days are over through. He's partnered with ESPN to create an NFT collection based on his career.
Kevin the unfinished Pixelmon NFT meme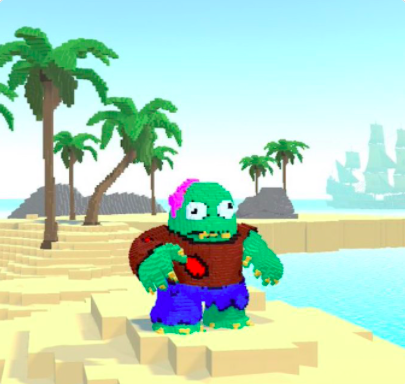 Ah, Kevin. This particular meme was born in the wake of the Pixelmon reveal. Pixelmon is a project that made more than $70 million via a dutch auction sale of unrevealed NFTs. The team apparently fast-tracked the reveal even though the art wasn't fully ready, giving us Kevin (the name Kevin is the name of the NFT's "species" trait).
"I'm not going to sugar coat it — we made a horrible mistake," Syber, the creator of Pixelmon, wrote on Discord. "This is unacceptable. We felt pressured to push reveal, and the reality is we weren't ready to push the art work. This does not represent the brand, and we will fix this as we have let many people down with this reveal." He went on to say that the team would be spending $2 million to revamp the artwork.
Today, Pizelmon is an Open World RPG NFT game where you can train, evolve, and fight your Pixelon. Kevin is still as famous as ever. He's inspired derivative art collections of meme NFTs such as "he Lives of Kevin" and Kevin Punks.
Vitalik the Bear
Co-founder of Ethereum Vitalik Buterin was spotted on stage at ETHDenver in quite the getup. Not only did the programmer seemingly wear pajamas onstage, but he appeared in a full-body bear suit at one point. He's been known to be playful on stage, but as the event took place during a small crypto crash, many immediately saw the meme potential.
The GaryVee Smirk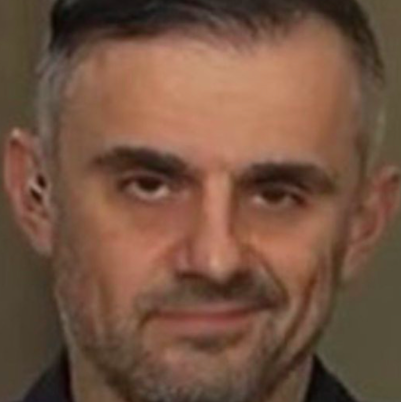 There are few names as influential to the NFT ecosystem as Gary Vaynerchuk, AKA GaryVee. The wine critic turned social media mogul sits as the chairman of New York-based communications company VaynerX. Over the past year or so GaryVee went from NFT collector to creator, even launching VaynerNFT to assist celebrities and brands with their own NFT endeavors, and of course, creating the VeeFriends ecosystem.
This fantastic little screenshot came to us by way of an interview Vaynerchuk did with CNBC in early February. During the interview, Vaynerchuk was asked about the "problematic" nature of the crypto and NFT space, to which he gave a chuckle before answering. The screenshot quickly became a popular reaction image among the crypto and NFT communities.
NFT roadmaps meme
Before apeing into a new NFT project, it's incredibly important to do some research into what the project is all about, who is behind it, and where they plan to take it. Many times, NFT roadmaps are all promises without any actual substance… like a beer that's all foam. Just look at Pixelmon, the company that raised $70 million and then delivered Kevin, who also made this list.
NFT project Frosties also had a promising roadmap that included promises of raffles, merch, and even a "special fund to ensure the Frosties longevity." However, the project's developers made off with more than $1 million in ETH just hours after the launch. They've since been arrested. The best way to avoid such scams? Do your research.
Donnie Darko seeks IRL friends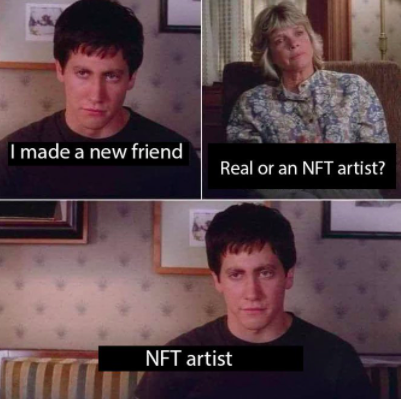 When you're deep into NFTs, it's much easier to make friends in the metaverse than it is in real life. Never getting the chance to see your friend's face or hear their voice isn't something to be concerned about…right?
Seriously though, it's incredible to see the kinds of genuine connections being made in the community. Many of these online friends are even turning into IRL relationships through meetups and events.
Never stood a chance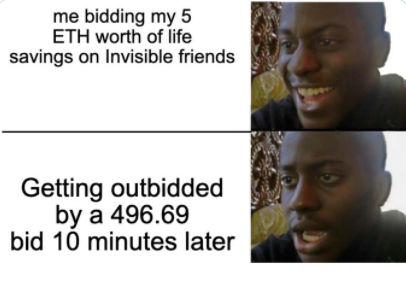 It happens all too often. You think you have a chance at winning an auction, then a whale comes in and shatters your dreams. In this case, the Golden Friend NFT was the one that got away. It's just one of 5,000 animated characters created by Markus Magnusson.
Perhaps one of the most high-profile instances of being outbid occurred in March 2021, when TRON blockchain founder Justin Sun was outbid in the last 20 seconds of a Christie's auction. The piece he lost out on owning? Beeple's Everydays: The First 5000 Days NFT.
NFT generational gap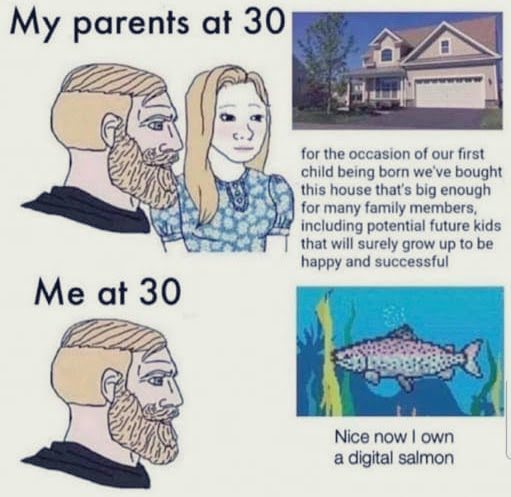 The "my parents at age xx" meme has been around for quite some time, so it's no surprise that many have adapted it to fit the vast NFT and Web3 ecosystem. While many lives have changed due to NFTs, the stigma surrounding digital ownership is that collecting non-fungible art and collectibles just can't hold a candle to legacy life achievements like having kids and buying a house. What would you rather have, a cartoon PFP or a plot of land and a fruitful retirement account?
Get your priorities straight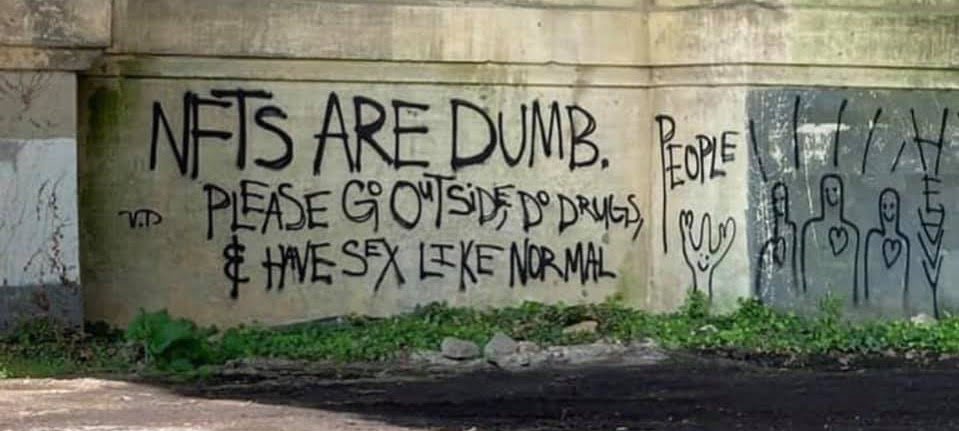 While we've seen countless NFTs pasted and glued to walls throughout the world (either by official means or by renegade enthusiasts), some NFT street art shines a not-so-positive light on Web3. While Zuckerberg's Meta is quickly becoming a central hub for virtual experiences, the author behind this tag obviously thinks that the luxuries of real life, like sex, drugs, and touching grass, are far more rewarding.
NFTs are all the same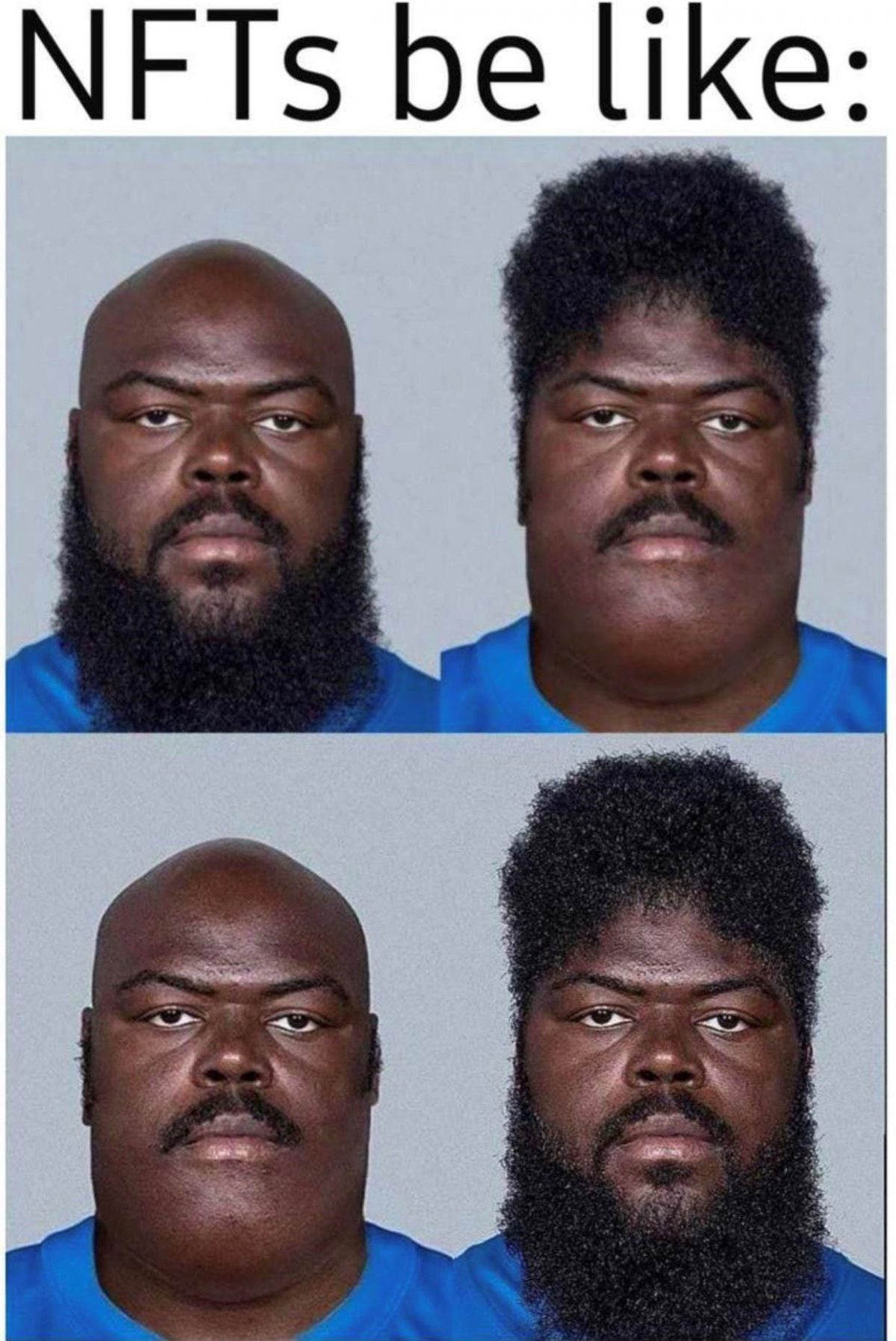 There's so much more to the NFT space than the many PFP collections that dominate the market. No, really, with NFTs, nearly any type of IP can be monetized, including memes. But, since Bored Apes, Doodles, Moonbirds, Azuki's, and the like are still thriving as the poster children of the NFT space, it's no wonder non-Web3 consumers think all NFTs look the same.
But perhaps these nay-sayers have a good reason. As flopped projects like MekaVerse have shown, nailing the generative aspect of generative avatar projects really matters. Otherwise, folks end up receiving duplicate NFTs or at least ones that appear far too similar to their "completely unique 1/1" counterparts.
NFTs are all about money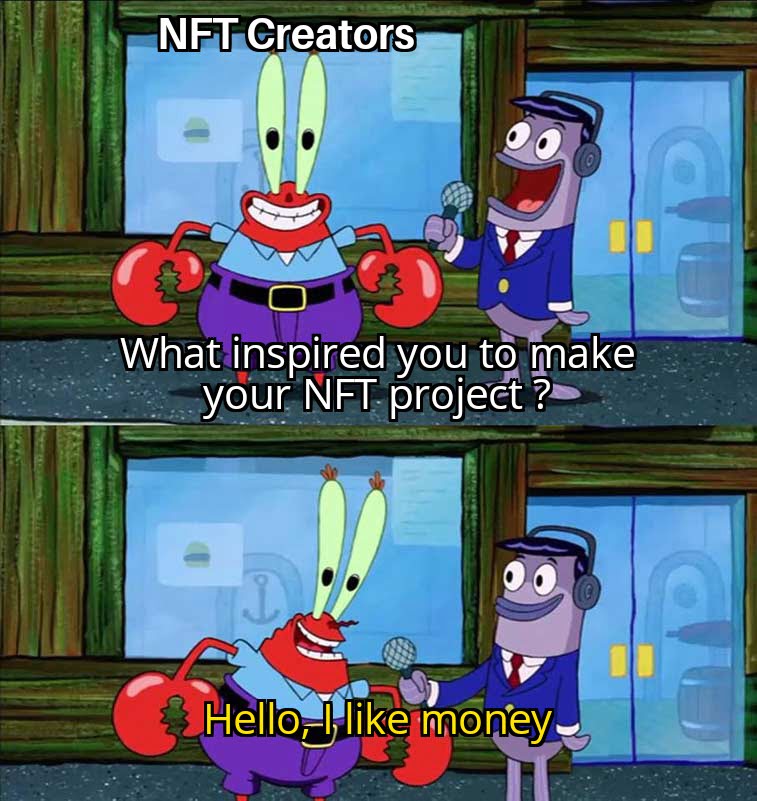 Numerous versions of the "NFTs are only about money" meme have proliferated throughout the Web3 space, but this particular SpongeBob reference nails the sentiment perfectly. While the NFT industry is a robust and expansive ecosystem at the intersection of finance, technology, and art, it's hard to discount that the money-making aspect of non-fungible tokens is the most prominent. Yes, the true meaning of NFTs exists separate from money and art, but that doesn't make this meme any less compelling.