Over the last decade, memes have spread across nearly every aspect of our culture. They dictate the latest dance moves, allow us to share complex thoughts and emotions quickly, and even launch careers. In this respect, memes have become a foundational part of our lives. Many are adapted and remixed over the course of years, gaining special meaning in various subcultures. Other memes remain essentially unchanged over time and achieve legendary status, like "Charlie Bit My Finger," which is recognized by individuals across virtually all backgrounds and age groups. And now we have meme NFTs.
Thanks to non-fungible tokens (NFTs), memes have recently turned into something no one ever really expected: assets that anyone can own.
Since NFTs can be nearly anything — a piece of digital art, a song, a poem, a baseball card, or even a digital deed to a house — it's not surprising that memes inevitably found their way onto the blockchain as NFTs. It's also not surprising that so many meme creators have opted to sell their work as NFTs, as doing so allows them to be compensated for their work.
So, let's take a moment to pay homage to the creators of iconic memes who jumped full throttle into the new creative economy by minting and selling their original IP — and also part of our childhood — as NFTs. Here, we've created a chronological list of all the major NFT meme sales to date. Be sure to let us know if we missed any, and check back often. This article will be updated as new meme auctions are launched and closed.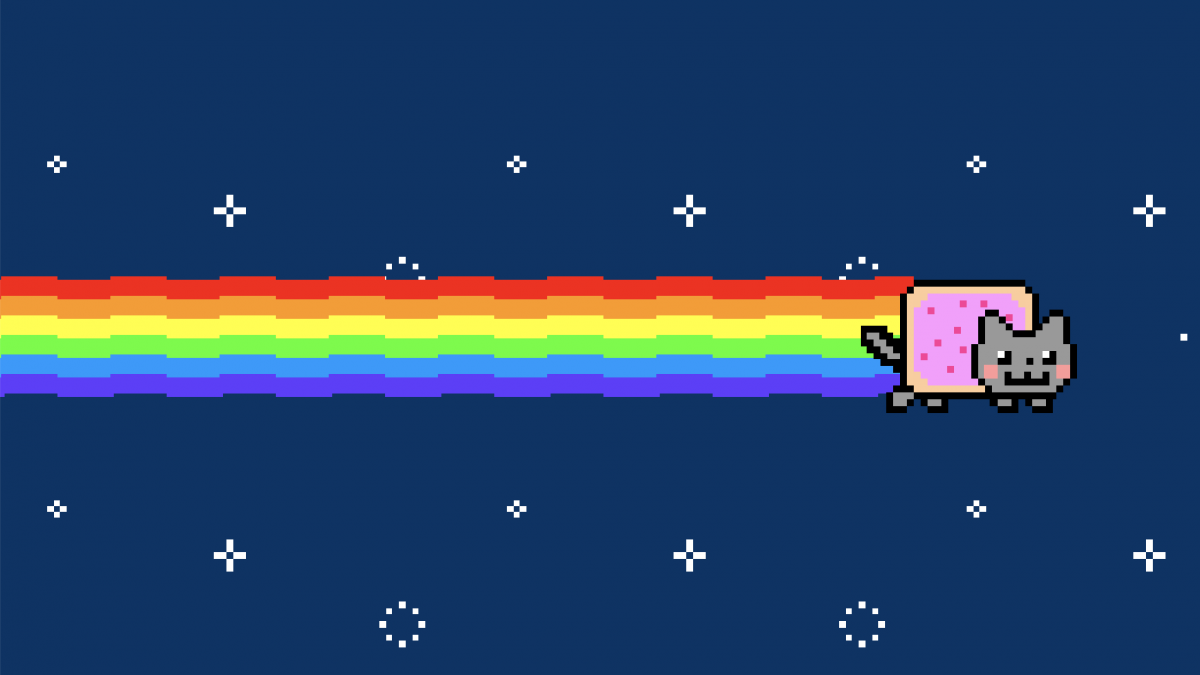 Date: February 19, 2021
Price: 300 ETH ($587,241)
In February of 2021, Chris Torres kicked off the avalanche of meme NFTs. He is the creator of the Nyan Cat character, and he was the first meme creator to sell his work as an NFT. On a cold winter day, he auctioned off his rainbow pop-tart cat for close to $600,000 and made history.
Torres correctly predicted that this was just the first of many major meme NFTs. At the time of the sale, he stated on Twitter that the event had "opened up the flood gates to the future of meme economy in the Crypto universe." Torres also praised NFTs, claiming that they made it possible for artists like himself to finally get proper recognition for their work.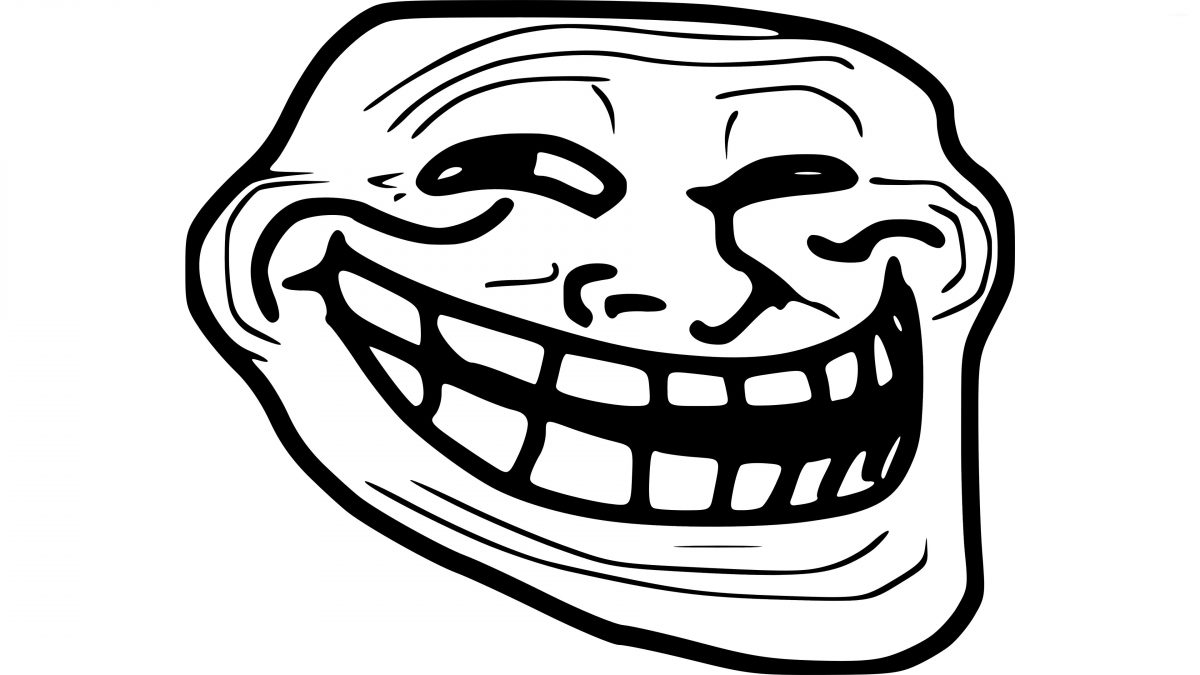 Date: March 5, 2021
Price: 42 ETH ($69,362)
Trollface was one of the earliest images to be widely accepted, understood, and disseminated as a meme in the early 2000s. Carlos Ramirez drew the image in Microsoft Paint on September 19, 2008. The now-iconic picture first gained traction on 4chan and other forum sites, as this was before the advent of social media.
It seemed as though it was to ride the internet waves in virtual freedom for all time. However, Ramirez kept his claim to the original IP (intellectual property). As a result, he was able to profit off of it by way of NFTs. Of course, the image can still be found across the internet, but a new owner now has rights to the IP.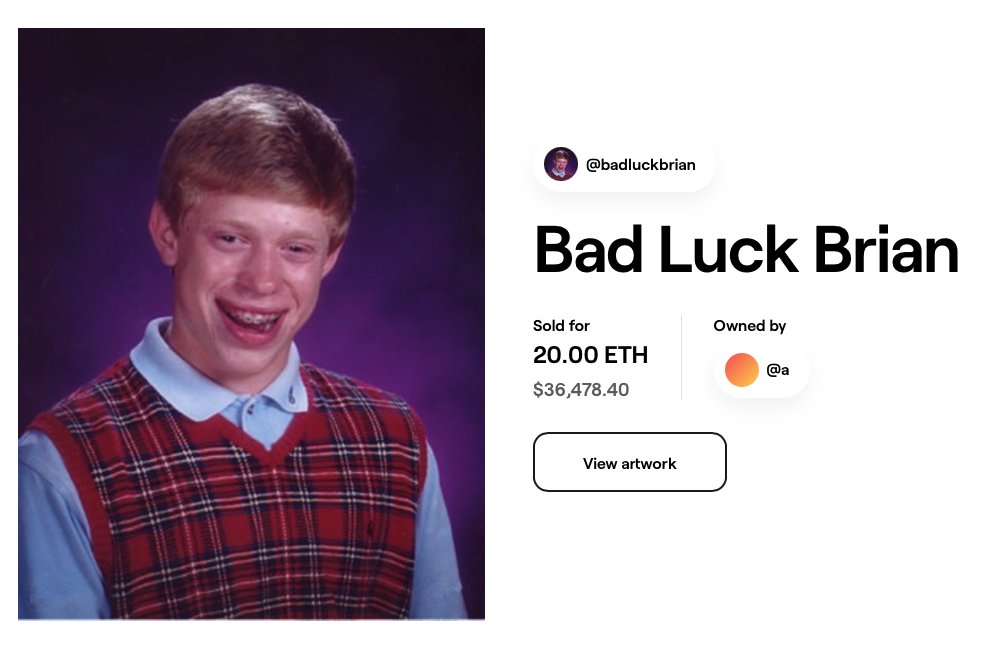 Date: March 8, 2021
Price: 20 ETH ($37,442)
In the wake of the Nyan Cat excitement, Ian Davies and Kyle Craven decided to try their hand at NFTs and minted Bad Luck Brian. The image is a favorite from the "top text, bottom text" meme era and is an actual school photo of Craven's. To date, it has been passed down through internet culture for over a decade.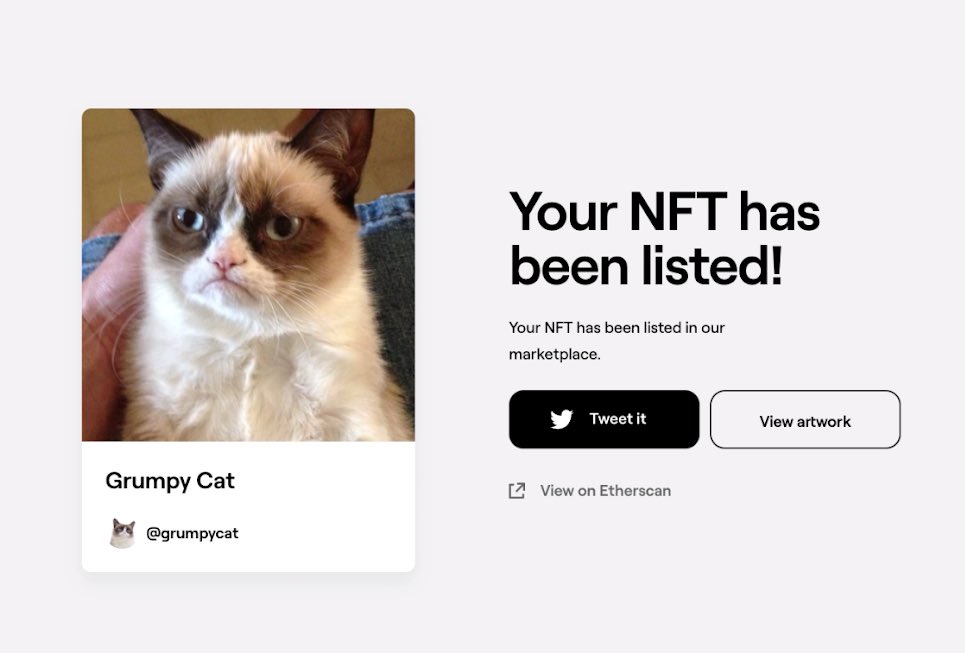 Date: March 13, 2021
Price: 44.2 ETH ($78,135)
Grumpy Cat is probably the most adorable meme on this list. In real life, the kitty's name was Tardar Sauce, and she lived with her owner, Tabatha Bundesen, in Arizona. The cat secured widespread popularity after Bundesen posted an image to Reddit on September 23, 2012. The image said simply, "Meet Grumpy Cat." And it not only withstood the test of time but also became a complete brand.
The cat eventually became the official "spokescat" of Friskies, featured in a Lifetime Christmas movie called "Grumpy Cat's Worst Christmas Ever," and her book hit No. 7 on The New York Times' bestseller list. With that wonderfully sour face, it's no wonder Grumpy Cat is still being shared far and wide years after the image was initially posted to Reddit. Sadly, Grumpy Cat passed away in May of 2019. However, in some small way, she continues her life on the internet — and also on the blockchain as an NFT.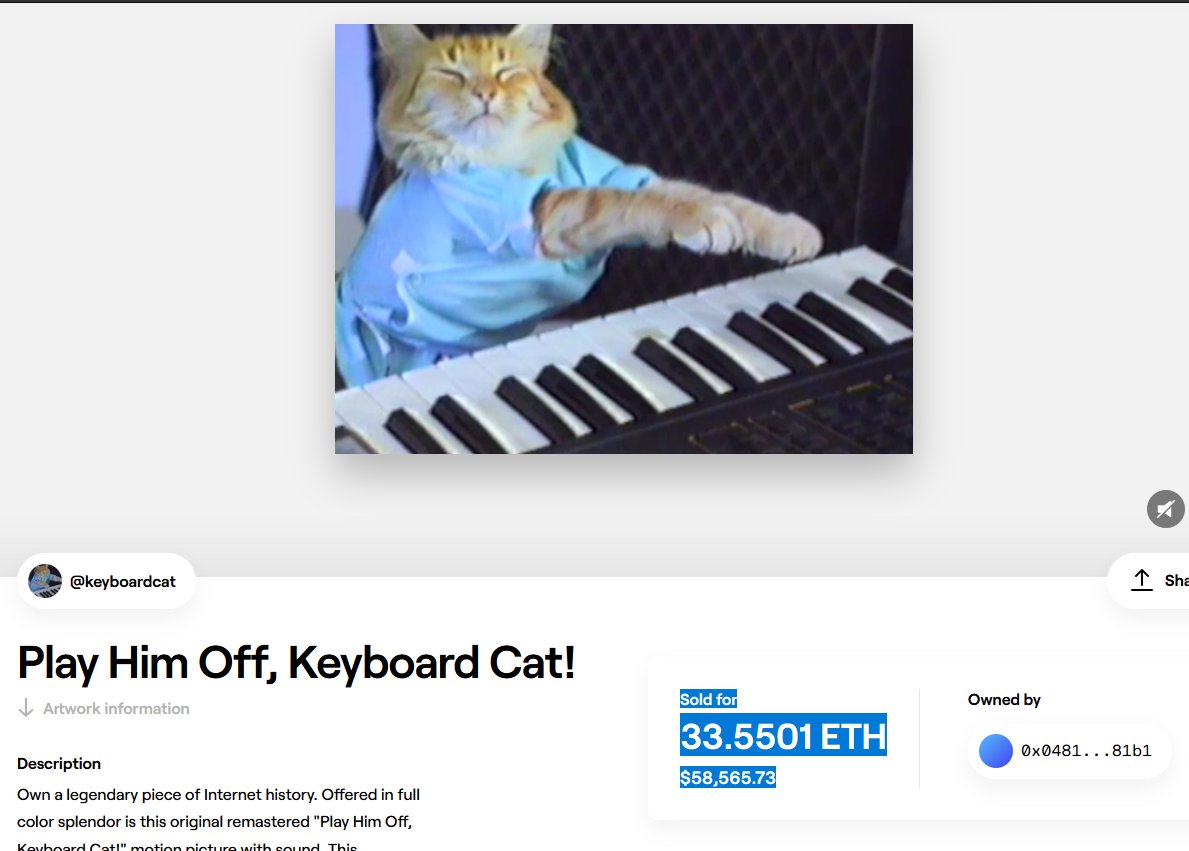 Date: March 13, 2021
Price: 33.5501 ETH ($64,455)
Keyboard cat was filmed on a Betacam in 1984 by Charlie Schmidt. The musical feline delight, whose real name was Fatso, passed away in 1987 and wouldn't become a meme until decades after his death. The video was first posted on YouTube by Schmidt almost twenty years later, in 2007.
It remained mostly unknown until Brad O'Farrell added it to the end of a blooper video in 2009, which is when the meme took off and became a hit. Keyboard Cat was so influential that he inspired commercials, a Green Day cover, and appeared as the 2014 Puppy Bowl halftime performer.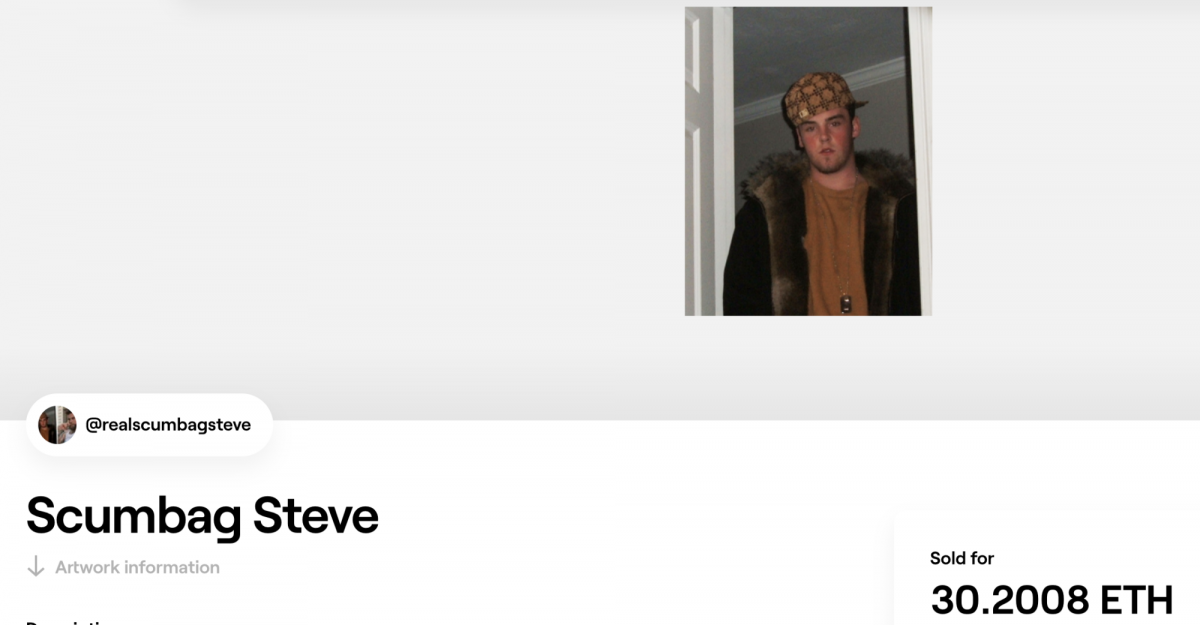 Date: March 13, 2021
Price: 30.2008 ETH ($54,205)
The Scumbag Steve meme depicts 16-year-old Blake Boston. The image was taken by Boston's mother, Susan Boston, in 2006. It was subsequently uploaded to MySpace, where it was transformed into a meme.
The fame was somewhat taxing on Boston, who said that internet users tracked down his real name, phone number, Facebook profile, and other personal details and sent him harassing messages. However, there is some upside, as Boston minted and sold the image as an NFT in early 2021, making more than $54,000 at the time of sale.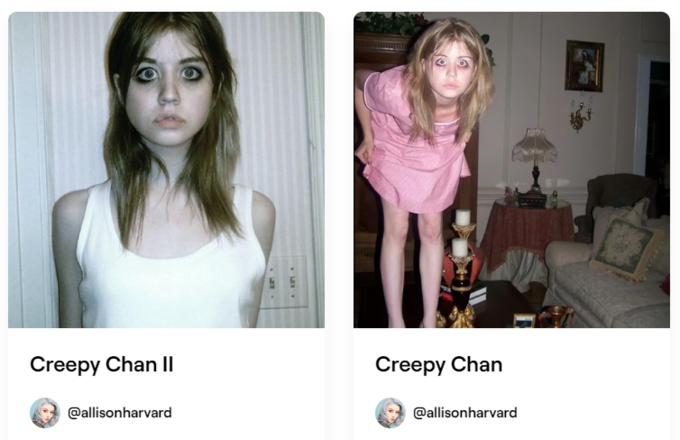 Date: April 3, 2021
Price: #1 – 35 ETH ($70,321), #2 – 40 ETH ($80,367)
Creepy Chan is a character created by LA-based artist Allison Harvard. Harvard quickly became a meme after sharing her photos on 4Chan in 2005. The meme was so popular that it ushered Harvard into minor fame. Eventually, it led to her becoming somewhat of an E-girl archetype and making it onto the reality television show America's Next Top Model as a contestant in 2009.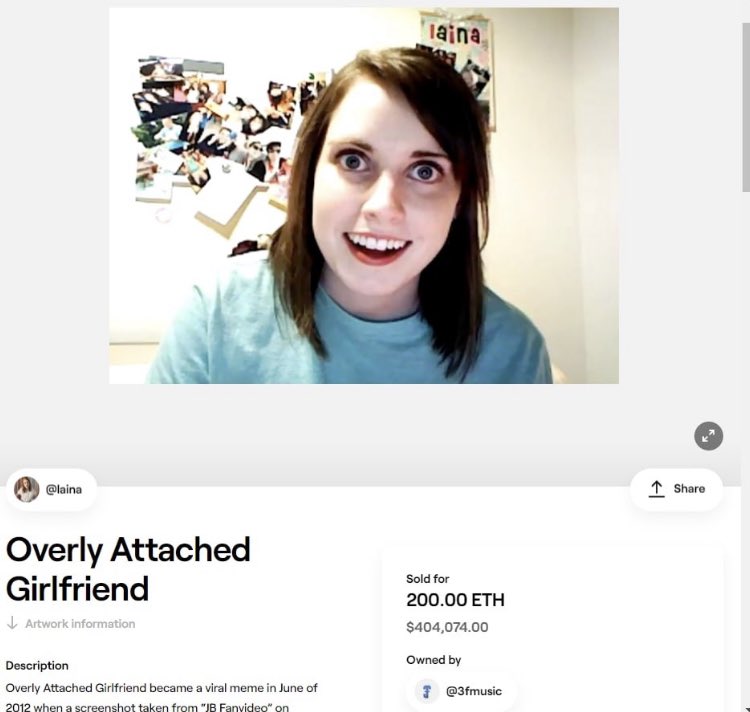 Date: April 3, 2021
Price: 200 ETH ($401,838)
For nearly ten years, Laina Morris's Overly Attached Girlfriend character has been garnering laughs and views worldwide. Morris created the video to submit to a contest that Justin Bieber held in which he asked fans to create a "girlfriend" counterpart to his song "Boyfriend." After being uploaded to YouTube, the video was posted to Reddit and gained popularity.
The viral sensation helped kickstart Morris' career as a YouTuber, where she attained more than 1.2 million subscribers over the years. However, in July of 2019, Morris announced her retirement from YouTube. In the announcement, she cited issues with depression and anxiety as primary drivers of the decision. In 2021, it became one of the first YouTube memes to be sold as an NFT.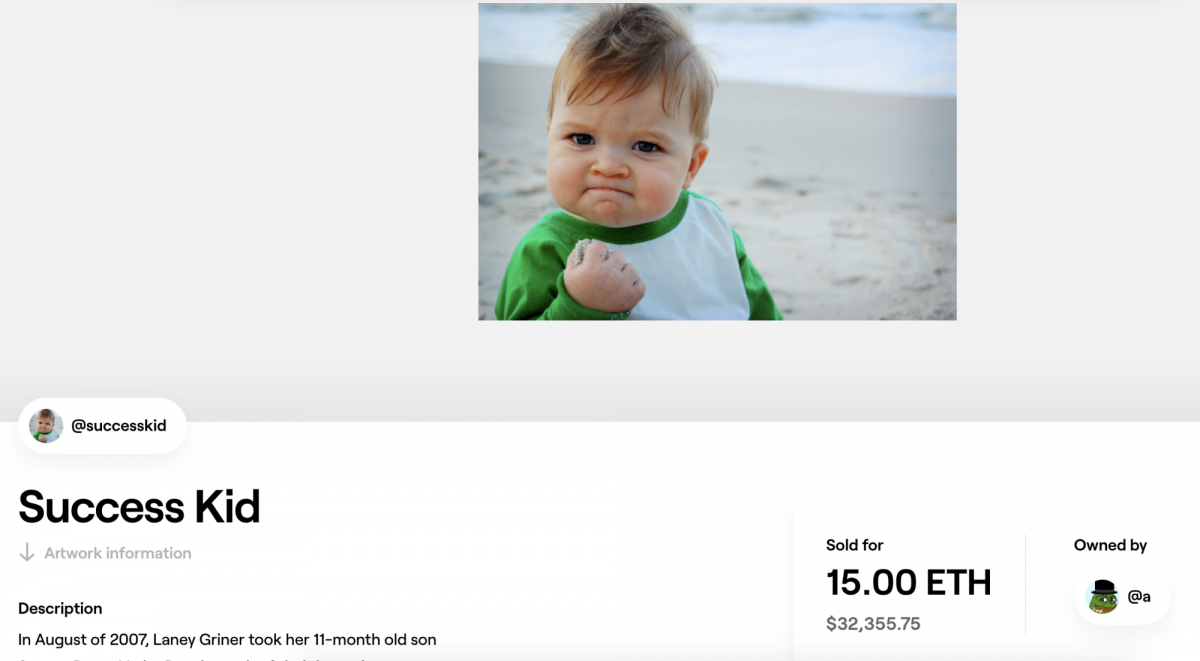 Date: April 10, 2021
Price: 15 ETH ($32,258)
Derp faces aside, Success Kid was undoubtedly one of the most popular memes of the early 2000s. Born from Laney Griner's attempts to snap a happy picture of her then 11-month old son Sam, the beloved meme was yet another frontrunner of the "top text, bottom text" meme era.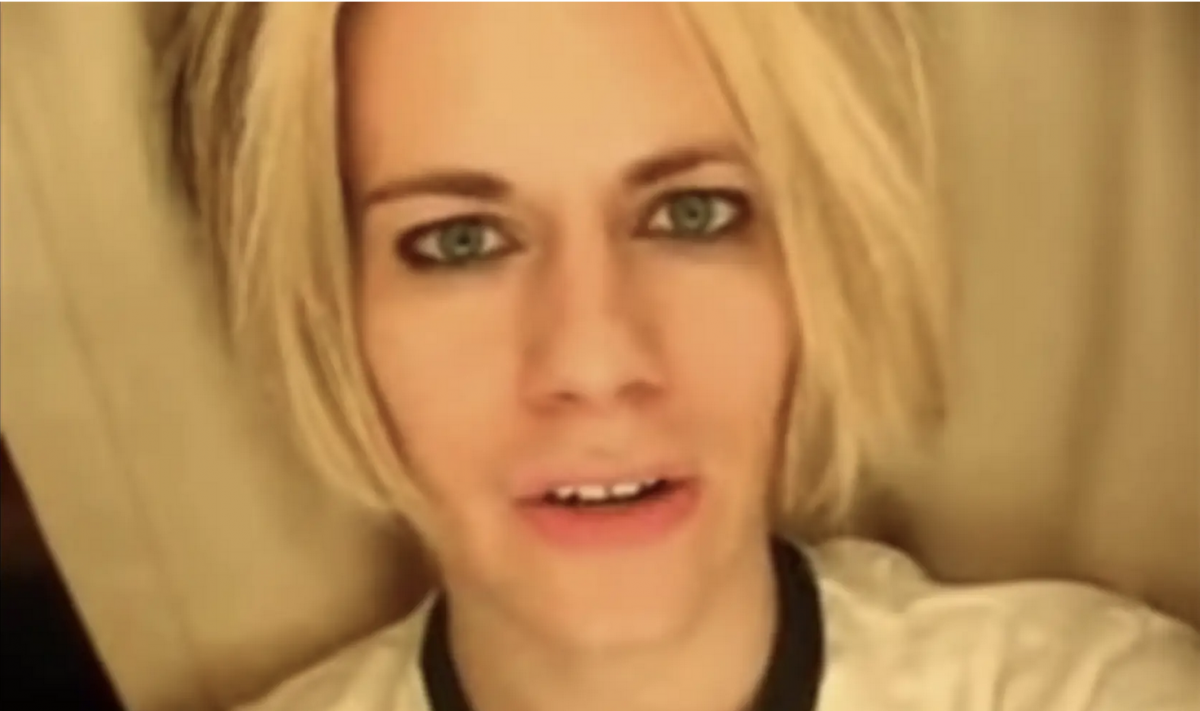 Date: April 11, 2021
Price: 18.6942 ETH ($42,971)
Leave Britney Alone was one of the first viral videos to receive mainstream attention and news coverage. Some even credit it as being the first actual viral video on YouTube. It was first posted on MySpace by Chris Crocker around September 2007. At the time, Britney Spears appeared to be in the midst of a mental health crisis, and the video showed Crocker pleading with tabloids and mainstream media outlets to leave Spears alone.
From there, the video was quickly uploaded by other users to several different YouTube channels. The teary-eyed monologue received over two million views in less than 24 hours, which was a staggering figure at that time. Crocker was largely mocked for their video and stated in interviews that they were harassed in public and received numerous death threats. At the time of the sale, Crocker stated that they received a little solace from the NFT sale, as they were finally compensated for the video.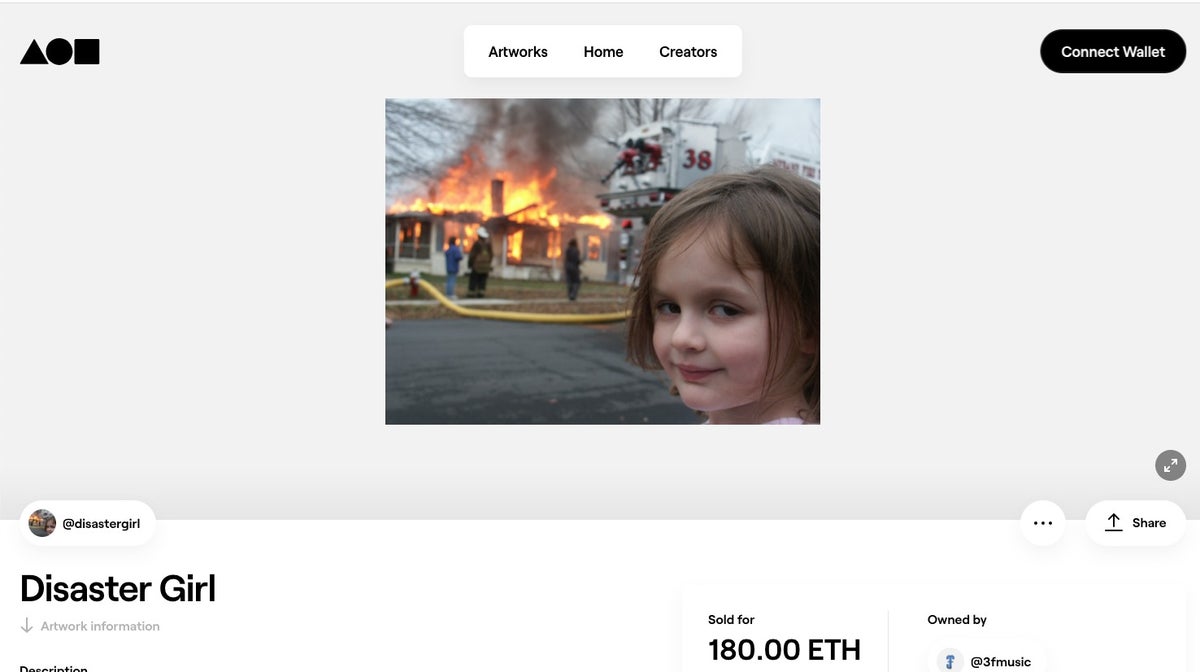 Date: April 17, 2021
Price: 180 ETH ($417,241)
As seems the case with many memes, "Disaster Girl" was the product of being in the right place at the right (or wrong?) time. The meme depicts a then 4-year-old Zoe Roth as she viewed a house burning in her neighborhood in January 2005. The image shown is a part of a series of photos that were taken by Roth's father, who was with her during the fire. The picture wouldn't be shared and go viral until years later, in 2008.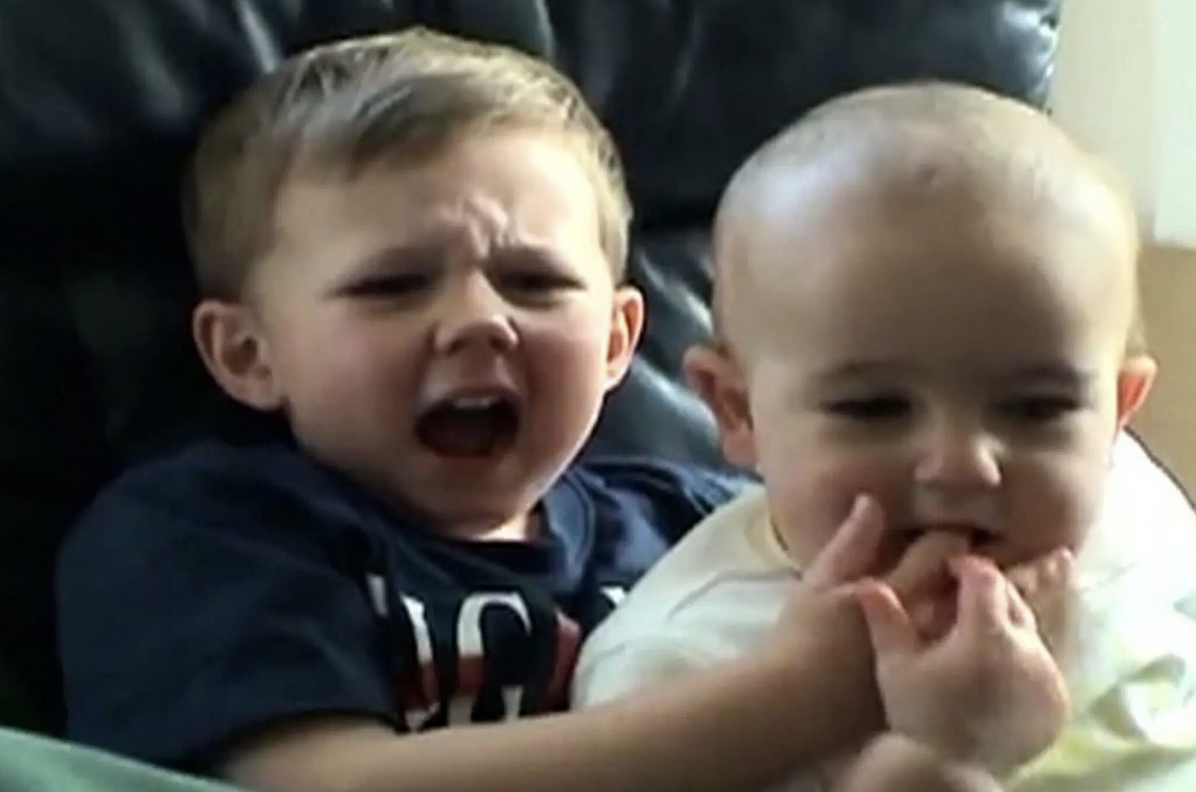 Date: May 23, 2021
Price: ~389 ETH ($760,999)
"Charlie Bit My Finger" will forever live as one of the most wholesome videos of all time. It was uploaded to YouTube in 2007 and showed Harry Davies-Carr (aged three) and Charlie Davies-Carr (aged one). The video was taken by the boys' father, Howard Davies-Carr, who said he uploaded the footage so the boys' grandfather could see it. Ultimately, it was viewed by nearly 900 million people.
The video entered a new form of existence last year on the blockchain. The proceeds from the sale reportedly went towards the two brothers' college education. Considering that the NFT sale brought in nearly $800,000, the brothers are more than capable of paying for their college. However, the auction itself was a bittersweet event, as the Davies-Carr family removed the video from YouTube to reinforce the uniqueness and scarcity of the 1/1 NFT.
Date: June 3, 2021
Price: 30.3 ETH ($86,537)
Harambe was a 17-year-old western lowland gorilla who lived at the Cincinnati Zoo. On May 28th, 2016, zoo officials killed Harambe after a three-year-old boy climbed into the Gorilla World enclosure and was grabbed and dragged by Harambe. The event garnered significant media attention, as many were outraged by the killing. Ultimately, the event transformed Harambe into a meme. Notably, this NFT sale was not of a specific meme-related image but of a picture taken by Harambe's official photographer, Jeff McCurry.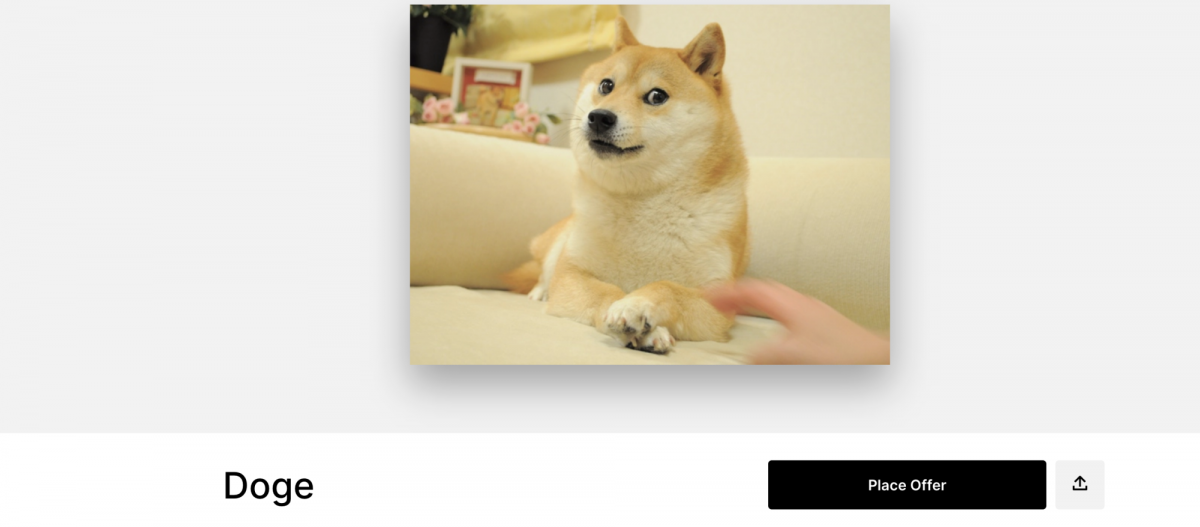 Date: June 11, 2021
Price: 1,696.9 ETH ($3,990,094)
Doge all started with a photo of a Shiba Inu named Kabosu. Her owner, Atsuko Sato, took the photo on February 13th, 2010. After being posted to Sato's blog alongside other now-famous images, this particular picture of Kabosu quickly went viral and is now even the face of the Elon Musk-backed Dogecoin.
"I took the photos to update my blog," Sato said in a subsequent statement. "I take a lot of pictures every day, so that day was nothing out of the ordinary. Kabosu loves having her photo taken, so she was delighted to have the camera pointed towards her." When it sold in 2021, it ranked as the most expensive meme NFT of all time, bringing in almost $4 million dollars.
Date: August 1, 2021
Price: 20 ETH ($51,128)
On September 13, 2015, Muhammad Asif Raza became the king of pettiness after posting a photoshopped image of himself denouncing his former best friend while simultaneously introducing his new one. The image was originally posted by Raza through Facebook before finding its way to nearly every other social media platform, beginning a chain reaction of "friendship ended" posts. The original post gained more than 47,000 reactions, 56,000 shares, and 27,000 comments on Facebook.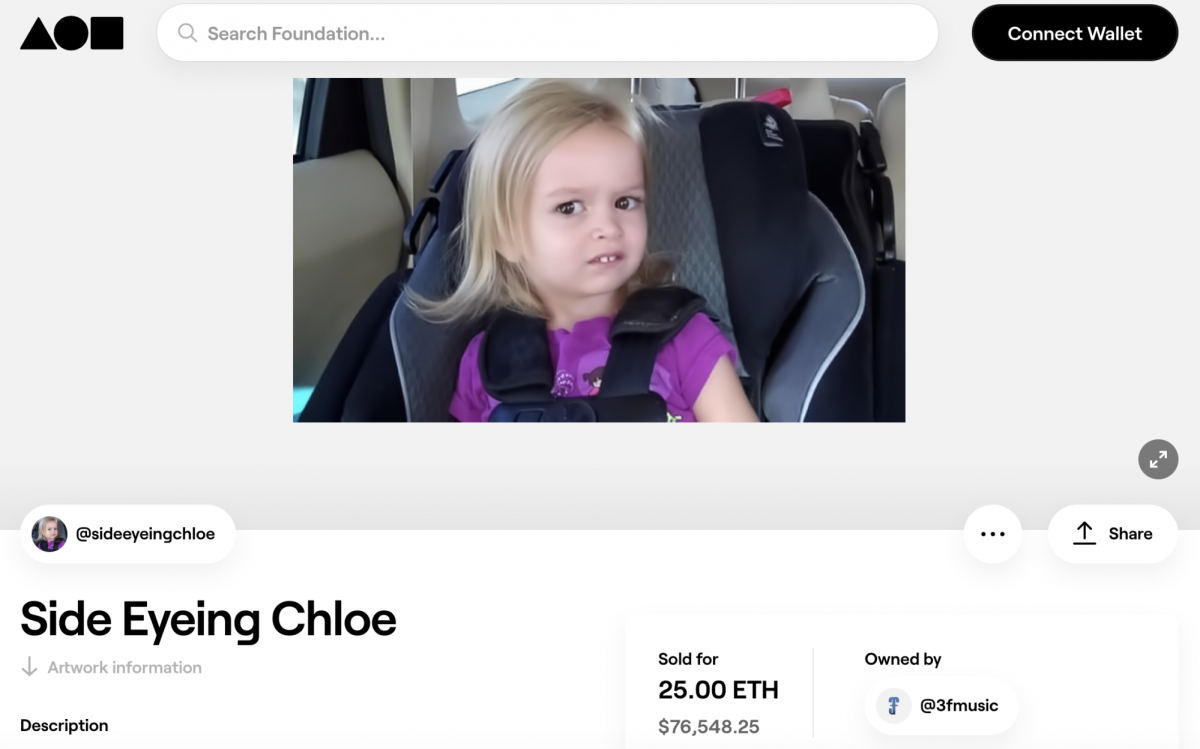 Date: September 24, 2021
Price: 25 ETH ($73,271)
On September 12, 2013, Katie Clem uploaded a video of her two daughters reacting to a surprise trip to Disneyland. In the video, the older sister, Lily Clem, breaks into tears of joy. However, the reaction of her younger sister, Chloe Clem, is far different. Chloe flashes a disinterested look at her mom. This side-eye look quickly gained traction on social media and is still seen as one of the most influential memes of the 2010s.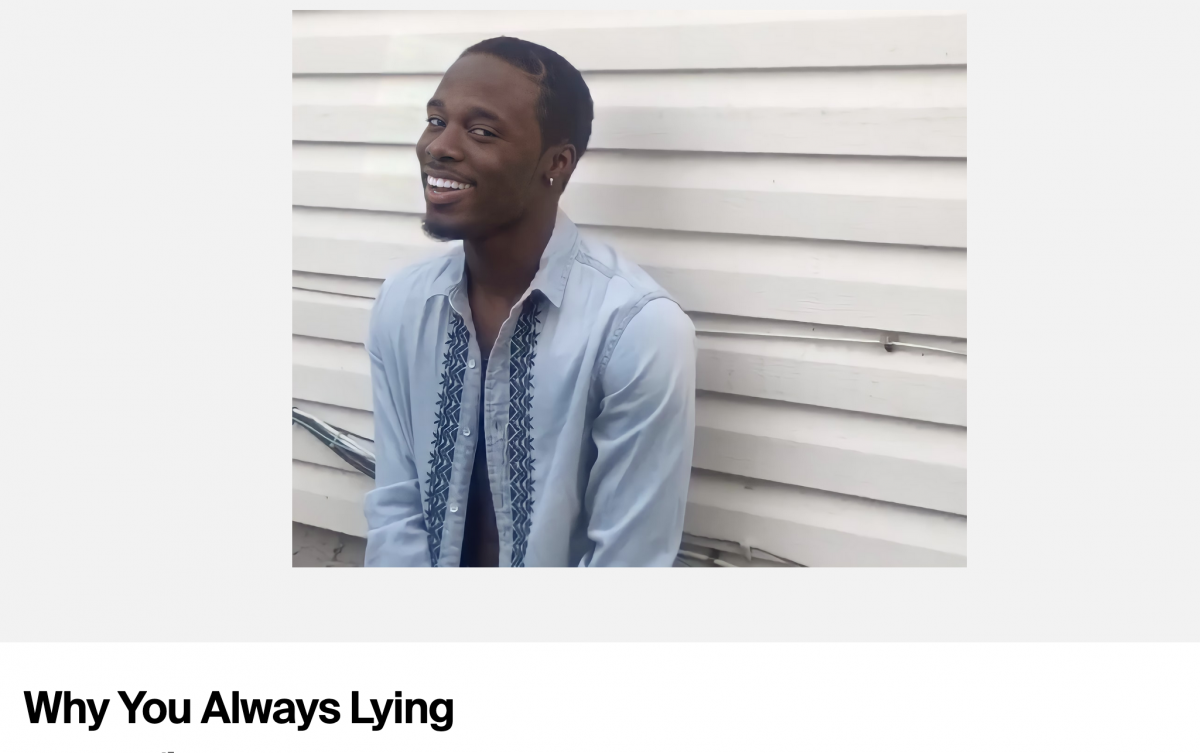 Date: October 17, 2021
Price: 25 ETH ($93,653)
In August of 2015, content creator Nicholas Fraser filmed a short music video to the tune of the 1997 single "Too Close" from the American R&B band Next. The video quickly went viral after being uploaded to Vine, Youtube, Twitter, and Instagram. A still image from the video of Fraser smirking took on a life of its own as a meme.