Among the countless PFP (profile-picture) projects that have long saturated the greater NFT market, Doodles has maintained its status as one of the most influential and beloved NFT endeavors in existence. While the collection of colorful line-drawn characters that has literally swept across the globe ranks high on the list of top PFPs, in terms of both popularity and sales volume, there's much more to these seemingly simple Doodles than meets the eye.
From first-of-its-kind token mechanics and high-profile collaborations to extravagant in-person events and much more, Doodles has traversed the ups and downs of the NFT ecosystem and come out on the other side as one of the most successful Web3 brands around. While it might truly be impossible to chronicle all of the twists and turns that led to the project's rise to prominence, this guide will lay out everything you need to know to understand Doodles.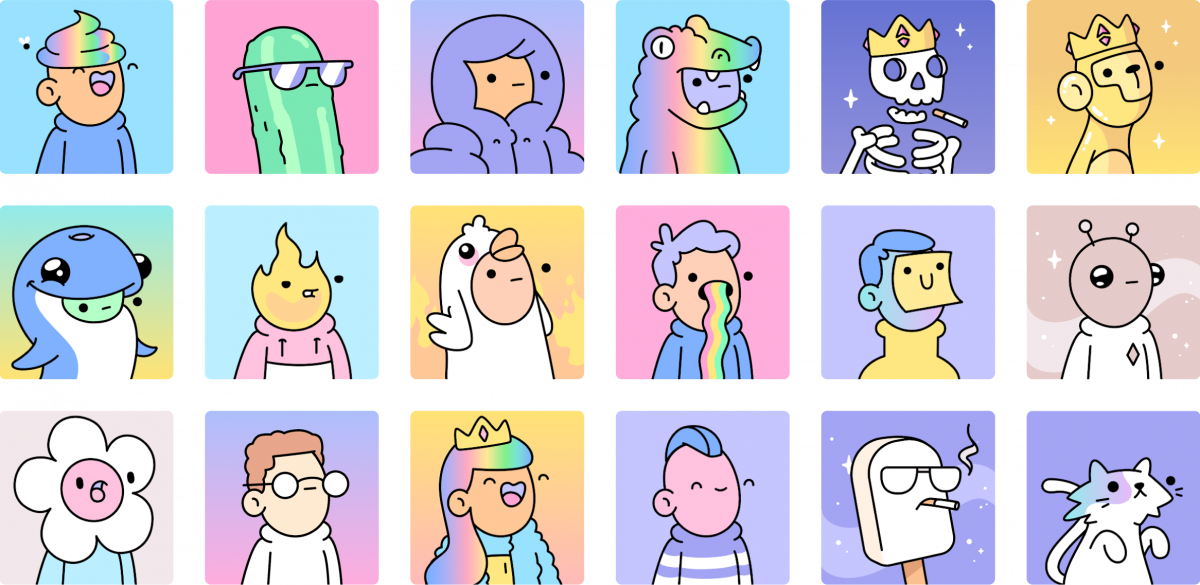 What is the Doodles NFT collection?
Doodles is a collection of 10,000 generative NFTs created by Evan Keast, Scott Martin, and Jordan Castro. The team uses "working aliases" and are known as Tulip, Burnt Toast, and Poopie, respectively. Before Doodles, Keast and Castro were already well-established in the NFT community, as they helped launch the legendary NFT project known as CryptoKitties in 2017. Martin, meanwhile, had been minting his own pieces and growing his creative brand within the NFT space for about a year.
Doodles features original art created by Martin, who produced hundreds of unique visual traits for the collection. However, the project ultimately followed in the footsteps of predecessors like CryptoPunks, Bored Apes, and Cool Cats by randomly mixing and matching these individual traits to create the full Doodles collection.
Within the Doodles ecosystem live humans, cats, pickles, apes, sentient flames, skeletons, aliens, and more. As is the case with nearly all generative avatar collections, Doodles NFTs come in varying degrees of rarity, which is defined by their traits. Although the Doodles team has never officially released a catalog of what traits are the rarest and most common, you can find RaritySniffer's unofficial rankings here. To date, skeletons, cats, aliens, apes, and mascots have continued to resell for the highest amounts.

Keast, Castro, and Martin launched Doodles on October 17, 2021, pricing their product at 0.123 ETH per mint. At the time, the mint price was considered relatively high. Before Doodles, most PFP projects implemented mint prices below 0.1 ETH; however, the Doodles founding team decided on this higher price point to ensure an initial treasury of ~420 ETH.
During the project's rollout, Doodles tried something that had seemingly never been executed by a PFP project. About a month before the project went live for minting, the Doodles team closed the Discord when membership numbers had reached just over 1,000. This made it so that no new members could join, creating an extra level of exclusivity within the project's community.
This decision received mixed reviews, as it effectively gave whitelist access (priority minting) to a select few. Yet, as the Doodles mint date drew closer, the project's following continued to grow, and the decision to close the Discord started to be seen as an innovative way to reward early NFT project supporters.
Building a community for Doodles NFTs
Shortly after the full supply of Doodles sold out, the Discord server was reopened, bringing a slew of new collectors and enthusiasts into the community. In the following months, a wide variety of NFT influencers and big-name celebrities joined Doodles as collectors, further solidifying the project as one of the hottest PFP NFT communities.
While numerous avatar projects market themselves as community-centered, Doodles seems to have been all about empowering their community from the start. As stated on the Doodles website, owning a Doodle and voting on community proposals "makes the roadmap collaborative." This facet of the project has become increasingly clear over the last few months alone, thanks largely to its voting system and anti-scam/pro-artist culture.
Community Voting
The entire Doodles ecosystem is basically one DAO, and every Doodles owner has a say in what that DAO does. Early on, Keast laid out how the DoodleDAO treasury would work, stating that 1 Doodle = 1 Vote towards any and all decisions regarding the DoodleBank.
So far, Doodles members have been able to vote on proposals for Doodles team scaling, live events, funding a 3D Doodles project, and much more. The Doodles Forum and Doodles Discord allow an extra level of discourse for each proposal.
While proposals have become less frequent as the project has matured, initiatives have become much more paramount to the future and overall success of Doodles as a brand. This is likely due to the project's leadership, which has seemingly continued to set a viewfinder for the horizon.
Anti-Scam/Pro-Artist
As one of the most popular projects on the market, Doodles quickly inspired numerous derivative and knockoff projects. Keast and the Doodles team seemingly anticipated this issue, as they had already implemented a sort of derivative approval system within their Discord. Developers were incentivized to submit official proposals to create projects inspired by the main Doodles collection. Numerous projects proposed within the Doodles community have been put to a vote, with collections like Noodles and Pukenza coming as a direct result of the 1 Doodle = 1 Vote system.
A scam alert channel was also implemented in the Doodles server, promoting a sort of "see something, say something" mentality. A large volume of fraudulent accounts and projects have been reported, and it seems the channel has helped mitigate several unapproved Doodles knockoffs and potential scams.
Doodles: To the moon
Although the Doodles floor price remained somewhere between 1-5 ETH for months after launch, things started to pick up towards the end of 2021. Around this time, Keast and the rest of the Doodles crew began to release short animations teasing something new on the horizon. This led to a spike in secondary sales and some of the largest Doodles sales to date.
While a quick uptick in purchases and trades (a "pump") typically happens when a project team makes a major announcement (i.e., Nike acquiring RTFKT) or rolls out a collectors reward, Doodles' managed to keep the momentum going even a month after making their announcement. The news? Space Doodles. Claimable only by Doodles holders, Space Doodles were said by Castro to be "non-dilutive extended content for Doodles." Castro's Twitter thread even outlined all of the technical details.
We've seen the launch of Cool Pets, Bored Ape Kennel Club, KingFrogs, and more help popular projects capitalize on demand and further expand their collector base. But Space Doodles works differently. Instead of launching an additional collection of NFTs to complement their original 10,000, the Doodles team implemented a mechanism that allowed owners to swap their NFT for a new, spaceship-themed one. These spaceship-themed NFTs live in a different collection on the Ethereum blockchain as a way of distinguishing them from the originals.
Claimable only by Doodles holders, Space Doodles were said by Castro to be "non-dilutive extended content for Doodles." Castro's Twitter thread even outlined all of the technical details.
Doodles as an entertainment platform
One of the most interesting aspects of the Doodles project is its crossover from the blockchain into the real world. This is because Doodles is endeavoring to be much more than a simple PFP project. As co-founder Keast has said multiple times, the ultimate aim of Doodles is to become a comprehensive Web3 entertainment company, and the crew has already taken numerous steps to help make this goal a reality.
Twice now, Doodles has created immersive in-person experiences coinciding with annual NFT events. First, in December 2021, the Doodles team partnered with The Heart Project to put on a large-scale event during Art Basel Miami. Heart Basel Miami, as they called it, gave the NFT community its first glimpse into what to expect from Doodles as an entertainment company. The event — which, according to the expenditure proposal, was planned and executed within a very short amount of time — featured a gallery, exclusive merch, live music performances, and more.
The event was an apparent success, with Keast even mentioning shortly after that several prominent talent reps had taken an interest in Doodles. It seems events aren't the only thing the Doodles crew has in the works, though. As revealed during an interview with HYPEBEAST, the founders ultimately aim to "bridge Web3 and the real world and connect NFT enthusiasts through community initiatives such as installations, concert merchandise, and more."
The second event, dubbed the Doodles Genesis Factory, launched in June 2022 alongside NFT.NYC. The activation further helped communicate Doodles' desire to show up and show out, providing a stage for unveiling many upcoming Doodles initiatives, including Doodles' first fundraise, Doodles 2, Doodles Records, and more.
In 2023, Doodles made a move that further solidified its commitment to becoming a web3 entertainment company. Via Twitter, the team announced that Doodles would acquire award-winning animation studio Golden Wolf, citing that "narrative storytelling, world-building, and character development will be at the center of everything we do."
Although the full scope of how a Web3 company might leverage a PFP project to accomplish all this remains to be seen, we've long heard similar sentiments coming from the Bored Ape Yacht Club and World of Women, both of which are now managed by Madonna and U2's manager, Guy Oseary. It seems Doodles is now echoing that same cry.
The future of Doodles
Considering the young age of the Doodles project, it's incredible to see the growth and accomplishments achieved by this project and its three founders. Currently, the collection has amassed around 155,000 ETH in secondaries. While Doodles still has quite a ways to go before they're seen as a true contender for the PFP NFT crown currently held by the Bored Ape Yacht Club — which has generated upwards of 711,000 ETH to date — the collection of vibrant characters has undoubtedly won the hearts of countless NFT enthusiasts.
Moreover, the Doodles project is showing no signs of slowing down, even as crypto prices continue to fluctuate greatly since its conception. From live, immersive events to unique, innovative project development, the company has onboarded a range of talent to the team, including former President of Billboard Julian Holguin as CEO and none other than Pharrell Williams as Chief Branding Officer.
And as the Doodles Web3 entertainment company continues to grow, so too have its initiatives. Here are some of the things the Doodles community has to look forward to.
Doodles Fundraise
In summer 2022, it was announced that 776 Management, a venture capital firm created by Reddit co-founder Alexis Ohanian, would lead the first round of funding for Doodles. Although the amount of financing was not disclosed, the partnership inherently seemed robust as it was also announced that 776 Co-Founder Katelin Holloway would be joining the Doodles board of directors.
And indeed it was. A September 2022 announcement made it clear that Doodles' first funding round was a resounding success. Aside from 776, 10T Holdings, Acrew Capital, and FTX Ventures pooled $54 million in funding for Doodles. With this funding, Holloway believes that Doodles now has the tools to "[develop] the next digital frontier of how we experience and create content, unlocking the real value behind NFTs," according to the September announcement.
Following the close of its funding round, Doodles looks primed to develop itself into a truly global IP via "ventures in music, culture and entertainment industries." Of course, the technology that made Doodles possible in the first place is still at the center of everything: the blockchain. "Reimagining storytelling through the blockchain, Doodles is changing the way the world connects and interacts," Holloway said in the release.
Doodles 2
Doodles 2 is undoubtedly the most exciting next step in the Doodles' lengthy and continuously developing roadmap. Yet again, Doodles seems to be foregoing the route of a companion project to launch a unique new initiative aimed at onboarding more users into Doodles and to the greater NFT ecosystem. How? At the beginning of 2023, it was announced that Doodles 2 would be hosted on the Flow blockchain. The team behind the influential project hopes that the decision will help further mass adoption of the Doodles project and better communicate their conviction in the future being multi-chain.
Marketed as "A Doodle for Everyone," Doodles 2 — which comes hot on the heels of Doodles' acquisition of award-winning animation studio Golden Wolf — centers around dynamic NFTs built on Flow. With the new endeavor, Doodle holders will be able to personalize their NFTs to parallel their digital identities.
"When we say Doodles 2, what we really mean is a customizable Doodle. […] Unlike the original collection, Doodles 2 has two different types of NFTs," Castro said in an interview with nft now. "The first one is the Doodle. Think of it as a mannequin, a base character. You can customize different attributes on your Doodle. And these are all on-chain properties. The second type of NFT is the wearable. And those wearables can be combined with your Doodle to create the style that you're going for."
While Doodles 2 will immediately be centered around customizable wearables, holders can expect new wearable collections to be released through marquee drops, with some featuring in-line products and brand collaborations with partners, musicians, and creators. This will essentially create a new Doodles microeconomy where everyone can buy, sell, and trade wearable NFTs. Additional features will include the ability to swap between a full-body or PFP perspective and unlock an animated version of an owned NFT, complete with original music.
The launch of Doodles 2 will hinge on something called the Dooplicator. Previously said to be one of the most enigmatic facets of the Doodles ecosystem, the tool has been said by the Doodles team to have "perpetual utility beyond Doodles 2." Activating the Dooplicator will be the first step of the Doodles 2 journey through which holders can mint first edition Doodles 2 wearables. 

Thereafter, the next step will kick off about a month down the road by way of the Doodles Doodles Genesis Box. Unveiled at the Genesis Factory, this collection of 24,000 NFTs features NFT boxes that hold second-edition wearables. Additionally, each edition of wearables unlocked during the release period of Doodles 2 (either from Dooplication or Genesis Box) will include a Doodles 2 Beta Pass — which will provide holders access to a private beta of the create-your-own Doodle tool in the near future.
Doodles Records
Another new sector of the overarching Doodles brand that Doodles enthusiasts can look forward to is Doodles Records. While little is known about the supposed record label, Doodles Records: Volume 1 has been announced to include original music with executive production from Pharrell, hand-drawn album art from lead Doodles artist Scott Martin, and limited edition wearables for Doodles 2. The first volume comes in partnership with Columbia Records and will feature music that Doodles 2 owners will be able to layer into their new animated NFTs. It's music and NFTs at their best.
The slow burn of Doodles
Beyond the general hype cycle of price increases and celebrities being onboarded into the Doodles community, Doodles has been known to (in some cases) leave their community hanging. This hasn't necessarily been a bad thing, as while the wider NFT community has become accustomed to biweekly teasers and announcements, it seems that the Doodles team is more than happy to keep quiet until they have something to say.
Sentiment aside, it's clear Doodles is planning to take their community on a wild ride over the next few years. With millions of dollars in capital sitting in the Doodle bank and a major fundraise set to kick off, the Doodles team has made their initial treasury holding — which was worth over $1.5 million at the time of the project's launch — back many times over.
Editor's Note: At the time of publication, members of the nft now staff were holders of Doodles NFTs.
Learn
Guides & Explainers