The Alpha:
Doodles has announced a concrete launch date of August 19 for its in-person partnership with Camp: an immersive, 3,500-square-foot experience that will feature IRL renditions of the Doodles World, including a "Stoodio," Space Doodles crash site, 12-foot-tall daisies, and more.

The initiative represents a new chapter in the evolution of the Doodles brand. The joint venture will include a co-branded collection of apparel and accessories, including hoodies, t-shirts, backpacks, stationery, and Doodles' first line of kids and youth products.

---
Dive Deeper
Doodles is solidifying its efforts to pioneer the intersection of the physical and digital with a reveal of the full scope of its partnership with family entertainment company Camp. Originally announced back in May, the celebrated Web3 brand has finally offered up new details and teasers surrounding its forthcoming immersive experience.
This strategic move marks what may be Doodles' most significant stride in its journey from an NFT project to a mainstream multimedia brand. Having spearheaded a variety of IRL endeavors in the past, including pop-ups at SXSW, Something in the Water, and captivating audiences with an interactive gallery at NFT.NYC and Art Basel Miami, Doodles' IRL engagements have consistently resonated with their audience.
This summer, fans old and new can dive deep into the colorful world of Doodles at Camp's expansive venue. With the 'Doodles x Camp' experience occupying a significant 3,500 square feet of Camp's 7,500-square-foot facility, attendees can journey through fantastical areas such as Lost Caves, Cosmic Clouds, and the Flower Forest, each on par with the imagery and imagination of the doodles creative Stoodio.
On August 19, the doors will open at 651 W. North Avenue in Chicago, and you'll be able to enter the 3,500 square foot Doodles x CAMP experience. pic.twitter.com/Sq3MB1kKDW

— doodles (@doodles) July 19, 2023
Ready to buy tickets? Timed entry tickets for Doodles x CAMP are available for purchase today starting at $28. Pre-order yours now.https://t.co/N28hFx8t26

— doodles (@doodles) July 19, 2023
"The incredible team at Camp helped us bring new meaning to the bridge between physical and digital," said CEO of Doodles, Julian Holguin, in a press release. "And through this experience, attendees will immerse themselves in the colorful world of Doodles. Get the whole family ready to meet our characters and to have some fun!"
Centered in Chicago's Lincoln Park, Camp has crafted a variety of unique experiences for established franchises in the past, including Disney's Encanto and The Little Mermaid. Notably, alongside the July 19 announcement of the Doodles experience, a new Camp store called the Canteen has opened, which features 2,000 square feet of retail space, interactive stations for kids, an area for live events, and more.
In addition to interactive activities, Doodles aficionados will be treated to an array of exclusive merchandise opportunities. A Doodles x Camp collection, replete with clothing, accessories, and more, will be unveiled in the Canteen, once again blending the brand's iconic design aesthetics with tangible products.
What's next
The first stop on the journey to the Doodles x Camp launch will be a grand opening preview and meet-up exclusive to holders of NFTs from the inaugural Doodles collection. Featuring a ribbon-cutting ceremony, the event will take place on August 17, with limited tickets becoming available on July 20. General admission tickets for the experience have already been made available for purchase here.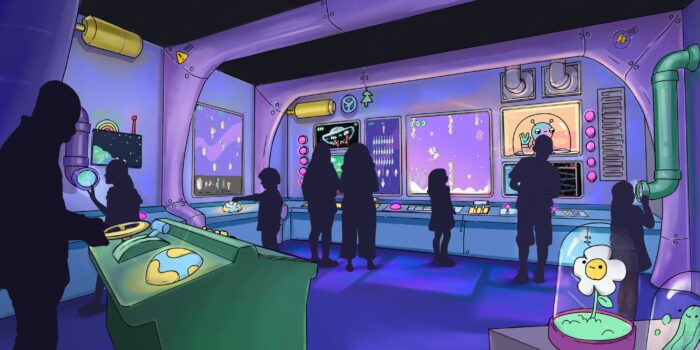 Looking into the future, though, it's clear that the partnership with Camp represents just a single stop on a roadmap to solidify the Doodles brand in the real world. Doodles' expansion isn't merely confined to one-off partnerships, as the brand's strategic acquisition of the animation studio Golden Wolf and the appointment of musician Pharrell Williams as its Chief Brand Officer underscore its ambitions of becoming a household name.
Fans can expect the immersive Doodles x Camp experience to surely eventually travel to other Camp venues, ensuring fans nationwide can revel in the wonder of the whimsical pastel brand.
In case you missed it:
Editor's note: This article was written by an nft now staff member in collaboration with OpenAI's GPT-4.