Innovation is often the result of audacity and imagination. It was in this spirit that Adidas made its first jump into Web3 in 2021 with Into the Metaverse NFT drop— a collaboration between Bored Ape Yacht Club founders Gordon Goner and Gargamel, Pixel Vault founder GFunk and influential collector gmoney — to welcome Adidas Originals to the virtual world. Since then, the brand has continued to grow and adapt, showcasing that a traditional web2 company can indeed compete effectively with Web3 natives.
Formed in late 2022, adidas /// Studio also known as Three Stripes Studio is a unique unit within the iconic sportswear brand focused on the conception and execution of Adidas' global Web3 campaigns. Its mission is to craft brand strategies, develop partnerships, cultivate communities, and design products. ALTS by Adidas, their most recent collection, represents the third and final phase of the Into the Metaverse initiative. It seeks to forge connections, inspire creativity, and foster a sense of belonging.
As Adidas prepares for the reveal, Stacey King, Global Head of Communications and Activation, and Vlad Lazarov, Global Head of Product for Adidas in Web3, sat down for an exclusive interview with nft now. The two leaders provided in-depth insights into Adidas's journey in the Web3 space and what's in store for the future, particularly with the forthcoming iteration of ALTS.
How it started
The inception of Adidas' metaverse aspirations began with the establishment of an internal Metaverse Task Force in the second quarter of 2021. Recognizing the power of collaboration, Adidas joined forces with some of the most influential creators in the Web3 realm, including the Bored Ape Yacht Club (Yuga Labs), Punks Comics, and gmoney (9dcc).
On December 17, 2021, with the support of these creators, Adidas launched Into the Metaverse, a collection of 30,000 NFTs that quickly grew in popularity with the community. Following that, Adidas facilitated a free airdrop and the unveiling of its Virtual Gear genesis collection — a digital catalog of 16 wearable items. The airdropped items were available to burn for the wearables.
If the brand's integration with the Web3 domain seems authentic to the community because it actually is. This authenticity stems not only from the brand's inherent values but also from the fact that the team members were themselves ingrained into the culture that they represented.
"We want to bring the community along for a journey," King said. "We don't just want to be like, here's an NFT.'"
King and Lazarov are passionate collectors and members of NFT communities such as Doodles and Deadfellaz, which gave them a deep understanding of the field, its nuances, and its requirements.
ALTS by Adidas
In April 2023, Adidas announced that holders of the NFTs from the Into the Metaverse collection (Phase 1 and Phase 2) could burn them in exchange for NFTs from the new ALTS by Adidas collection. In this expansion of the Into the Metaverse ecosystem, ALTS essentially represent ALT[er] egos for holders.
"We put a lot of thought behind how to make something more than just a visual and integrate it into a journey," Lazarov said.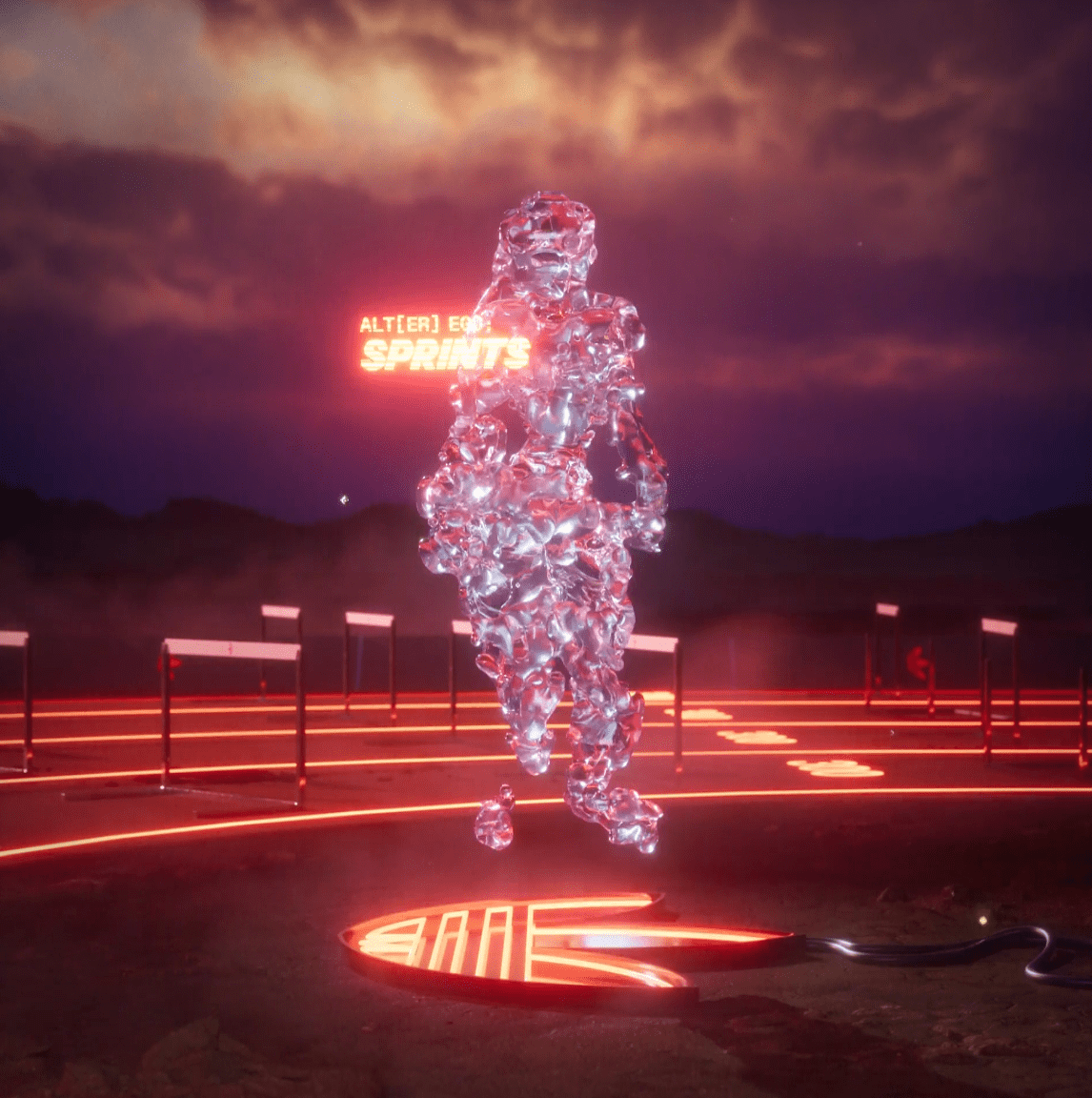 Each animated ALT will have specific traits, including Strikes, Sprints, Hoops, Thrills, Amps, Soles, Decos, and Drips. Each trait comes with a specific utility, with benefits being tailored to the holder's interests.
The universality of ALTS by Adidas extends numerous benefits to its holders, including stake and voice within the ecosystem, private and certain commercial IP rights for their ALT, access to 3D files and ALT artworks, the ability to customize their ALTS with virtual wearables, premium access to the Adidas collect website, and other perks. ALTS rarity traits further provide unique privileges such as exclusive or early access to products and IRL events.
Chapter two of ALTs
In May 2023, Adidas surprised ALTS holders by distributing three NFTs, named Rift Valley Motel Coins, to each of them. Holders had no idea what they were for — until now.
These tokens serve as rewards for Adidas's Chapter two. More than 10,550 unique ALTS owners who received these free tokens will be able to use them in the newly launched Rift Valley Motel Vending Machine. The mechanism will allow for further customization of ALTS avatars and will be live on July 4.
"When you mint a PFP project or an avatar, you get it and reveal it, and you can't change anything about it," King told nft now. "But this is an interactive gamified way of being able to customize your avatar to represent the ultimate you."
Here are the detailed mechanics of how the coins will work:
The vending machine closes on July 25 and will feature more than 90 facial traits. The brand's official Twitter will reveal nine traits every day until July 4, when the Vending Machine opens. These only represent a few of the hundreds of traits that will be revealed later in 2023.

A history of collaborations
It's evident that Adidas' history in Web3 is rich with collaboration and cross-collection creativity — from their first foray into Web3 to this latest endeavor. Emphasizing its community-first approach, the brand has made a notable presence at Web3 events, including NFT NYC, NFTParis, and Art Basel Miami. Here are just a few of the brands and artists Adidas has partnered with.
Prada
In January 2022, Adidas teamed up with Prada to launch an NFT collection featuring user-generated art. Collectors submitted photos using a filter developed by digital artist Zach Lieberman to provide the materials needed for the unique NFTs. One thousand of the available 3,000 spots for NFT participation were reserved for owners of NFTs from Adidas' Into the Metaverse drop. The photos were then compiled by Lieberman to form a single artwork entitled Adidas for Prada re-source that sold for 30 ETH.
Bored Ape Yacht Club
Adidas' original NFT drop was centered around BAYC IP, but a Bored Ape still plays a major part in their current marketing endeavors. The company owns Bored Ape #8774, an Ape they've named Indigo Herz, who serves as a central character in the storytelling of the brand. In April 2023, adidas /// Studio introduced ALTS by Adidas, the Indigo Herz product pack, as part of the Adidas global member's week.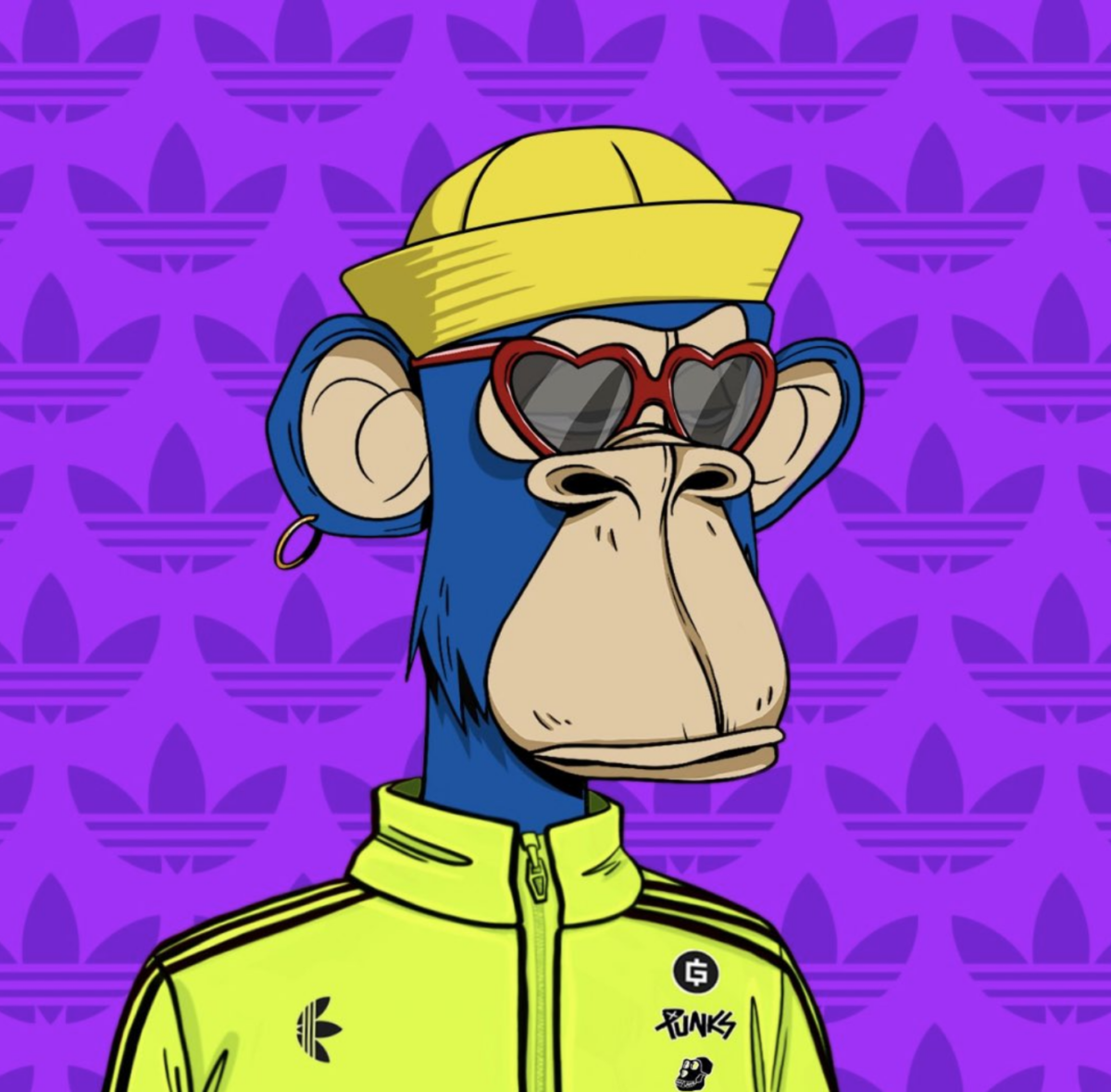 Doodles
In May 2023, in collaboration with Doodles, and Pharrell Williams (Chief Brand Officer at Doodles), the brands released the "Pharrell Pack." This NFT pack contains digital Pharrell Williams apparel and gear from fashion brands he created or worked with, including Human Made, Adidas, Billionaire Boys Club (BBC), and Ice Cream. Each pack includes digital wearables and a token that can be redeemed for an exclusive physical piece of apparel.
Fewocious
In June 2023, Adidas announced a collaboration with Fewocious but has since paused the partnership in light of sexual assault allegations made against the Web3 artist by a former partner. Fewo released a statement denying the allegations, calling them "completely untrue, dangerous, and hurtful."
"Our collaboration with FEWOCiOUS has been put on hold for the time being," Adidas announced via Discord. "We want to thank our community for your trust and understanding."
The future of Adidas in Web3
Through its various collaborations and Web3 endeavors, Adidas has proven that the brand is about much more than IRL sportswear and clothing. But even in the metaverse, the team won't forget its roots.
"We want to make sure we stay true to the values of our brand and that everything we do has Adidas DNA," Lazarov shared.

As Adidas continues to explore the possibilities of the digital space, it's clear that the brand is set to redefine what a sporting community can look like in the age of Web3.
Editor's note: A previous version of this article included Tokenproof as a collaborator in the Doodles drop. It has since been updated.