For Web3 companies in the entertainment industry, it's crucial to understand how flexible NFT minting can be, especially when the goal is to onboard as many people to Web3 as possible. This is why diversifying platforms still under construction is so common among firms making their ascent in the space.
And Gala is attempting to do just this. Perhaps best known for its Gala Games and Gala Music platforms, it took steps to expand its lead within Web3 via the August reveal of Gala Film, a platform that offers users the opportunity to enjoy "watch-to-earn" mechanics.
Calling Gala "ambitious" may be a bit of an understatement. The Web3 platform has its sights set on dominating every industry in the NFT space — games, music, and film. And it puts its money where its mouth is: In February 2022, Gala announced a new $5 billion allocation to expand its Web3 aims in movies, music, gaming, and even theme park NFTs.
But it's one thing to draw a line of action, and another to define the actor: who is Gala? Why are they so set on dominating the Web3 space, and when should we expect it to emerge as a Web3 juggernaut, assuming it does?
Gala Games: Play to blank
What is Gala Games? Put simply, it functions as both a publisher and developer in the space. Although initially launched on the Ethereum blockchain, the platform — along with Gala's other arms in the entertainment industry — shared its plans to shift operations onto Project GYRI, Gala's own proprietary blockchain network, according to a February 2022 announcement on its blog. If you're wondering how to make money on Gala Games, you can purchase a node on its network for a shot with the platform.
Nodes are an essential part of Gala Games, because it allows the platform to function on a distributed network of computers, rather than a centralized server under the exclusive purview of a single entity. Using a decentralized gaming network to realize gaming worlds also enables participants (each one a node) to earn rewards, like unique NFTs and Gala tokens. And those who operate a Founder's Node get to secure the platform from bad actors and malicious behavior, while also generating Gala assets and validating transactions.
Most notable from a Web3 frame, node operators can vote on community proposals, effectively guiding the development of its ecosystem in a democratic community. But to participate as a node, you have to grab a Gala Node license using a Gala token.
Key Gala Games titles
However, that isn't to say that Gala Games has placed the lion's share of its focus on improving its structures and systems. At the end of the day, Gala Games is a gaming company and the only one in the biz that makes Gala Games. But how do you play Gala Games? Following the necessary steps, like ensuring your crypto wallet is set up and ready to go, you'll need to make an account on Gala Games' website. At that point, you're off to the races.
Now that you're locked and loaded, it's time to explore Gala Games' library of gaming gold. But what kinds of games are they? You can think of them as massively souped-up versions of the mobile games that left you stuck glued to your phone in the early 2010s.
But this doesn't limit your choices, since the games span a comparably broad spectrum of genres, from multiplayer online battle arenas (MOBAs), to role-playing games (RPGs), and more. And they attract millions of players, with several memorable mentions, including:
Echoes of Empire, which is a sci-fi strategy game that enables players to battle over scarce resources scattered across the entire universe.
Spider Tanks is a MOBA tasking players to fight across several maps with an impressive array of weapons.
Mirandus is a fantasy RPG brimming with monsters for players to defeat. Then they can develop lands, and score big rewards for accomplishing goals in the game.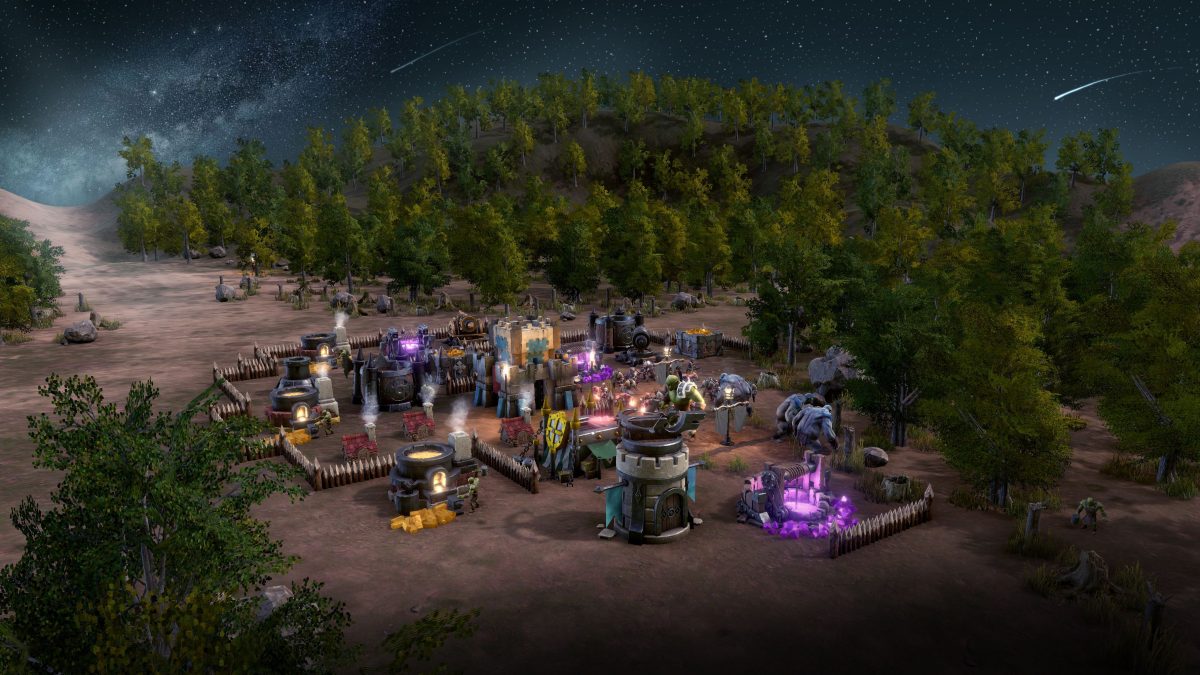 But one of Gala's upcoming titles, Fortitude (a player-versus-player game), offers players a taste of the tower defense subgenre that exploded in popularity during the Flash-dominated era of the 2000s. Of course, setting it apart from games like Bloons or The Last Stand is production value. Set for release sometime in Q4 2022, this dark fantasy spin on a classic genre will offer players a PvP experience — in addition to the opportunity to exchange loot earned in-game for tower upgrades, or even real-world cash.
Notably, one upcoming title under Gala Games' banner will deviate from the pack above. Upcoming shooter Grit will launch on the Epic Games Store, opening the title up for a broader, more mainstream-inclined audience.
The 'who's who' of Gala Games
So who owns Gala Games? Effectively serving as the wider Gala platform's first arm, it was (like Gala) also co-founded by Eric Schiermeyer in 2018, together with crypto pioneer and blockchain expert Wright Thurston.
Upon its foundation, its "North Star" has always been the grand goal of redefining the gaming and blockchain industries. But instead of deploying mind-bending feats of game development mastery, the firm aimed to reach its goal with fun games people can pick up and play at any time, bundled with seamless play-to-earn (P2E) game mechanics designed to reward players for their time.
However, it should be noted that Gala Games had a third co-founder whose previous experience perhaps best illustrates Gala Games' potential for onboarding mainstream audiences to Web3. And that's Michael McCarthy, whose past work includes a stint as the creative director of Farmville 2. Yes, the sequel to one of the biggest sleeper hits of the 2010s.
If Zynga is starting to ring a bell, that's because they were the developers behind one of the biggest cash cows of social media's early days. There was a time when you could literally say that everyone and their mom was into Farmville, and flooded their entire friend lists with Farmville-related requests as a result. This is exactly the type of success that Gala Games is looking to replicate now that we're in a pivotal period of Web3's early life.
Gala Music
Following the success of Gala Games' first title Town Star, the platform expanded to cater to the growing number of musicians looking to enter Web3 via NFTs. Launched in February 2022, the Web3 music platform aims to forward Gala Games' core values of "shared ownership and decentralization," as per its website.
Of course, these values won't be upheld between a game and its player base. Gala Music hopes it can enrich the relationship between musicians and fans. Of course, who better to launch this platform than one of the world's most well-known degens — Snoop Dogg. After acquiring the branding rights to Death Row Records — the record label that helped launch Snoop's career in 1993 — he's joined the Gala Music platform as one of its most prominent artists. His end goal? To establish a fully-decentralized Web3 record label. Death Row Records 3.0, if you will.
At the center of Gala Music's utility is its planned Player and Fan Node systems. Powering these is the Gala Music Token, which will unlock rewards for listeners and artists. According to its roadmap, the Player and Fan Nodes will come to life in the near future, granting music NFT owners easy access to connect their works with nodes in the network. As with Gala Games, node operators are promised rewards for aiding in the growth and development of the platform.
Gala Film
Just like the rest of Gala's arms, Gala Film aims to facilitate its decentralized take on entertainment via a node system. Ownership of these nodes, of course, will grant operators tangible rewards for their efforts.
So what is Gala Film all about? Beyond promises of rewards and greater equity in the film sector for rising young filmmakers, Gala Film hopes to do its part in ushering in Gala's larger goal of offering supporters of its various platform a truly metaversal experience. Outlined in its roadmap is the intent for IPs debuting on Gala Film to feature interoperability with Gala Games, and vice versa.
Like Gala Music, Gala Film also hopes to further deepen the relationship between artists and their fans. One project that exemplifies this hope is Razor, an upcoming series due to debut exclusively on Gala Film. Headed by Actor and Producer David Bianchi, Razor intends to give interested users an inside look at the series' ongoing development. Through this evolution of the concept of audience participation, the project may stand to grant its future fans an unprecedented look at how their eventual favorite sausage got made.
Lifting Web3 gaming out of the internet's 'gray zone'
However, what sets Gala apart from other platforms active in the space is how far its ambitions reach into the future, emphasizing a need to grow with blockchain gaming. In Gala Games' eyes, the debate was never play-to-earn versus play-and-earn. The goal has always been to provide players with play-to-own opportunities; a feature Gala believes gamers have sought for generations.
In a 2020 interview with egamers.io — long before the NFT market's highly-documented bear-market boom — Gala Games Co-Founder Eric Schiermeyer spoke at length on the core values underpinning Gala Games' overall strategy. With the mainstream gaming industry in its current state, triple-A publishers have looked to increasingly predatory monetization tactics all for the sake of player retention and profit.
Despite the availability of secondary markets that enable players to sell their in-game items for a small profit, they occupy an unsavory gray area of the internet. As Schiermeyer stated in the interview, "[y]ou're more likely to buy an account from a hacker than you are from a real person. The blockchain solves this very nicely by creating a verifiable transaction that doesn't require any trust. I think that once players can reliably own their own items that we will see a massive change in the industry. Why would you play a game that didn't give you ownership of your time and money?"
Will Gala be able to bring us to the cusp of the play-to-own future? It remains to be seen. But even if it doesn't, the massive investments across multiple industries without sacrificing quality seems like an excellent way to reach for the gold. Suppose you're intrigued in the the future of Web3, a decentralized gaming experience, and an internet where participation in decentralized community gives you the right to reshape how it works. In that case, we have one thing to say about Gala Games: Don't look away, or you might miss something massive.