Gamers have long used video games to unwind after a long stressful day at school or work. For most, the hobby doubles as a pastime and a medium for experiential art and storytelling. But, unless your skills are in the 99.9th percentile of players, turning your time spent on a single game into IRL earnings is out of the question.
But what if things were different? This is where a new breed of games comes in: play-to-earn (P2E) games.
What exactly is a play-to-earn NFT game?
With NFT-driven P2E games — also known simply as "crypto games" — players now have the opportunity to take real ownership of their in-game assets, which P2E game developers mint as NFTs on the blockchain. Although virtually identical in function to their traditional counterparts, having in-game items minted as NFTs and in-game currency fully usable as crypto opens up a host of possibilities for the player.
Skins, weapons, characters, in-game currency — even virtual land on the metaverse — these virtual items that players can earn or purchase in-game can all be traded or sold for profit, just like any other NFT. And just like with any other NFT, some of these in-game assets can sometimes fetch an eye-watering amount on the secondary market.
How does 'play-to-earn' even work?
Another key distinction that P2E games have when compared to traditional video games is their decentralized nature. In other words, the ongoing development of P2E games is done collaboratively, with player feedback often taken into account by the developers to improve the game. Oftentimes, groups of dedicated players even band together to form a decentralized autonomous organization (DAO) to foster further community-building amongst a P2E game's player base.
Players can get involved in the continued progression and development of a P2E game in a much simpler way, though. They can start by just playing the game. As players participate in the in-game economy, they generate value for other players, and the developer, too.
In an interview with CNN Philippines, an Axie Infinity player shared his excitement for the game's massive potential as a P2E title — particularly how players would be able to have a real impact on the game's economy just by consistently playing the game. "I liked the white paper. I liked how the gameplay would work. I liked their plans for it," said the player. "But, most importantly, I liked how the basic economy would work in Axie wherein there will always be high demand for the crypto but there will always be less supply."
So how much do P2E games typically cost? Like traditional games, it varies. For example, P2E titles like Splinterlands and the Sandbox are completely free-to-play. On the other hand, titles like Axie Infinity require you to purchase Axies you intend to use in advance before you even boot up the game.
Some of the top play-to-earn NFT games on the market
While the P2E concept is relatively straightforward, game developers have come across different ways of implementing this mechanic into their games. In the budding development of the P2E gaming scene, two types of games have shown great promise in successfully housing P2E mechanics: games centered on collection, and games centered on creation.
Gods Unchained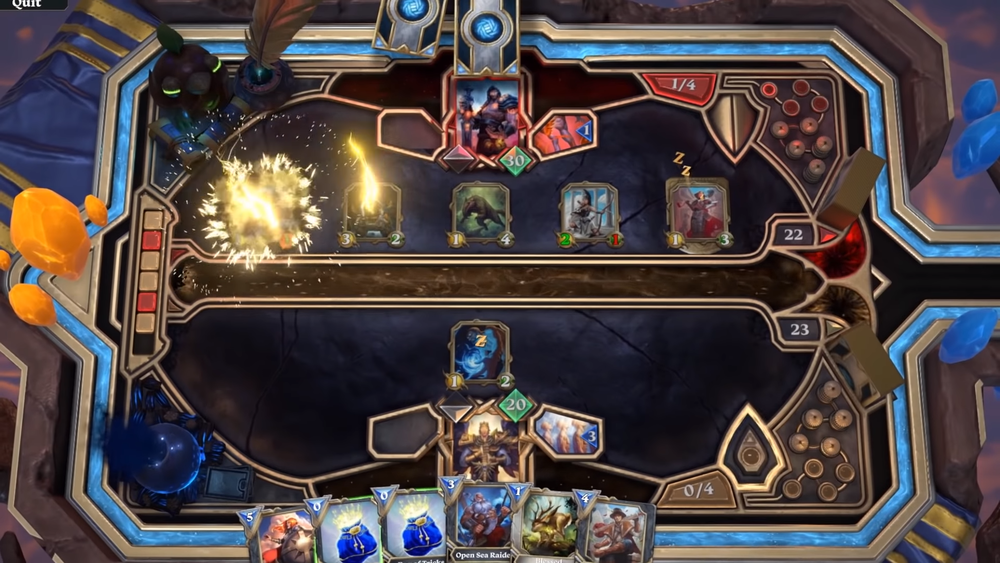 Specifications: GODS token costs $0.4246, has a 24-hour trading volume of $2.57 million on Immutable X, with over 13 million NFTs released, and over 65,000 unique asset holders.
Overview: Immutable's tactical card game with PVP matches, released March 2021.
Similar games: Hearthstone, Slay the Spire
Pros: Free to play, backed by former Magic: The Gathering exec, multiple ways to earn
Cons: Gameplay can be repetitive, limited ranked opportunities
In this tactical card game reminiscent of Hearthstone and Slay the Spire, players must strategically outsmart their opponents by building decks that are flexible enough to overcome most opponent strategies. It also helps to have decent cards — as any Yu-Gi-Oh, Gwent, or Magic: The Gathering player would happily remind you.
So how does this NFT card game implement P2E in its basic gameplay loop? For starters, like with IRL card-based games, certain cards in Gods Unchained are highly valuable, and can even be sold as NFTs. Via an in-game "Forge," players can opt to combine their non-NFT cards, creating a Meteorite NFT Card in the process. Neat.
Additionally, players may opt to participate in ranked PVP matches held "on most weekends" as per the game's site. Participation in these ranked weekend events grants players expansion packs, which contain NFT cards of varying rarity commensurate with the player's performance during that period of play.
Thanks to its deceptively deep gameplay mechanics and balanced game design that keeps things from becoming a pay-to-win mess, the game has garnered wide community support since its launch in March 2021. Since then, Gods Unchained has cleared more than $2.5 million in trading volume on its NFT marketplace Immutable X. With more than 13 million NFTs released to date, and more than 65,000 unique asset holders, players looking for a Hearthstone-like fix with P2E potential may look no further.
Axie Infinity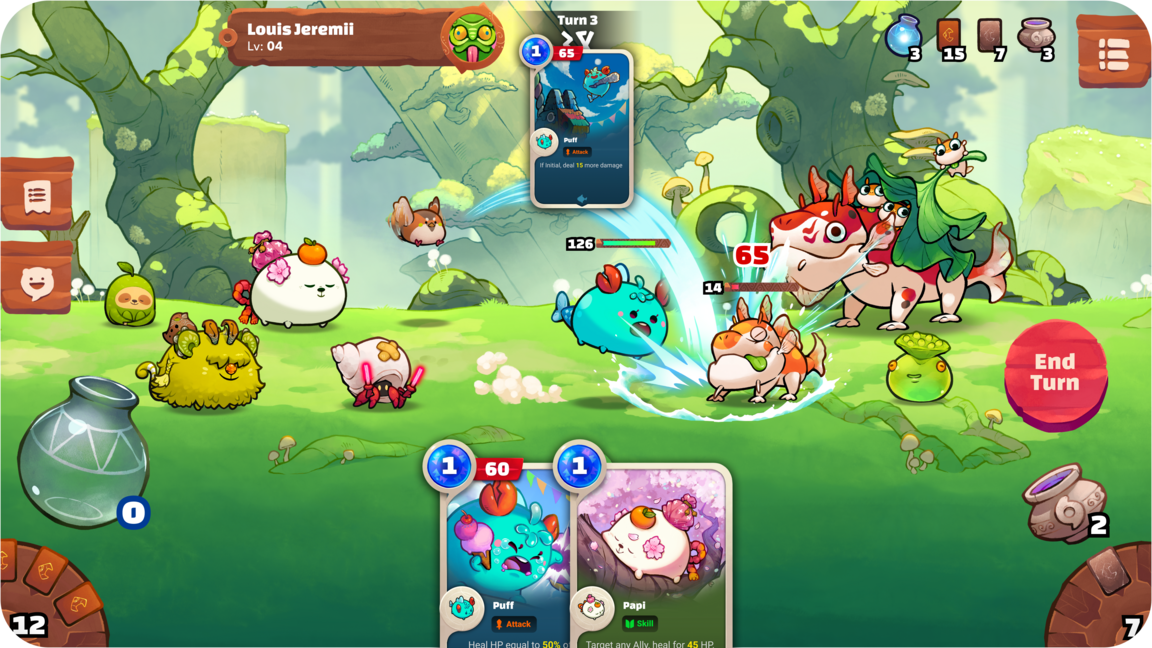 Specifications: AXS token costs $18.97, and a 24-hour trading volume of $138.49 million
Overview: Sky Mavis' card-based RPG-style combat game, released in March 2018.
Similar games: Pokémon, Neopets
Pros: Wide community support, will soon transition to free to play
Cons: Gameplay can be repetitive, starting costs can be expensive
In Axie Infinity, users can build an army of Pokémon-inspired creatures called Axies and battle with other players via card-based RPG-style combat. These Axies can also be bred, allowing players to build potentially more powerful teams or even sell the creatures outright. Upon each in-game victory, players can earn Smooth Love Potion (SLP), the game's currency that doubles as a functional cryptocurrency. At this point, players can then exchange their in-game winnings into fiat currency on a crypto exchange.
Unfortunately, following a promising year in 2021, one of the biggest P2E games on the planet ran into a series of significant setbacks. In April 2022, Axie Infinity witnessed a serious drop in its user base after the Lazarus Hackers Group breached the Ronin network (the Ethereum-linked sidechain that powers the game) and stole $625 million in assets. By May 2022, the game's AXS token was down 30 percent. With the in-game economy tanking in recent months, scores of players who'd invested significant amounts of time and money into the game are now left "despondent and in debt," as TIME Magazine said in a tweet.
With the game's player base dropping significantly, the value of its tokens followed suit, making 2022 a tough year for the game. But hope remains that it could still bounce back. The game has recently retrieved a sizable portion of its stolen funds and looks to transition toward a more player-friendly model in the near future, in Axie Infinity: Origin.
Decentraland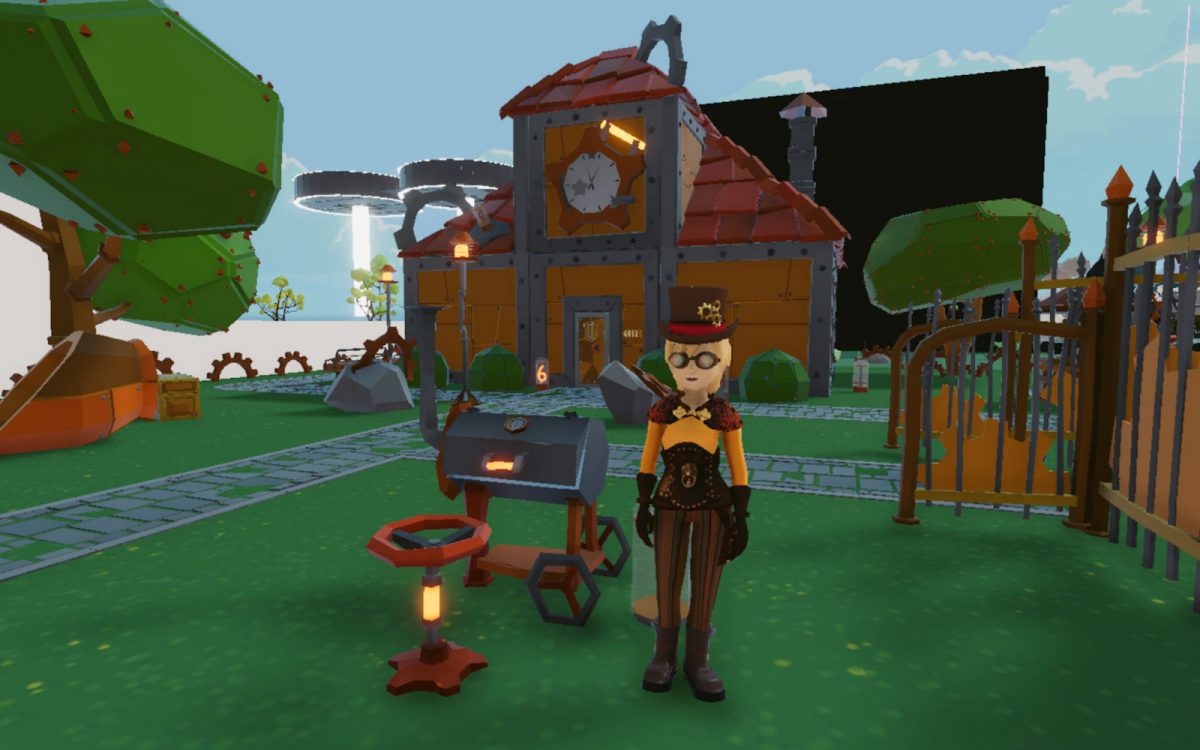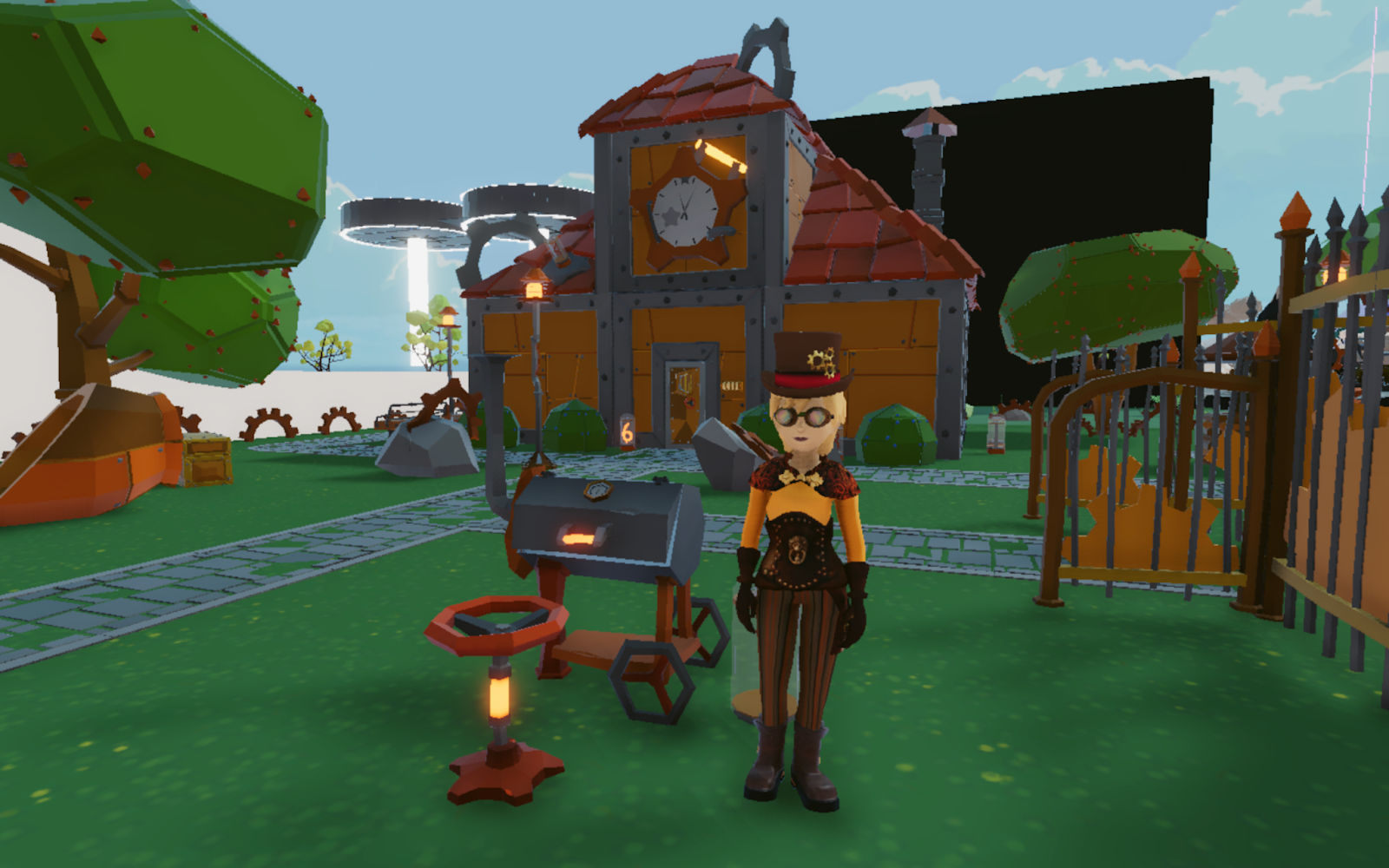 Specifications: LAND token costs $1.06, with a 24-hour trading volume of roughly $210.37 million
Overview: Developed by Decentraland Foundation, Ari Meilich, and Esteban Ordano, the 3D virtual world is an ever-evolving blockchain gaming community, released in February 2020.
Similar games: Minecraft, Roblox, Second Life
Pros: Wide industry support, multiple ways to earn
Cons: Still somewhat bug-prone
As implied by its name, Decentraland is a fully decentralized and ever-evolving 3D virtual world created by users. Within the blockchain gaming community, the title is widely regarded as a showcase of the potential of the metaverse. True to its reputation, players can purchase plots of land and turn them into pretty much anything.
With their newly-acquired digital land, players can do a wide range of things, from establishing a digital art gallery where they can sell and display NFTs from their personal collections to setting up a medieval dungeon maze — it's all up to the imagination. Decentraland even played host to a Metaverse Music Festival in October 2021 with major headliners like Paris Hilton, Deadmau5, and 3LAU.
Two tokens govern operations in Decentraland — LAND NFTs, which are used to define ownership of digital real estate, and MANA, the cryptocurrency used to buy LAND and virtual goods and services within the game. As of August 2022, 2.19 billion MANA tokens were in circulation.
The Sandbox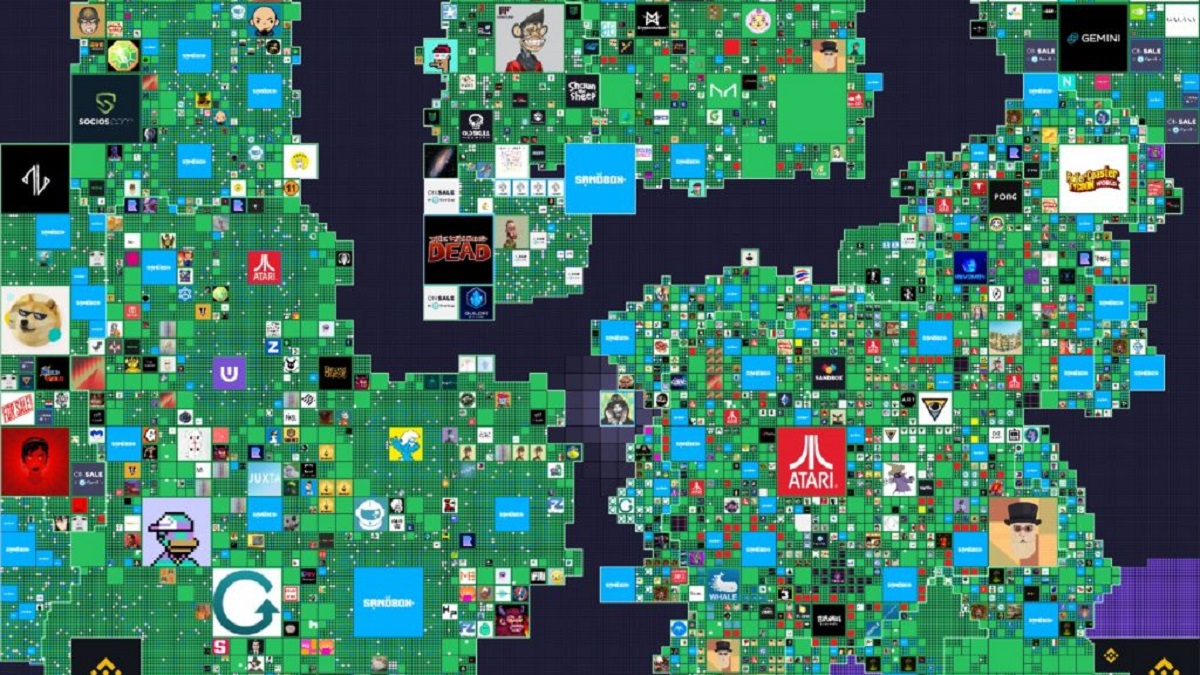 Specifications: SAND token costs $1.31, with a 24-hour trading volume of $269.5 million.
Overview: Developed by Animoca Games, it's a voxel-based game taking a cue from Minecraft, and was released in November 2021.
Similar games: Minecraft, Roblox, Second Life
Pros: It's Minecraft, but with NFTs! And has rental solutions for in-game land
Cons: It's Minecraft, but with NFTs, slightly higher transaction costs than Decentraland
The Sandbox is a voxel-based game that takes clear cues from what is perhaps the most popular game of all time: Minecraft. With Minecraft indefinitely forgoing NFTs and other blockchain tech from being integrated into their game via mods, The Sandbox looks to fill that void in the blockchain gaming space, and then some.
Players looking to profit off of their voxel ASSETs are free to sell their in-game creations for $SAND, the in-game currency that doubles as a cryptocurrency. Aside from enabling players to sell their creations off to the highest bidder, The Sandbox also enables players to craft bespoke experiences or even full-fledged games within The Sandbox using its in-house Game Maker software, which can then be published onto virtual land in-game or LANDs, and subsequently monetized.
Future of NFT-powered P2E games
Besides the names mentioned above, Guild of Guardians, Pirate X Pirate, ZED RUN, and RaceFi contribute significantly to the digital asset economy — and are highly popular among gamers and crypto enthusiasts. As evidenced by all of these titles, the NFT-driven P2E gaming market is growing at a fast pace. In the third quarter of 2021 alone NFT games generated $2.32 billion in revenue.
Moreover, the transition of Facebook to Meta, the recent acquisition of Activision Blizzard by Microsoft, and the launch of NFT marketplace Quartz by gaming studio Ubisoft indicate that the gaming industry is also serious about the implementation of blockchain innovations into mainstream gaming. As such, even titles like the universally beloved Final Fantasy VII have seen the launch of a complementary NFT project to celebrate its 25th anniversary.
Despite these moves, the mainstream gaming community is still largely skeptical, if not hateful, of the possibility of NFTs being implemented into their beloved hobby. For core gaming audiences, the success of P2E gaming has done nothing to sway their negative stance toward NFTs.
Even developers themselves have voiced their concerns about the growing popularity of P2E games, which can be optimistically seen as an appeal to P2E game developers to focus on the "play" aspect to truly create value-adding experiences for their intended audiences. And, the blockchain gaming industry aims to expand in the coming years, particularly with upcoming tentpole titles like the BAYC's Otherside slated to hit the market soon, only time will tell which aspect of P2E blockchain game devs will decide to focus on moving forward.
Will P2E completely overtake the traditional gaming industry? Who knows. At the very least, Epic Games' openness to blockchain gaming shows that perhaps the two sides of the gaming world may coexist yet. Until then, the option is there for gamers looking for a way to turn their hobby into a side hustle. And it should go without saying that making a quick buck or two from P2E games will become orders of magnitude more achievable than going pro or making it big as a streamer.