Back in March of 2022, the U.S. Department of Justice (DOJ) charged Frosties founders Ethan Nguyen ("Frostie") and Andre Llacuna ("heyandre") with conspiracy to commit fraud and conspiracy to commit money laundering in what is considered to be the agency's first NFT "rug pull" bust.
In the wake of the DOJ's $1.1-million NFT bust, the jig was up for Frosties and its founders. The ice-cream-themed project, which was heavily marketed as a "cool, delectable, and unique" collection of 8,888 NFTs, also promised investors raffles, merch, and a "special fund to ensure the Frosties' longevity." They didn't exactly live up to these promises.
Following a two-month investigation, prosecutors in the Southern District of New York arrested and charged Nguyen, 20, and Llacuna, 20, for "promis[ing] investors the benefits of the Frosties NFTs, but when it sold out…pulled the rug out from under the victims, almost immediately shutting down the website and transferring the money," according to the press release. But does Frosties hold the title of the worst NFT ever? Not quite — it's far from the only one who's driven people to ask themselves, "Are NFTs a scam?"
Crypto scams are nothing new. They have been plaguing regulators and investors since as early as 2017. Rug pulls are just the latest form of fraud; however, they have had serious consequences. According to Chainalysis, in 2021, NFT rug pulls resulted in more than $2.8 billion in losses, accounting for 37 percent of all cryptocurrency scam revenue for the year and a 1 percent increase from 2020. 
As user numbers continue to skyrocket, the increase in rug pulls has forced lawmakers, regulators, and members of the crypto and NFT communities to remain ultra-cautious and vigilant when it comes to new projects. At this point, if you want to be involved in the NFT ecosystem, you need to know what NFT and crypto rug pulls are and how to protect yourself. Here's everything you need to know.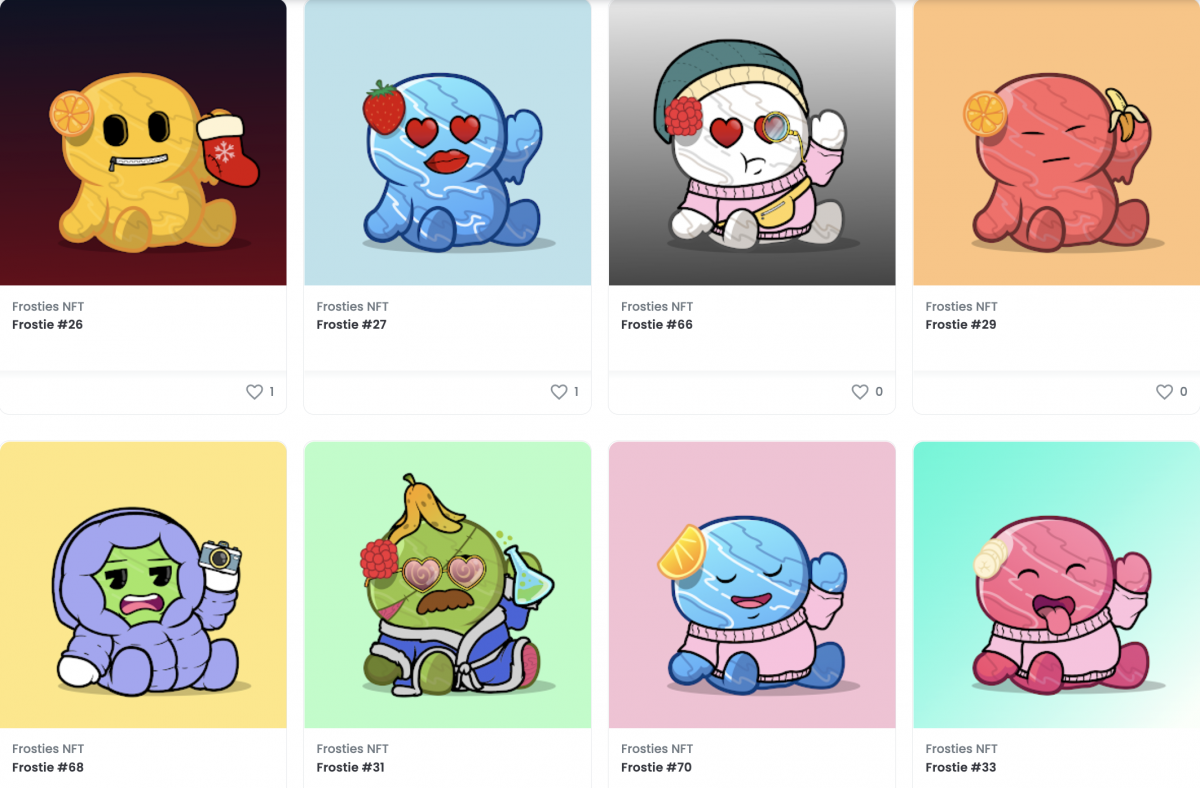 Crypto scams 101: What is a "Rug Pull?"
Similar to a "pump and dump" scheme, a "rug pull" is a malicious act in which crypto developers lure in early investors and then abandon the project by either (1) taking off with the project funds or (2) selling off their pre-mined holdings, with the intention of draining all funds from investors.
Generally, once the prices hit a certain ceiling, the developers will quickly transfer the funds out of the ecosystem and disappear entirely. For example, according to the criminal complaint, after generating over $1 million in crypto from its community, Nguyen and Llacuna shut down the project's website, closed the Discord server, and transferred all of the sales proceeds to various digital wallets. Those who invested in the project weren't able to reach the developers and were never given anything they were promised.
Now, Nguyen and Llacuna each face 20 years in prison.
It's an unfortunately common scenario and definitely not the first crypto scam of this kind. Yet, while this isn't the first "rug pull" to target both new and veteran investors in the NFT space, the DOJ's recent bust against Nguyen and Llacuna is a first. As a result, the event certainly raises a lot of new questions about the legal landscape. But to understand the legal significance of this event, we need to dive a little deeper into the nature of this specific kind of crypto and NFT scam. But U.S. legal systems responded to the Frosties NFT rug in full force, which to many signaled the start of an unraveling of crypto and NFTs' image as an online Wild West.
As a result, new questions arose about the legal landscape. Certainly, with high-profile arrests of other bad actors in the crypto and NFT spaces, the Frosties case may dissuade copycats from attempting to imitate the scam. However, even with federal agents keeping a closer eye than ever on Web3 for foul play, our laws might have some catching up to do. To understand the legal significance of this event, we need to dive a little deeper into the nature of this specific kind of crypto and NFT scam.
Are crypto and NFT rug pulls illegal?
The first question to ask is whether NFTs, by nature of their nascent presence in the fintech space, play by different rules than other types of investments?
The answer, of course, is no.
"NFTs represent a new era for financial investments, but the same rules apply to an investment in an NFT or a real estate development," Special Agent-in-Charge Thomas Fattorusso said in his March statement. "You can't solicit funds for a business opportunity, abandon that business and abscond with money investors provided you."
The next question to ask is whether rug pulls are illegal, given the horrific ramifications that victims ultimately face in any potential scenario. As lawyers expand their legal knowledge as it pertains to NFTs, most will agree that the answer to that question depends on the form the rug pull takes as it's occurring.
What are the different kinds of rug pulls?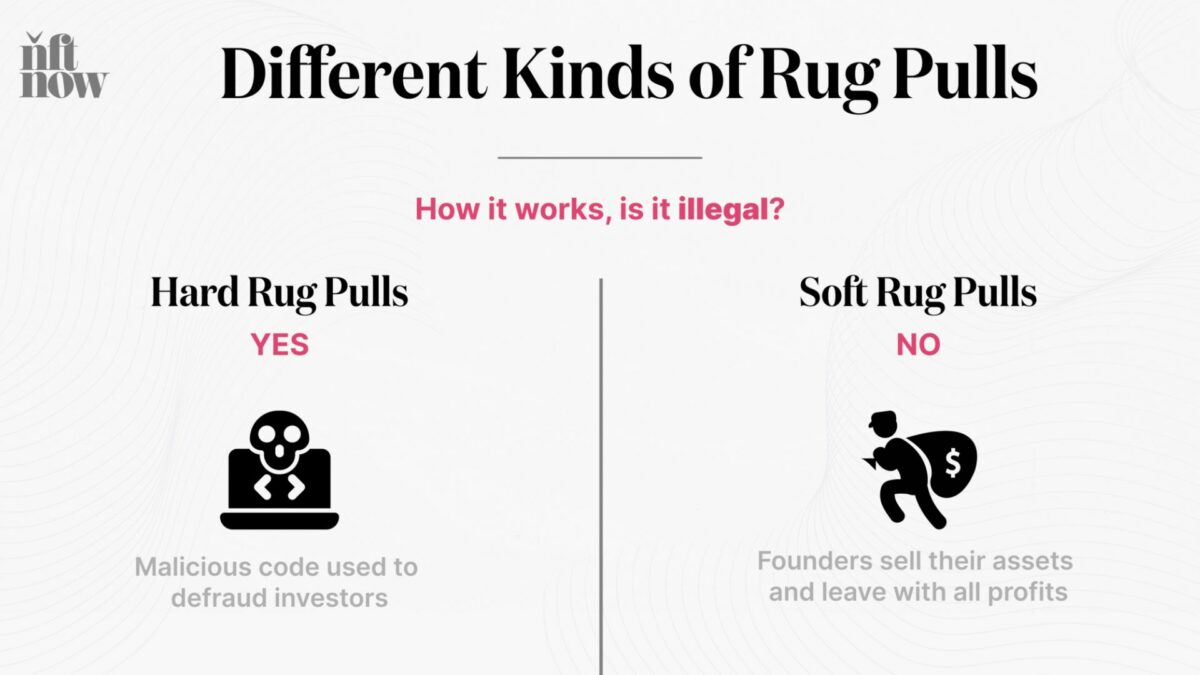 Hard rug pulls, which occur when a project's founder uses coding to maliciously use the project as a way to defraud investors, are completely illegal. In this case, the smart contract contains hidden terms in its code that are designed to dupe investors with the intent to steal funds. The code serves as prima facie evidence of that intent to mislead and steal investor funds, most commonly locking investors into an asset that has no genuine direction or purpose.
Soft rug pulls, on the other hand, aren't by definition, "illegal," but are considered highly unethical — and are universally frowned upon in the NFT space all the same. When news spread that Azuki founder had abandoned prior projects, many feared a potential Azuki rug pull in the future. So what makes a soft rug pull different from a hard rug pull? It's subtle, but clear: instead of designing the smart contract code to defraud investors, the possibility of holding intent to steal or defraud investors remains.
In most cases, this occurs when founders and their teams dump their assets rapidly, ultimately devaluing the token and exploiting the profit created from investors buying the cryptocurrency itself. An example being where a crypto project that promises to donate funds, but chooses instead (whatever the reason) to keep the funds.
So, what does this bust means for the legal landscape moving forward?
You can still be held criminally liable
If there's anything we've learned from the DOJ, most recently with its Frosties NFT bust, it's that the Justice Department isn't messing around. Back in February, the Justice Department announced it had appointed its first-ever crypto enforcement team director, Eun Young Choi, to head the National Cryptocurrency Enforcement Team (NCET).
The NCET, according to the press release, was established to ensure the department meets the challenge posed by the criminal misuse of cryptocurrencies and digital assets, and comprises attorneys from across the department, including prosecutors with backgrounds in cryptocurrency, cybercrime, money laundering, and forfeiture.
In her position as NCET Director, Choi will help identify, investigate, support, and pursue the department's cases involving the criminal use of digital assets, with a particular focus on virtual currency exchanges, mixing and tumbling services, infrastructure providers, and other entities (NFT projects) that are enabling the misuse of cryptocurrency and related technologies to commit or facilitate criminal activity.
While there is no official law currently governing NFTs, there are still ways by which individuals can be held criminally liable and prosecuted, specifically for fraud, money laundering, and of course, conspiracy to commit fraud and money laundering.
A month after appointing Choi and establishing NCET, the DOJ announced it had seized nearly $3.5 billion in cryptocurrency, after arresting husband and wife Illya Lichtenstein and Heather Morgan in connection with laundering it.
Despite what many believe about the federal government not having the appropriate resources to handle criminal acts of this magnitude with this new form of technology, Frosties should be a clear warning to all that regulators are paying close attention to NFTs, while the federal government still is capable of exerting its resources to unwind complex transactions and to help unmask perpetrators who attempt to remain anonymous.
And don't forget The Silk Road.
Regulators and the SEC are watching closely
Now valued at over $40 billion, the size of the NFT market has nearly doubled, exceeding last year's valuation of $25 billion, capturing everything from artwork and collectibles to game assets and virtual real estate.
Therefore, it should come as no surprise that the Securities and Exchange Commission (SEC) has reportedly started discussions with NFT creators and certain NFT marketplaces that sell them to see if NFTs are being utilized in such a way that triggers U.S. securities law. Despite experience in regulating marketplaces in the past, Web3 has posed a new set of unique challenges to the SEC.
Pursuant to the 1946 landmark U.S. Supreme Court case, Howie, transactions that qualify as "investment contracts" are subject to U.S. securities laws, if the transaction involves the (1) investment of money" in a (2) common enterprise with a (3) reasonable expectation of profits to be derived from the efforts of others.
As the SEC continues its investigation to better understand digital assets, Chairman Gary Gensler has made it clear that he, along with the agency, will focus its attention on taking greater oversight of crypto, leaving the entire crypto community scratching their heads at how the SEC will go about its first attempts at rulemaking.
So should you be afraid? No — unless you're planning to become a scammer yourself. A huge part of the SEC's efforts in regulating crypto and NFTs starts with understanding how the biggest players in the markets work. For starters, in October 2022, the Bored Ape Yacht Club drew headlines when news that it was facing an SEC investigation leaked. However, unlike scammers like Ethan Nguyen and Andre Llacuna, the BAYC welcomed this news with open arms, showing full compliance with the SEC's probe. Moving forward, if the NFT space and regulatory bodies like the SEC could work together, it would stand to benefit all.
Take NFT issuers' words with a 'grain of salt'
At the end of the day, before you choose to invest in any cryptocurrency or NFT project, make sure you have consulted with a lawyer, or at least, have a lawyer easily accessible. It never hurts to have another pair of eyes that can help keep you alert, cautious, and diligent.
Most importantly, as you look to different NFT projects to invest in, make sure the project has a "story" or heart that gives the project meaning, direction, and a clear roadmap of where it's headed. Without these, you are simply investing in the unknown and positioning yourself in a situation that could cost you everything.

The growing popularity of digital assets – especially NFTs – has arguably forced lawyers to expand their ethical responsibilities to competently and zealously represent clients. This, of course, requires them to at least be familiar with the space enough to have those fundamental conversations about digital assets with their clients.
Andrew Rossow is an attorney and journalist who focuses on fintech and intellectual property law.