In celebration of its 30th anniversary, Japanese streetwear company BAPE® announced its latest limited edition sneaker release, Forum 84 BAPE Low Triple-White sneaker, in collaboration with adidas Originals.
BAPE®, which stands for "A Bathing Ape," was founded by fashion designer Nigo in 1993 and eventually began selling footwear in the US in 2005. It's best known for its signature camouflage print and ape head logo, which still remain a crucial element of the brand and its design ethos.
Over the years, the brand has collaborated with other fashion brands including adidas, Comme des Garcons, Supreme, Heron Preston, as well as musicians such as Pharrell Williams.
On the sneakers, you will find a "shooting star motif" that is featured on the lateral upper and "A Bathing Ape" embossed in silver metallic foil. Each pair of sneakers will also have an NFC chip that is placed in the left tongue, providing the owner and collectors with access to its Digital Certificate of Authenticity.
Behind the Drop
The limited edition Forum 84 BAPE Low Triple-White sneaker is also the subject of an entirely new, innovative drop format.
In partnership with MoonPay, the launch is also supported by the adidas /// Studio (aka Three Stripes Studio), representing a first-ever digital asset auction for the brand.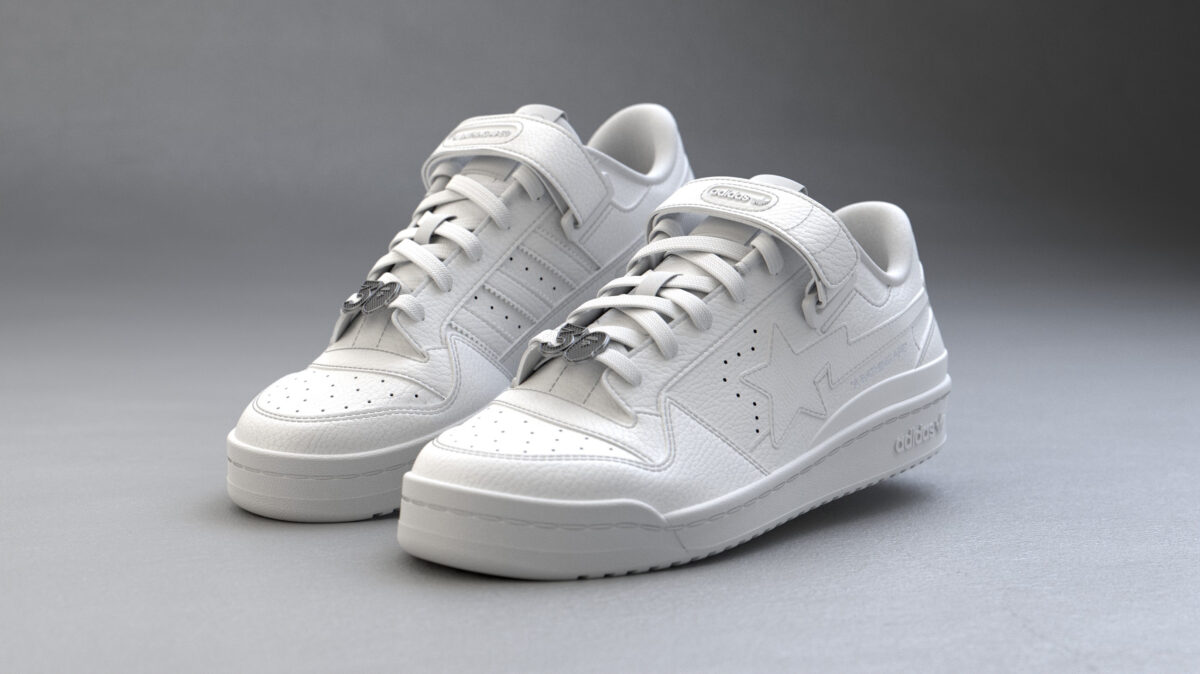 Only 100 NFTs directly linked to 100 corresponding physical pairs of sneakers will be available, with the adidas Originals x BAPE® Fresh Forum NFT auction beginning on August 22 via adidas COLLECT – open to everyone. The auction will last for 3 days, closing on August 25.
The 100 holders of the adidas Originals x BAPE Fresh Forum Access Pass NFT will allow the holder to redeem a physical pair of the sneakers, along with its digital counterpart on September 26.
In Other News…
In June, BAPE chose to celebrate its 30th anniversary in New York, which has served as an extremely valuable market for the brand after it expanded outside of Japan in 2005.
Thomas Hui, BAPE's chief operating officer, told WWD that its launching of subbrands, "allows BAPE to experiment with new styles and designs without diluting the main brand's identity," adding that "each subbrand can have its own aesthetic and marketing strategy" that allows for BAPE to explore new trends.
In January, Nike sued the Japanese fashion brand for trademark infringement, alleging that BAPE had produced "verbatim copies" of Nike's Air Force 1, Air Jordan 1, and Dunk sneaker designs. The litigation is still ongoing.