The creators of the Bored Ape Yacht Club are going Hollywood. Yuga Labs, the company behind the influential NFT collection, have signed with manager Guy Oseary, whose clients include world-famous celebrities such as Madonna and U2, Variety reports.
"We're excited to work with Guy Oseary to bring the Bored Ape Yacht Club to a broader sphere," Yuga Labs told the industry publication. "We have many ambitious projects in the works and we're thankful to have Guy's expertise as we move the club into this new chapter, for the benefit of the entire BAYC community."
"Many people still have not heard of Yuga, yet they are one of the highest grossing talents of the year from any art form, including music and film," Oseary, who owns Bored Ape No. 8699, told Variety. "They are originals, empowering their community of NFT holders by giving them IP rights to their purchased ape, and continually creating ways to add benefits and utility to the purchased artwork. The Apes at Yuga Labs and I have a lot of exciting initiatives for the community and we look forward to sharing them soon."
According to the publication, the "ambitious projects" include opportunities that span multiple areas, including television, music, and gaming.
After the news was announced, Oseary shared the story with his Instagram followers. "Very proud to be working with @boredapeyachtclub ..," he captioned a grab of the report. "If you know, then you know. If you don't know, you will know soon.."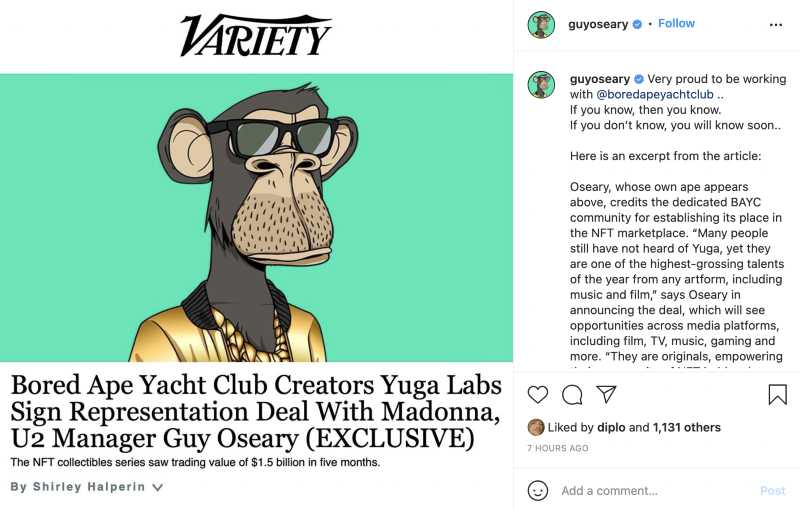 The BAYC has seen an incredible climb to the top. The original NFTs launched April 29, 2021, at a price of .08 ETH per ape. Two days later, they were sold out. The collection now has 10,000 apes on popular NFT marketplace OpenSea, and an astounding floor price of 37.3 ETH — roughly $129,917 — at press time.
In September, less than five months after the project launched, Sotheby's held an auction of 101 Bored Ape Yacht Club NFTs. The final sales amount? A whopping $24.4 million.
Besides potential movies, music and games in the future with Oseary, Bored Ape Yacht Club announced Oct. 8 that a social token is coming. Yuga Labs hasn't shared many details yet, but did reveal that the token is expected as soon as the first quarter of 2022. But they won't be rushing it.
Tweeted BAYC in its announcement: "For the sake of our members and the broader NFT community, we want to do this in a sound way."
For more about the Bored Ape Yacht Club, read our ultimate guide.
Photos courtesy of Bored Ape Yacht Club.