The entertainment industry is getting serious about NFTs. For example, The Walking Dead metaverse has seen massive success in the Web3 space, and even comic book publishers have used NFTs to change how they interact with their fanbases.
Now, a major television broadcast network is doing the same. Co-Creator of Rick and Morty Dan Harmon and Blockchain Creative Labs (BCL, Fox Entertainment's Web3 studio) have released a series of NFTs for the upcoming animated series Krapopolis, a show about a dysfunctional family of humans, gods, and monsters set in mythical ancient Greece, according to a press release shared with nft now.
The NFTs were made with the help of Web3 studio Props, which has helped bring projects like Woodies, Boss Beauties, and Deadfrenz to life. The series went live in a Thursday tweet with a video of Harmon endearing his fans with the dark humor we love. BCL is also collaborating with Rarible to provide a secondary marketplace for the NFT collection.
"Go get your Krap Chicken now," he began in the tweet. "I think we're all gonna get rich together. I think that's how this works. If it doesn't work that way, don't sue me. And if you do sue me, you'll have to do it for Krap Chickens."
Fox Entertainment's Web3 studio called the show the first animated comedy that fans will curate on the blockchain via NFT ownership. Krapopolis NFT collectors can unlock unique utilities, including access to token-gated content, private screening rooms, entry to Discord channels, invitations to meet-and-greets with cast members and producers, merchandise, and series voting rights.
BCL is releasing the NFTs, a collection of Krap Chickens, on August 11 at Krapopolis.com. The collection will feature 10,420 unique pieces illustrated by Krapopolis animators and generated from a wide variety of attributes. All of the NFT artwork will originate directly from content that appears in the program.
Giving fans creative influence through NFTs
The possibility for fans to use their NFT ownership to influence the show's direction could be a model for the future of the entertainment industry.
"Bringing fans closer to the content is always of the utmost importance and blockchain opens up the possibilities for this in ways that have never been possible before," explained BCL CEO Scott Greenberg in an email exchange with nft now. "[NFTs] will essentially streamline the ability for fans to offer creative input. Creatives have been taking notes through Twitter and Reddit for years, after all. The relationship between creator and fan has always been absolute. Even Vince Gilligan credits fan Kevin Cordasco with giving him the idea for reintroducing Gretchen into the conclusion of Breaking Bad. Dan came up with the idea for Krap Chicken NFTs, and it will be amazing to see where the community takes it from here."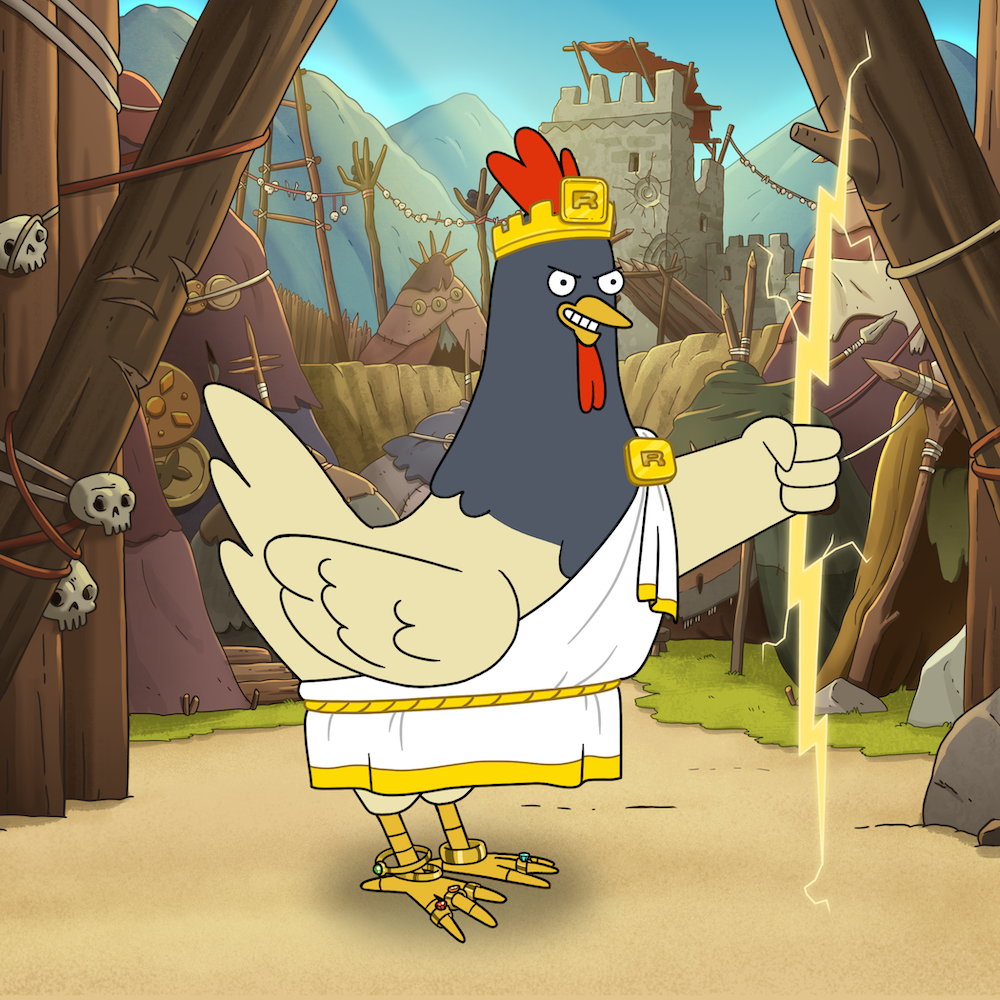 Greenberg, the Emmy-winning producer behind Bob's Burgers, Central Park, and The Great North, says he's thrilled to be working with one of the premier NFT marketplaces in the ecosystem in Rarible. The BCL team found Rarible's low marketplace fees particularly appealing.
"This Krapopolis NFT marketplace, powered by Rarible, will act as a home base for the Krap Chickens community to buy, sell, and trade their Krap Chicken NFTs with a one-percent marketplace fee," explained BCL President Melody Hildebrandt in an email correspondence with nft now. "Over time, as we release more NFTs beyond the chickens, it'll be like trading and bartering in Ancient Greece, in tune with the Krapopolis theme."
Regarding NFTs' place in entertainment media, Greenberg says community building will follow as long as fans are the focus, and the blockchain gives them a chance to hone that focus in a direct way. Given the enthusiasm for the fanbases of Rick and Morty and Community to engage with Dan Harmon and those shows' creative teams, lowering the barrier to participation in one of the beloved showrunner's newest creations is a natural step.
The BCL team is confident that the future of media and entertainment hinges on how industry players use (or avoid) blockchain technology, arguing that Krapopolis is a model for that future.
"Traditionally, entertainment companies have functioned in a one-to-many fashion," Greenberg added. "This allows for limited feedback and integration of those consuming the media. With the help of BCL, Fox Entertainment will transform that model by making this creative process more collaborative. This will change the entertainment industry and reshape the way people view content and how companies produce and distribute content."
The show, which will premiere on Fox in 2023, features the voices of Emmy Award winner Hannah Waddingham, Richard Ayoade (of The IT Crowd fame), Matt Berry (What We Do in The Shadows), Pam Murphy (Mapleworth Murders) and Duncan Trussel (The Midnight Gospel). Dan Harmon will supervise the show's production and its executive showrunner, Jordan Young.