World of Women is commemorating its second anniversary with an exciting new addition: Patio, a new community platform set to elevate the WoW experience for its members. World of Women says the membership pass to Patio is intended to help grow the WoW holders' network and personal brand in a way that aligns with their values. The team first announced Patio on July 27 and shared access with a few select members as it undergoes its beta testing phase.
WoW COO Shannon Snow and VP of Product Taisia A., gave nft now an inside look at what to expect from this recent feature.
Two years of WoW
Over the past two years, the World of Women ecosystem has achieved significant milestones. With a thriving community, it boasts over 400K active members between its two NFT collections, $212M in total trading volume, over 35 community events, and $2M donated to supporting causes.
"The two year anniversary was a great time for us to reflect," Snow said. "We started off as an NFT collection but then we really became a global movement standing for representation in Web3 and beyond."
Snow reveals that, moving forward, her team will be directing their efforts toward two main focal points for the brand.
"One is growing our brand globally through IP rights and collaborations," Snow said. "Secondly, it's building an inclusive community with exclusive benefits. Patio is an investment in that."
Patio sneak peek
Through Patio, all WoW members will able to unlock an array of benefits, connections, and opportunities that align seamlessly with their values and aspirations. Holders will get a personalized profile featuring their NFT, and the theme will be generated, based on individual preferences through a comprehensive personality test.
"The personality test is based on the MBTI (Myers Briggs Type Indicator) personality test," Taisia A. said. "From our testing and beta rollout, this has been something our community likes a lot." 
Patio offers WoW members the ability to customize their profiles, engage in the "Quest of Origins" for self-exploration, and receive badges for their valuable contributions to the community. WoW members can also access exclusive opportunities and connect with influential individuals in a secure and encouraging setting. In addition, members will be able to experience a virtual makeover at the WoW Salon. The future roadmap includes perks, quests and rewards.
"At the moment you can see its a collector's profile but we want to add discoverability to highlight our members, also share their artwork, and work," Taisa A. added. "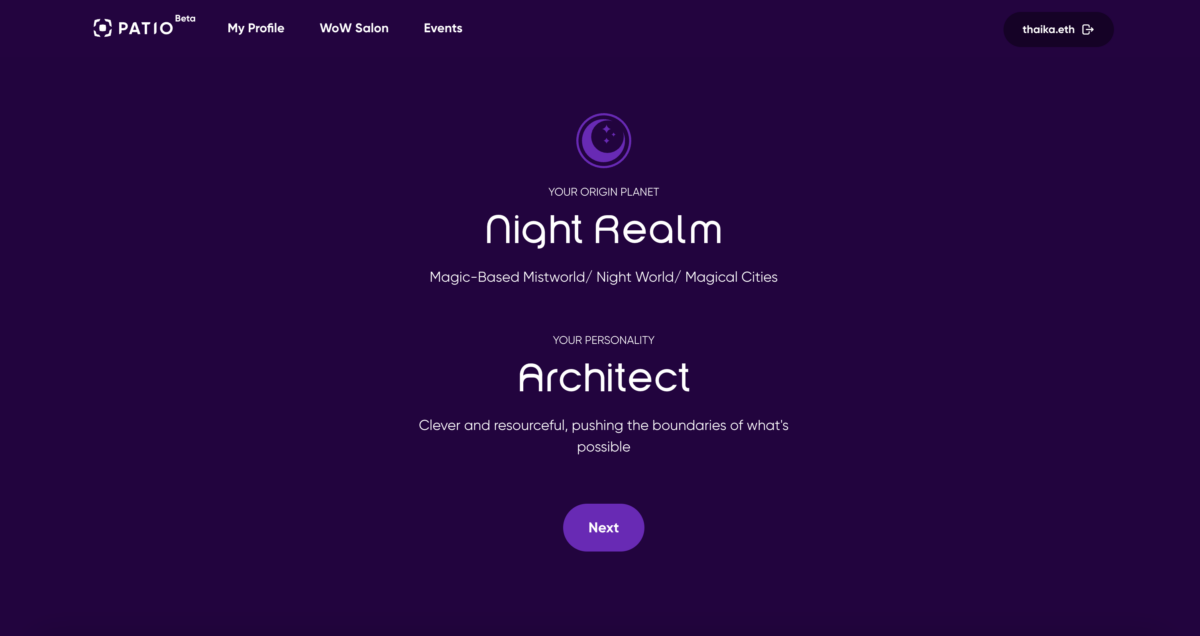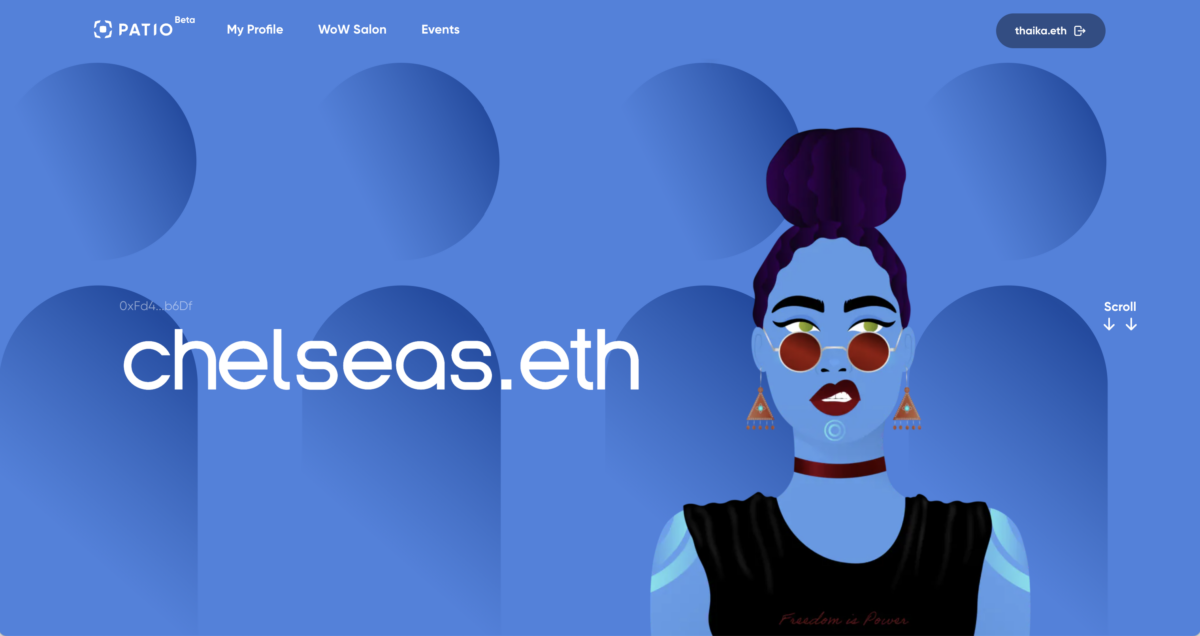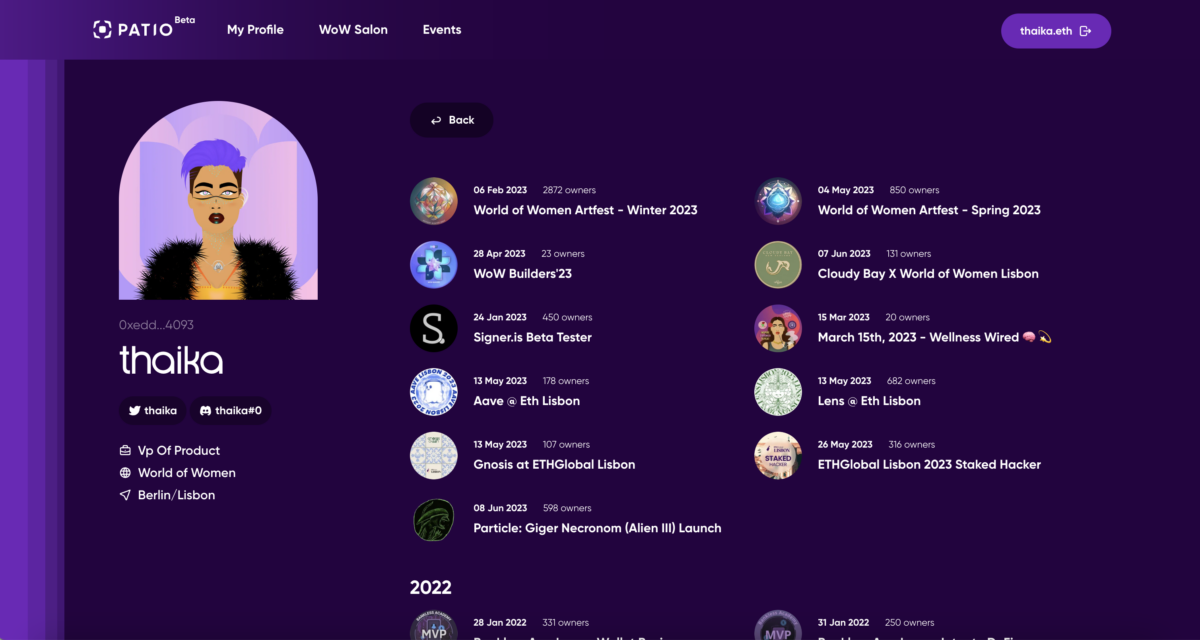 When will it officially launch?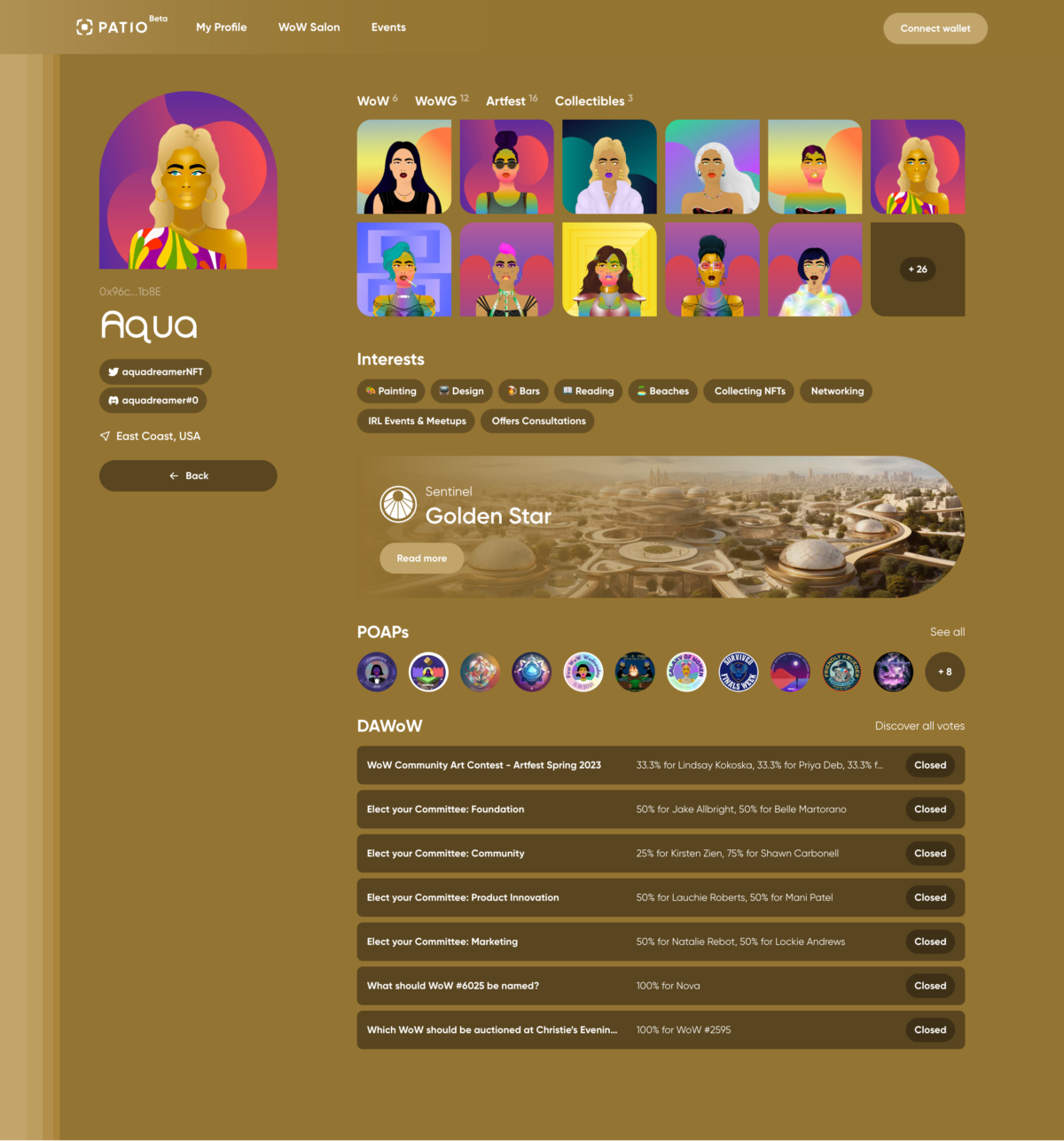 The team emphasizes the significance of building in public, sharing how community feedback will affect the timing of the public platform launch.
According to Snow, they do not have an exact date set for public launch yet, but are targeting the Fall of 2023, most likely September. The team believes that incorporating feedback loops throughout the development process is vital. This approach ensures the platform resonates with the community, fostering a sense of connection and pride among its members.
While marketing plays a role, the team places immense importance on garnering the community's support.
"We want our community to be ready to share their profiles; it'll be a collaboration of when they all feel the platform has been tested and debugged."