Celebrities who own NFTs are old news. Now it's all about the famous faces who are making — and even trademarking, their own digital collectibles. The number of popular brands and big names getting in on the NFT game in this way is only growing as time passes. As of May 2022, the United States Patent and Trademark Office has received 3,347 trademark applications that include or relate to NFTs. Compare that to 2021's total of 2,179 applications.
Of course, just about anyone can apply for a trademark. This doesn't mean that each and every idea or product will come to fruition. Still, these trademarks show how NFTs are becoming even more mainstream.
Considering all this, we've put together a list of some of the most notable figures looking to secure patents for metaverse-related products. While some of the applications indicate how these celebrities intend on expanding their brand's reach, others are more obscure. Here's a breakdown.
Ye (Kanye West)
Kanye West, the celebrity-rapper who once posted a hand-written letter to his Instagram account which read, "Do not ask me to do a f*cking NFT," seems to be getting ready to do f*cking NFTs. In the post, which has since been deleted, West — AKA Ye — ended the letter with an incredible about-face, writing, "Ask me later."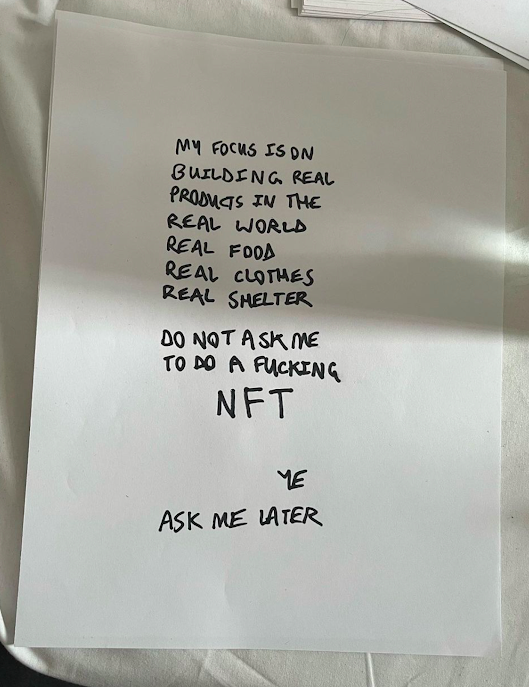 Well, it seems to be "later."
On May 27, Ye filed trademark applications for "currencies and tokens," "blockchain-based non-fungible assets," and "online retail store services featuring […] digital art" with the United States Patent and Trademark Office all associated with his Yeezus alter-ego.
We're gonna let Ye finish, but we expect him to come out with some of the best NFTs of all time.
Billie Eilish
Back in February, Billie Eilish's company Lash Music LLC filed two trademark applications, one for the singer's name and another for her well-known Blohsh logo. The filings point to Eilish's intentions to grow her brand into the world of NFTs, virtual currencies, and digital collectibles.
The patent applications show that fans will be able to purchase downloadable video game software, computer software programs featuring in-game resources, and other goods for use in online virtual worlds.
The move into the metaverse makes sense as Eilish is one of Universal Music Group's (UMG) most well-known recording artists. UMG had also announced in February that it would be collaborating with the musician and entertainment-focused NFT platform Curio, serving as the "dedicated global outlet for future officially licensed NFT projects from UMG's record labels."
David Beckham
On April 19, football (i.e. American Soccer) legend David Beckham's venture capital firm DB Ventures Limited filed for three separate trademark applications with the USPTO, which are geared toward digital tokens, virtual clothing like footwear and headwear, and virtual entertainment events.
Beckham's trademark entrance into the world of NFTs came shortly after he became the global brand ambassador for DigitalBits Blockchain, a partnership that is meant to "drive innovation and sustainability in the sector and cultivate new ways for Beckham to connect with his fans."
Beckham isn't the only one in the football world to do so. French football club Paris Saint-Germain, whose ranks include megastars like Lionel Messi and Kylian Mbappé, applied for trademarks covering NFT-backed multimedia, crypto wallets, and virtual sports gear.
Notorious B.I.G. LLC
One of the more sensitive and controversial entries on this list is the late Notorious B.I.G. Though Biggie died in 1997, Notorious B.I.G. LLC recently filed three trademark applications for "The Brook," the gamified metaverse that claims it will transport users to the streets of 90s Brooklyn and immerse them in the hip-hop heritage and culture that influenced the artist's life and work.
The applications show that The Brook likely plans to offer users an NFT exchange, NFTs, and other digital collectibles. Being an interactive metaverse space, it could provide a focal point for a community of Biggie lovers and hip-hop fans the world over.
Chuck Norris
That's right, Walker Texas Ranger is stepping into the NFT ring. Norris has four separate NFT and crypto-related trademark applications pending approval, and they seem to indicate the coming introduction of a new native cryptocurrency connected to Norris' brand, among other things.
One of the filings, submitted under the title "Chuck Coin," covers "collectible coins and tokens for use in online and virtual worlds," "digital currency," and "non-fungible tokens." Considering another of the filings includes rights "for providing access to […] non-downloadable software for use in electronically trading, storing, sending, receiving, accepting and transmitting digital currency," we might see an NFT marketplace and native currency based around the legendary martial artist, film, and TV star in the near future.