NFTs have officially hit the music mainstream.
First, we saw the announcement of Coachella's debut NFT drop in February. A month later, we saw several NFT experiences hosted at SXSW, including a 64-artist NFT gallery and of course, Doodles.
Now, we've just seen NFTs represented at the music industry's most prestigious awards show: the Grammys. In a recent announcement by the Recording Academy, Tezos-based NFT platform OneOf was revealed as the Grammys' official NFT partner. This is just the first phase of the Recording Academy's three-year plan to integrate NFTs into the overall Grammy experience.
NFTs even received some primetime airtime during the telecast when host Trevor Noah referenced Bored Ape Yacht Club as he joked about how touring was impacted by the pandemic: "You know it's been rough when your favorite artists go from trying to sell you music to trying to sell you pictures of digital monkeys."
Here's our recap of all the NFT-related action from a wild Grammys weekend in Las Vegas.
The Lead Up to the Grammys
The Recording Academy announced its partnership with OneOf a month in advance, with the unveiling of an exclusive NFT collection in early March. This collection was headlined by critically-acclaimed fine artist ThankYouX, 3D animator and Adult Swim contributor Andre Oshea, and Emmy-winner Emonee LaRussa.
Each artist saw featured drops on OneOf's official website, beginning with LaRussa's collection on March 15th, Oshea's collection on the 22nd, and ending with ThankYouX's collection on the 28th. The latter featured the Grammys' signature gramophone immersed in the otherworldly 3D paintwork that ThankYouX is known for.
"If it ain't broke, why fix it?" explains ThankYouX. "We decided well, why recreate the Grammy? Let's use my art and overlay it instead. So what you see is the official fully 3D render of the Grammy overlayed with my art and then the one-of-one that you can get is several layers. I think that that just kind of speaks more to my NFT side of things and some speak to art music, tech. So there's all these different layers that are being shown as you go."
Buyers from these collections were treated to up to 51 unique NFTs with their purchase, as well as VIP access to several exclusive events at the Grammys.
The unveiling of these collections was also accompanied by an announcement by OneOf that each NFT buyer had a chance to win a golden ticket – an all-expenses-paid trip to the Grammys on April 3rd.
"The Recording Academy and the Grammys is the most significant institution in the music industry that brings support, education, and awareness to all artists, and it's very important that OneOf partners with the Academy and the Grammys not only for this year, but for multiple years to bring NFT education to all artists and fans," says Lin Dai, co-founder and CEO of OneOf.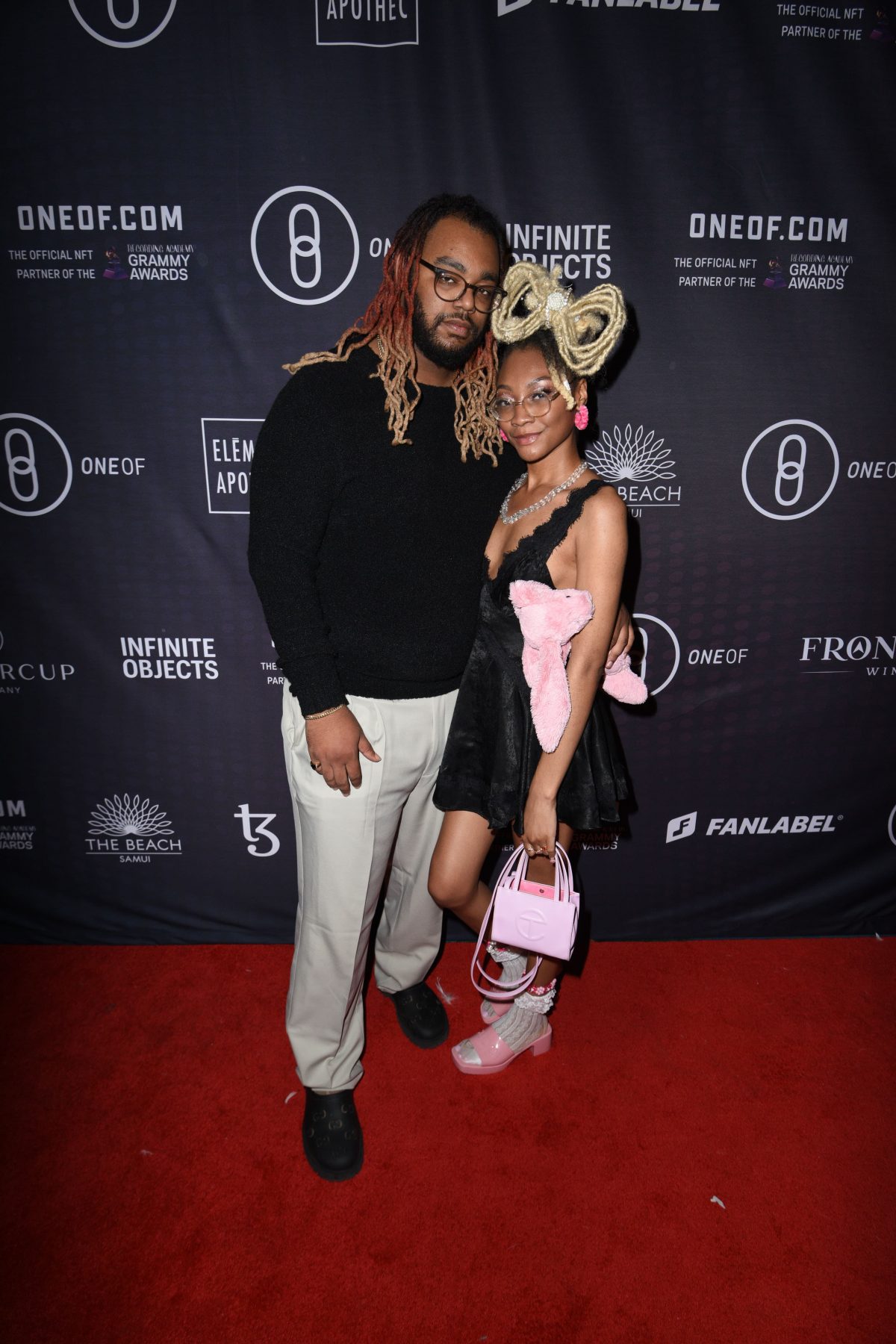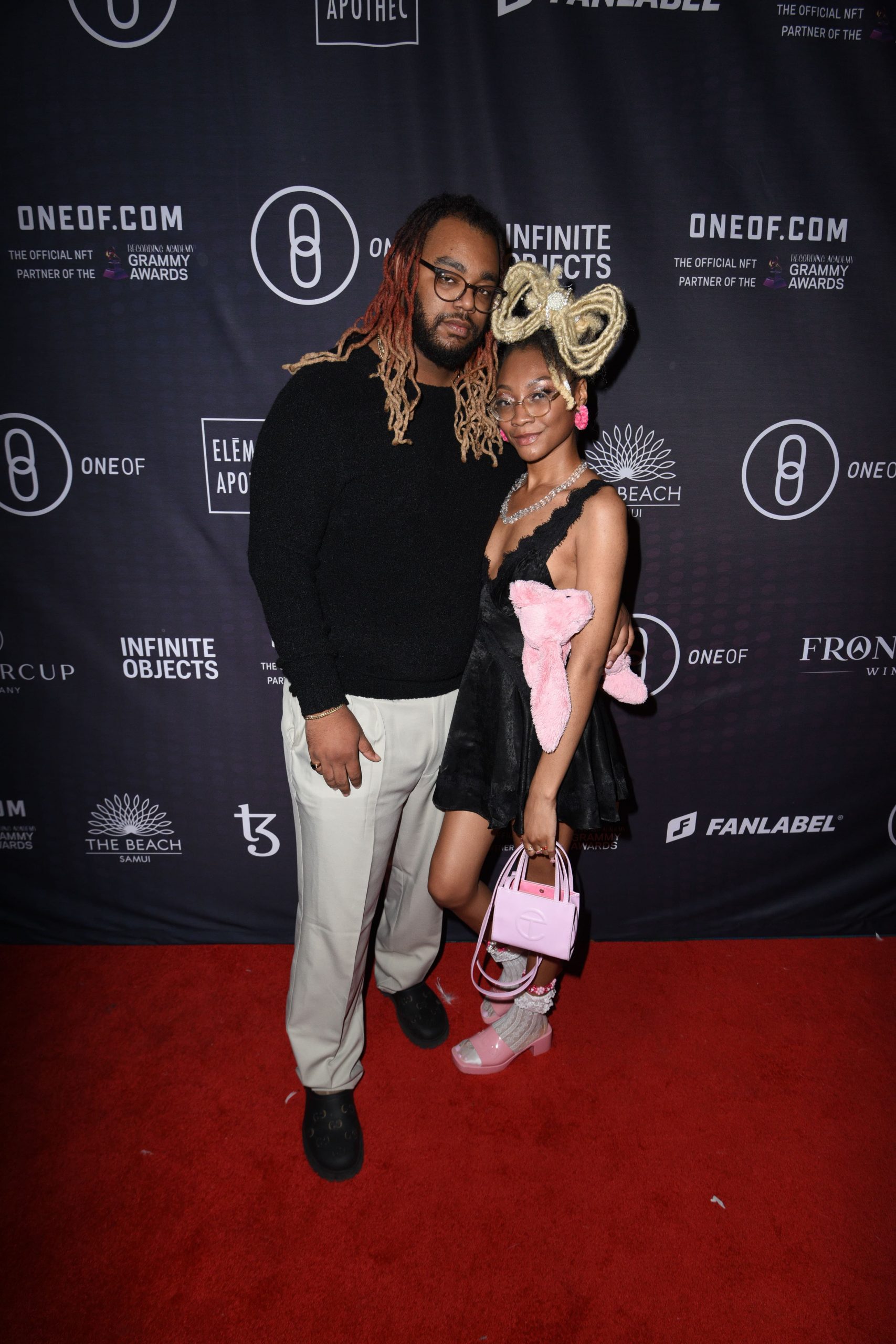 On the eve of the Grammys, OneOf sponsored Steve Aoki's pool party at Wet Republic and hosted a reception at Resorts World Las Vegas with rapper G-Eazy who is set to drop his own NFT project entitled "The Geralds" on the platform. In an interview with nft now, G-Eazy explained that he has been curious about the NFT space for a while but wanted to learn as much as he could before taking the plunge and launching his own project: "You can't talk to a culture you don't belong to."
"At the end of the day, this is another art form, another way of expressing yourself, another way of connecting," G-Eazy says. "I'm the son of two visual artists. I grew up in museums and galleries. Music is my medium but it's all interconnected."
NFTs at the Grammys
On music's biggest night, ThankYouX, Andre Oshea, and Emonee LaRussa walked their first Grammys red carpet, mingled with the stars, and opined on how much the moment meant for the NFT space.
"It's a real big full-circle moment," explains Oshea. "For a long time in my career, I actually spent it making music with the creative goal of winning a Grammy. When the opportunity presented itself, I felt like this was the equivalent for me."
For ThankYouX, the Grammys collaboration was the culmination of years spent working in the music space as his career progressed from street art to fine art to NFTs – from DJing and designing merchandise for A-list artists to building a collector base that includes musicians like Paul McCartney.
"The Grammys are one of the most iconic logos and awards that you can recognize," he said. I felt like it was an honor. This is my first official brand collaboration that I've done in NFT space, so I felt like this was the one that made sense."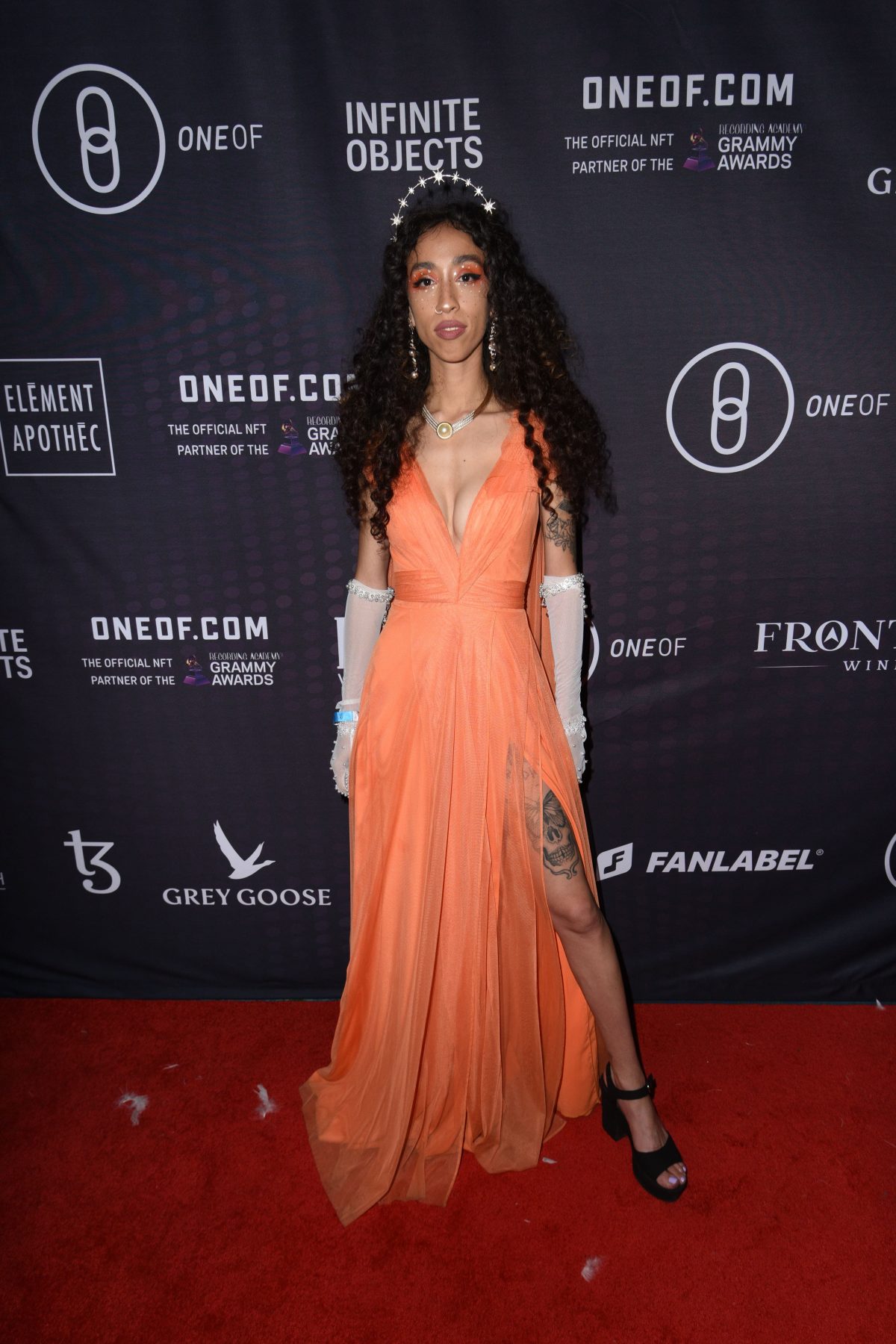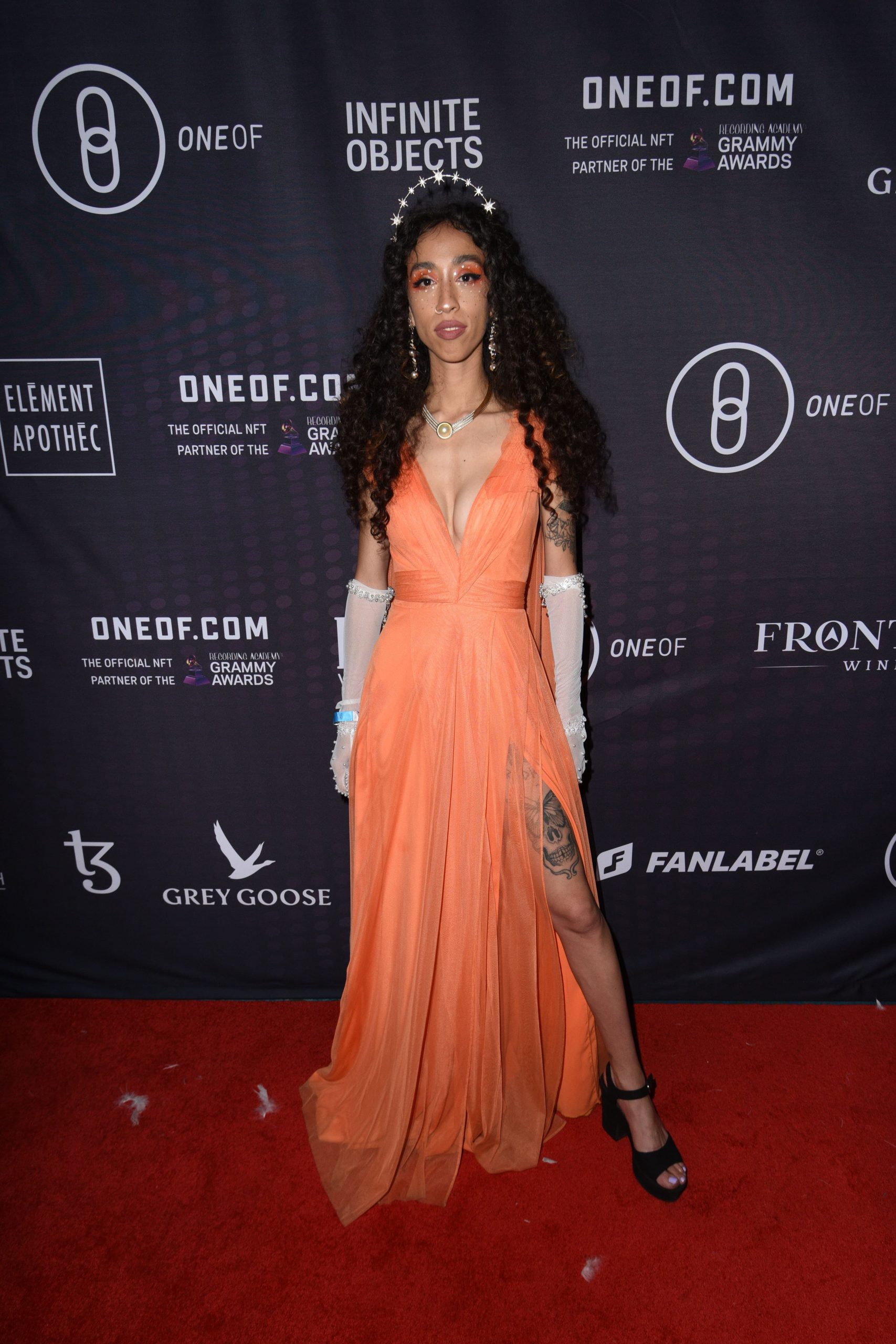 LaRussa brought her mother as her date to the awards ceremony and described the NFT that she contributed to the project as one of her "proudest pieces to date."
"How could I feel anything other than amazing? This is dope," she gushed. "This is my dream. As a kid, I always wanted to be in the music industry, but I cannot sing. I'm not musically gifted at all, so making art was my way to get in, and the fact that I've been in the music industry for years… it just seemed like this unattainable goal."
At OneOf's Grammy afterparty at Hakkasan, NFTs continued to be the hot topic of conversation. VIPs wore badges adorned with QR codes that allowed them to claim free NFTs. Brazilian pop star Anitta and British group Jungle performed while celebrities like Mike Tyson enjoyed the ambiance.
All in all, the stage was set for NFTs to continue their crossover into mainstream music culture when the Grammys return to their usual home — the newly rechristened Crypto.com Arena — in Los Angeles next year. Entering the second year of their three-year partnership, OneOf will also be there to help spread the word.
"The Grammys partnership and the Grammys NFT collection has already driven a massive amount of new users from around the world to our platform," says Dai. "We are excited to build on this foundation for years to come."