In a panel discussion at The Gateway: Korea, renowned artists, and art experts gathered to delve into the enduring impact of the legendary artist Keith Haring. Hosted by Matt Medved, "Next at Christie's: The 1980's" aimed to shed light on Haring's influence on contemporary art and the bridging of traditional and new art spaces. Medved was joined by artist DeeKay, Director of Digital Art at Christie's Nicole Sales Giles, and Yunah Jung, Vice President and Senior Specialist of Christie's Hong Kong.
On Sept. 5, Christie's announced an exclusive auction, "Keith Haring: Pixel Pioneer," featuring five rare digital drawings from the renowned artist Keith Haring, each crafted on an Amiga computer during the 1980s. Christie's partnered with nft now to display these works at The Gateway: Korea in a world-premiere exhibition.
According to the Christie's auction site, estimates for each piece run between $200,000 to $500,000.
Panelist DeeKay passionately highlighted Keith Haring's ability to transcend the boundaries between high and low art. "I feel like I'm continuing his legacy through my art," he stated. DeeKay expressed his belief that Haring would have embraced blockchain technology if he were alive today, a testament to Haring's innovative and open-minded character. Web3 embodies the spirit of pushing artistic boundaries, much like Haring did in his time.
Nicole Sales Giles, representing Christie's, emphasized Haring's motto, "Art is for everyone." She explained that this principle resonates with their mission to bridge the gap between traditional and new art spaces. The goal is to make art accessible to a broader audience, much like Haring did during his career.
DeeKay shared his deep connection with digital art, expressing that when something is genuinely enjoyable, it becomes second nature. His journey in the world of digital art is a testament to the ever-evolving landscape of creativity.
"I get to build relationships and connect with other artists and be part of the community. It's such an amazing feeling," he said.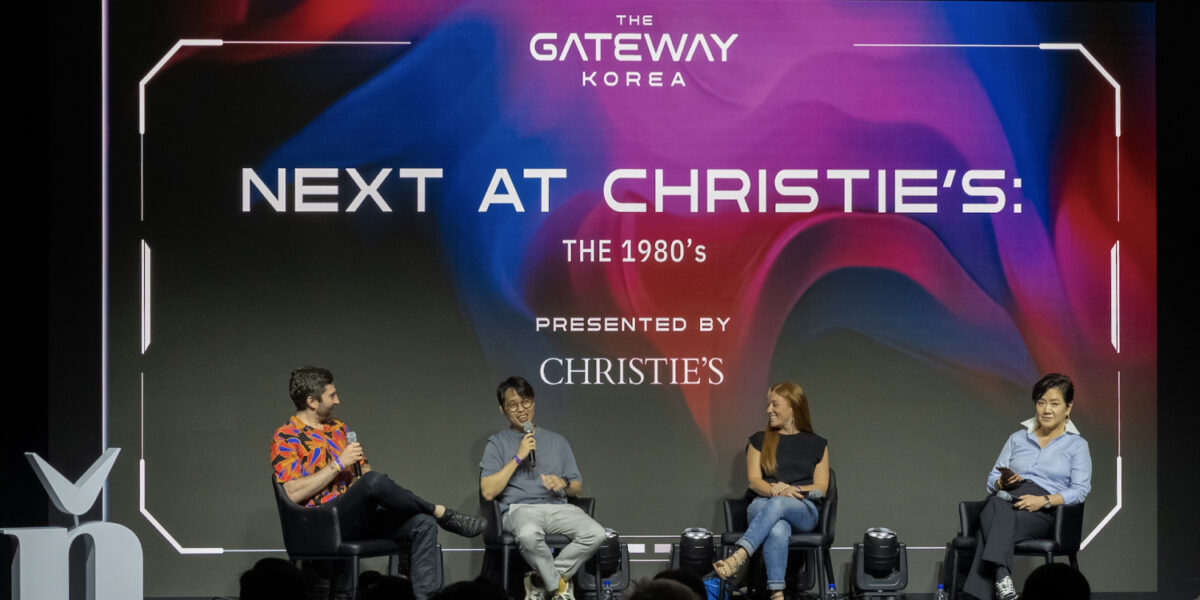 Yunah Jung of Christie's Hong Kong discussed the remarkable influence of the Asian market, particularly in Korea and Hong Kong. Notably, the highest price ever paid for a Keith Haring piece reached an impressive $6 million, underlining the global reach and appeal of Haring's work.
DeeKay touched upon the sense of community and connection that art brings. Drawing a sharp contrast to his previous corporate job, he explained that the art world, particularly in the realm of Web3, fosters genuine relationships and connections. DeeKay also highlighted his ongoing solo exhibition in Seoul, showcasing his dedication to the art community.
Nicole Giles wrapped up the panel by shedding light on Christie's unique role in the art world. She explained that it's a rarity for artists to sell their original work through an auction house, signifying Christie's commitment to artists' success and growth.
The panel discussion at The Gateway: Korea gave the audience a look at Keith Haring's enduring legacy, illustrating how his pioneering spirit continues to inspire contemporary artists. With a focus on making art accessible to all and thriving in the digital age, Haring's influence resonates across cultures and generations.