Crypto winter is finally thawing, and web3 is emerging from hibernation just in time for Gateway Miami.
Fresh off the success of Gateway Korea, Now Media and Factblock today (Nov. 9) announced the first phase lineup of exhibiting artists for the third edition of Gateway Miami during Miami Art Week.
Gateway Miami will make its South Beach debut by taking over the iconic Faena Forum from Dec. 6-8 and transforming it into a lush garden featuring an immersive audiovisual gallery of leading digital artists, interactive partner activations, and compelling programming of fireside chats, keynote speakers, and more.
Request an invite here to join "Gateway Miami."
The three-day event will kick off on Dec. 6 with a VIP dinner followed by an invite-only opening party featuring surprise musical guests. From Dec. 7-8, Gateway Miami will be open free to the registered public with speaker programming and gallery viewing hours.
This year's Gateway Miami explores the theme of "Blossoming" by celebrating the creativity and resilience of artists in full bloom through immersive galleries, inspiring talks, and live performances.
Blending physical and digital and uniting a range of styles under one roof, this year's artist lineup includes Gateway mainstays like Alpha Centauri Kid, Cory Van Lew, FVCKRENDER, Grant Yun, Krista Kim, SlimeSunday and Zancan alongside first-time exhibitors Jack Butcher, Osinachi, Melissa Wiederrecht, Omentejovem, Ryan Koopmans, and more.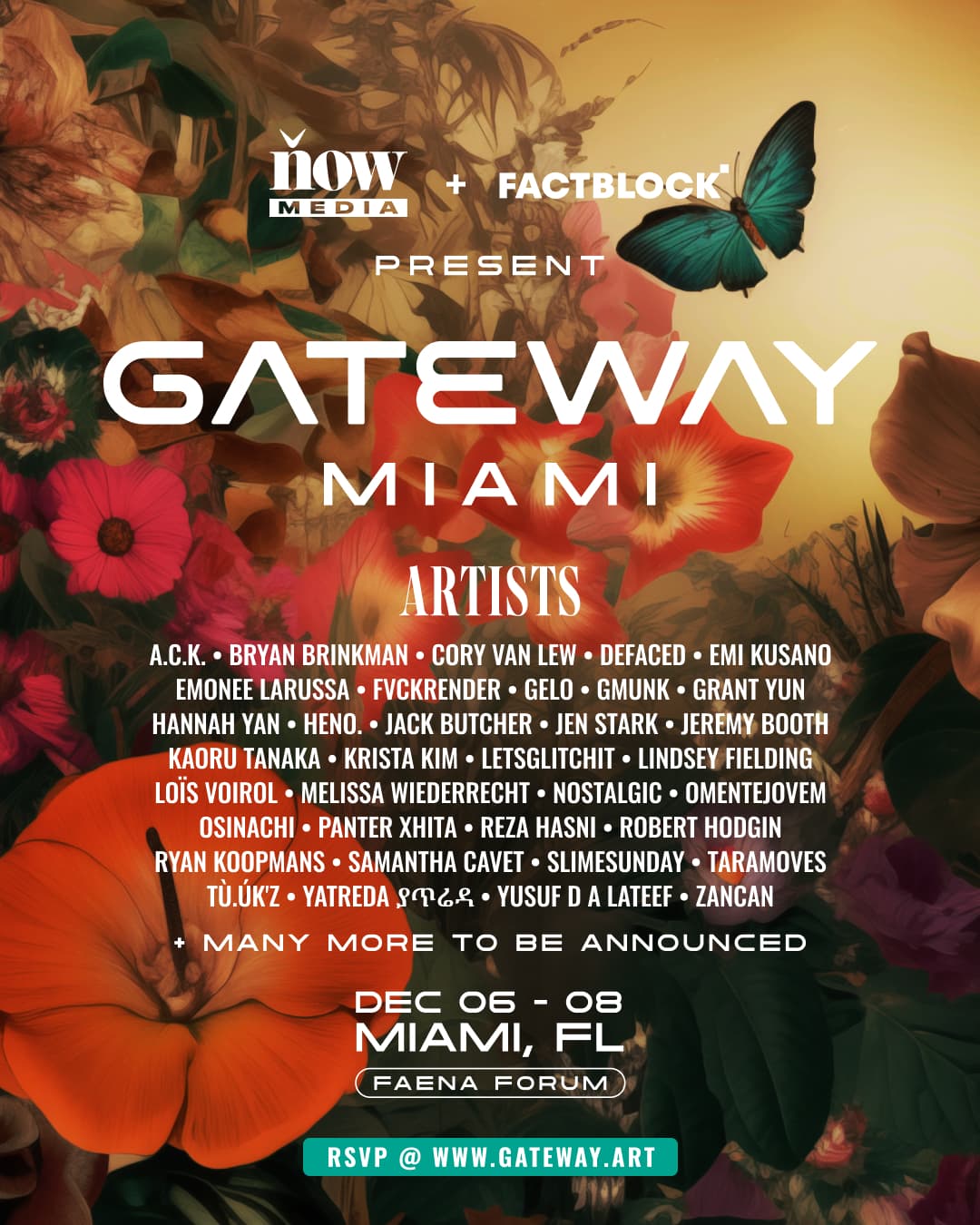 Gateway Miami 2023 will feature immersive installations from Christie's, LG Art Lab, Lens, Mercedes-Benz NXT, SHISEIDO, Wilder World, Ekos Genesis Art Collection, and Atomic Form. Expect plenty of announcements, alpha, and surprises from this year's partners to be revealed over the week.
This year's Gateway Miami follows last year's five-day festival during Miami Art Week, which attracted 12,000 visitors and featured brand partners such as Christie's, Instagram (Meta), Porsche, WME, and Art Blocks.
In September, Gateway Korea made its international debut in Seoul as one of the main events of Korea Blockchain Week. The three-day event drew 4,500 visitors and featured activations by Christie's, adidas /// Studio, Beatport, and more.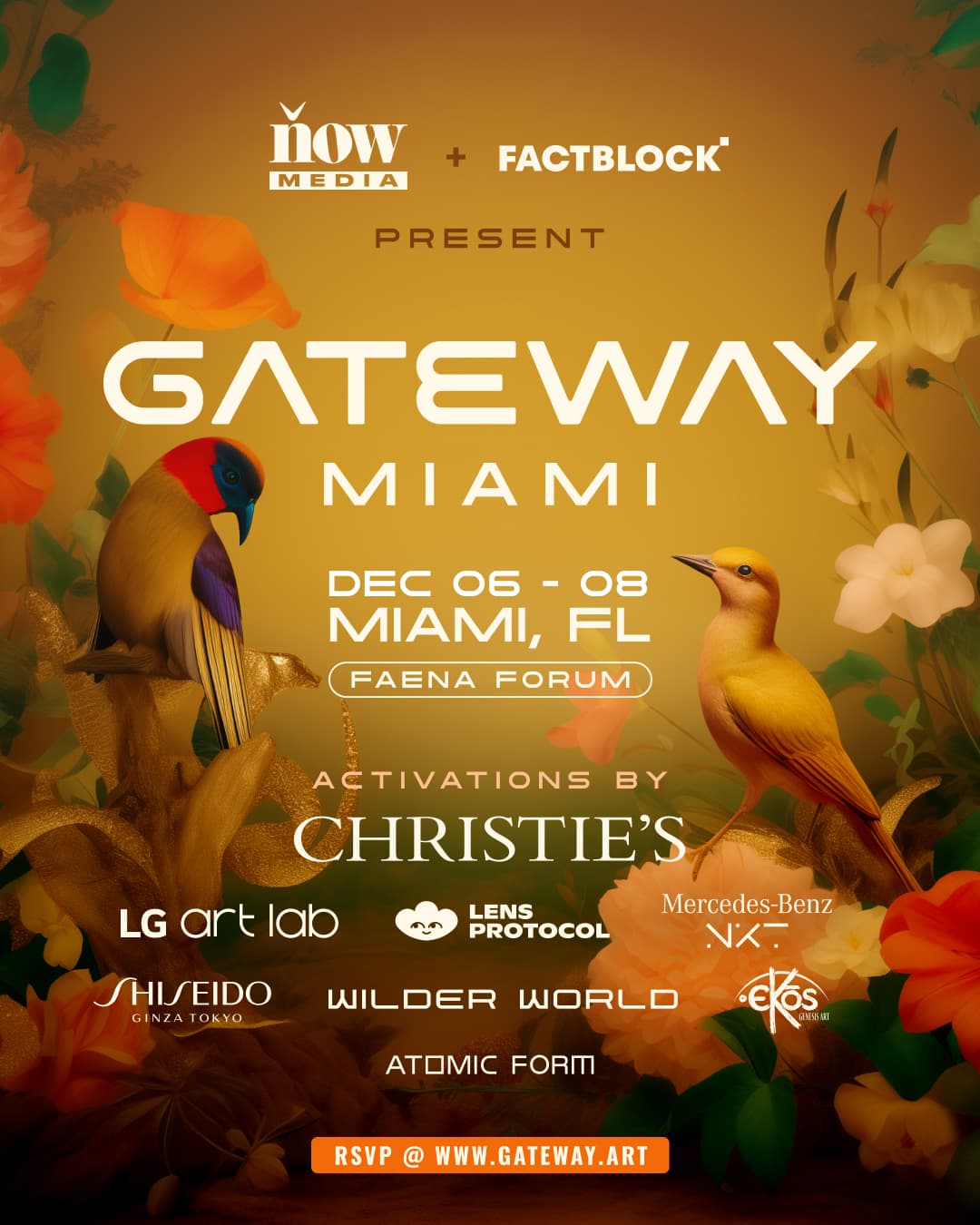 Exhibiting Artists:
Alpha Centauri Kid
Bryan Brinkman
Cory Van Lew
Dawnia AKA Letsglitchit
Defaced
Emi Kusano
Emonee LaRussa
FVCKRENDER
Gelo
GMUNK
Grant Yun
Hannah Yan
Heno.
Jack Butcher
Jen Stark
Kaoru Tanaka
Krista Kim
Lindsey Fielding
Loïs Voirol
Melissa Wiederrecht
Nostalgic
omentejovem
Osinachi
Panter Xhita
Reza Hasni
Robert Hodgin
Ryan Koopmans
Samantha Cavet
SlimeSunday
Taramoves
Tù.úk'z
Yatreda ያጥሬዳ
Zancan
And many more to be announced
Verified On-Chain