As we eagerly await the arrival of The Gateway: Korea, we invite you to join us on the journey to our flagship event going global. The Gateway will feature an audio-visual gallery where art, technology, and community unite. Attendees will also be able to engage in fireside chats with visionary creators worldwide, representing both Western and Eastern cultures.
As we are on the road to Korea, we've interviewed some of the most notable Korean creators in the Web3 space who will be exhibiting at the event, each pioneering their artistic journey in unique ways.
Korean American artist Grant Yun, an embodiment of versatility and passion, has been turning heads in multiple spheres of life. In the digital art world, he's celebrated for his impressive sales and auctions, with pieces showcased at elite establishments like Christie's and Sotheby's. But art isn't his only calling. Parallel to his achievements in the art world, Yun is deeply engrossed in his medical studies, demonstrating a unique blend of analytical and creative skills. In a world where many specialize in one domain, Yun's dedication to both art and medicine exemplifies the potential for a multifaceted career.
While Yun identifies as Korean, he grew up far from the bustling streets of Seoul. Yun's journey, distinctively colored by his Korean heritage and American upbringing in Southern California, gives depth and dimension to his artistry. In a conversation with nft now, Yun discussed his background, identity, and its influence on his work.
A life with many homes
Currently based in Wisconsin, where he attends medical school, Yun's Neo-Precisionist art style frequently portrays the landscapes of the Midwest. One of his most popular collections, Midwest, is a series of illustrations that serve as a testament to a romanticized view of America, capturing the unadorned yet captivating essence of Midwest life.
"The emptiness, the flatness, the peace, the tranquility of the landscape I was placed into was a combination of artistic inspiration and fear of the unknown," Yun said.
However, despite his extended stay in Wisconsin, his formative years were spent in San Jose, California, surrounded by a predominantly Asian American community.
"I grew up in the Bay Area. But you know, oftentimes, we would go down to SoCal, specifically Los Angeles," Yun said. "LA is one of the biggest hubs for Korean Americans in the United States. There is a unique culture to Koreans here in America and those who are trying to find a different identity apart from those who are native to Korea itself."
While Yun is American, his heritage is deeply rooted in Korea. His parents and grandparents hail from there, with his father moving to America when he was only a year old. This offered Yun a unique perspective with a father who identifies as Asian American, specifically Korean American. Shortly after marrying his father, his mother also made her way to the United States. As a child, Korean was Yun's first language. He says he even spent a portion of his early years in Korea, making frequent trips throughout his youth.
Rooted reflections
His artistic inclinations can be traced back to his mother and aunt, who were instrumental in his upbringing. Both of them held Masters degree in Art, and their works, predominantly influenced by Korean traditions, adorned the walls of his childhood home. While Yun's pieces and art aren't of the same style, being around art was a daily source of inspiration for young Grant.
When presented with the opportunity to showcase a piece for The Gateway: Korea, Yun chose his piece, LA Nights, which he says mirrors his experiences as a Korean American. While some may perceive it simply as a depiction of Los Angeles, for him, it's deeply personal and resonant with his journey (pictured below).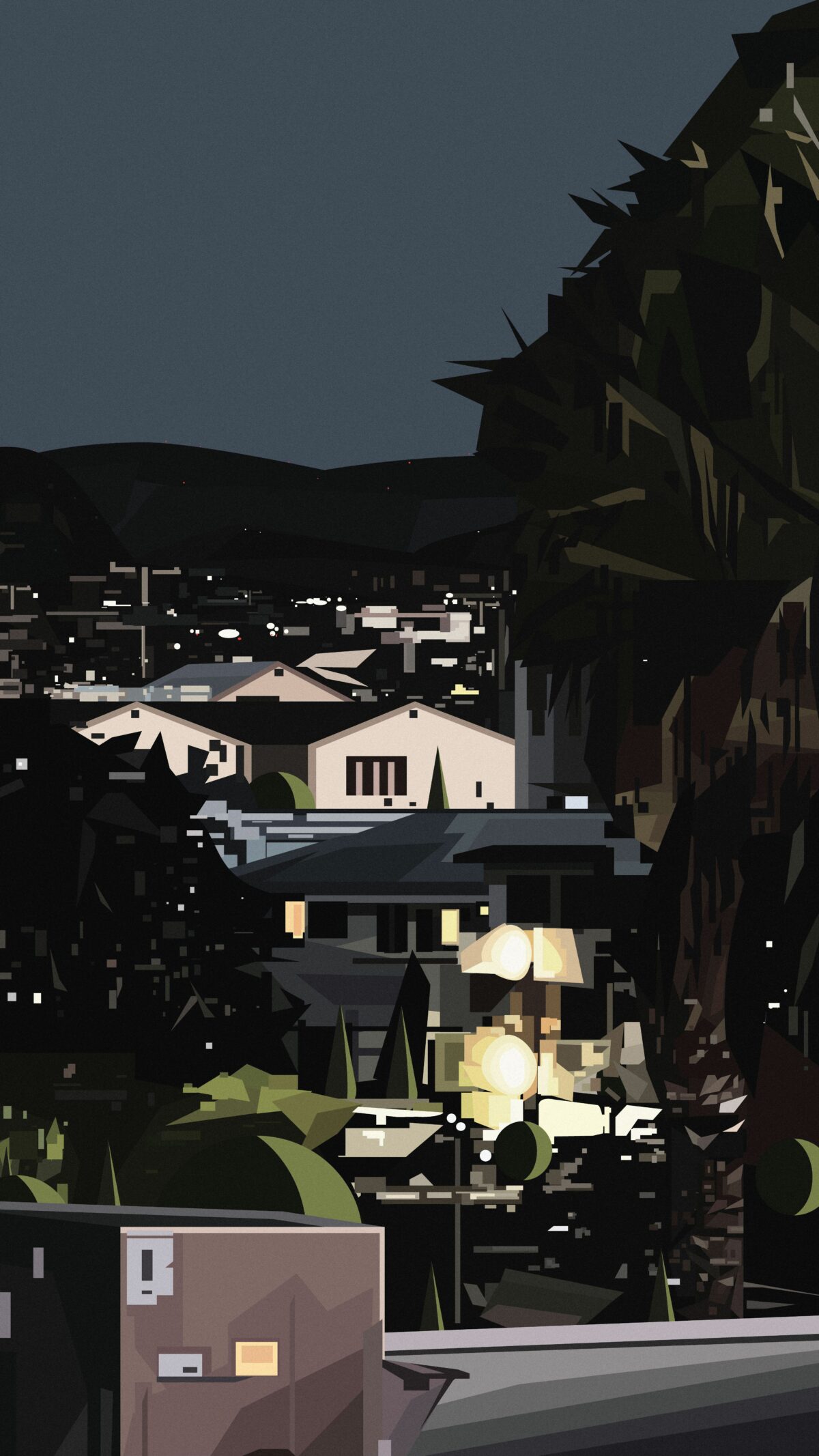 Yun mused, "Growing up as a different ethnicity in America but natively from the United States is a different experience," he shared. "It is different in the sense that you have this cultural identity you can identity with, but it's not the same as someone who grew up in Korea."
It's this duality, Yun explains, that sometimes challenges one's sense of belonging. He says when you see people of similar ethnicity, maybe you even converse in the same language, and instantly, there's this unspoken bond. Yet, there are times when you're reminded of the differences.
It was in Wisconsin where Yun came face-to-face with the stark contrasts of his heritage. He noted, "The number of people who identify as Asian American here is much less. That made me appreciate my heritage more."Being in such a setting, Yun not only recognized but embraced the rich tapestry of his cultural identity, drawing strength and inspiration from his dual heritage.
He mentioned how seemingly small things, such as the lack of Korean grocery stores, highlighted what he had previously overlooked. "Being here made me feel isolated. Only when you lose something do you truly realize its value," he reflected.
While Yun's experiences are deeply rooted in America, his limited time in Korea hasn't diminished the impact of his heritage. He says, "My experiences are different, and while I don't label these differences as better or worse, they create unique identities." This perspective highlights the diverse paths individuals can take within a shared culture, and for Yun, it's a testament to the multifaceted nature of identity, molded by personal experiences and cultural background.
This duality has not only shaped Yun's identity but has also deeply influenced his art. His work has resonated with a worldwide audience— having been featured and showcased in notable platforms like PROOF Collective's Grails Collection, Avant Arte, The Memes by 6529, and more. His piece, "The Alien" from the series "Space" sold for 136.9 ETH on July 28, 2022 ($236,217 equivalent on date of sale).
When asked about his family's feelings toward his rising success, Yun answered humbly. "It's cool for them to see me as a 'professional artist,'" Yun said. "And all of this came partly inspired by my family."
Grant Yun is undeniably a beacon of diverse talents and deep-rooted passions. Through his art, he blends the influences of his Korean heritage, his upbringing in San Jose's Asian American community, and the profound inspiration he draws from the tranquil Midwest landscapes.
Although Yun won't be physically present at Korea Blockchain Week, he's pleased his artwork will be there through The Gateway.
"I plan to visit my family at some point in the next year or so," Yun said. "As long as my work is there to represent me, that's all that matters."
As he continues to share his story and art with web2 and Web3 audiences alike, Yun's art provides a window for audiences worldwide to connect with the complexities of identity, nostalgia, and the profound beauty found in the everyday. The appeal of Grant Yun is more than just visual; it's deeply emotional, evoking a universal sense of longing, belonging, and home.