Web2 card games like Hearthstone, Magic: the Gathering Arena, and even Yu-Gi-Oh! Duel Links have enjoyed continued popularity, so it was only a matter of time until blockchain gaming developers hopped onto this niche in hopes of giving the genre a much-needed Web3 facelift.
While gamers rally around the concept of owning their digital assets, NFT card games are building the first glimpse into the future of classic entertainment. So we've built a collection of the most popular titles in the space to illustrate current card game offerings in the world of blockchain gaming.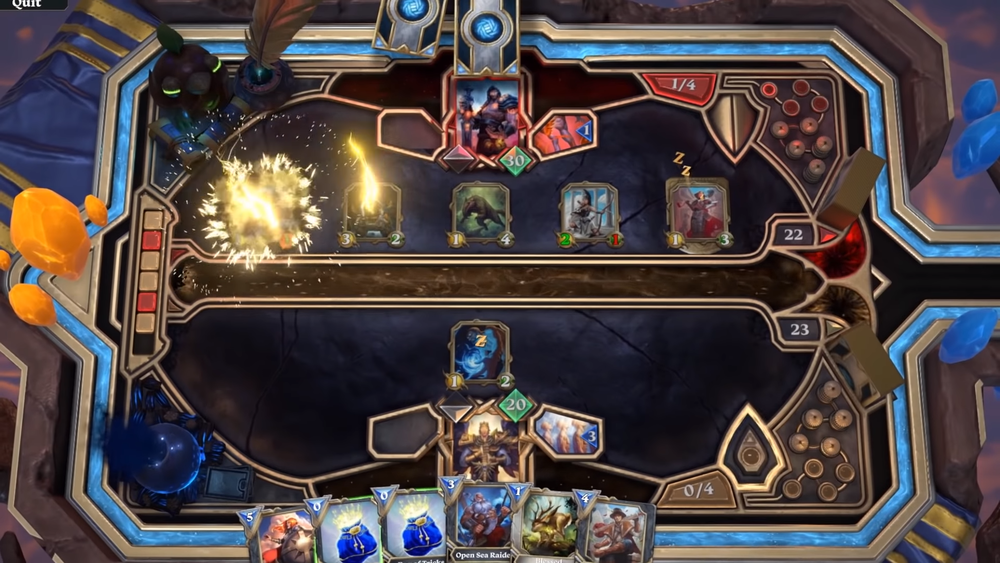 Blockchain: Ethereum
Token: GODS
Gods Unchained is one of the first NFT card games to hit the market, and it's also one of the earliest successful blockchain games, period. Its beta launched all the way back in 2018, developed by the Ferguson brothers. At the time, it was pitched as the then-nascent blockchain gaming scene's first esports experience. Today, it can best be described as blockchain gaming's formal response to fantasy trading card game stables like Hearthstone and Magic: the Gathering Arena.
The game was officially released in 2021, and its cards have since amassed a trading volume equivalent to more than $100 million as of writing, with 162 thousand unique holders of Gods Unchained cards and counting. Much of the game's appeal for trading card game enthusiasts comes down to its current leadership. Sitting as Gods Unchained VP and Game Director is Chris Clay, who previously held a directorial role on "Magic: The Gathering Arena". Bringing such a wide range of experience to the game will put it into competition with other blockchain games, in addition to Web2 trading card games.
The game has taken great strides in ensuring the sustainability of its in-game economy; its tokenomics, if you will. To keep the game from turning into a pay-to-win wasteland that alienates new players, the development team has ensured that each pack players receive will have at least one card viable for competitive play. That includes free packs for free-to-play players, in addition to welcome packs doled out to new players. If Gods Unchained is to become a truly self-sustaining community, securing the game's balance and parity will be a must.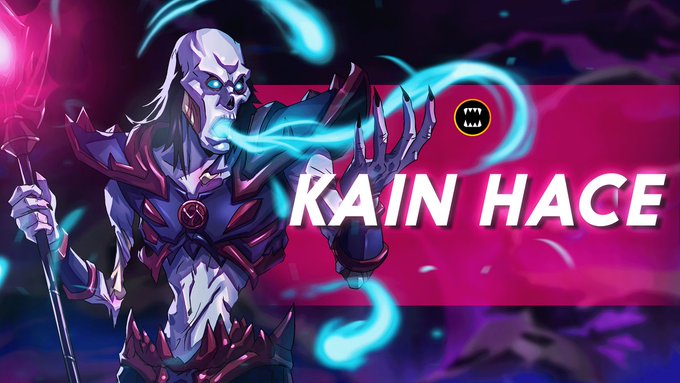 Blockchain: Ethereum
Tokens: Splintershards (SPS), Dark Energy Shards (DES)
Launched initially as Steem Monsters in 2018, this passion project by Pennsylvania technologists Jessie Reich and Matthew Rosen gradually evolved into what it is today: Splinterlands. Although on the surface, it sports a similar fantasy-inspired aesthetic to Gods Unchained, there are several factors that distinguish the two. For one, it isn't free-to-play in the conventional sense. To unlock the game's full set of features, users must purchase a Summoner's Spellbook from the in-game store for $10.
At that point, players can then play the game however they want. Exceptional players are rewarded with one of two tokens: Splintershards (SPS), which serve as the game's governance token and main currency, and Dark Energy Shards (DES), which increase a player's SPS earnings potential and serve as currency for purchasing in-game cosmetic items, potions, and much more. Recently, the Splinterlands team also launched a generative NFT collection wherein the NFTs are also usable as cards in-game.
Although the game has faced some criticism for what are perceived to be play-to-win mechanics, an article on Naavik broke down how its level-gating, which requires more time and money from players to progress in the game, has kept it from falling into the same traps of other "pure play-to-earn" games. Additionally, the game also offers players the ability to rent any card in the game for a fixed sum of DES per day. Not only does this effectively lower the barrier to entry for new players to meaningfully compete in-game, but it also lets experienced players tinker with deck builds without committing to purchase the cards they're experimenting with. In the best of circumstances, if a player just needs one specific card to really round out their deck, they can just opt to rent it.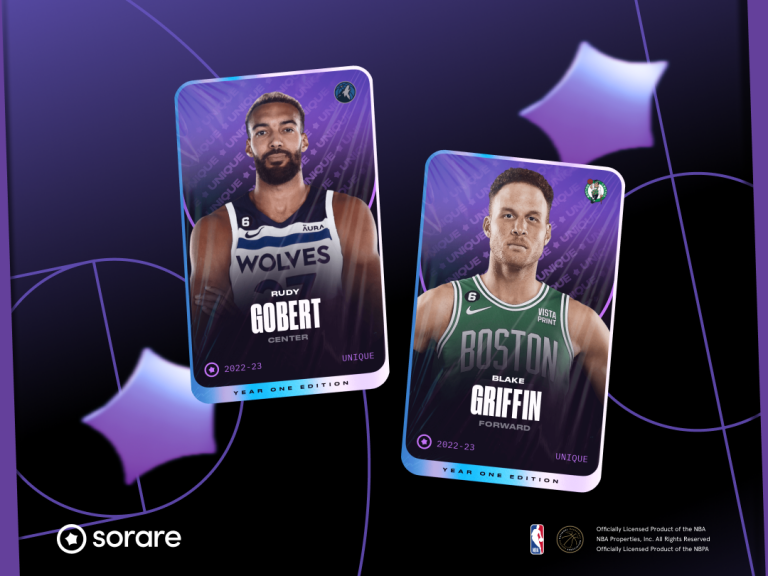 Blockchain: Ethereum
Token: Sorare (SOR)
Wonder what would happen if you could actually do stuff with your NBA Top Shot NFTs? Sorare might be the NFT card game for you. On Sorare, sports fans can access a truly unique experience that combines two of the biggest hobbies built on top of professional sports leagues: fantasy leagues and trading cards.
Instead of relying on drafts to build out their fantasy rosters, Sorare players do so via the acquisition of cards, which can log each real-world athlete's stats in real-time. Like in fantasy leagues, these stats are used as the basis for each player's strength on any given day. When a user is ready to test the strength of their team, they can pit a selection of their players against other users, earning in-game points.
The best part? Support for Sorare has been expanding rapidly among professional sports leagues. Currently, fans of baseball, soccer, and basketball may enjoy dedicated Sorare modes. So, if you're looking for a way to pass the time and make a little money on the side of your preferred sport's on-season, Sorare is a great option.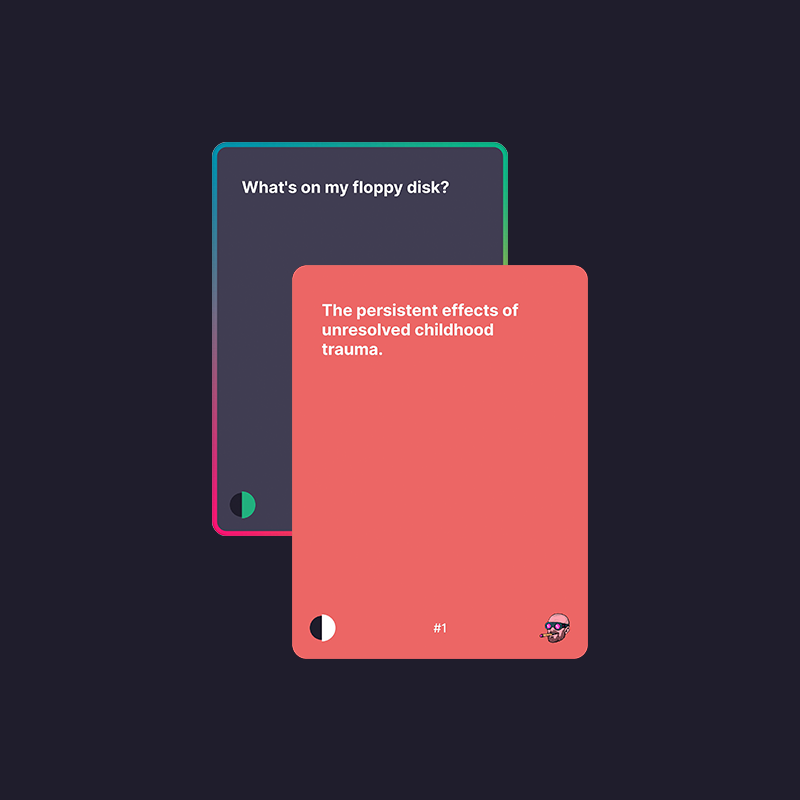 Blockchain: Cardano
Token: test DUO (tDUO)
Cards Against Humanity exposed everyone's inner degenerate IRL and on Web2, and Duo aims to do the same in Web3. Although it offers friend groups a practically identical experience to the zinger-based card game in practice, its Web3 implementation opens up a wealth of new possibilities. As of writing, the game is currently in beta, but its core experience is nearly fleshed out.
So how does this party game format play in Web3? For one, players can craft particularly hilarious responses and prompts into NFTs. These cards can then be voted on by the community, with the highest vote-getting cards then eligible for inclusion into the game's official decks. The authors of these cards then also become eligible to receive royalties from the sale of these decks. So everybody laughs, and potentially, everybody wins, too. Aside from that, since these cards are NFTs, users will also have the means to preserve some of their favorite moments playing the game in perpetuity on the blockchain.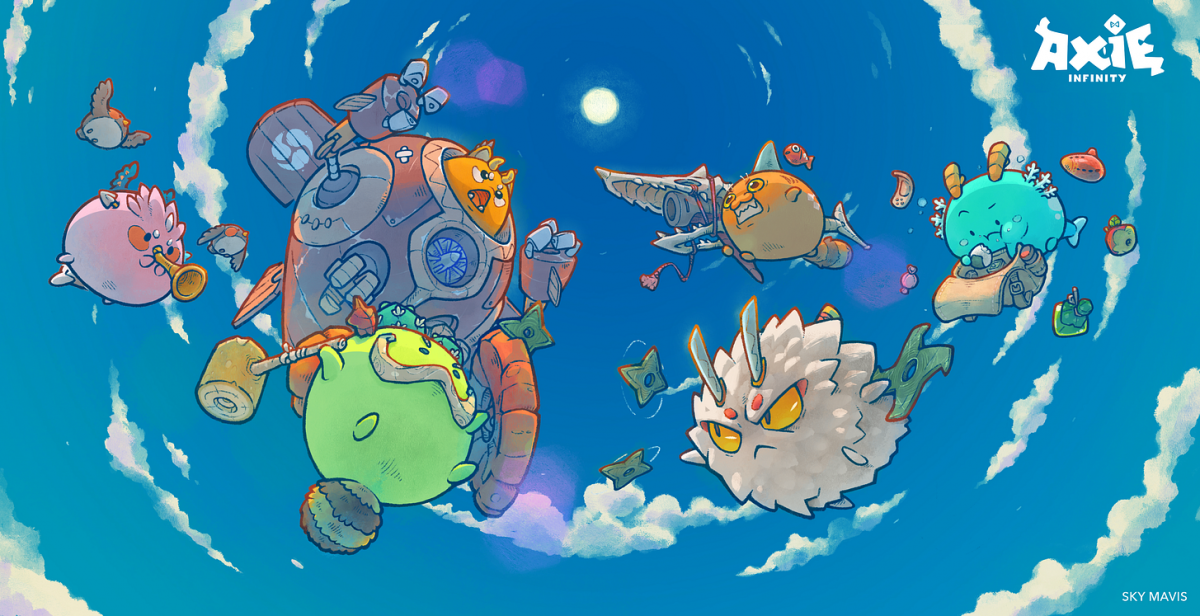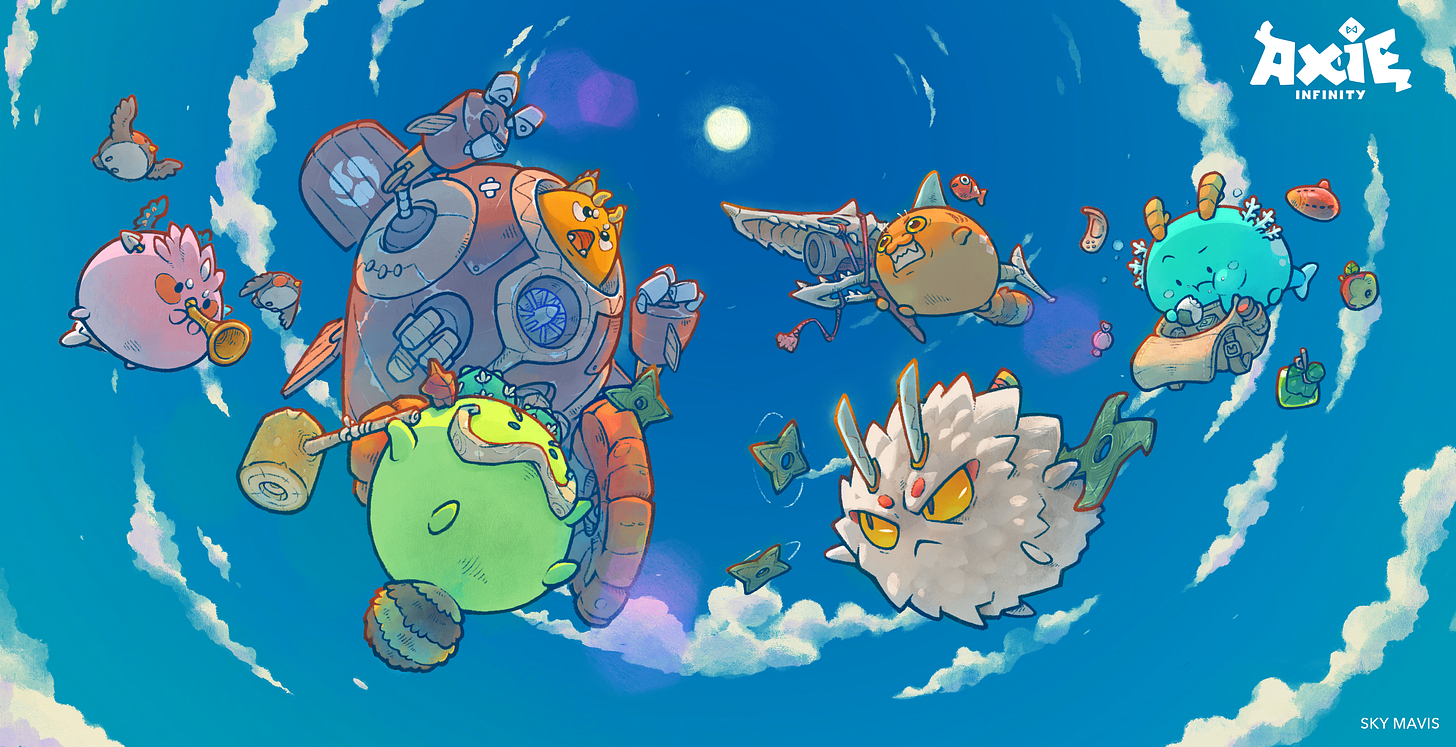 Blockchain: Ethereum via the Ronin Network sidechain
Tokens: Smooth Love Potion (SLP)
You'd be hard-pressed to come up with a list of any kind of blockchain gaming title without at least mentioning Axie Infinity. Although on its face the game looks like a monster battler, its card-based mechanics and focus on collection make it a fine inclusion for this list.
Once the face of play-to-earn (P2E) gaming, following a massive 2022 hack and the subsequent fallout, Axie Infinity began hemorrhaging players at an alarming rate. In June 2022 alone, the game saw roughly 1.5 million players quit it for good. Thankfully, with the recent release of the massive Axie Infinity: Origins update, not only will players enjoy a much-needed gameplay overhaul, but new players may be more willing to give the game a try with its new free-to-play model.

Blockchain: Ethereum, Counterparty, Klaytn
Tokens: Bitcrystals. XCP for Counterparty, ETH for Ethereum, and BCY Klaytn for Klaytn-based assets.
Looking for a blockchain gaming experience you can fit in your pocket? That's exactly what Spells of Genesis hopes to provide players. It's a mobile-first blockchain-powered trading card game that combines deck-building and card-battling with point-and-click arcade shooter mechanics. The game also features desktop and web versions for those trying to keep their phone's memory usage low.
Interestingly, players may opt to overlook the entire blockchain aspect of the game entirely. Much of the game's blockchain functionality is missing from its web version, and players have a large assortment of non-blockchain cards at their disposal to enjoy the game for what it is. Of course, that all changes once a player connects their crypto wallet to the game and starts converting their decks into blockchain-based assets.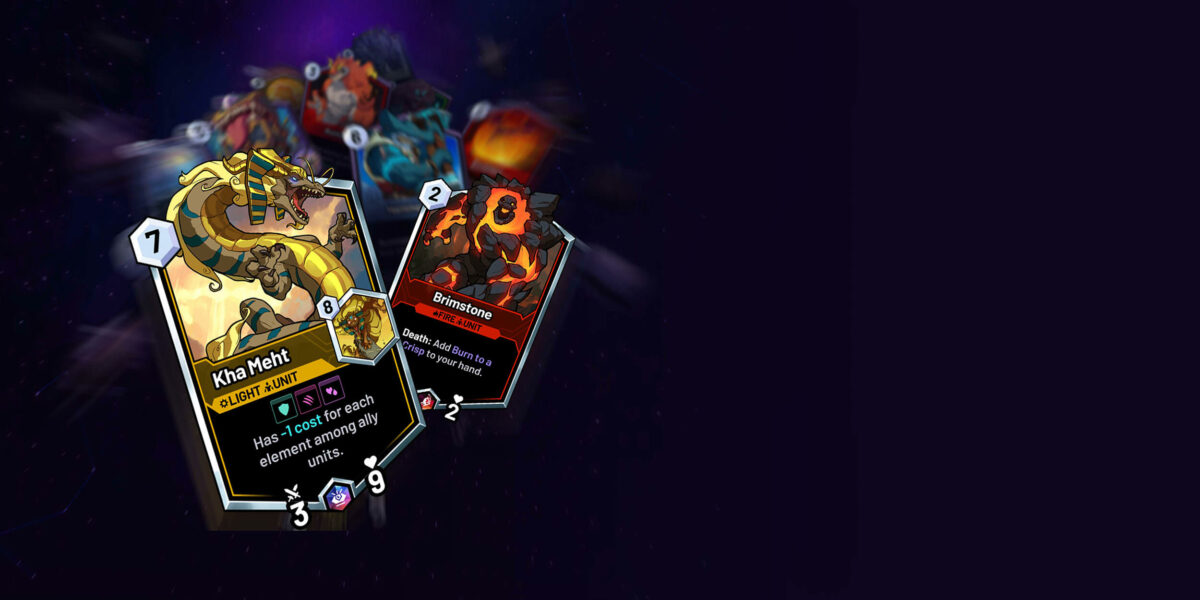 Blockchain: Ethereum via Polygon
Tokens: USDC
Beneath Skyweaver's approachable fantasy aesthetic is a game that's embracing all of the trends blockchain gaming experts believe will drive the space forward. Of those trends, the two biggest design choices Skyweaver's development team made in service of its player-first goal are its free-to-play structure and play-to-own in-game economy.
Additionally, unlike other card-based games, Skyweaver boasts a non-rotating card structure. This means that cards introduced into the game will never be banned or rotated out of play, enabling players to truly let loose and build the strongest decks possible with no limitations. This emphasis on stability can also be seen in Skyweaver's in-game currency: USDC. It's one of the few, if not the only blockchain game backed by a stablecoin, which does wonders for its long-term potential.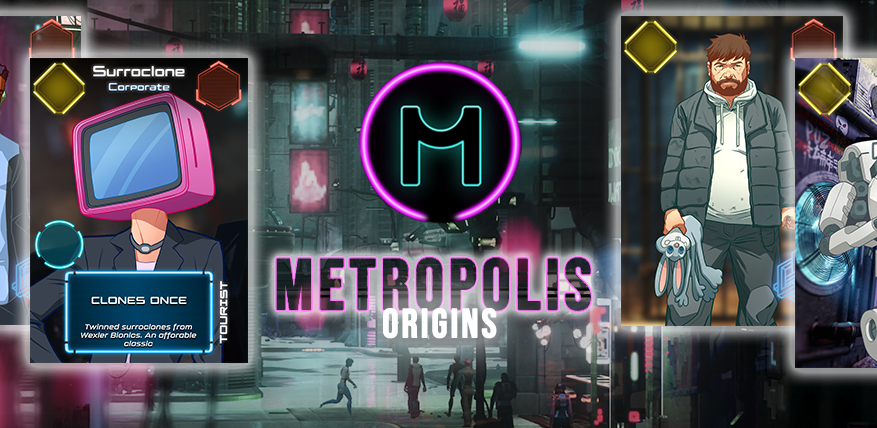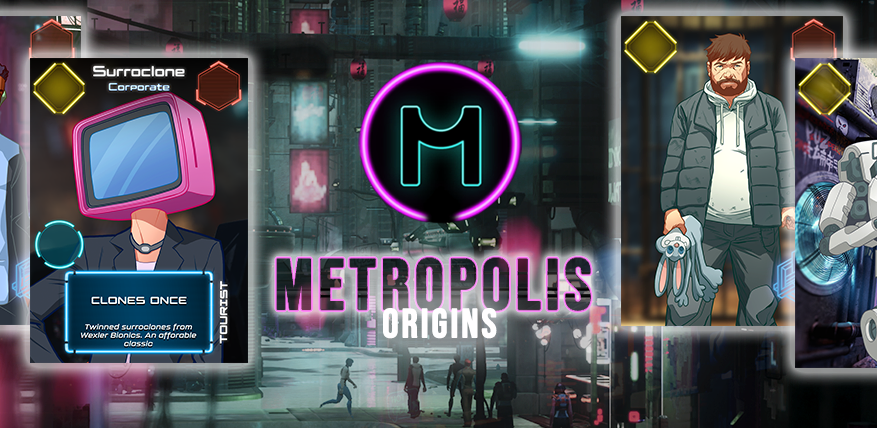 Blockchain: WAX
Tokens: WAX
Understanding what sets Metropolis Origins apart from other card-based NFT games available on the market requires just one quick look. The game's comic-styled cyberpunk themes and imagery make it stand out from the pack on a visual level alone. But what about the game makes it compelling aside from its relatively unique visual flair?
For the most part, it's designed to offer players an experience comparable to physical collectible card games they've played in the real world. On its website, Metropolis Origins doesn't describe itself as a pay-to-win game, and it's not a play-to-earn game. It's just a classic trading card game that just so happens to live on the blockchain.