For those who have yet to take the plunge into NFTs, the information being disseminated throughout the newly robust ecosystem of artists, collectors and investors might as well look like source code. But to those within the NFT community, sales figures and celebratory acronyms don't solely relate to trades and profits, but bearing witness to a culture being created in real-time.
So to celebrate records and achievements throughout the weird, wide world of non-fungibles, we've compiled a list of numbers to offer up a macro-view of the NFT ecosystem in 2021. From landmark sales to social media analytics and everything in between, these are the numbers indicative of the new creative economy being built around NFTs.
$14.6 billion – OpenSea's total sales volume for 2021
OpenSea continued to break records month after month in 2021. With Dune Analytics reporting a total year-to-date sales volume upwards of $14.6 billion for the marketplace giant — in 2022 it's likely we'll see more of the same.
$3.74 billion – Axie Infinity's total sales volume for 2021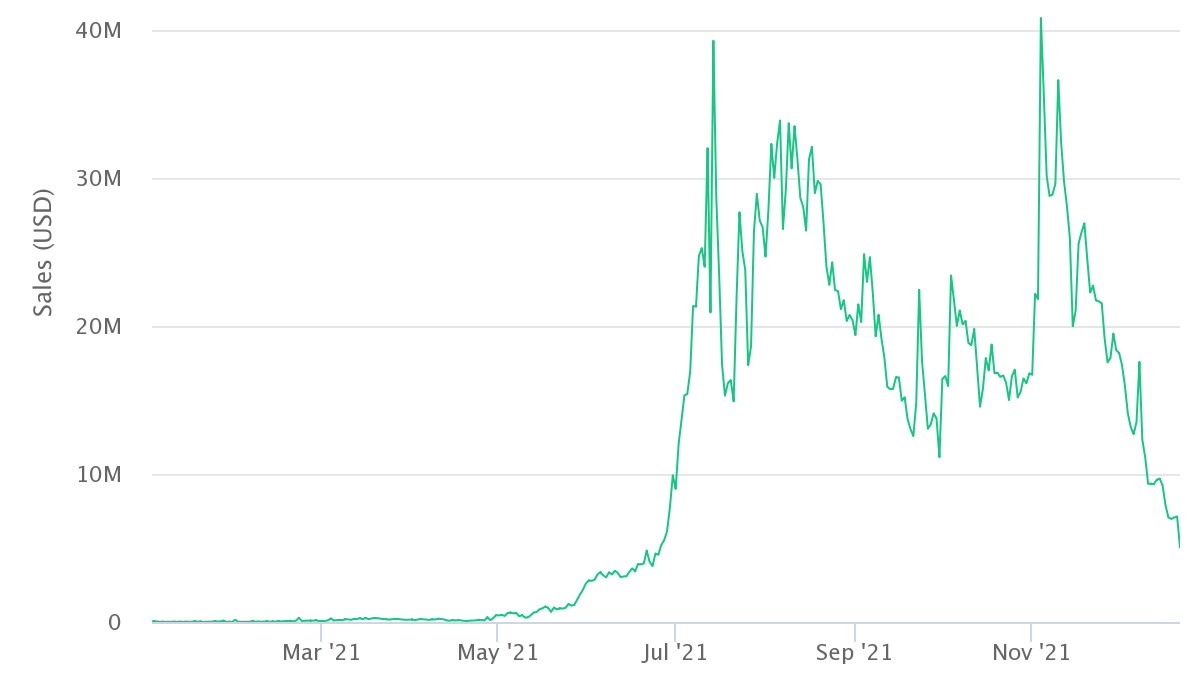 $91,806,519 – Pak's Merge open edition sales record
Pak made history with their final Nifty Gateway drop of 2021. Featuring a single open edition with mysterious token mechanics, Merge set a new world record for most money generated by a single artwork publicly sold by a living artist.
$69,346,250 – The winning bid for Beeple's Everydays: The First 5000 Days
$11,684,101 – 3LAU's Ultraviolet NFT auction sales total
Back in February, superstar producer/DJ 3LAU had one of the top music NFT moments of the year with the sale of Ultraviolet. A collection of 33 different NFTs, Ultraviolet netted 3LAU a reported $11.7 million over the course of a three-day auction.
$230,023 – Highest NBA Top Shot sale of 2021
13,027 – Highest Solana NFT sale of 2021 (in SOL)
Although Solana was subject to debate throughout the year due to copy/pasted and scam NFT collections, SolanaMonkeyBusiness proved that building a robust collection on SOL was not only possible, but profitable with a 13,027 SOL ($2.1 million) single NFT sale.
10,000 – The gold standard for PFP project supply size, established by CryptoPunks
6,000 – Bored Ape Yacht Club's unique holders
Generative avatar projects often struggle to boost their unique owner count above 50% (i.e. 5,000 owners for a collection of 10,000). Yet BAYC surpassed the milestone early on and currently boasts over 6,000 Bored Ape holders, which includes numerous high-profile celebrities.
4,200 – Highest CryptoPunk sale of 2021 (in ETH)
2014 – The year Kevin McCoy minted Quantum, the first-ever NFT
Kevin McCoy's 2014 piece, Quantum, is viewed as the grandfather of all NFTs. Sold in 2021 as part of Sotheby's Natively Digital auction, the animated NFT brought in $1.47 million.
1,250 – The number of Bored Apes minted by Pranksy
888 – Twitter accounts followed by influential NFT collector 888
888 is one of the most prominent and active NFT collectors out there. As both an influencer and a builder, he continues to contribute an air of positivity to the NFT space, with his coveted 888 number acting as "a reminder to thank the Universe for blessings & miracles."
769 – Highest Bored Ape sale of 2021 (in ETH)
Although Bored Ape #8817 sold for a whopping $3.41 million (around 819 ETH) as part of Sotheby's Metaverse sale, the highest on-chain BAYC sale of the year was of #2087, which sold for 769 ETH ($2.28 million).
420.69 – Highest Loot sale of 2021 (in ETH)
Launched by Dom Hofmann without warning as a free-to-claim NFT on a first-come, first-serve basis, Loot overtook the NFT ecosystem as one of the most popular projects of the year. Experiencing exponential growth on a mind-boggling scale, the Loot top saw Bag #748 sell for 420.69 ETH ($1.44 million).
420 – One of the NFT community's favorite numbers
320 – Highest Cool Cat sale of 2021 (in ETH)
Since its launch in June of 2021, Cool Cats has continued to earn accolades in the NFT space as a fun and inclusive project. Nearing Halloween, Cool Cat #1490, aka the only Zombie Cool Cat, sold for 320 ETH ($1.08 million).
154 – Current floor of Justin Aversano's Twin Flames Collection (in ETH)
69 – Another one of the NFT space's favorite numbers
41 – The number of Art Blocks Curated projects released in 2021
Art Blocks Curated dominated the generative art market in 2021. Featuring prominent collections like Dmitri Cherniak's Ringers, Tyler Hobbs' Fidenza, and Bryan Brinkman's NimBuds, the platform hosted a total of 41 drops this year alone.
40 – The number of nft now podcast episodes airing in 2021
33 – The signature number of influential NFT collector 33NFT
Throughout 2021, 33NFT has continued to skirt the line between creator and collector. A connoisseur of all things related to the number 33, the influential builder has curated numerous impressive galleries and collections.
7 – The number of traits on Seedphrase's grail CryptoPunk #8348
1 – The number of Bored Apes remaining in Pranksy's wallet
Although the prominent NFT collector may have started out with a hefty bag of Bored Apes, he (surely regrettably) sold them throughout the year prior to the explosion of the BAYC ecosystem. Currently, it seems he only has one remaining.
1 ETH = 1 ETH