The Alpha
Future+ is a new IRL/URL platform designed to connect fashion, beauty, luxury, and retail executives with Web3 creators, blockchains, and digitally native brands. Ashumi Sanghvi, the CEO and founder of MAD Global, launched Future+ in partnership with Samsung.

The company held its much-anticipated launch event on April 12, 2023, at Samsung's New York Flagship during NFT.NYC. The program featured panels with top executives, industry insiders, and influential brand representatives across fashion, luxury, retail, and gaming.
---
Dive deeper
Welcome back to Now Runway, where we report to you from the frontlines of the digital fashion revolution. In the last few years, digital fashion has exploded across Web3, with major brands like Nike, DKNY, Fendi, and Coach dipping their toes in the water to varying depths. Although mass adoption of digital fashion is likely years away, the benefits — such as sustainability, low manufacturing and labor costs, and creative freedom — are enticing more to onboard into the space.
Most recently, this includes Future+. The young company made a significant impact at its April 12 event with various interactive opportunities available to the 300-strong invite-only guest list. Digital fashion and beauty experiences were showcased on a 40-foot video wall, offering an engaging and immersive experience.
Another floor of the venue featured AR virtual try-ons of Future+ curation on the DressX app as well as VR experiences in Spatial of exhibiting designers and brands such as Guillaume Sauzey, Mabu Yu, Rick Dick, Pet Liger, Mengze Zheng, Marika, Kota Yamaji, Auroboros, Xiangyu Liu, Vanessa Pagano, Sarah Mayer, Craves and more.
A live POAP was available for guests to collect during the event, offering exclusive access to the Future+ network, global events across Web3 conferences, art fairs, fashion weeks, and early registration to the membership.
Panel insights and highlights
The event began with a keynote by Sanghvi, where she set the tone, sharing. "My vision for Future+ is to create something unique and valuable, bringing the best and brightest minds across fashion, luxury, beauty, and retail together with founders and creators across immersive technology and Web3. It's more important than ever to demystify the technology and deliver curated thought leadership in an experiential format."

Following Sanghvi were four panels on the day's schedule: The Future of Retail and Customer Loyalty, Physical, Digital and Connected Brands in the Age of Collaboration, Translating Digital Experiences for Luxury Customers, and Beyond the Hype: Where Digital Assets, IP, and Gaming Intersect.
Beyond the Hype: Where Digital Assets, IP, and Gaming Intersect
When someone says "digital fashion," you might not automatically connect the idea with gaming. But that's far from the case. In 2021, Fortnite made $50 million on NFL partnership skins, and in 2023, Gucci and Vans teamed up with Roblox for a metaverse scavenger hunt that rewarded players with accessories for their avatars.

According to the Blockchain Research Labs report released in March 2023, Avatars: Shaping Digital Identity in the Metaverse, the avatar market will exceed $500 billion by 2030. As we continue to flesh out our digital identities in both games and the metaverse, dressing our avatars will be vital to establishing personality and individuality.

These themes were evident during the Beyond the Hype: Where Digital Assets, IP and Gaming Intersect panel moderated by Marc Beckman, DMA United founder and CEO. He observed that digital assets, including wearables, are a hallmark of the metaverse gaming experience.
"Visionary luxury houses like Gucci, Balenciaga, and Balmain have fully committed to reaching this new segment of consumers in places like The Sandbox," Beckman said. "Predictably, digital design houses and legacy fashion brands will strengthen their focus on this burgeoning business vertical in an attempt to capture a portion of the $300 billion gaming industry."
During the panel, The Sandbox co-founder and COO Sébastien Borget further emphasized the importance of virtual worlds, noting that more than half of the world's population is now digitally native.
"The inclusion of wearables as part of social inclusion in virtual worlds goes beyond 'showing off,'" he said. "It also includes how you use your wearables and the story of how you acquired them – they may not necessarily have been purchased but may have been earned through actions in the games or virtual worlds."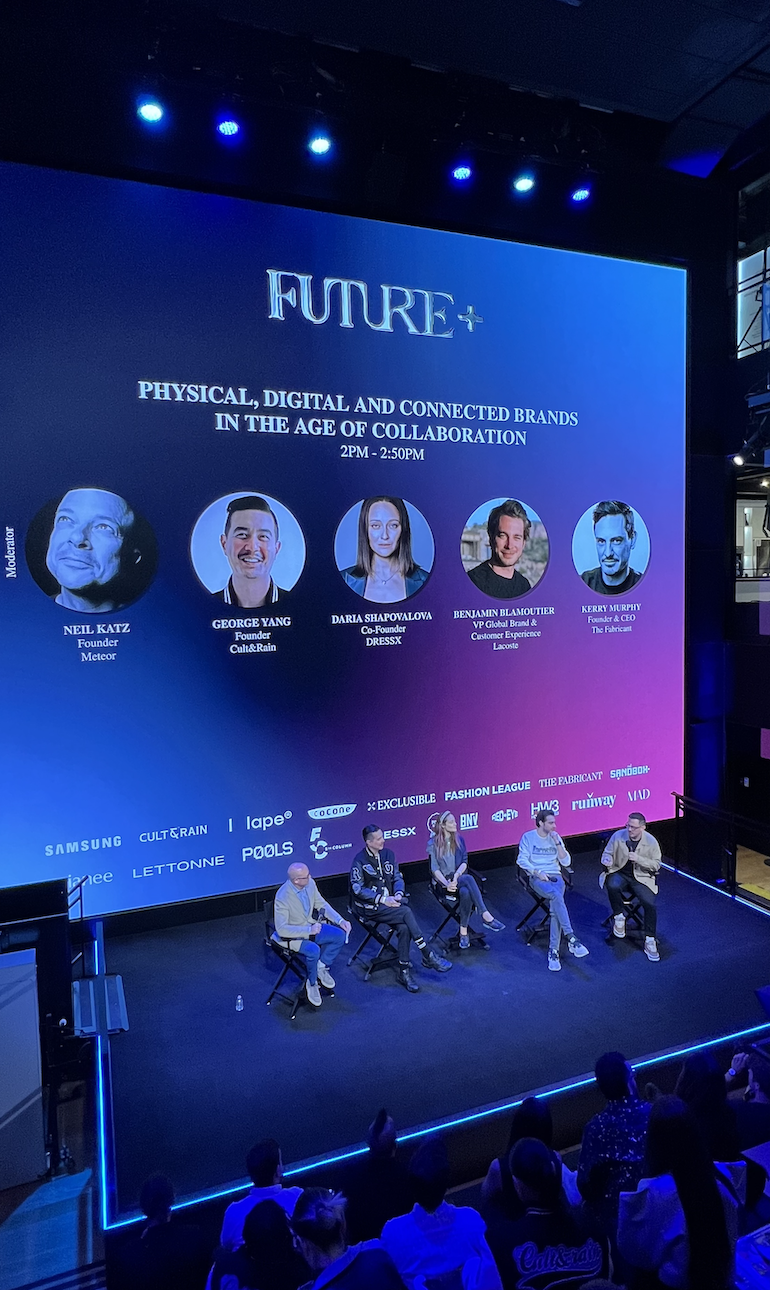 Translating Digital Experiences for Luxury Customers
It's not easy to bring a web2 audience into Web3 — however, luxury brands have emerged as a prime example of this adaptability. From Prada to Balenciaga, iconic companies are fusing tradition and innovation with NFT collections and collaborations, setting an example for other web2 companies considering delving into the space.
Francine Ballard, founder of House of Web3, discussed these ideas as the moderator of the Translating Digital Experiences for Luxury Customers panel. During the talk, she shared how technology is "weaving its way into mainstream culture invisibly — and powering luxury experiences in new and interesting ways. The neologism du jour — 'quiet fashion' seems to have crossed over to tech where the consumer has suddenly and unknowingly come to expect more."
Also on the panel were Pierre-Nicolas Hurstel, CEO and Co-Founder of Arianne, Stevel Kolb, CEO of CDFA, Danielle Barisch, Web3 Development Director at Hennessy, and Shashi Menon, Founder and CEO of Nervora: Vogue Wired, UNXD.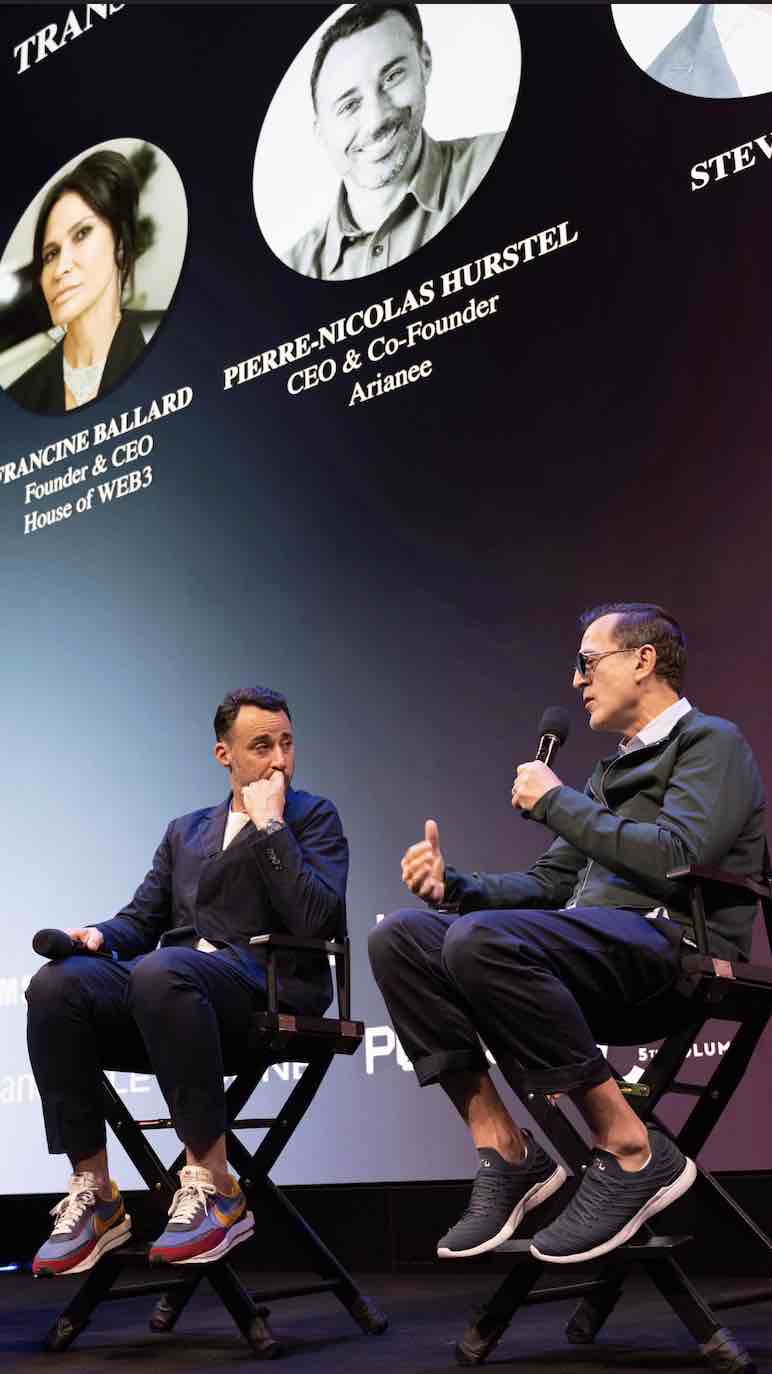 Hurstel stated that in the current economic environment, it has become increasingly crucial for brands to assess their priorities and use their resources as efficiently as possible.
"Whether they are digitally native fashion brands or fashion brands, companies need to focus on the core, on what they do best, which is delivering the best products and the best experiences possible to their customers," he added.
"Whether it's through digital collectibles, digital twins NFTs, memberships NFTs, or digital fashion, these solutions need to bring added value to the customer's buying experience."
Now more than ever, consumers are looking to brands, platforms, and artists to help shape their digital identity. With this in mind, we're eager to see what Future+ does next.
In case you missed it: