After an explosive start to 2023, with open editions, Bitcoin Ordinals, and memecoins abound, we're now experiencing (another) downturn in the NFT market. While this phenomenon is nothing new for those within the metaverse, the ups and downs seem to be hitting everyone a bit differently this time around.
Although crypto and NFTs surely haven't entered into a new cycle, change has already begun affecting some facets of the market at an alarming rate. More specifically, floor prices of the Bored Ape Yacht Club, a robust and long-time staple of the NFT space, have started to wane.
Yet, BAYC NFTs going parabolic might not simply be a product of the times. As some astute enthusiasts have pointed out via social media, this recent shift could be attributable to Yuga Labs' actions rather than market conditions. So what is the real reason the still wildly popular Bored Apes are trending downward? Let's explore.
The state of the Yuga NFT ecosystem
At the time of writing, the BAYC floor stood around 37 ETH (roughly $70,000). Notably, this is the first time that floor prices for the inaugural Yuga collection have dipped below 40 ETH since November 2021. But it's a far cry from the April 2022 peak of around 152 ETH.
While such an event might not seem like a reason for concern, according to CoinGecko, this nearly 12 percent drop has yet to be significantly corrected for what has now been over a week.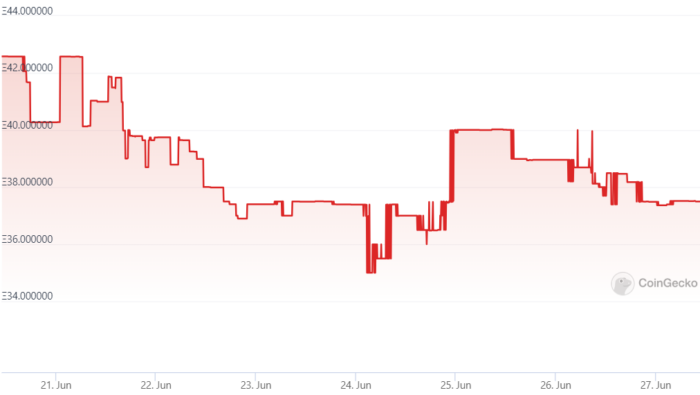 Additionally, the floor price of Mutant Apes has been sustained in the single digits, around 7.5 ETH. At approximately $14,000, this figure is almost equivalent to the original MAYC mint price (around $13,000) when the collection was launched in August 2021. Similarly, Otherdeeds and HV-MTL are down as well, but more on them later.
For the most part, commentators in the NFT space have been pointing to a pseudonymous collector known as Machi Big Brother (real name Jeffrey Huang) as a potential catalyst for this shift. Why? Because in the past week alone, Huang sold more than 50 Bored Apes on Blur.
At one point, on June 24, Huang initiated a single transaction to sell 19 BAYC NFTs for a whopping 651 ETH (around $1.2 million). He had previously engaged in a similar trading spree with MAYC NFTs back in August 2022.
While Huang's actions are definitely a factor in this equation, they don't explain why the BAYC floor has struggled so much to recover. And while it may be true that the market, in general, is in a downturn — potentially in response to the price of ETH itself on the rise (a phenomenon we've seen many times in the past) — even the driest trading periods of the 2022 bear market didn't yield such a significant slump for BAYC as we are witnessing now.
Fragmented and diluted?
For the most part, avid NFT collectors and commentators have been discussing the fragmentation and dilution of the Yuga NFT ecosystem as a catalyst for this recent dip. Perhaps in addition to the lull in the market, the expansion happening within Otherside and HV-MTL, two Yuga franchises that arent necessarily leveraged around the Bored Apes IP, seem to be an easy scapegoat for rationalizing this BAYC downturn.
For years now, those within the NFT space have speculated about the potentially detrimental effects dilution could have on a project. The narrative often includes a secondary collection launching to the dismay of early supporters, who then say that the "dilution" detracts from the tenacity of the original collection, and new IP and storylines fragment the community.
Whether or not fragmentation or dilution might be the root of the BAYC dip is subjective and debatable, but nonetheless, a possibility. Yet, as exhibited by the below tweet from Bored Ape collector JBond, a variety of other factors might be contributing to the direction the Yuga NFT ecosystem is now traveling.
BAYC floor price went from 50E to 37E in a few weeks

Why?@huntersolaire_ gave us 3 reasons:

1) $APE unlocks vs burn rate – supply increase without use cases

2) No upcoming "free money" – unlike Captainz, Degods, Azuki

3) Status symbol – people see punks > apes on bear

2/10 pic.twitter.com/rRHt6Nh7H7

— JBond (@jbondwagon) June 23, 2023
In the same thread, JBond went on to speculate that "Blur farming," the act of NFT traders using the zero-fee marketplace to sell their Apes at around or below floor price in order to stack blur points, might be contributing to the problem. Considering Yuga (and other blue-chip projects) lose out on royalties when collectors trade their tokens on Blur or a similar marketplace, the valuation of the Bored Ape brand could be a factor to consider for the state of Yuga NFTs as well.
"I don't put this on Yuga or believe 'fragmentation' is the reason the floor price dropping so low… Blur turned BAYC into a commodity that is traded with high volume and low margins," an NFT collector named Ahi wrote in a tweet commenting on the Yuga situation. "Blur turned gold into a commodity. What did you expect?"
Although Yuga achieved a $4 billion valuation after raising $450 million in 2022, with Blur having secured the majority of the NFT marketplace market share in recent months, Yuga surely isn't bringing in nearly as much revenue from royalties as it used to. If that is the case, then Yuga's focus on its aforementioned metaverse projects could be indicative of a broader business model that transcends the Bored Apes IP.
That's because the interactive and interoperable Otherside and HV-MTL franchises might prove to be more lucrative and accessible for Yuga down the line, which undoubtedly aligns with the company's mission to both bridge the gap into the mainstream and meet investor expectations.
That isn't to say that Yuga's more NFT-centric IPs, like Apes, Mutants, and Kennel Club Dogs, don't have breadwinning potential. But similar to how some brands refuse to use the term "NFT" when launching in Web3, Yuga likely wants to consider a wider audience when focusing efforts on building for years to come.
The NFT macroclimate
Of course, it truly is anyone's guess where the NFT space will be even a year from now. With that in mind, we must consider the blockchain macroclimate as a factor in the collector speculation happening surrounding Yuga's evolving status.
The unpredictable price action of crypto paired with mounting regulation of the crypto and NFT space have added a palpable layer of uncertainty to Web3 as of late. Surely, these factors, above many others, are influencing buyer behavior and contributing to market fluctuations. Add in that the Yuga ecosystem seems to be in a state of transition, and tension is a given.
It's entirely possible that the BAYC dip we're currently experiencing is not an isolated event but a signifier of broader shifts within the crypto and NFT macroclimate. Although there are a good many BAYC collectors that would disagree with such a deduction and substitute a prediction that instead, this downturn only means "Yuga season" is around the corner.
Moving forward, Web3 participants of all types would do well not to ignore the BAYC situation as just another happening but to use it as a reminder to keep an eye on both the evolving dynamics within the NFT and crypto world and the larger economic and regulatory environment. The era of getting rich off of pictures of cartoon monkeys may be behind us, but the journey ahead is sure to be fascinating and fruitful.