The Alpha:
On Friday, Nifty Gateway announced it's launching the beta-testing version of Publishers, its Shopify-like platform that will allow curators to build NFT storefronts and present collections from artists with whom they've partnered, according to an early release of a company blog post shared with nft now.
Publishers grants users registered on the platform access to the same tools Nifty Gateway has used to present its Curated Drops over the years. Instead of the marketplace acting as the primary drop curator for the Nifty Gateway community, Publishers storefronts provide a new space for interactions between artists and buyers.

It also allows NFT collectors to collaborate with artists to promote projects and artwork that might otherwise remain under the radar while creating a new revenue stream in the Nifty Gateway ecosystem.
---
Why it matters
"When we relaunched the Nifty Gateway marketplace in 2020, we recruited a lot of artists to work with," said Nifty Gateway Co-Founder Duncan Cock Foster in an interview with nft now. "And our thesis was basically that the NFT space would grow once it developed more as a creative medium. So, we created our own curated schedule where we helped these artists develop."
Cock Foster emphasized the importance of curators in the traditional art world and what the NFT space can learn from them. The existence of the curatorial layer in that space, he believes, helps collectors understand what they want to collect while growing the size of the physical art ecosystem significantly.
"That layer plays such a crucial role," Cock Foster continued. "And when you look at the NFT world, that layer just doesn't exist. There's no equivalent. So, we wanted to launch a product that helps create that equivalent."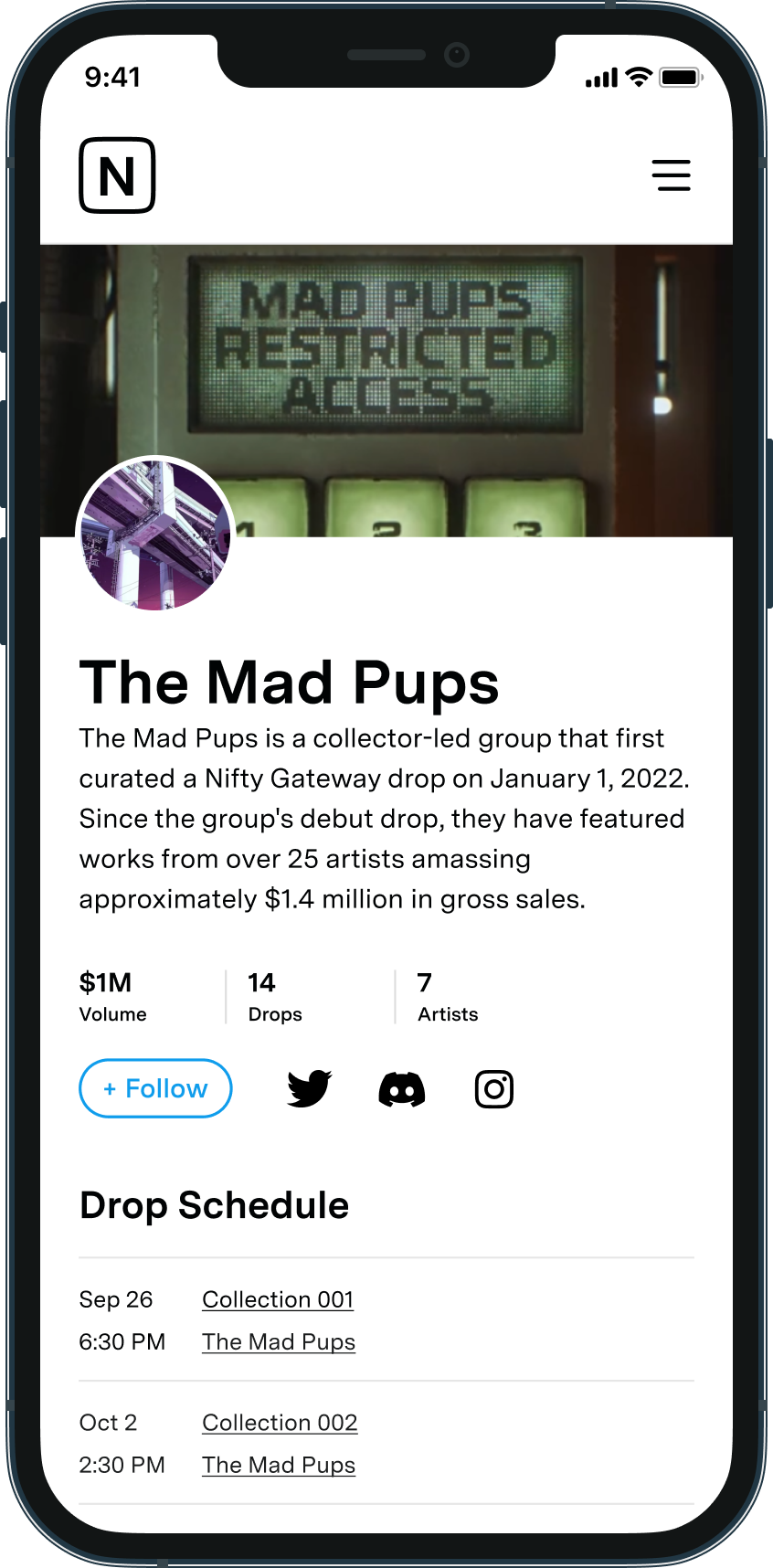 Cock Foster and the Nifty Gateway team reached out to a group of 50 curators that will be the first to test the Publishers storefronts, which will expand to include more collectors in the coming months. The 50 beta curators the marketplace chose for its launch include 33 (who has guest-curated drops on the platform in the past), The Mad Pups, RX2, seedphrase, AJ Vaynerchuck, and several other native NFT ecosystem participants.
"The NFT art world has become so large at this point, it's essentially impossible for any one person or organization to know all the talent and artists out there," Cock Foster elaborated. "These collectors are going to be able to shine a spotlight on artists that we don't even know exist."
Publishers also comes with several tools for curators and artists, like a no-code minting dashboard and the ability for artists to choose from a variety of drop types (first-come, first-served releases, 1/1 auctions, open Editions, and more). The no-code minting dashboard is an encouraging inclusion. It's a well-accepted fact that lowering the technical barrier for non-Web3 natives will be crucial for the widespread adoption of blockchain-based technologies like NFTs.
Once Nifty Gateway expands the Publishers platform beyond its beta stage, it will open up curational tools for artists to use independently, without needing to collaborate with curators. Regarding the vetting process for those wishing to register with Publishers, Cock Foster explained that it will evolve as they learn more about how they want it to function. Aside from the company's basic requirements (curators can't release stolen art or commit fraud, for example), their idea was to start with a group of trusted community members so they wouldn't have to deal with a lengthy and tedious vetting process from its inception.
"Curators are going to build their own reputation," Cock Foster underlined. "Over time, collectors will trust certain curators to do the right thing, and that trust will be rewarded." Addressing concerns of potential future controversy regarding what artists curators might choose to feature in their Publishers storefronts, Cock Foster took an appropriately art-first approach.
"We've been in the art ecosystem for a long time," Cock Foster said. "Art is intended to make you think. There are a number of artists who make work that would be considered shocking in any other context. Jordan Wolfson is one example. There are no red lines that I'd be willing to commit to right now. You have to let people be expressive on an art platform. Maybe we will get some Twitter backlash. It wouldn't be the first time."
Cock Foster is also excited about the rules for buyers in the Publishers storefronts, which are an extension of a concept the marketplace has used in the past. For example, a drop might be free to mint, but would-be collectors may also have to own a certain number of previous works by that artist to purchase the new NFT. "Publishers are going to have quite a powerful set of rules at their disposal," Cock Foster said. "Curators are going to be able to use that to create a very compelling ecosystem and all sorts of interesting and creative drops that they wouldn't be able to otherwise."
What's next
Publishers is a promising development from one of the biggest names in the NFT space. It will be intriguing to see how this approach, modeled on the traditional art world, might influence the space for the better, given that Web3 has gone to great lengths to avoid recreating some of the dynamics from the physical art sphere.
Those curious about becoming a curator on Nifty Gateway can sign up and register their interest starting Friday.
But wait! There's more: