Yuga Labs announced that it will be debuting the open beta for its upcoming Otherside metaverse game, Legends of the Mara, sometime in September. Yuga first demoed Legends of the Mara to a small group of Otherdeed holders in July.
First announced in March 2022, Otherside continues to represent the largest expansion of the Bored Ape Yacht Club (BAYC) universe, serving as an MMORPG (Massively Multiplayer Online Role-Playing Game) that is directly linked to the BAYC ecosystem. Tapping into virtual land ownership, Otherside enables players to own virtual land, authenticated through their Otherdeed NFTs, to then explore an open-world game.
Legends of the Mara, a 2D web-based game, is rooted in the Otherside metaverse world, where members leverage their Otherdeed NFTs alongside a new NFT that will allow them to farm sediments, hatch their vessels, and fight something called "The Shattered" – with the goal of placing as high as possible.
X user Hunter Solaire provided a comprehensive breakdown of how the game is structured and what it looks like.
For Otherdeed NFT holders, their virtual land collectibles offer them two different tiers – environment tiers and sediment tiers.
Environment tiers determine the number of "workers" you can have, while sediment tiers determine the number of "resources" you produce. However, "workers" also have tiers of their own – Koda, Mara (hunters, farmers, enchanters), and Kodamara (evolved Mara).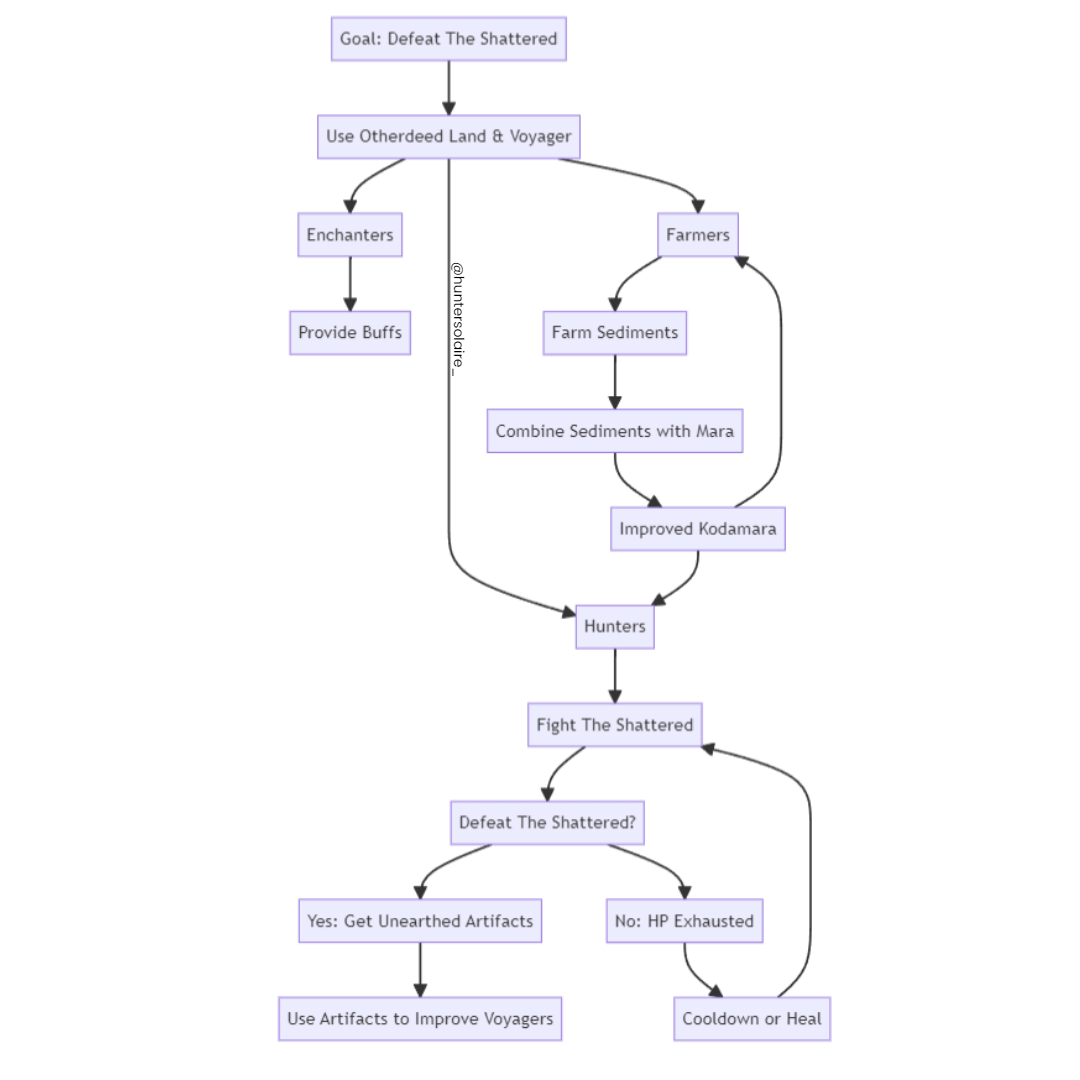 In its announcement, Yuga also said that the game will "evolve over the coming months" and that its Otherdeed NFT holders will also receive a variety of rewards closer to the game's public launch.
Michael Figge, Yuga's Chief Creative Officer, told nft now in July that Otherside represents "a home for all communities to be able to build things that resonate with their own communities." He said that when you go into other metaverse worlds, it offers a "pretty empty experience" and that hinders genuine interest from people who do want to explore these digital worlds.
He emphasized that another significant factor in showcasing the community's trust in Yuga's products centers around its IP licensing mechanisms that generally allow BAYC holders to monetize their PFPs – now encapsulated by its "Made by Apes" platform.
In July, Yuga acquired the metaverse startup Roar Studios to help push the ongoing development of Otherside.
Editor's note: This article was written by an nft now staff member in collaboration with OpenAI's GPT-4.