When it comes to the NFT and Web3 space, anons are everywhere. Many of the most prominent NFT influencers use a pseudonym and a cartoon PFP (profile picture) to illustrate their presence. And this, as far as the crypto/NFT space is concerned, isn't a bad thing. In fact, it's encouraged. Seen as an act of camaraderie within the NFT space, creating your online persona around a Bored Ape, CryptoPunk, Cool Cat, or other NFT PFP shows that you're part of a movement — as well as a full-blown community.
But with so many PFP projects out there, it can be difficult to find the right one for your Web3 identity. Sure, you can use fun tools like Web3Me.fun to find a PFP that matches your real-life look, but most of the popular projects featured are far out of the price range of the average NFT enthusiast. When it comes to finding the right PFP project that's also affordable, there's definitely more than one answer. So let's take a look at some of the most prominent PFP projects, ranked first by price and defined by their core values.
A quick note before we begin: This won't be an exhaustive list, but rather one to help get you started. We've also purposefully left out some of the more expensive and/or less PFP-learning projects (like VeeFriends). If you're looking for a more comprehensive list of the most prominent PFP projects, check out our article here.
Tier 1
For the first tier, we're looking at projects that are affordable, exciting, and have room to grow. These are the projects that, for a number of reasons, lean on the smaller, more tight-knit side. Whether it's because they aren't yet fully established, haven't made any significant announcements recently, or just aren't being actively hyped by NFT influencers, entry into these projects is simple and easy.
Note: All prices are based on ETH values at the time of writing.

Cost: 0.035 ETH
Values: Challenge, curiosity, and knowledge
Are you a big tech person? Do you value innovation and take interest in how blockchain tech works? Then MEV Army is hands down the project for you. Launched and headed by prominent coder and crypto-artist x0r, MEV Army is a community of tech-minded collectors and NFT enthusiasts that are empowered to learn about coding and blockchain through community events and challenges.

Cost: 0.12 ETH
Values: Boldness and creativity
The Heart Project incentivizes its members to take part in a full-fledged, community-run creative studio. Created by Stefan Meier and Aidan Cullen, The Heart Project aims to produce multimedia experiences through collaboration with its thousands of holders. If you're a musician or content creator, or just have great creative ideas, this is the one for you.

Cost: 0.19 ETH
Values: Adventure and kindness
Woodies is a great project for those that value adventure. It offers a whimsical spin on avatar projects with in-depth storytelling and a philanthropic mission with a percentage of project profits donated to global reforestation efforts. Created by a handful of wholesome artists and developers, Woodies is a fun and accessible project that focuses on kinship and kindness.
Cost: 0.30 ETH
Values: Beauty and growth
Crypto Chicks is a collection developed to celebrate the unique, diverse beauty of women around the world. As the majority of the NFT space is male, projects like Crypto Chicks hope to help further diversify the ecosystem. This is a project for all who value vibrant communities and want to support efforts to empower women in Web3.

Cost: 0.40 ETH
Values: Curiosity and spirituality
Creature world is a project for those who are children at heart. Created by NYC-based artist Danny Cole in the image of his iconic "Creature" character, Creature World is said to grant holders access to a "magical dimension of love, divine intervention, and possibility." The project centers around creativity and spirituality and is a colorful and affordable option among the many pixel-art PFP projects.

Cost: 0.40 ETH
Values: Creativity and self-respect
Sup Ducks is the brainchild of artist FrankyNines. Filled with a wide variety of colorful 2D ducks, this collection is as visually striking as the inside of a funhouse. The community surrounding the collection isn't that far off from the carnival vibe either, and the overall project seems to value creativity, positivity, and self-respect.
Tier 2
Tier 2 is comprised of projects that you're sure to have heard about. Floor prices for these projects may go up, down, or sideways, but the teams behind each of these collections seem to be actively at work building their communities day after day. Some projects are more expensive than others, and some might even be considered sleeping giants, but each is unique and valuable in its own way.

Cost: 0.45 ETH
Values: Boldness and optimism
Designed by artist Waheed Zai, Smilesssvrs is a multifaceted project that focuses on culture, fashion, hip-hop, and smiles. Smilesssvrs is the first of many other physical and digital Smilesss initiatives to come and places value on making a statement with streetwear and style. This is a great project for fans of metaverse wearables and Web3 pop culture.

Cost: 0.72 ETH
Values: Optimism and friendships
Alien Frens is a project that feels just as playful and happy-go-lucky as the whimsical avatars that make up its 10,000 supply collection. Created by artist Mason Crowe, the community surrounding these extraterrestrial friends is great for creative types. Within the Alien Frens Discord, you'll find a mish-mash of content creators, collectors, and artists alike.

Cost: 1.20 ETH
Values: Competency and boldness
Although Deadfellaz may have started out as a simple collection of PFP zombies, it has since grown into one of the boldest and most coveted projects on the market. This undead NFT community is great for nearly anyone (especially those who are fans of the macabre) and is run by multitalented and charismatic husband and wife duo Psych and Betty.

Cost: 1.60 ETH
Values: Boldness and humor
Mfers is a project created by influential NFT collector Sartoshi that is centered completely around crypto, NFTs, and general Web3 humor. The mfers community is unique in the way that Sartoshi promises his collectors no roadmaps or hidden incentives — only art, and vibes. This project is perfect for those whose wish is to collect simple, fun CC0 licensed art and share in the collective NFT space humor.

Cost: 1.65 ETH
Values: Adventure, spirituality, and knowledge
Forgotten Runes Wizards Cult seems to be the gift that keeps on giving in the NFT space. From the start, the crew behind this gamified, role-playing project has doled out an array of incentives to collectors. This is an absolutely perfect project for fans of dungeons, dragons, quests, and general, well-crafted lore.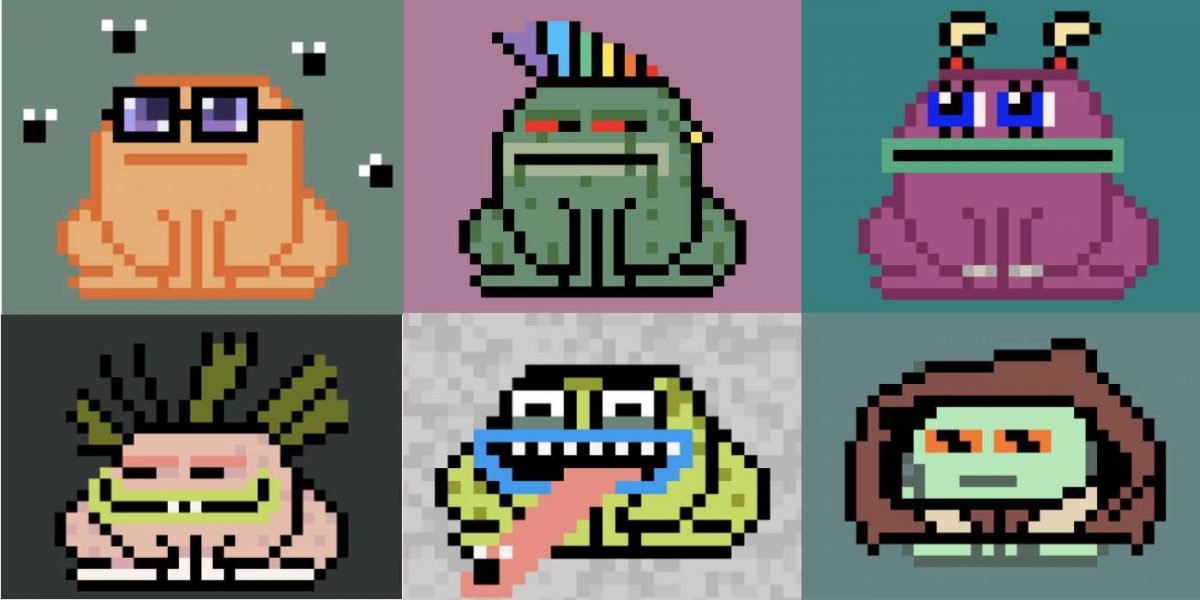 Cost: 1.95 ETH
Values: Boldness and humor
Inspired by Larva Labs' iconic CryptoPunks, CrypToadz — a collection of 6,969 NFTs — was conceived by now prominent anonymous artist Gremplin during a time when PFP and Punk-derivative projects saturated the market. Gremplin's ambitious amphibious collection is popular with NFT purists as it was one of the first projects to present a use case for CC0 licensed art. This is a great project for those who enjoy the humor and memes of the NFT space as well as the innovation and regulation side of things.
Tier 3
You know them, you love them: these are the most popular PFP project out there. Regardless of age, the collections in this tier have at some point taken the NFT space by storm, holding tight through the many market ebb and flows. Now, these surely aren't the most affordable projects, but each encompasses a vibrant community and a wide array of member benefits.
Note: No Yuga Labs or Larva Labs projects here. Joining any of their projects isn't feasible for most, and everything that needs to be said about them already has been via our BAYC guide and our ultimate guide to CryptoPunks.

Cost: 3.90 ETH
Values: Citizenship, fun, and growth
When it comes to community-driven projects, Cool Cats is a tough one to beat. Since its launch, Cool Cats has earned accolades in the NFT space as a fun and inclusive project — propelled by collaborations and community initiatives like the milk chug challenge. This is a great community to join for those who love historic and innovative NFTs.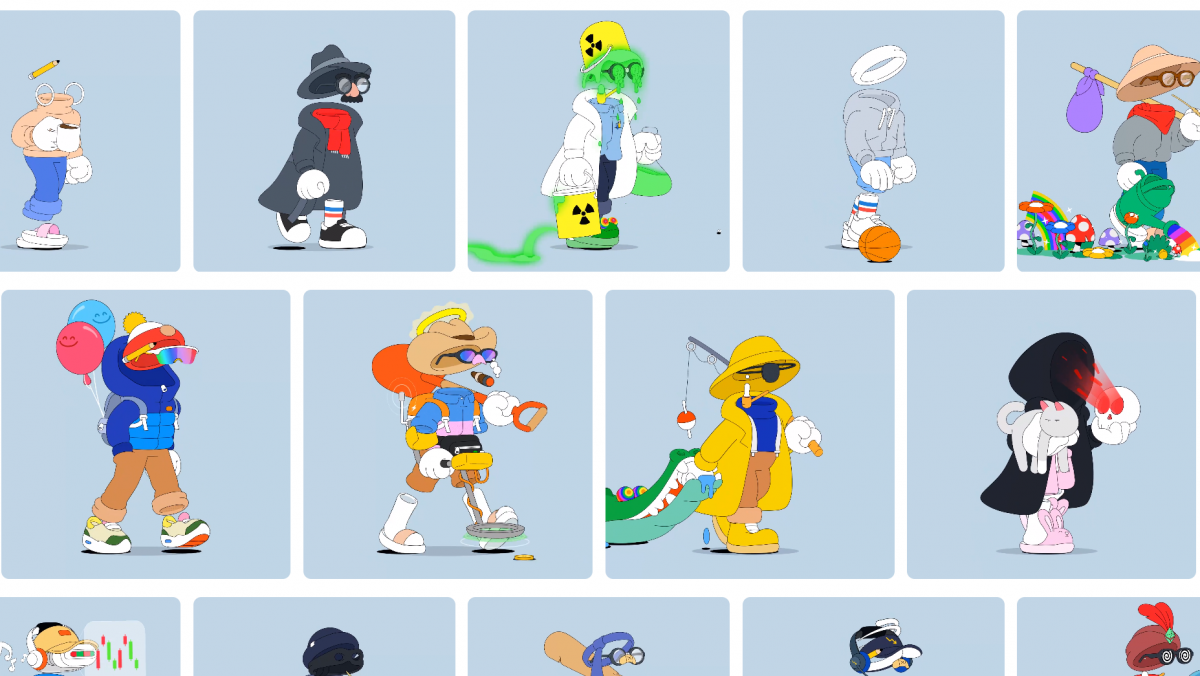 Cost: 4.30 ETH
Values: Authenticity and creativity
Although Invisible Friends may be one of the youngest projects on this list, it's surely also one of the most prominent. Having become a viral sensation in the NFT space, the fanfare surrounding the project's launch was immense. In its first few months, the community boiled down to a group of creative, smart, and transparent builders that promote authenticity. This is a solid option for those who value respect and the leadership of a capable team.

Cost: 4.50 ETH
Values: Leadership and boldness
World of Women is a unique project that is one of the only collections to give a human spin to the very animal-centric PFP market. Created as the colorful brainchild of Yam Karkai, WoW has become an NFT community favorite, known for its robust team, community, and strong philanthropic efforts. It's also one of the most prominent woman-created and woman-led projects in all of NFTs.

Cost: 8.99 ETH
Values: Autonomy and honesty
Grifters is a handcrafted PFP collection from top-tier artist and all-around NFT legend, XCOPY. Featuring 666 static NFTs (as opposed to his more popular animated pieces), this collection embodies XCOPY's position of art NFTs needing no utility as well as promising no extra incentives and presenting no complex roadmaps to collectors. Considering the prestigious nature of XCOPY's art, this is a community filled with top-tier NFT collectors and knowledgeable builders.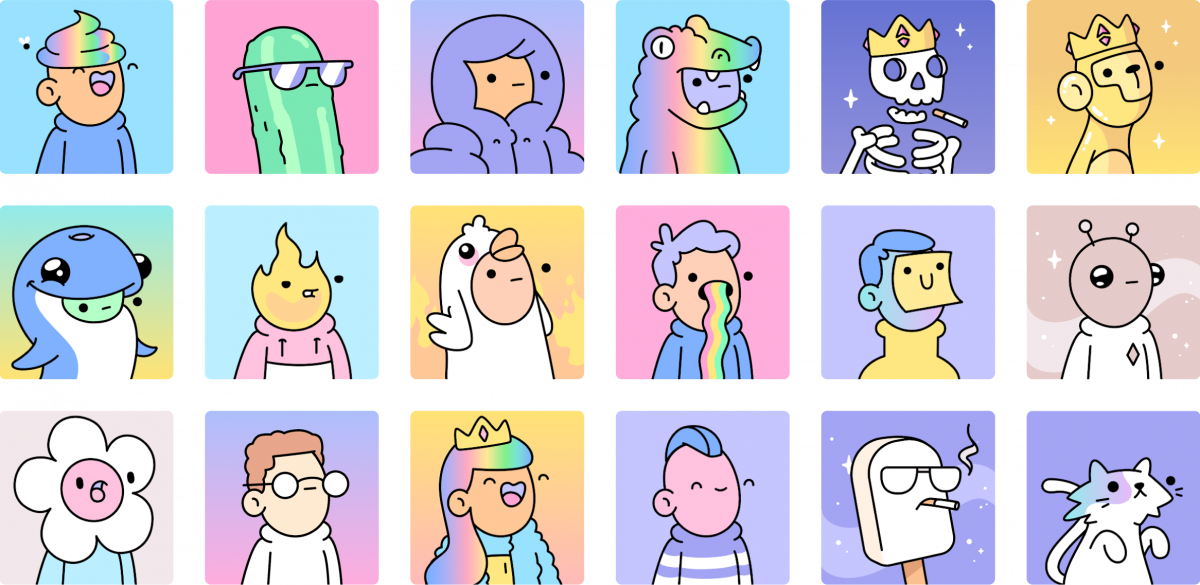 Cost: 13.20 ETH
Values: Creativity, growth, and fun
Similar to Cool Cats, Doodles has become one of the top-tier most robust projects and communities in the NFT ecosystem. Featuring colorful, lighthearted art, the collection and overarching project mission are both playful in a cohesive and intentional sort of way. This is a fantastic community for those who appreciate fun and slow, steady project growth.

Cost: 13.50 ETH
Values: Adventure and loyalty
Clone X is the perfect project for those who are interested in metaverse fashion or obsessed with digital culture. A project that was acquired by none other than Nike, Clone X combines innovative generative 3D art with complex worldbuilding and plenty of collector incentives. Whether you're a sneakerhead, gamer, or general culture lover, this is the project for you.
Editor's note: At the time of publication, members of the nft now staff were holders of many of the listed NFTs.