The Nakamigos NFT project is raising eyebrows in the Web3 community. After coming onto the scene with a March 23 public mint, the collection took only four days to surpass NFT giant Bored Ape Yacht Club in lifetime trades and has done 7,562 ETH (nearly $13 million) in trading volume on the secondary market at the time of writing. 
The collection's success arguably rests on two things, neither of which fail to spark interest in Web3 spheres: the proven track record of its founder and the wildly-speculative intrigue of the project's origin and associations. Here, we take a look at what the Nakamigos project is, who's behind it, and weigh the rumors that seemingly connect it to one of the most prominent players in all of Web3.
What is the Nakamigos NFT collection?
Nakamigos is a 20K PFP project from HiFo Labs, a little-known company that claims its team has been producing NFT and digital projects for the past five years. The NFTs in the collection are 24×24 pixel characters in a style reminiscent of CryptoPunks. The collection derives its name from the pseudonymous founder of Bitcoin, Satoshi Nakamoto (Nakamigos being the "friends of Nakamoto").
According to a blog post from the project, the artist behind Nakamigos is "an OG crypto artist" who may or may not choose to reveal their identity at some point in the future. Some have speculated that this artist is none other than Sartoshi, the NFT influencer and crypto artist behind 2021's popular mfers collection.
The reason for such speculation comes from the fact that Nakamigos' emergence is tied intimately with Sartoshi's history in the space.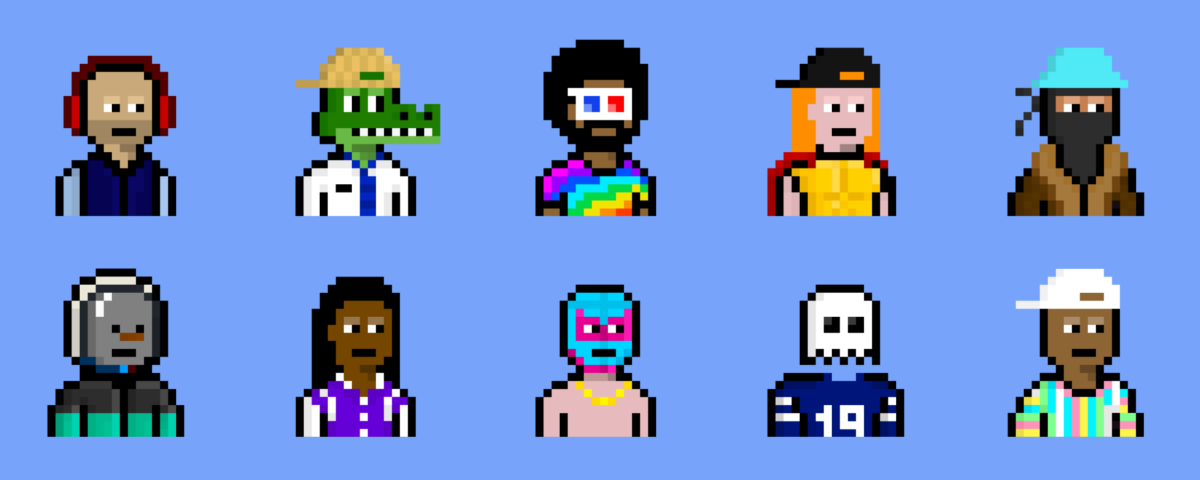 Before creating mfers, Sartoshi had accumulated a significant following on Web3 Twitter, which helped solidify the project's success when it launched in November 2021. But in June 2022, Sartoshi decided to leave mfers, claiming that he intended to hand over project leadership and funds to the community in a display of commitment to the Web3 ethos of decentralization.
The move was controversial; many labeled his abdication a rug-pull scam, while others noted that the decision was something that several in the community had long been calling for.
To mark his departure from the project, Sartoshi minted the end of sartoshi – eos pass collection, which served as a sentimental farewell to his community. Six months later, however, Sartoshi returned, and many in Web3 wondered how he would pick up the pieces of a controversial exit and carry on with his community.
In a February 16 tweet, Sartoshi seemingly delivered. He informed his following that Nakamigos was going to be a 20K PFP project, and that holders of the eos pass would be granted a free mint from the collection a day before it became available to the public on March 23. However, Sartoshi's exact role in relation to the project has yet to be officially clarified.
Nakamigos' origins: a Larva Labs connection?
Since Nakamigos' release, rumors have been swirling on Web3 Twitter about HiFo Labs' potential connection to Larva Labs, the company initially behind CryptoPunks (CryptoPunks sold to Yuga Labs in 2022).
Proponents of this theory point to the collections' aesthetic similarities and the fact that Nakamigos' licensing agreement is explicitly modeled after the one that Yuga Labs made for the collection after they acquired the IP from Larva in early 2022. There is currently no evidence to support these claims, however.
Regardless, Nakamigos clearly felt it needed to address the rumors, posting "Not Larva. Not Yuga. Nakamigos." to Twitter on March 27.
Nakamigos holders to retain commercial rights
What is clear about the collection is that the Nakamigos team grants holders commercial rights to their NFTs, allowing them to monetize them as they see fit. The licensing agreement states that holders can even trademark their NFT so long as it is actually being "used in commerce" and not just on an intent-to-use basis.
While not quite a Creative Commons (CC0) license, this kind of IP usage permission is quite powerful. Allowing commercialization rights has enabled holders of blue-chip NFTs like Bored Ape Yacht Club to capitalize on their digital tokens in significant ways, starting up everything from restaurants to wine companies as a result.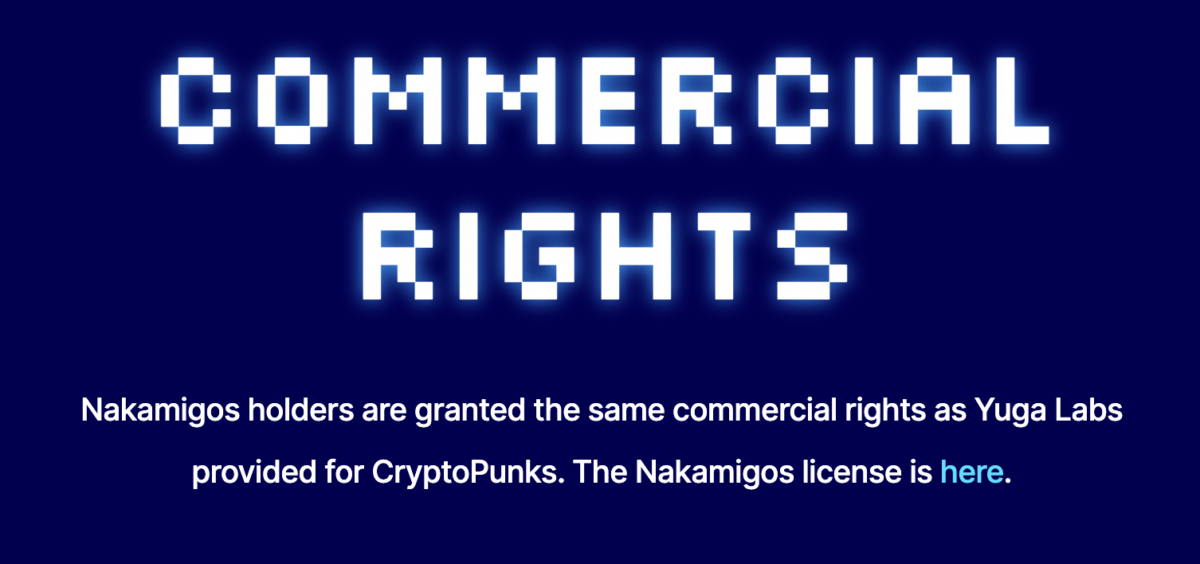 Where to buy and notable sales
All 20,000 Nakamigos NFTs have minted out. eos pass holders received early access to the collection on March 22, and the public mint went live on March 23 in a Dutch auction that started at 1 ETH and went down to 0.01
ETH. However, interested buyers can find them on the secondary market, with the collection's floor currently sitting at 0.18 ETH. Some of the rarer NFTs in the collection are trading hands for far more than that, however. Nakamigos #7762, which sports a hoodie and an orange helmet, recently sold for 1.690 ETH, and ghost Nakamigos #3648 sold for a healthy 16 ETH on March 28.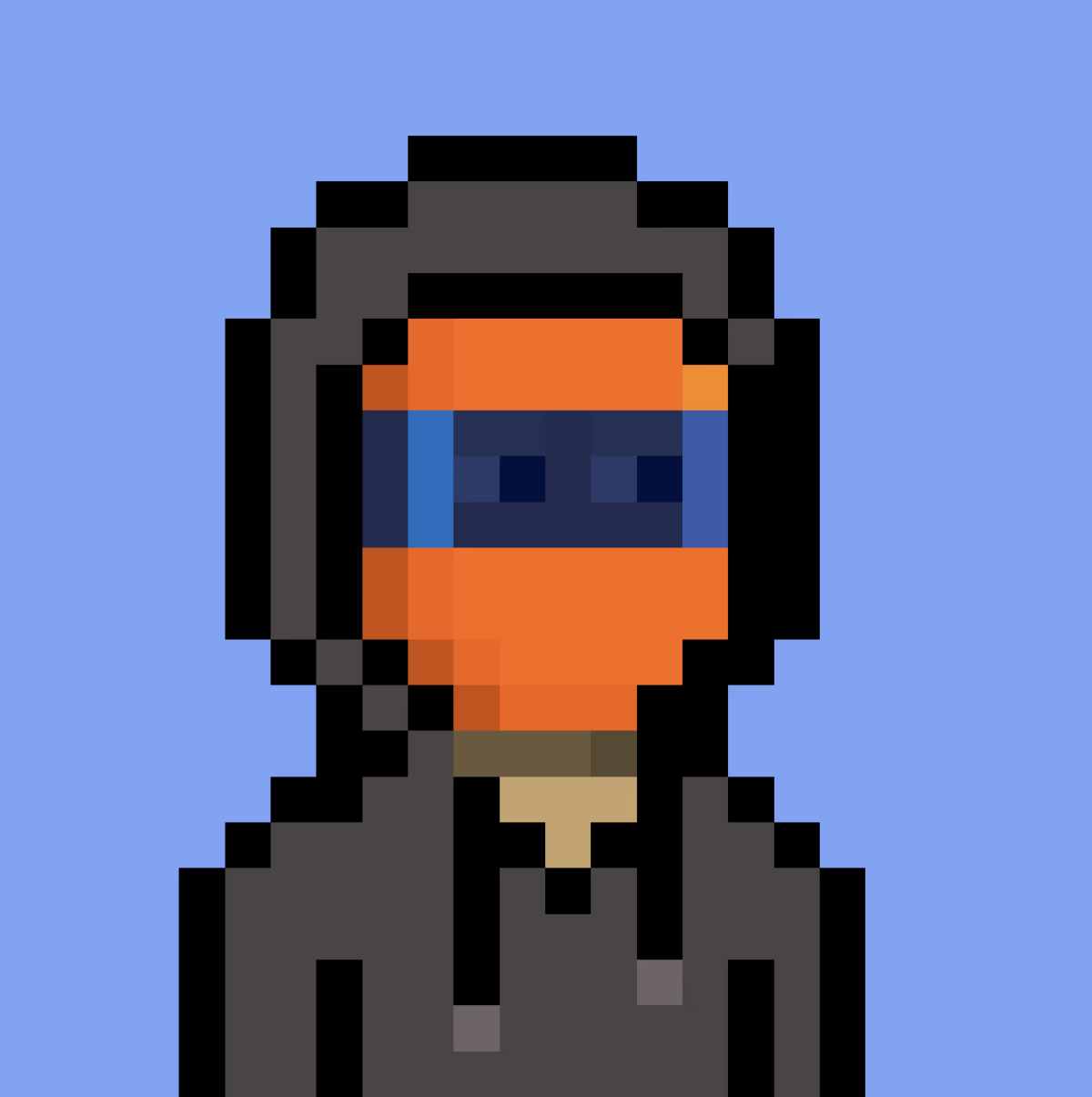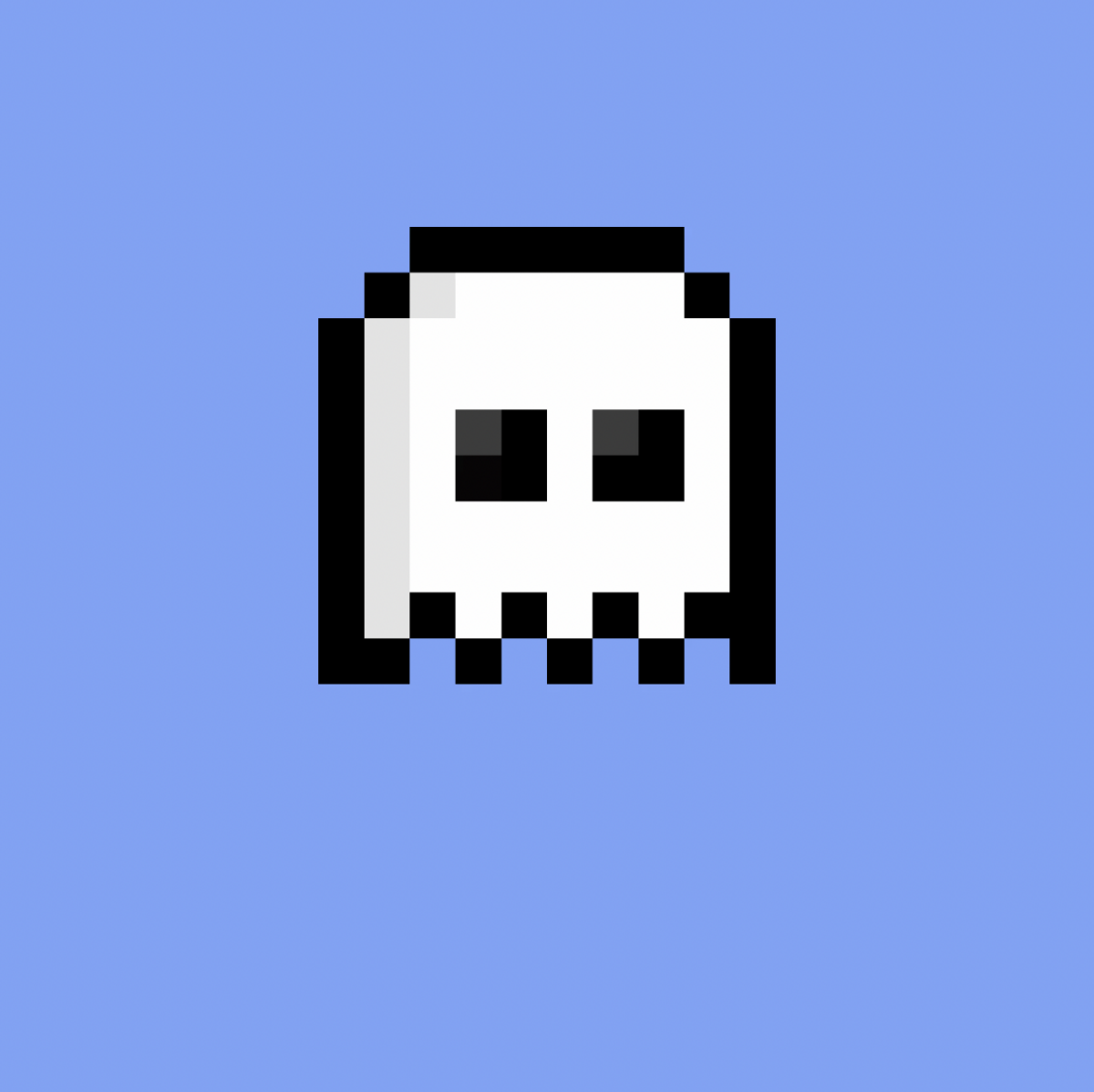 The Nakamigos team has been promoting the project in a classic Web3 way, having gifted 24 honorary Nakamigos NFTs to well-known figures and influencers in the NFT community. Recipients include Richerd Chan of Manifold, Art Blocks CEO Erick Calderon, Seedphrase, collector and thought-leader Cozomo de' Medici, and more.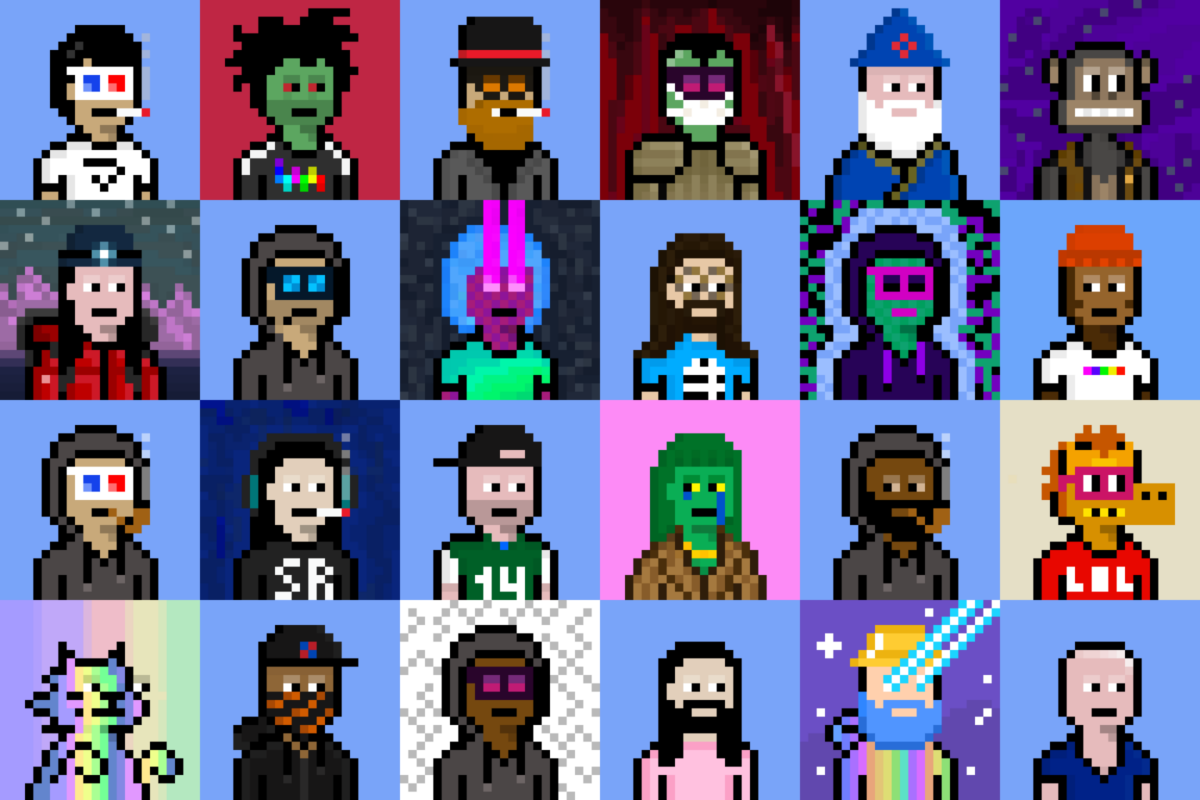 What's next for Nakamigos?
The future of Nakamigos is as shrouded as HiFo Labs itself is. With no Discord and no other social media channel other than its official Twitter handle, Nakamigos has thus far communicated relatively little to its community and therefore remains an esoteric project. But for those looking to nab a cool-looking NFT from a collection that seems like it's aiming to be a kind of spiritual successor to CryptoPunks, Nakamigos could be a great buy.
The team's underscoring of commercialization rights for holders is another interesting aspect of the project, one that could indicate a larger, yet-to-be-revealed IP play from HiFo Labs.
A number of Web3 projects have made increasingly frequent efforts to monetize their IP in the last year, with some finding success in doing so. But that can only happen if the Nakamigos community decides it wants to take advantage of those capabilities, something that will be hard for HiFo Labs to incentivize without first fostering greater trust amongst its holder base. For that, the company is going to have to step out of the shadows a bit. Expect it do to so in the not-too-distant future.