For the better part of a decade, concert and festivalgoers have foregone ink and paper in favor of storing their event tickets on their phones. As ticketing has transitioned from paper to PDF in the age of digital credentials, a new wave of post-pandemic performances has started to shake up the live-event ecosystem via — you guessed it — NFTs.
Although it can sometimes seem like digital art and generative avatars are the only use cases for NFTs that have longevity, this just isn't so. The truth is that NFTs can be used in far more ways than they currently are. And one use case from NFT history that generally goes overlooked is nonfungible ticketing, an underdog within the constantly expanding Web3 music space.
First introduced years before Bored Apes sent the creative world into a tizzy — tokenized concert and festival passes have remained an interesting yet underdeveloped facet of the NFT market. But as the weird wide world of nonfungibles continues to grow, giving birth to various advancements and innovations, NFT ticketing has reemerged as a promising contender in the race for real-world NFT utility.
What is NFT ticketing?
NFT ticketing is precisely what it sounds like: Tickets in the form of an NFT living on a blockchain that act as access passes for any live (or even virtual) event. How is this different than digital tickets? The blockchain factor really sets NFT tickets apart from their barcode or QR code-based counterparts.
With NFT tickets, issuers and recipients can benefit in several ways. Issuers can keep a more in-depth record of attendance numbers by utilizing the blockchain as a ledger while simultaneously interacting with ticket holders in a new and innovative way via NFTs. Issuers can send out notices, host surprise giveaways, create token-gated sites and services, and more simply by collating data associated with holders of a specific NFT ticket.
Similarly, NFT ticket holders don't simply receive a ticket to an event but an immutable and often interactive digital asset that grants their entry into a show or festival. These tickets also grant holders access to exclusive experiences, including fan clubs made up only of holders of similar NFT tickets.
Imagine a parallel between PFP NFTs and NFT tickets. PFPs come in varying degrees of rarity; they act as member passes to a variety of communities, they communicate an NFT collector's special status, and they can accrue value over time. Yet, PFPs are explicitly geared towards crypto and NFT enthusiasts and often come with the caveat of their association with financial gain/loss and price speculation.
NFT tickets, on the other hand, are an extension of the robust network of concerts, festivals, conferences, and other live events that already exist. Imagine tickets to a metaverse or in-person event that offers holders perks akin to what might be expected of a PFP project. Yet instead of being rewarded for simply holding an avatar, these incentives are tacked on to already thrilling experiences involving musicians, music festivals, nightclub events, etc.
Who is using NFT ticketing?
Although Web3 events started gaining serious notoriety in 2021 and 2022, NFT ticketing, while less familiar as a concept, has been around for years. If we look back into the annals of NFT history, the will to create tokenized experiences has persisted despite cases where the technology and know-how hadn't reached maturity.
In 2018, superstar producer/DJ and blockchain music pioneer 3LAU set out to help lay the groundwork for blockchain-powered events beyond the already established crypto conferences with his single-day concert, Our Music Festival. However, the festival itself didn't implement NFT ticketing for attendees — which likely would've been difficult anyways, considering the lack of exposure to NFTs and software wallets at the time. So 3LAU and co. created a tokenized experience that allowed festival goers to accrue tokens that could be reimplemented for real-world purchases while at the event.
If NFT ticketing had been a viable option for 3LAU in 2018, there's no doubt that the DJ would've implemented token-gating for his inaugural fest. As NFT tech has developed over the years, 3LAU has taken on other endeavors to aid in the democratization of the music industry, but other artists and festivals alike have taken up the NFT ticketing cause.
Tech Startups
Originally, NFT ticketing began with startups. In 2020, NFTs hadn't achieved the popularity they inevitably would by the end of the following year. Yet developers were already delving into potential music industry use cases for the novel technology.
Early on, two primary value propositions were set forth for NFTs. The first was that they could potentially provide a more robust and verifiable form of identity to link with tickets, effectively reducing scalping and bot activity (which still plague U.S. ticket sales today). Secondly, NFTs could create a direct channel for attendees to remarket, and maintain community engagement after an event.
Startups like GUTS Tickets first began working on building NFT technology to curb scalping by tying a ticket to a person's wallet or identity, while simultaneously giving artists a cut of secondary market revenue. But organizations like GUTS can often hit roadblocks, leading to periods of stagnation during which others pick up the cause.
One such entity now reinvigorating the conversation around blockchain-powered ticketing is YellowHeart, a Web3 marketplace for ticketing, music, and memberships. In October 2022, YellowHeart emerged as one of the most promising players in NFT ticketing, introducing its very own metaverse to help artists and fans avoid legacy ticketing issues like steep prices, fraud, and zero resale profit for artists.
With YellowHeart's NFT ticketing metaverse, artists can program benefits that are proprietary to NFT technology — like full albums, custom vinyl records, exclusive merch, visual art, and more — into update-enabled tickets passed on to fans. But beyond infrastructural ventures from GUTS, YellowHeart, and even the event ticketing platform and social media app Groovoo, a wider variety of startups and protocols have joined in the race to take NFT ticketing to new heights. 
Take tokenproof, for example, a company aiming to spearhead token-gated utility across the board. With tokenproof, event planners can access a one-stop shop for their token-gated needs, and users can gain access to a huge slate of token-based online and IRL events, retail, and more. And tokenproof's usability doesn't stop at live events. The company's ticketing platform also gives issuers the ability to gate a broader range of virtual events and special content — like live streams, blog posts, podcasts, and music.
Going forward, we'll likely see even more companies venture down the NFT ticketing rabbit hole. As even those like Unlock Protocol, an open-source protocol that primarily focuses on membership and subscription-based NFTs, have taken up efforts that effectively blur the lines between Web2 and Web3 versions of access. 
But of course, others beyond the startup world are seeking to innovate as well. And this innovation often surrounds more localized efforts from festivals and artists.
Festivals
Among the music festivals looking to integrate blockchain tech into their API, Coachella is potentially the most notable. With Coachella Collectible NFTs, AEG Worldwide presented a novel case for NFTs use cases as both memorabilia and lifetime passes. Although the Coachella collection (which came about by way of an FTX partnership) went by the wayside when Coachella's NFTs got wrapped up in the crypto exchange's demise, the venture undoubtedly opened the door for others — like Las Vegas' Afterparty and Swedish music festival Way Out West — to launch endeavors of their own.
With Afterparty, Soin Holdings Inc. delved into a venture much like Coachella. Aiming to shake up the standard music festival model, Soin offered 1,500 NFT collectibles that served as an access pass for the two-day Afterparty festival that went down in March 2022.
On the other hand, Way Out West, backed by crowdfunding platform Corite, set out on a similar campaign but in a smaller dose. Also taking parallels to Coachella, Way Out auctioned off three lifetime tickets in the form of NFTs. Corite also offered attendees the option to mint their festival moments and memorabilia as NFTs, but ones that lacked any sort of festival pass mechanics.
Then there's Loudpunx, a large-scale PFP project launched in 2023 by Rolling Loud, the world's largest hip-hop festival. Similar to the ticketing endeavors that came before it, Loudpunx grants a unique array of ongoing incentives to holders, with the exception that a single PFP from the collection also acts as a ticket for global entry into every Rolling Loud Music Festival to come.
Yet, potentially one of the best uses cases of festival ticketing thus far comes not from a music-based event but from Coindesk's annual crypto summit, Consensus. Partnering with Art Blocks Engine, tokenproof, and Passage Protocol, Coindesk launched an NFT collection entitled "Microcosms" to grant holders three years of pro-pass access to Consensus and a multi-tiered rewards system that unfolds from 2023 to 2025.
Essentially a collection of tickets with long-term utility, Microcosms consists of 1,000 unique pieces of generative art created by Brooklyn-based artist Fahad Karim. And just as this unique ticketing use case (or most of them, for that matter) wouldn't be complete without a visual artist to create the forward-facing asset that is an NFT ticket, the ticketing sector itself would surely be naught without artists launching their own undertakings.
Artists
Beyond large-scale efforts, independent musicians and artists have been finding ways to implement NFT ticketing into their tours and shows. NFTs are quickly becoming a prominent music industry sector, with many artists launching NFT and blockchain endeavors to bolster their fanbases during the COVID-19 pandemic. Increasingly, NFT tickets seem an inevitable part of the burgeoning music NFT ecosystem.
Notably, pop artist Pip made a splash with his Cotton Candy NFTs, which were launched as part of an independent crowdfunding campaign. The collection, which featured NFTs available in three separate tiers, was essentially created to act as a set of NFT backstage passes. Upon purchasing a Cotton Candy NFT, holders could enter a member-only platform, with perks extending outward to real-life incentives, including free entry to all of Pip's headlining concerts, for life.
While this type of system mirrors those used in major festivals, it exists on a much smaller and more personable level. Because of this, these drops are increasing in frequency and popularity, leading other artists like The Cool Kids and Steve Aoki to offer free entry into their concerts for those who own their NFTs.
When might NFT ticketing truly take off?
Despite successful use cases, NFT tickets have yet to bridge the gap over the "mainstream" NFT ecosystem. Yet, similar projects exist at the innovative intersection between live events and NFTs. One such service, which of course, exists in addition to the aforementioned Unlock Protocol, is the Proof of Attendance Protocol (POAP). POAP (pronounced "poh-ap" or "poe-app") is a protocol that allows users to create commemorative NFT badges through the use of blockchain technology.
POAPs have been around for years, enabling event coordinators to reward enthusiasts for attending festivals, conferences, summits, and more. Associated primarily with blockchain-powered events like Devcon and other various Ethereum and Bitcoin events, POAPs took on a new life in 2021 as the NFT ecosystem ballooned.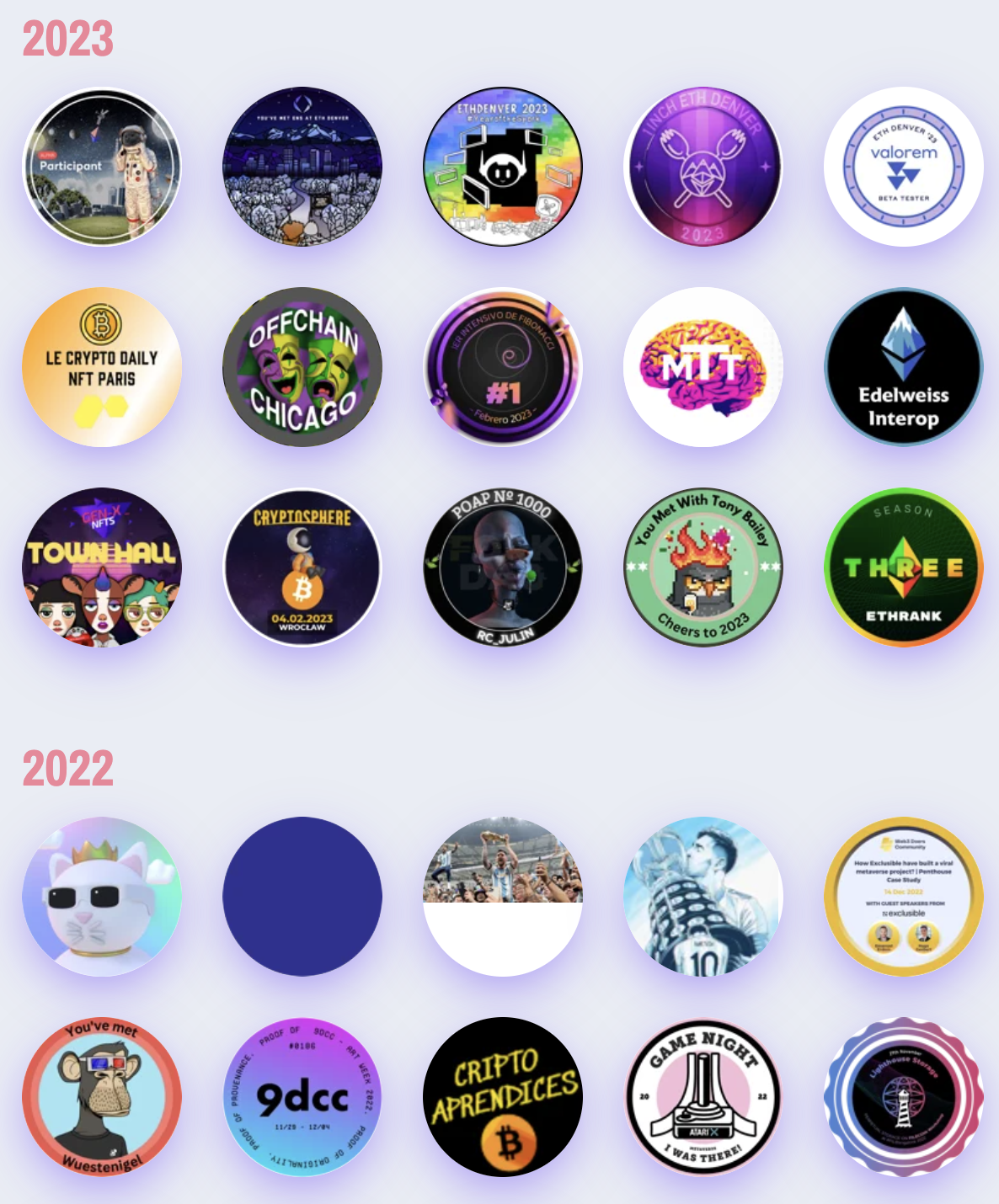 POAPs quickly became a means to reward event attendees, Twitter Space participants, NFT drop buyers, Discord eventgoers, and more with a piece of blockchain-based memorabilia. Furthermore, these POAPs started to gain utility as status symbols, incentivizing holders to trade them on OpenSea to potentially receive perks down the line.
To date, numerous artists and developers have used POAPs to whitelist holders for subsequent drops, with Gmoney's Admit One collection becoming one of the most prominent to do so. As POAPs gain more utility, they're even becoming a backward-compatible prerequisite for attendees of earlier events to acquire NFT tickets for future ones.
As this niche sector of the NFT market develops, it has raised the question: What will it take for NFT tickets to become the norm? If Proof of Attendance badges are booming, why is the market for NFT tickets still so lacking? Mostly, it comes down to usability.
Although the music industry has undoubtedly begun to accept the idea of NFTs, whether as collectibles, a method of crowdfunding, or lifetime festival passes, the vast majority of music enthusiasts have not been onboarded into the NFT space. In other words, most show-lovers still don't have an NFT wallet, pushing NFT tickets out of the equation for many organizers.
Of course, some digitally native communities, like those surrounding 3LAU, Steve Aoki, BT, Snoop Dogg, and the like, are more aware and accepting of NFT ticketing. But to others (especially general music lovers), NFT ticketing doesn't lend enough advantages over downloading a conventional PDF ticket via mobile devices.
But, make no mistake: as more music fandoms become active in the NFT space, the line between music lovers and NFT enthusiasts will continue to blur. So artists and consumers must do their due diligence in learning how NFTs can disrupt the music industry, from album drops to multi-day festival passes and beyond.